The History of Bath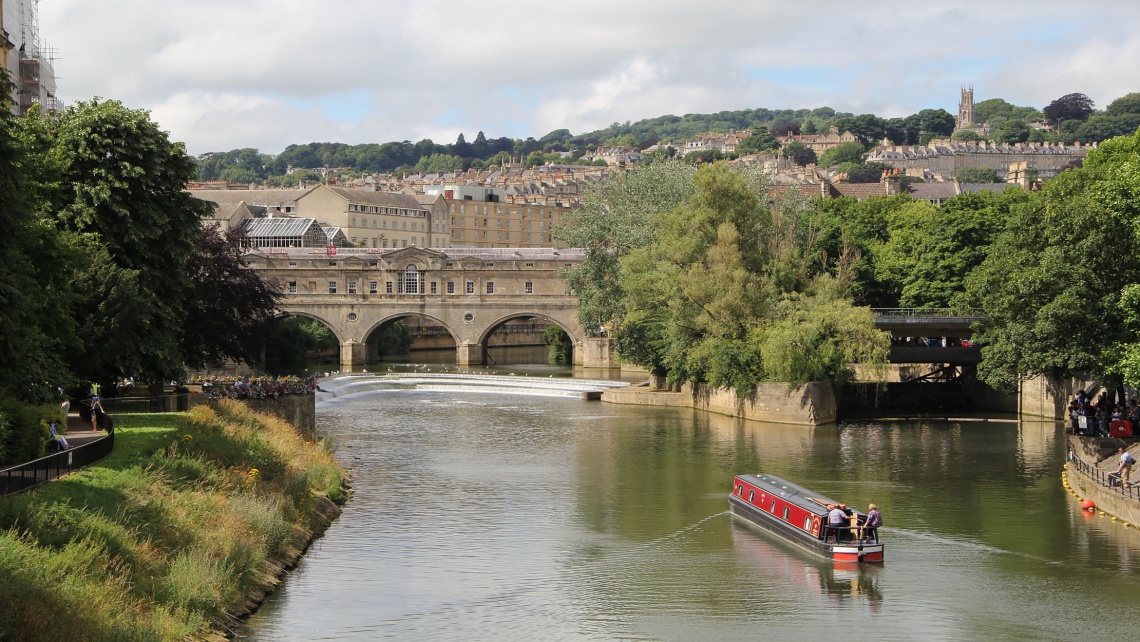 Celebrated for its incredible architecture and fascinating history, Bath is a city full to the brim with interesting facts. A charming location, Bath is consistently ranked among the best cities in the UK to live, work and visit. Defined as a UNESCO World Heritage Site since 1987, Bath is a distinctive setting offering heaps of culture with its Roman heritage, photo-worthy landscape and unique experiences.
The Past
Sat on the banks of the River Avon and surrounded by limestone hills, Bath was formerly a quiet market town. Now the largest city in the county of Somerset, Bath was granted city status in 1590 by Queen Elizabeth I. Said to have been founded by the legendary King Bladud, Bath has been the site of various ancient battles and experienced devastating bombing during the Bath Blitz of World War II.
Roman Baths
Undoubtedly Bath's most famous attraction as well as its namesake, the phenomenally preserved Roman Baths date back to around AD 70 where they were initially constructed as a bathing and socialising compound for the Romans. One of the most captivating historical sites in Northern Europe, the Baths have been impeccably maintained and remain a must-visit when in the city.
Attracting over one million visitors annually, this unique site sees the city's thermal springs fill the baths with approximately 1,170,000 litres of steaming spring water every day. Visitors can enjoy exploring this unique site by walking the original pavements built by the Romans and soaking up the breathtaking ruins of the Temple of Sulis Minerva (the goddess of healing waters). The remains of the original structure include an extraordinary gilt bronze head of Sulis Minerva, discovered in 1727.
Architecture
Home to an abundance of charismatic, Palladian buildings, a walk through the streets of Bath could quite easily make you feel like you're in a movie. In fact, Bath has set the scene for many well-known films and small screen features thanks to its unique Georgian architecture. With the majority of the city's buildings formed from local Bath stone, the prevailing Georgian style became popular in the early 18th century and is now synonymous with this compelling location. The warm, golden-coloured façade of Bath's architecture is not only aesthetically pleasing but highly durable and distinctive in its appearance.
Notably, the Royal Crescent, which was erected between 1767 and 1774, is famed for being one of the most iconic examples of Georgian architecture in Bath. Comprising a row of 30 Grade I listed terraced houses, this architectural landmark overlooks the beautiful Royal Victoria Park, a beautifully landscaped expanse home to the Great Dell Aerial Walkway.
Jane Austen
Having made Bath her home in 1801, Jane Austen is certainly one of the city's most esteemed residents. Residing in the city until 1806, Austen was a gumptious character who was brazenly disappointed with her father's decision to move the family from their home in Steventon to Bath. This is said to be reflected in the static nature of her writing productivity during her residency there.
Today, the Jane Austen Centre is a popular attraction for fans of the novelist who can immerse themselves in Austen's Bath, whilst exploring the impact the city had on Austen's writing in the treasured books Persuasion and Northanger Abbey.
Property Available
Hope House
Incorporating the heritage of Bath into its remarkable design, Hope House presents a superb collection of converted and new-build properties in the prestigious suburb of Lansdown. Surrounded by beautiful parkland and woodland, Hope House comprises a mix of houses and apartments displaying an aesthetic in keeping with the Georgian architecture that Bath is so famous for. Benefitting from a communal tennis court and city views from selected homes, this Grade II listed site is situated just a 20 minute walk from Bath city centre. With lavish interior design by Lambart & Browne and a selection of exquisite specifications, residents of Hope House enjoy spectacular living quarters in an outstanding setting.
Hope House is now sold out. For more information, please visit the development page or use our property search tool to find other available properties. Alternatively, call us on 020 3409 2270 to speak with our team.
Edited: 31st October 2023