What is a New-Build?
A new-build is a property recently constructed from scratch or entirely renovated within the past two years. Many new-build properties are offered for sale before the tangible product is built; this is known as 'off-plan' and is a popular method of buying, particularly with Buy-to-Let investors.
More recently, it has been increasingly popular for the build to be largely constructed before buyers show a keen interest, as buyers like to imagine themselves living in the home before they commit to buying. While buying a new build has pros and cons, this property type remains very popular, particularly with first-time buyers and Buy-to-Let investors.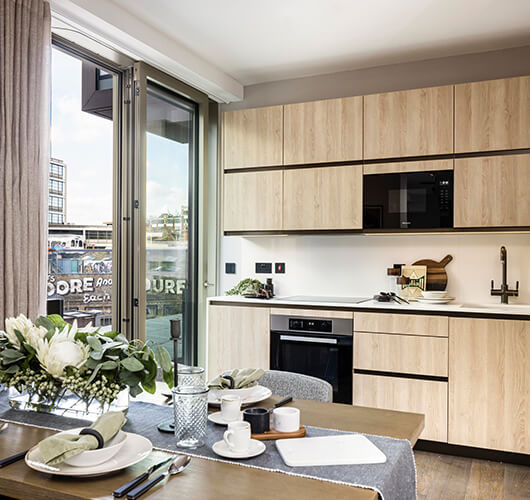 Is a new build home a good investment?
New-build homes have long been seen as a good investment. Typically, new-build homes have lower maintenance costs than existing ones and many come with brand-new appliances, so purchasers have less expenditure when moving in. Appliances usually come with a good warranty, too, meaning repairs would be mostly covered in the first few years.
Energy efficiency is another positive when purchasing a new-build. As we build with a greener planet in mind, more consideration is put into building standards now than before. Designed to minimise energy consumption and reduce bills, many new-build developers will install double or triple glazing, low-energy lighting and ensure the property is well insulated.
This is reflected in the energy performance certificate (EPC rating), which you can see when purchasing a property. It has been reported that new-build homeowners save an average of £2,600 on their annual energy bills in a report by the Home Builders Federation in 2022 compared to those living in older homes.

Advantages of a New-Build
Chain free – By purchasing a new-build home, you will enter a chain-free sales process. This is because you are buying directly from a developer rather than a seller who is also purchasing another home, therefore creating a chain.

Incentives – Many homebuilders will offer incentives to buyers as part of the sales negotiation. This can include free furniture, a service charge holiday and even savings on stamp duty.

Warranty – New-build properties are protected by a 10-year warranty for structural defects by the National House Building Council (NHBC) or similar, which gives peace of mind. Similarly, the developer will also usually offer a warranty (usually around two years) that covers issues like plumbing issues. Appliances will usually carry their own warranty too.
Disadvantages of a New-Build
Delays – With new-build developments, it can sometimes be unpredictable. Unexpected delays with the build can occur, which can mean that the completion date is delayed. Purchasers are protected by a 'long-stop date' which, if this date is surpassed, the buyer has the right to pull out of the sale.

Snagging – Inevitably, when you purchase a newly constructed home, some small issues, known as snagging, can occur. It is the purchaser's responsibility to make a list of these snagging issues and alert the developer for them to correct them.

Leasehold – As new-build apartments are typically leasehold as opposed to freehold, purchasers are usually liable to cover some additional costs. Service charges and ground rent are typically payable on an annual basis which will ensure the development is maintained by the management company.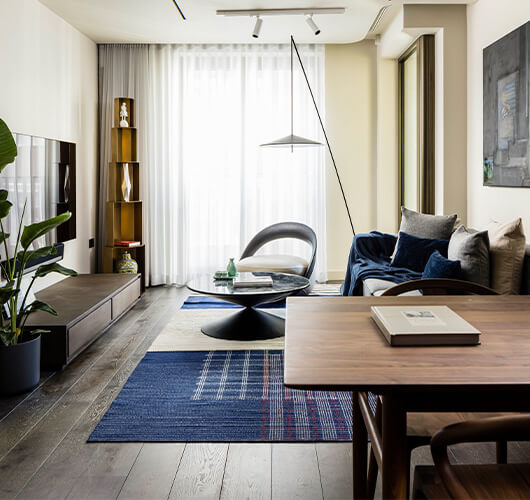 Buying a New-Build Home in London with Galliard
Buying with Galliard Homes will mean you can buy one of our brand-new, ready-to-move-in homes, or if you prefer, you can choose one of our new housing developments with an off-plan property purchase. We will keep you up to date with every stage of your build as it nears completion and support you throughout your move and beyond.
It's an exciting process buying a property; whether that be one of our luxury new build homes or one of our more affordable new builds, we have something to suit your budget and lifestyle. Our expert team are on-hand throughout the process to guide you and assist you as you make one of the most important decisions someone can make. We know it's daunting, but we have been in the industry for 30 years and have built over 20,000 residential properties – we are confident that we will give you the experience you deserve.
We also have new build homes in Birmingham, Ipswich and beyond.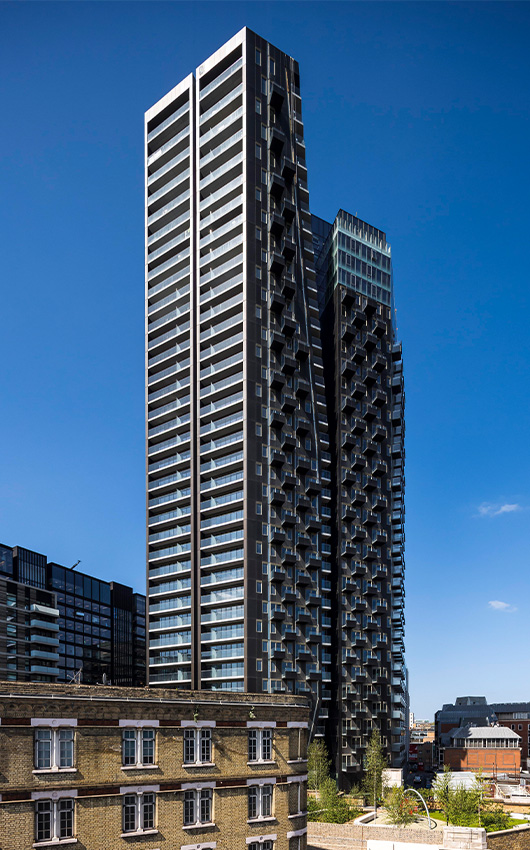 Government Schemes for New-Build Homes
You may have heard of the Help to Buy, Shared Ownership and First Homes schemes when researching a new-build property. But what do they entail?
Help to Buy: Equity Loan
Help to Buy is a scheme that was introduced by the government to make buying a home more affordable. Whilst the scheme is now closed to new applications, those who were able to benefit from the scheme were able to purchase a new-build home with just a 5% deposit and receive a 20% or 40% equity loan from the government to assist with the purchase.
Find out more about Help to Buy.
Shared Ownership
Shared Ownership enables first-time buyers and those who are not homeowners the opportunity to purchase a share of a new build under this scheme. It means that you pay a mortgage on the percentage that you own, rather than that of a whole property and pay rent to the landlord for the share you do not own. Over time, you can increase the share that you own.
Find out more about Shared Ownership.
First Homes
The First Homes scheme means that first-time buyers purchasing either a new build home or buying from someone who originally purchased their property as part of the same scheme can purchase a home for 30% or 50% less than its market value. There is an eligibility criterion to consider, and not every developer will offer this scheme, so you will need to do your research.
Find out more information on the First Homes scheme on the Government website.

Buying a New Build Tips
New Build Home Insurance
Although new-build developments will come with a 10-year warranty, it is always wise to ensure you have your own policy in place. The two most considered types of home insurance are buildings insurance and contents insurance.
Buildings Insurance – Depending on your policy, this will usually protect you should your property be damaged during a fire, flood, or storm, for example. If your property is damaged because of any of these, you should be covered for issues with flooring, your roof, and permanent fixtures within the home.
Contents Insurance – If you want to protect your possessions, then you will want to look into taking out contents insurance. For example, should your home be broken into and your possessions are stolen, you should be covered to replace them.
Stamp Duty Land Tax (SDLT)
When buying any home, there is so much to think about. Legal fees, furnishings, moving costs and stamp duty are all factors to consider when thinking about the overall cost of buying a property.
Stamp Duty, as with all homes in England, is due when buying a new build. However, often, developers such as Galliard Homes will offer to contribute or even cover the full cost of this tax as part of the sales negotiation. As this cost can often be a huge burden on some, this is a really great incentive to benefit from if it is offered to you.
Financial and Legal Details
If it is your first home, it can be daunting when considering the financial and legal aspects of purchasing a property. New-build developers often have dedicated teams to assist you with this process and can recommend a solicitor to you should you need help finding one.
You will need to ensure you know your budget when you begin your search, but if you find the right property and make an accepted offer, you will usually only need to pay a reservation fee at first. This can be anything from a few hundred pounds up to a few thousand pounds, but the cost will be deducted from your exchange deposit when it is due.
If you are buying off-plan and there is still several months or years left before the build is completed, you may be required to pay several additional deposits over that period. The remainder will be due on completion. This isn't always the case, but it is worth being completely clear when entering an agreement.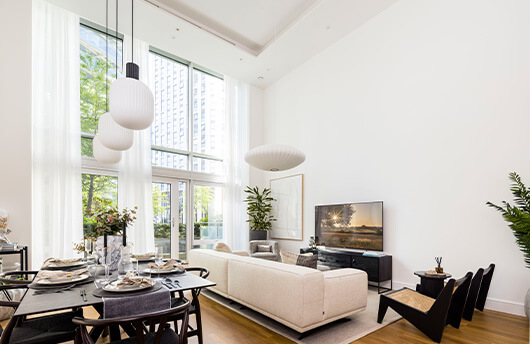 The property itself is built to an outstanding quality, the finish is brilliant and there wasn't a single issue identified at the snagging. I am so proud to now call this my home.

Frequently asked questions
Are new-build homes expensive?
New-build homes can sometimes carry a 'new build premium'; however, this depends. You are paying for a brand-new, un-lived-in property that demands a higher price. You will not need to worry about expensive renovations or refurbishments like you might if you purchased an older property. 
You should also consider that by purchasing a new-build, you will likely be able to benefit from various cash-saving incentives which you would otherwise need to factor in if buying an existing property. Remember, your new-build home is likely to come with high-spec appliances and white goods which alone can cost a few thousand to purchase.
 
Do new build homes increase in value?
As with all properties, the value can go up and down given the market. Data has historically shown that the value of new-build properties remains in-line with average house prices. New-build developments are often built within regeneration areas which become increasingly popular and favourable to live in over time. This works in your favour particularly if you bought a new-build home in a location in its popularity infancy as you are more likely to reap a larger benefit in the long-term.
What is an off-plan property?
'Off-plan' means to purchase a property before it has been fully constructed. On some occasions, this can be before the foundations have even been laid, or it could be further into the build. 
It can be cheaper to buy an off-plan property, however, this method isn't for everyone – you will often have to wait many months, if not several years, to see the end product and get the keys. If you are looking to invest, buying off-plan could suit you as properties are often cheaper in the early stages, and the price will increase as the build progresses, in line with local demand. 
Find out more about off-plan property here.
 
Start the Process with Galliard Homes
If you want to know more about our available new build homes, call us today for more information on 020 8418 3635 or alternatively, fill in the form below and one of our friendly team will be in touch to discuss your requirements in more detail.