"From beginning to completion, Galliard Homes provided excellent and efficient services."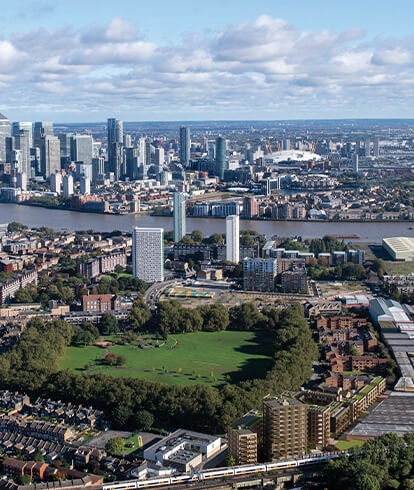 Why Buy with Galliard in Deptford?
With previous successful regeneration projects in Deptford and its surrounding communities in their portfolio, Galliard Homes is a trusted name in the local area. Galliard's latest Deptford scheme, Park Avenue Place, is set to offer a collection of private residential units overlooking Deptford Park. Our new builds in Deptford will span six self-contained blocks, with each property offering highly-specified interiors suited to the modern city dweller.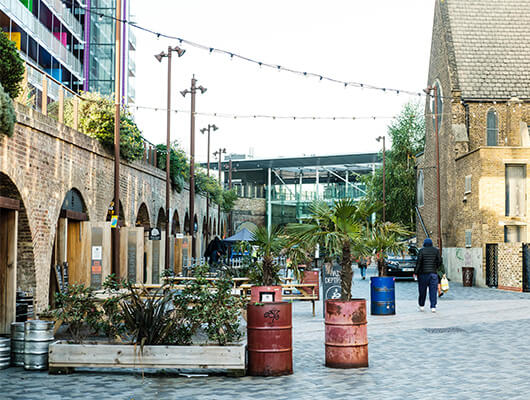 Living in Deptford
The recent regeneration of Deptford has drastically transformed the skyline of this South-East London setting. Now ranked amongst the likes of Shoreditch and Dalston, Deptford is trendy and creative, attracting young professionals who want to reside in an up-and-coming neighbourhood. With over half of Deptford's residents being aged 34 and under (research by JLL), those choosing to call Deptford home are being drawn by all the fantastic local amenities and transport links.
There are tonnes of things to do in the area too. Whether it's eating and drinking at Deptford's best restaurants and bars or shopping in the local markets at the weekend, there is an abundance of things going on in this corner of the capital.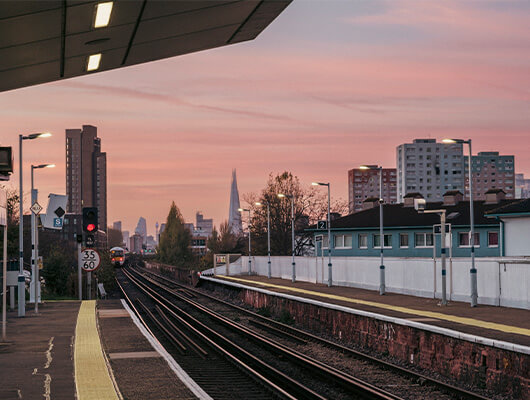 Transport in Deptford
As one of the more affordable locations in Zone 2, Deptford is highly attractive to first-time buyers, meaning that the demand for Deptford new builds is growing. Great transport links mean that those working in The City or Canary Wharf can appreciate a stress-free commute into Central London. Home to four stations, residents of Deptford can easily access the DLR, Overground and National Rail for journeys across London and further afield.
Residents enjoy just a seven-minute journey time from Deptford to London Bridge station using Southeastern Railway for onward journeys using the Northern and Jubilee lines. Deptford Bridge DLR station is another great option for getting around the capital with ease.
Alternatively, travel on the water from Greenwich Pier using the Thames Clipper and your contactless card!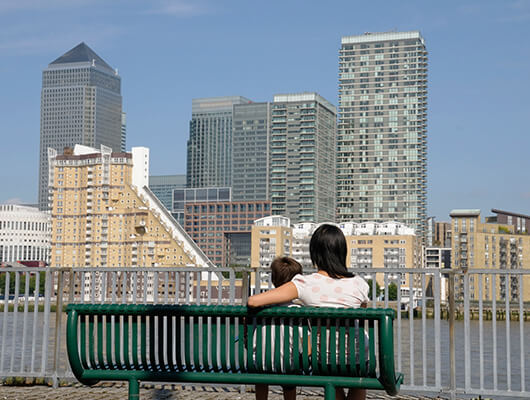 Education in Deptford
There is a fantastic standard of education in Deptford and the surrounding areas. Deptford Park Primary School is an Ofsted 'Good' school, however, there are a number of Ofsted 'Outstanding' schools within the London Borough of Lewisham such as Ilderton Primary School.
For secondary education, Addey & Stanhope School has been offering quality education to the Deptford community for 300 years.
Similarly, there are several universities within easy reach of Deptford, attracting many students to the area. The University of Greenwich - which is located on a World Heritage Site - is just a 10-minute bike ride from Park Avenue Place, whilst King's College - a top 10 ranked university in the UK - is just seven minutes by rail away.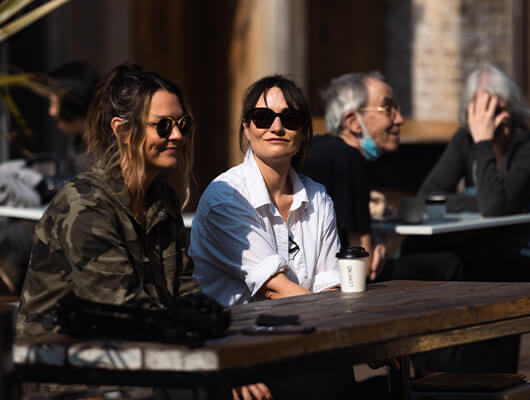 Community in Deptford
Due to the location's maritime history, Deptford's early population was heavily shifted towards those parts of the British Navy up until the Royal Navy moved out of Deptford.
As with most London neighbourhoods, Deptford now enjoys a vastly diverse demographic. In the 1950s and 1960s, settlers from the Caribbean arrived in Deptford whilst more recently, the area has seen a growing Vietnamese community.
Deptford is home to a community hub known as 'Deptford Lounge' which offers a range of facilities for the local community. From community groups that include crafting and singing to facilities such as a library, ICT suite and cafe, everyone is welcome at Deptford Lounge.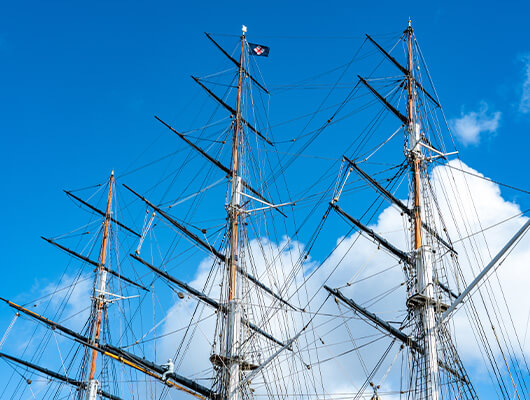 Local History of Deptford
Deptford has a varied past with a notable maritime history. The Royal Dockyard – which was founded in 1513 – was responsible for building ships for King Henry VIII's Navy. This key component of Deptford's history has played a large part in what Deptford is today, with its legacy living on into modern times.
Remains of The Royal Dockyard are still present in the area with dry docks and basins, amongst other features, still existing to this day.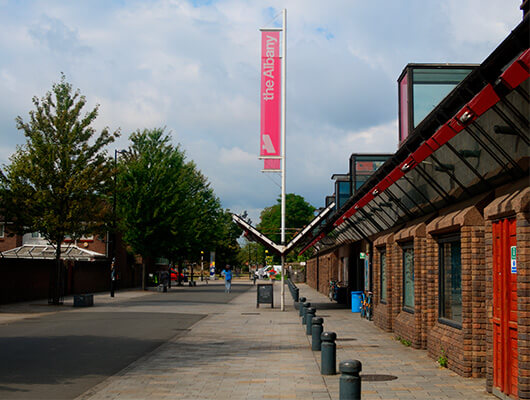 Landmarks in Deptford
The Albany was established in 1894 and still stands today as a community arts centre for creative talent. Notably, following a fire in 1978 that saw the site burn down, Diana, Princess of Wales, re-opened the theatre in 1982.
Dating back to the 18th century, St Paul's Deptford is known as one of the finest Baroque churches in England having been designed by Thomas Archer. Built from Portland stone, the church features a steeple and three bells and was one of 12 churches built by the New Church Commissioners.
Deptford is also home to one of the oldest suburban stations in the World: Deptford railway station.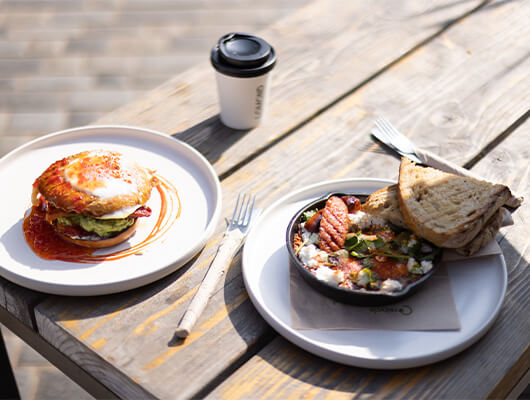 Food, Drink and Shopping in Deptford
There are many places to shop, eat and drink in Deptford, so you will never be short of somewhere new to visit.
Deptford Market Yard is one of the more popular locations and is open seven days a week, satisfying the local shared passion for independent shopping. Deptford High Street is another favoured destination for shopping where you'll see various pieces of colourful street art on your walk.
Little Nan's Bar is a great place to visit for a drink in a kitsch setting if you are in search of somewhere with a quirky flair.
For excellent coffee and brunch bites, Lomond (pictured) will certainly satisfy your tastebuds. Hidden away within the arches by Deptford station, Lomond is a firm favourite of the locals.
Home to countless shops, restaurants, bars and pubs, Deptford has a bustling community with many trendy hotspots in which to enjoy. Discover more in our guide to restaurants and bars in Deptford.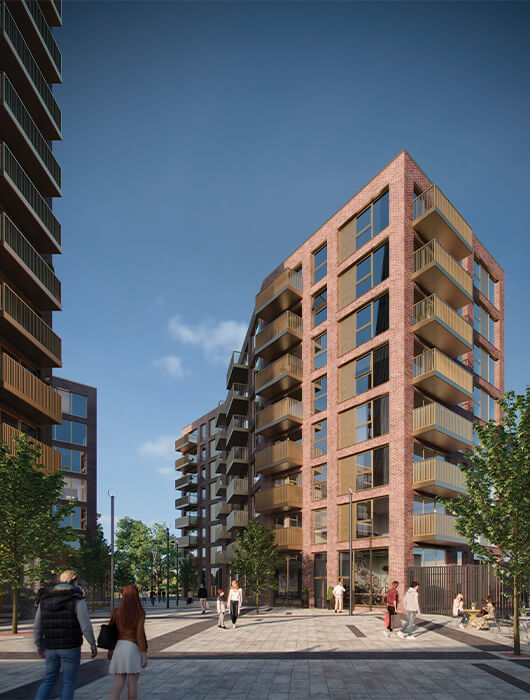 Buying with Galliard Homes in Deptford
Park Avenue Place will offer Deptford new build apartments that are not only stylish but also affordable to buyers in search of their first home. Set to offer a high-specification, including fully-integrated appliances and with all apartments enjoying access to a private balcony or terrace, if you are in search of a flat for sale in Deptford, look no further than Galliard Homes.
As a trusted brand, Galliard Homes will not only be there with you throughout the sales process but will also be there after completion too.
Top features of Galliard properties in the area
As with every Galliard home, purchasers of our Deptford apartments can expect a quality home, attentively equipped with buyers in mind.
Our forward-thinking approach means that we understand what is important when buying a property, and we strive to provide homes that are not only in a desirable location but that are also enticing inside too. Contemporary finishes, expansive living spaces, and access to outside space are all key features of our flats for sale in Deptford.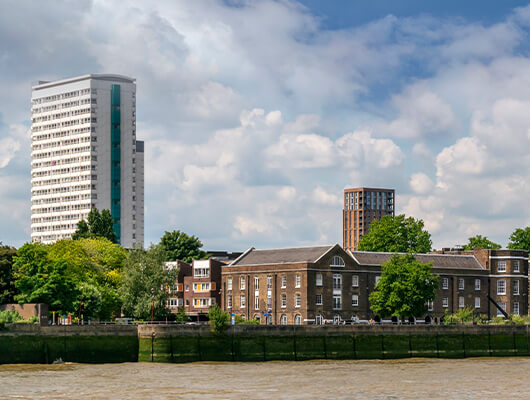 Price trends in Deptford
According to Foxtons, the average property price in Deptford has gradually increased over the past 20 years. The average sale price in the year 2000 was just £125,368, compared to in 2021 when it was around £455,149.
As prices continue to rise, Deptford has outperformed Greater London with 66% higher prices in the past 10 years.
Rental demand is also very strong. Within the past 12 months, the average rent has increased by 15.9%, according to JLL. It is anticipated that the demand will remain high as Deptford offers a fantastic balance; residents enjoy living, working and socialising all within a short radius.
If you're considering a move to Deptford or are thinking of investing in a Deptford apartment, keep reading.
Featured Property for Sale in Deptford
Frequently asked questions
Which Zone is Deptford in?
Deptford, London SE8 is located in Zone 2 in London with Deptford Bridge sitting on the boundary of both Zones 2 and 3. Deptford Bridge station – which is served by the DLR – transports commuters into Canary Wharf in less than 15 minutes and The City in around 25 minutes.
Is Deptford a good place to buy?
Thanks to its relaxed drinking and dining culture, ample choice of independent boutiques, and choice of modern properties, Deptford is proving itself to be an excellent place to buy. Deptford also benefits from a great community spirit making it ideal for those new to the area and for families. If you are an investor, you'll be pleased to know that rental demand in Deptford is strong, with the area appealing particularly to young professionals. 
Are there many things to do in Deptford?
There are several parks dotted around Deptford as well as the Creekside Discovery Centre which is fantastic for kids. The Creekside Discovery Centre offers endless learning opportunities for all ages with low tide walks being particularly popular with locals. Alternatively, chill out at one of Deptford's local parks or get involved with the community at The Albany.
What is Deptford famous for?
Best known for its maritime history, Deptford was home to Deptford Dockyard between the 16th and late 19th centuries. During its time, Peter The Great – emperor of the Russian empire – gained much hands-on experience, spending a lot of time working in the dockyard.
What is Deptford like to live in?
Deptford has a broad diversity with a strong Vietnamese, Caribbean and African community, as well as a recent influx of young professionals and creatives who enjoy all that this bustling area has to offer. With all the local amenities you could need, from supermarkets to excellent education in a waterside location, Deptford offers a great balance of being close enough the Central London but with cheaper property prices. Whilst prices are on the rise, there are still many good value properties on the market, but act fast!
Check out our guide and video on living in Deptford.
Start the process with Galliard Homes
Purchasing a property for sale in Deptford with Galliard Homes could not be easier.
Simply register your details on the form below, call our sales team on 020 8418 3635 or email sales@galliardhomes.com, and one of our friendly team will be in touch to discuss your requirements in more detail.