Borough Market - Eat, Drink, Shop and Do by Cari Thomas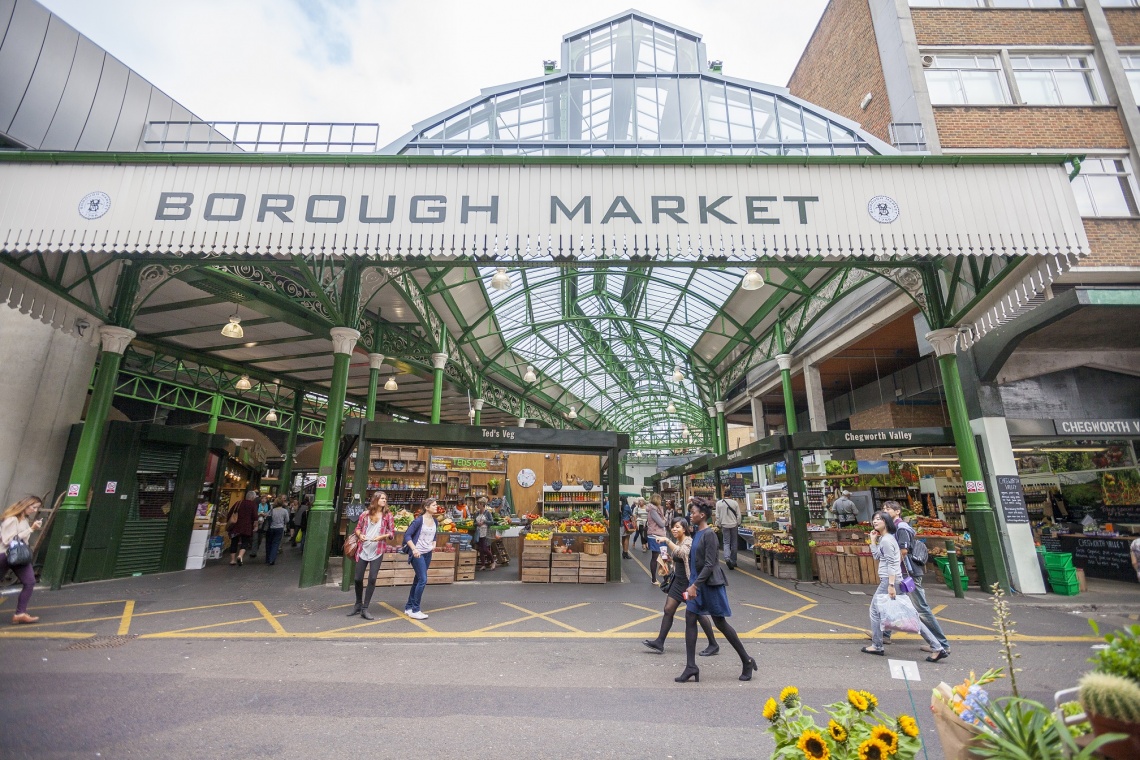 Despite its ancient history, the 1000-year-old Borough Market has never been more popular, attracting thousands of tourists and locals daily. Tucked beneath ornate Victorian arches it's a warren of overflowing grocery stalls, farm-to-plate butchers, cheese, bread and wine makers and gourmet street food vendors amidst the rising aromas of sizzling food and roasting coffee. With over 110 stalls to discover and a medley of restaurants and shops, we've narrowed down our top treats to taste, drink, shop and do, to get you started.
The market is open every day of the week except Sundays, with a more limited offering on Mondays and Tuesdays, so we recommend a midweek trip or an early Saturday morning jaunt before the crowds roll in. And make sure to arrive hungry.
Eat
With restaurants and food vendors encompassing almost every cuisine, the difficulty of Borough market is not what to eat, but knowing when to stop. There are plenty of stall favourites to choose from. Try the pork belly and crackling sandwiches from Roast To Go, or Eastern Mediterranean grilled kebab pittas from Elpiniki. There's the legendary raclette of Kappacasein with cheese from Bermondsey melted to oozing point over new potatoes and pickles, and the famous duck confit sandwich from Le Marché du Quartier. Veggie lovers can pick up fragrant Indian street food from Horn Ok Please.
If you've got room left, there's no shortage of treats with handmade fudge at Whirld, gluten free goodies from The Free From Bakehouse, The Cinnamon Tree Bakery's succulent cookies and a classic Italian gelato - or the indulgent gelato crepe - at Gelateria 3BIS.
If you're looking for a sit down affair, the market's many restaurants are some of the best in London. For brunch, head to Brindisa for an authentic Spanish breakfast: Catalan tostadas (toasted bread) with fiery Huevos Revueltos scrambled eggs and chorizo, finished off with coffee and chocolate smothered churros. The Middle Eastern Arabica Bar and Kitchen is another favourite, with such delights as Rookery farm eggs, house-cured lamb bacon, beef sujuk and Za'atar bread or Buckwheat pancakes drenched in salted date honey caramel and orange blossom cream.
For lunch and dinner, enjoy a true Borough Market initiation at Wright Brothers on Stoney Street. Sitting cosily on a beer-barrel savour fresh-off-the-boat oysters alongside a glass of chilled white wine. The fresh Italian pasta at Padella is another must. Whether it's their handmade tagliatella, eight-hour beef shin ragu or burrata bathed in oil, it's all melt in your mouth. Bao London is one of the newest restaurants on the block, offering innovative takes on the Taiwanese bun alongside Suntory whiskey on tap, which will get you nicely warmed up for the karaoke bar downstairs.
Meat fiends can savour British beef steaks at Hawksmoor Borough or a mouthwatering Sunday lunch with all the imaginable trimmings at Roast. For the seasonal plate lover, there's 26 Grains offering wholesome salads and heritage grain pastries and tarts; micro-bakery, restaurant and wine bar Flor, with its daily changing menu of deceptively simple British plates; and exquisite foraged fare at the nearby Native.
Drink
Eating is tiring work, but fortunately you can recharge at Londoner's favourite Monmouth Coffee-its habitual queue is testament to the quality of its brew. Or order a juice pick-me-up at We Juice It, with fresh fruits and wheatgrass shots if needed.
For something stronger, the small-but-perfectly-formed The Rake has draft and bottled beers and a secret beer garden, while The Cider House offers cider from their own orchards in Somerset and Herefordshire. Built into the side of the market is the candlelit wine bar Bedales with a sophisticated wine list and market-sourced seasonal plates. You can also book in for a private wine tasting if you want to sample their full selection. Around the corner on Bermondsey Street we recommend the Nine Lives cocktail bar which serves deeply inventive, zero-waste cocktails.
Borough Market is also known for its proper London pubs. There's the traditional The Market Porter with real ales and ciders on tap and hearty pub food. For a quieter drink, The Lord Clyde is a classic old man's pub, run by the same family for over 50 years. Not far from the market lies the area's most historic tavern, The George Inn, which sits on a site featured in the opening of 'The Canterbury Tales', and where Shakespeare himself was said to have put on his plays in the courtyard.
Shop
Borough Market began as a hub for groceries, meat and other staples and, despite everything that has grown up alongside it, you can still head there to enrich your weekly shop. Peruse the bejewelled medley of British grown veg from Ted's Veg, to Kent's Chegworth Valley, to The Tomato Stall packed with unique varieties grown on the Isle of Wight.
There's an exceptional range of high quality meat, with Wild Beef's rare-breed beef from Devon, the Rhug Estate for Welsh fare and Wyndham House Poultry for all your free range poultry products. That's not to forget one of the market's oldest residents, The Ginger Pig butchers, known for its high welfare meat… and its irresistible hot sausage rolls you can pick up in-store. Charcuterie products can be found at the Cannon and Cannon stall for the best of British charcuterie or Brindisa's shop for Spanish hams and chorizos.
Neal's Yard Dairy is another established shop offering over 70 cheeses from around the UK, while Blackwood's Cheese stall stock their own produce, and are known for their signature soft, raw cow's milk cheese steeped in extra virgin olive oil and rapeseed oil. Oak and Smoke is the place to go for smoked fish, smoked to perfection in their own wind-turbine-powered smokery.
And don't forget to leave the market with a loaf of fresh bread tucked under your arm. There are plenty of options but the Bread Ahead Bakery is one of the best, renowned for its rustic sourdough loaves (made just over the road) and impossibly light focaccia. You might also find yourself tempted by its salted caramel cream doughnuts…
Do
Aside from eating, drinking and shopping your way around the market, there are other activities on the menu. Peel back the layers of the market's history and many stories with a market tour. The official tours are run by the nearby cookery school Mimo. Their Borough Market Tasting Tour offers a multisensory tour through the market, discovering its stalls and delving into the stories and tastes behind them, with a food and wine pairing to finish. For something a little different, their Meet the Traders Tour brings you face to face with the traders themselves, where you can find out what life is really like making it in one of London's busiest markets.
For those looking to deepen their own culinary skills, there's a fantastic range of cookery courses. Mimo hosts a range of classes using products from the market itself. Run by a Spanish husband and wife team there's a blend of British and Iberian inspired courses such as tapas cooking, a best of Borough market class, preparing a Sunday roast or their Chef's Table, where you can watch and learn as a chef prepares several dishes for you to feast on.
The Bread Ahead Bakery will teach you all you need to know about the art of baking, from the perfect sourdough to the secrets of their doughnuts. The Ginger Pig provides hands-on meat and butchery skill classes to help you distinguish your chuck from your rump, while Cannon and Cannon will show you how easy it is to cure meat. The Wright Brothers oyster masterclasses will take you under the shell of our favourite mollusc, alongside champagne and an oyster tasting.
The Borough Market Cookbook Club is a great option if you're local to the market. You can sign up for free to join the club and can then attend their monthly events in The Cookhouse at Borough Market. Run by food writer Angela Clutton, each event focuses on a chosen cookery book with every member bringing along a dish from the book. Recipes are discussed, food is shared and the drink flows.
If you're looking for something a little more challenging, then there's nothing like the Borough Market spice challenge. Head to Spice Mountain, a specialist spice vendor that stocks 45 varieties of chilli and ask at the counter to try their hottest chilli, but be warned… it's not for the faint of heart!
Edited: 2nd November 2023