Living in Perranporth, Cornwall TR6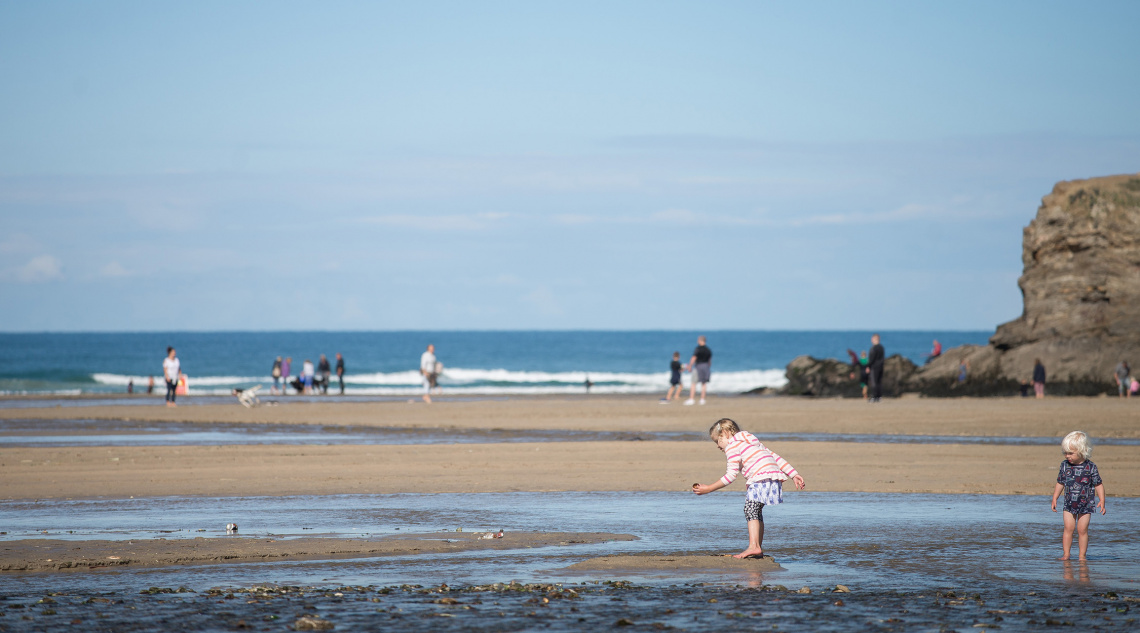 Situated on Cornwall's rugged north coast, Perranporth is a quaint seaside village and a popular surfing destination.
Perranporth Beach is a three-mile-long cocktail of windswept, verdant heathland and golden sand, and the village itself is encircled by rolling Cornish countryside. Perranporth's village centre has a plethora of eateries, kooky gift and surf shops, and opportunities to participate in various adrenaline-inducing activities. Picturesque scenery, a laid-back lifestyle and a friendly, welcoming community are just a few reasons why Perranporth is an ideal place to live.
Property in Perranporth
The Dunes
Galliard Homes and Acorn Property Group's development The Dunes — now sold out — is positioned in an idyllic spot overlooking the scenic golden shores of Perranporth Beach in Cornwall. The development comprised 36 contemporary properties, with a mixture of one, two, three, and four bedroom styles. Each property features underfloor heating, fitted kitchens by Kettle Co. with integrated Bosch appliances and access to a private balcony and/or terrace.
The Dunes is now sold out but you can use our property search tool to browse our available homes for sale.
History of Perranporth
Perranporth may be small, but it is rich in culture and history; its name derives from St Piran, the Patron Saint of Tinners, which is fitting since Perranporth was formerly one of the north Cornish coast's predominant tin mining villages. Along with tin extraction, fishing and farming were the main industries for over 1,000 years. Industry reached its prime in the 19th century but started to decline after mass emigration lead to a shortage of farming and mining skills in the area. Despite mining ending in the 20th century, its heritage is still observed today at various sites along Perranporth's coast and at the annual St Piran's Day festival. Due to Perranporth's vast rural surroundings, local agriculture continues to thrive and tourism plays an important role.
Places of Interest
Historical
Cligga Head
Cligga Head is a defunct mine situated upon the rugged cliffs which reflects Perranporth's prosperous tin mining past; at this historic landmark, there are old wolframite adits to explore and the remains of an explosives factory. Further along the coast in the nearby town of Saint Agnes, you will find Wheal Coates, a site of historic tin mining ruins and the remains of Towanroath engine house.
Perranzabuloe Museum
Perranzabuloe Museum, located at the top of the village, is a great place to learn about the social and industrial history of Perranporth and its surrounding villages. The museum's collection includes objects, maps and photographs, and features displays of mining, fishing, farming and surfing. Some past exhibitions have included: a display about the life of Winston Graham, the author of Poldark; "Childhood Memories", which showcased childhood objects and images from the early 1900s; an exhibition about how Perranzabuloe parish has transformed over the last 30 years.
Cultural
Poldark's Cornwall
As well as being a popular surfing and sun bathing destination, Perranporth is also, famously, the birthplace of Winston Graham and the village that inspired the author to set his world-renowned Poldark novels on its terrains. Poldark's Cornwall hosts Poldark Balls and Events, and puts together Poldark Tours, where fans of the saga can explore locations from the novels and television series.
Tunes in the Dunes
Tunes in the Dunes is Perranporth's annual music festival. Situated on the sands of Perranporth Beach, the event boasts a striking backdrop and its 2018 line-up is set to include many popular artists, such as Pixie Lott, UB40 and Jake Bugg (to name a few!).
Lighthouse Cinema
Located 18 minutes away from Perranporth by car, Lighthouse Cinema is a state-of-the-art cinema that has four screens and showcases the latest movies and 3D films, as well as hosting live entertainment and comedy nights. The venue also shows numerous live satellite transmissions of ballet, theatre and concerts from around the United Kingdom.
Shopping
Perranporth Country Market, held on Fridays throughout the year at Wheal Leisure, displays an array of home grown fruit and vegetables, locally farmed produce, eggs, honey, preserves and home baked goods.
Perranporth has a range of grocery shops and supermarkets, such as The Co-Operative and Londis, which are great for stocking up on household essentials. For wholefoods, vegetarian and vegan products, health supplements and fresh fruit and veg, head to The Mustard Seed.
There are quirky craft boutiques and surf shops scattered around Perranporth. For high-street shopping, Truro (Cornwall's ancient capital city) is only a 20-minute drive away from Perranporth and has a bustling shopping district in its town centre, which features brands such as Topshop, Superdry, Boots, TK Maxx, Debenhams and Next.
Food and Drink
The Watering Hole
Considered by The Guardian as one of the best summer pubs in 2009, The Watering Hole is positioned right in the middle of Perranporth Beach and claims to be the only beach bar in the United Kingdom. Renowned for its live music and events that run all year round, this bar is an after-work favourite among locals. In summer, The Watering Hole is home to a Beach BBQ and the popular Tunes in the Dunes festival; during winter, the bar serves a delicious Sunday carvery.
The Perranporth Inn
This family-run sports bar's cosy interior is a great location to enjoy some food and drink, whether it be a light snack or a gourmet meal that you're after. The bar serves daily seafood specials and a diverse range of traditional pub classics that are cooked using fresh local produce. The Perranporth Inn frequently has live sport showing across its four large TVs and offers a range of pub games such as foosball and a pool table. A large variety of ale, beer, cider, spirits, wine and cocktails are served here.
Jaipur Indian Cuisine
Located centrally on the corner of St Piran Road, Jaipur Indian Cuisine serves authentic Indian dishes cooked with fresh, high-quality ingredients and often has special offers on meals. Established over 15 years ago, this restaurant has become a local favourite for both eating in and take away, and the staff know how to please their customers with excellent service and quality.
Chrissy's Tea Room
For a traditional Cornish cream tea, visit Chrissy's Tea Room. This quaint café also serves home-baked cake, fresh sandwiches and other light snacks.
Willow Bistro
Only seconds away from the beach, this family-run bistro serves locally-sourced fresh fish, light snacks and a variety of meat, fish and pasta dishes; a selection of vegetarian, vegan and gluten-free options are available too. There are various offers on certain meals throughout the week, such as a buy one get one free offer on steak every Friday night and a free children's Sunday roast menu (subject to terms and conditions).
Green Space
Perranporth Gardens Charities
With Perranporth being situated in the middle of the countryside, it is no surprise that there are countless green spaces found in the area. Located just off of the promenade, opposite Perranporth Beach, there is a grass area that is ideal for picnics, dog walking and sunbathing. There is also a larger area of grassland at Bolenna Park, found along St George's Hill, which is home to a tennis club, a children's play area, a football area, a path and benches. Perranporth also has a boating lake, a member's only bowling club and a putting green.
South West Coast Path
Part of the United Kingdom's longest National Trail runs through Perranporth, presenting thrill-seekers with the opportunity to hike through various terrains spanning over a total of 630 miles, and those who are more laid back with the chance to take a leisurely stroll along the colourful, mineral-stained cliffs of North Cornwall. The walks incorporate various historical and geological sites and feature a plethora of vibrant flora and fauna, rare birdlife and suburb sea views.
Perranporth is located in the Cornish countryside, so as you can imagine, there is arable farming land and meadows of vibrant flowers, crops and plants stretching as far as the eye can see.
Tourist Attractions
Perranporth Beach
The main attraction in Perranporth is, of course, its beach. Spread over three miles, the golden sands provide a vast open area for strolling, surfing and sunbathing, whilst the dunes and heath that surround the beach are abundant in vibrant wildlife. On a hot day, the seaside has a buzzing atmosphere and it is always easy to find a sunny spot thanks to the sheer size of the beach. Rockpools, caves, streams and dunes make the beach scenery varied; the naturally formed bridge and large rock pool are popular sites for photography. If you are after adventure, why not try your hand at riding the waves in a lesson at Perranporth Surf School?
Healey's Cornish Cyder Farm
This family-run cider farm is only 8 minutes' drive from Perranporth and manufactures a variety of interesting Cornish beverages, including the infamous Rattler — a strong Cornish cloudy cider that certainly packs a punch! There are plenty of activities on offer at this farm; visitors can learn about Healey's heritage at the museum, ride on a tractor through the scenic orchards (where apples are hand-picked for the cider-making process), and try their taste buds with free samples of goods produced on the farm such as wine, juice, jam and Cornish scrumpy!
Reen Manor Riding Stables
Reen Manor Riding Stables caters for all levels, whether you are a beginner or intermediate; explore the Cornish countryside on horseback, go on a hack along the beachfront or take a lesson in the manége onsite.
Cornish Parachute Club
Perranporth might be a quaint, tranquil village, but it is also somewhere that offers tons of exciting activities to partake in if you enjoy a thrill! Adrenaline junkies should head to Cornish Parachute Club for the chance to skydive and enjoy breath-taking views of Perranporth's turquoise seashore and lush countryside from 10,000ft. What's more, this is the only parachuting location in the UK where you can land on a beach.
Eden Project
Eden Project is one of Cornwall's main attractions and guarantees a fun, family day out. Home to over a thousand varieties of tropical plant, this gigantic greenhouse also contains the largest indoor rainforest in the world! This attraction is a brilliant place to learn about wildlife and the environment, and attend entertaining events throughout the year.
Fun Facts about Perranporth
Perranporth Library is found inside the same building as Perranzabuloe Museum and offers a range of books, computers with internet access and monthly creative writing and book groups.
A sundial designed by local artist, Stuart Thorn, was built for the millennium and can be found in the Droskyn area of Perranporth, overlooking the coast.
Perranporth was the birthplace and residence of Winston Graham OBE, author of the popular Poldark novels.
Education
Perranporth Community Primary School, for children aged four to 11, offers an engaging curriculum and great facilities.
Truro School is a co-ed, independent, preparatory school, secondary school and sixth form, for pupils aged three to 18. The school has fantastic facilities; these include a 200-seat theatre, a large sports centre and a swimming pool. There are over 70 clubs and activities to participate in and the option to board.
Local Authority
Cornwall Council; Perranzabuloe Parish Council
Getting There
Rail
Truro Station is an 18 minute journey from Perranporth, and serves the Great Western Railway line.
Car
Perranporth is a short drive from the A3075 which connects to northern towns, such as Newquay, or towns further south, such as Three Burrows; from here, drivers can join the A30 all the way to Exeter.
Edited: 3rd July 2023