Living in Mayfair, London W1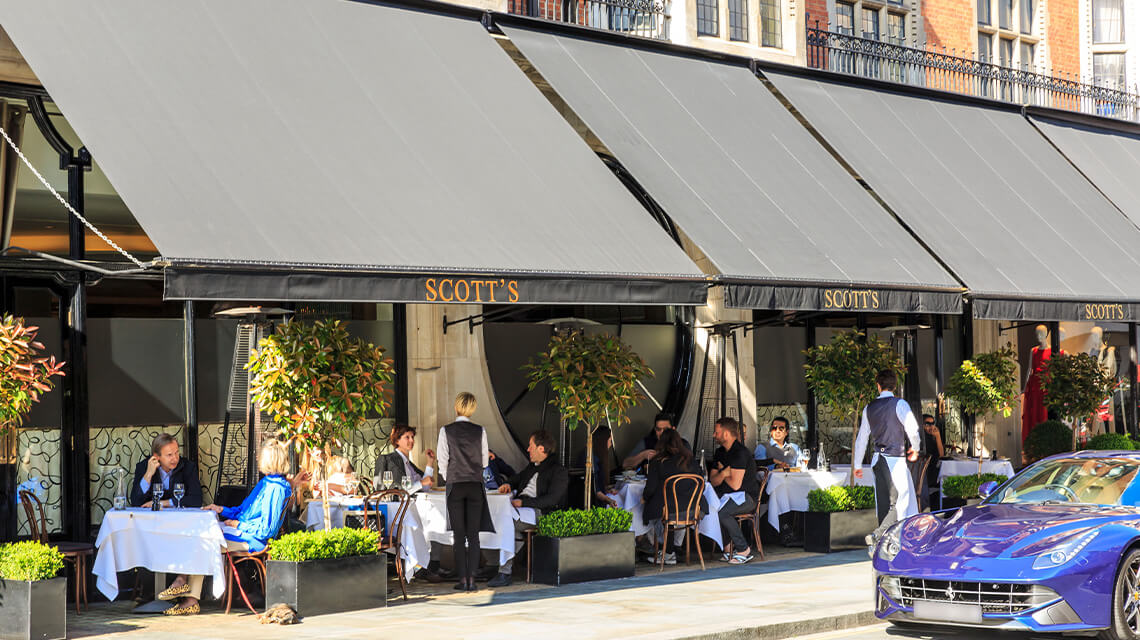 Located in the City of Westminster, on the east edge of the grandeur of Hyde Park, lies one of London's most exclusive areas, Mayfair.
Full of character and class, this elite London location has stylish, sophisticated and select shops, restaurants and bars around every corner. Even though the commercial aspect of Mayfair is highly superior, many corporate headquarters, embassies and hedge funds are also based here, not to mention that it has the biggest and most impressive concentration of luxurious five-star hotels in London.
Property in Mayfair
Galliard Homes has an impressive array of developments all over London and is proud to present two that are just on the doorstep of Mayfair in the exclusive districts of Marylebone and Fitzrovia:
The Chilterns
Part of Galliard's Platinum Collection, this development will allow residents to surround themselves in the utter luxury and prestige that Marylebone is renowned for. Here at Galliard, we believe that Marylebone is the definitive West End village as it offers the tranquillity of the nearby Regent's Park and the buzz of the world-famous London shopping district.
The Chilterns will comprise 44 impeccably designed apartments, including two outstanding penthouse apartments which will be in a league of their own. The specification will be more than impressive as it will include bespoke designs by the one and only Rabih Hage, plus an array of remarkable features such as fully-fitted Gaggenau and Miele kitchen appliances. Residents will also be able to indulge in an assortment of excellent facilities within the development that will include a private cinema room and an exclusive gym, just to name a few.
Hanway Gardens
This quaint boutique development in Fitzrovia will be a prime investment opportunity as it boasts a unique design that sets it apartment from other West End developments, comprising classic architecture combined with modern luxuries that will not fail to impress. Strategically placed opposite Tottenham Court Road Tube station, a deluxe apartment in this development will be perfect for those in need of a Prime Central hub with excellent connections to the rest of the city.
Each of the 18 apartments in Hanway Gardens will be finished with the most refined excellency and opulence, which will enhance the most exclusive and lavish elements of a London lifestyle. Residents will feel part of a community as they will be provided with facilities including communal and private luscious landscaped areas and a daytime concierge to assist in any way possible to make the living experience at Hanway Gardens more comfortable.
Places of Interest
Food and Drink
When in Mayfair, one can only expect the best when it comes to wining and dining as this London location is renowned for its Haute cuisine and incomparable service. Labelled by Square Meal as the restaurant that provides the 'ultimate fine-dining dream', Le Gavroche is Michel Roux Junior's restaurant offering nothing but the best in French cuisine; it must be fine considering it is the first restaurant in the UK to be awarded not one, not two but three Michelin stars.
We cannot talk about dining in Mayfair without mentioning The Ritz Restaurant: Prepare to marvel at the jaw-dropping magnificence of its classical design and indulge in some truly sumptuous delicacies that make The Ritz one to put on your Bucket List.
For something a little more contemporary, then Pollen Street Social will most definitely not disappoint. This swanky Michelin-starred restaurant and lounge bar will guarantee the best produce from across the British Isles, including everything from Seabass from Cornwall and Suckling Pig from Cumbria.
Another one of Mayfair's most popular places to eat is Sketch, an eclectic restaurant that is a great one to visit for its quirky combination of decadent food, drinks, music and art. Whilst gobbling the gourmet delights, one can admire the eccentric décor that this 18th century townhouse tea room and cocktail lounge has to offer.
If it is good enough for the celebs then we are certain that Nobu will be good enough for you. Just the sight of this Japanese restaurant is impressive, so wait until you try the food! The reason that your tastebuds will be tingling is because this restaurant blends classic Japanese flavours with a touch of South American charm, making for an unforgettable meal indeed.
Nightlife
Mayfair is the prime destination for a slice of the ritzy London nightlife where you can sip some delicate cocktails and hit the dance floor; it is no wonder this is a hotspot for celebrity spotting. Exclusive nightclubs in Mayfair include Mahiki, a tropical-themed venue that is the ultimate destination for party-goers, and the upmarket nightclub of Aura really knows how to reel out a funky house and R&B playlist.
Shopping
If you are wondering about the best location to shop in London, then look no further than Mayfair as it is full of lavish shops that are alluring to the eye, but perhaps not the wallet! Having said that, there is also a generous array of high street shops on offer too, so there is something for everyone whether you want to indulge or budget.
Selfridges is a prime destination for avid shoppers because everything is under one roof, fine jewellery, designer handbags and the beauty hall of dreams, just to list a few. Even if you are on a budget, it is worth taking a trip to Selfridges for the window shopping.
However, if you want the ultimate window shopping experience then head to New Bond Street which is home to luxury shops galore with Burberry, Hermès and Chanel, does it get any more luxurious than that?
For a quintessentially British experience, Fortnum and Mason is the place to be because it is where you can find the best of British tea, cakes and other tea time treats, as well as a plethora of other lavish goodies.
Culture and Entertainment
Even though Mayfair boasts a buzzy and vibrant atmosphere, sometimes it is nice to take some time out from the craziness and get some real fresh air. Luckily two of London's prized Royal Parks, Green Park and Hyde Park, are in the area and are the perfect places to go and enjoy the luscious greenery, glistening lakes and flourishing flowers.
Unleash the artist in you and visit Aspley House Museum where you can enjoy an essence of sheer English heritage with some of the finest art collections.
Another one of Mayfair's renowned cultural assets is St James' Church; this magnificent church is a superb place to soak up some culture, listen to impressive concerts or just simply admire the architecture.
Fun Facts about Mayfair
When in Mayfair you will be in the company of a variety of famous faces who reside in the area. From footballers and models, to members of The Royal Family, did you know that Queen Elizabeth II was born here and spent some of her childhood in Mayfair?
Winston Churchill was also known to have lived in this affluent London district and was even protected in a derelict Underground station in Down Street.
Education
Mayfair offers an impressive selection of educational establishments that make the area an appealing place to live. For those with a creative flair, The Sylvia Young Theatre School is an excellent option, and the University of Westminster and the Economic School of Science are both highly-esteemed institutions which are also superb academic choices.
Local Authority
Getting There
Underground
There are four Zone 1 Underground stations within the Mayfair area which means that the excellent connections to the rest of the city are a huge benefit of living in the area:
Bond Street is served by the Central, Jubilee and Northern lines and will reach Bank in approximately 13 minutes.
Green Park is served by the Piccadilly, Victoria and Jubilee line and will arrive at Canary Wharf station in an impressive 19 minutes.
Hyde Park Corner is run on the Piccadilly line which will allow passengers to travel to King's Cross station in less than 15 minutes. Heathrow is also accessible in a convenient 44 minutes.
Marble Arch is served by the Central line and will reach the heart of the City in less than 20 minutes.
Edited: 20th March 2023