Living in Ipswich, Suffolk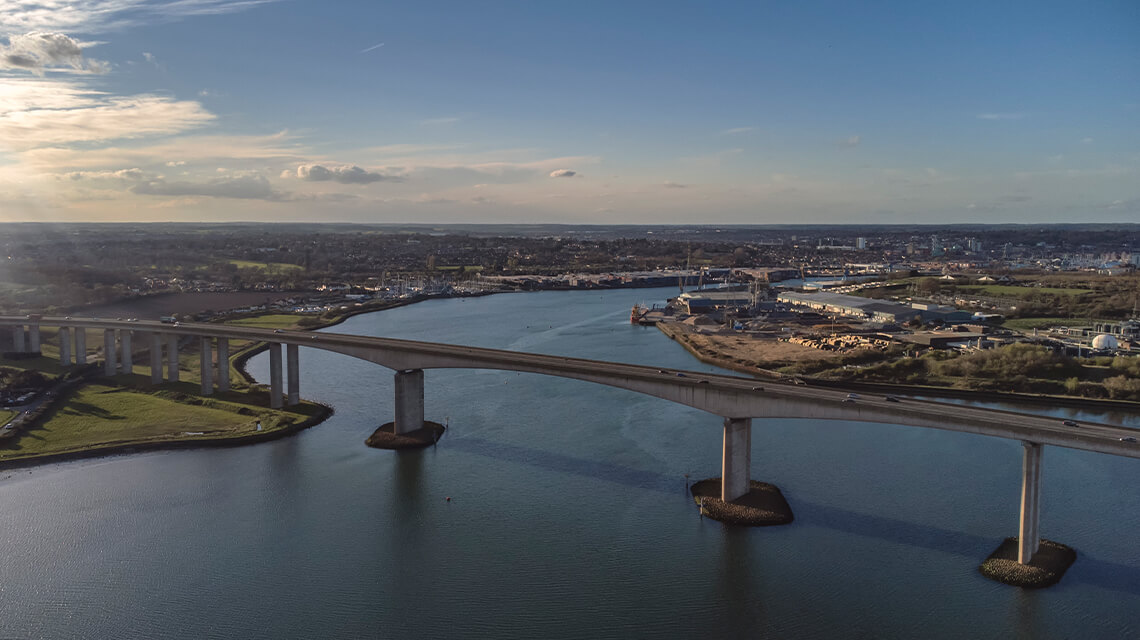 Famous for its medieval past, historic waterfront and Suffolk countryside, the town of Ipswich is the perfect place to live with plenty to offer. This vibrant community features a wide range of cutting-edge theatre & arts, independent shops and award-winning restaurants. With wonky Tudor and Victorian buildings, this picturesque town is rich with charming sights and greenery. Ipswich has a wealth of cultural heritage combined with excellent amenities. Read on to find out more about Ipswich.
Property in Ipswich
In joint venture with Wavensmere Homes, we are pleased to present Barrelmans Point, an exciting housing development just outside of Ipswich on the stunning Shotley Peninsula. A collection of 295 new 2, 3, 4 and 5 bedroom homes, each generously appointed property will showcase quality specifications and refined interiors. Situated on the historic grounds of HMS Ganges, an original Royal Navy training ground, the site will pay homage to its interesting past with a beautifully restored ceremonial mast and repurposed central building which will be home to amenities including a café, library and more. A gymnasium, screening room and co-working space as well as extensive grounds will also be located at Barrelmans Point for residents' exclusive use.
History of Ipswich
Ipswich is a town filled with history, dating back to the Saxon period and has been continuously inhabited since. Famously known as one of the UK's oldest towns, Ipswich has a rich heritage to explore. Throughout the town centre, there are medieval churches, Tudor houses and grand Victorian buildings, all filled with historic stories. Locals take pride in the history and are keen to educate those willing to learn about Ipswich's intriguing past.
Places of interest
Food and Drink
Suffolk Food Hall
A popular destination located close to the iconic Orwell Bridge, Suffolk Food Hall is a unique combination of farm shop, restaurant and food hall, offering visitors a wide variety of local and regional produce. With an emphasis on high-quality products, visitors of the food hall can expect to find everything from artisan breads and store cupboard favourites to fresh fish and meat prepared especially for you. The market also houses a restaurant and cafe where you can sit and enjoy some of the local produce served at your table. Suffolk Food Hall is an absolute must for any foodie!
Bistro on the Quay
Bistro on the Quay is located on the Ipswich waterfront and offers a selection of bistro-style dishes with a modern French twist. This former warehouse also offers an excellent wine list and adopts a relaxed and casual atmosphere, perfect for a date night.
Mariners Restaurant
This classic brasserie fare is situated on a renovated 1899 boat with elegant interiors and a stunning view of the marina. The Mariners Restaurant is owned by French Head Chef Julien Jourdain who has an intriguing back story and an exceptional passion for what he does. All dishes are curated from the heart using seasonal produce and local suppliers.
92 Noodle Bar
Rated the "Best Chinese Restaurant in Ipswich", 92 Noodle Bar presents guests with freshly prepared authentic Chinese food for a true taste of China. Located close to the marina and just a few minutes' walk from the town centre, this Chinese restaurant is very popular amongst the locals.
Last Anchor
Last Anchor is a waterfront bar and restaurant with a wonderful terrace. This local restaurant offers a selection of British and global cuisine, bottomless brunch, or lunch as well as "catch of the day" dishes. Last Anchor aims to source their products from local suppliers to curate innovative and exciting food.
Ocean Fish Platter
Specialising in seafood, Ocean Fish Platter is located in the city centre and enjoys unique lobster, shrimp and grilled fish dishes in a laid-back environment.
The Forge Kitchen
The Forge Kitchen is an independent bar, smokehouse, and restaurant. The restaurant specialises in cooking food over smoke and fire, in a truly unique setting that was a former electricity sub-station, still housing lots of original features. The Forge is quirky, somewhat mysterious and will definitely leave you wanting more. Enjoy stunning steaks, sharing platters, boozy breakfasts and probably the most unique dish on the menu, the Sunday roast burger! The Forge Kitchen even offers a kid's menu for your little ones.
The Greyhound
The Greyhound is a traditional local pub just outside the city centre. In operation since 1840, The Greyhound is a local favourite , particularly with Ipswich Town fans who flock to the pub on match days for pre-match drinks and a bite to eat from their Football menu.
Steamboat Tavern
A lively riverside local pub, Steamboat Tavern is well-known for its ever changing rotation of guest beers and live music. This characterful pub also offers a variety of locally sourced food, is home to a fantastic beer garden and is animal friendly, so your furry friends can also enjoy a night out!
Arcade Tavern
This town centre bar serves over 120 craft beers, 75 artisan gins and over 40 whiskeys and Bourbons. Set within a Grade II listed Georgian town house, Arcade Tavern is the place to go if you like something a little bit different with regular guided tasting events and beer and food pairings.
The Gallery
The Gallery is a contemporary wine and cocktail bar set within a listed building, close to the Ipswich waterfront. With many paintings on display by local artists, there is always something on display to catch your eye at The Gallery. If that wasn't enough to convince you, The Gallery also offers cocktail masterclasses led by its in-house mixologists, so that you and your friends can learn to mix like a pro!
Clubs
The Club
The Club is the only independently owned nightclub perfectly located in the heart of Ipswich town. Here, you can enjoy live music, DJs and a variety of fun events from Thursday-Saturday until the early hours.
Supper Club
With its amazing cocktails and friendly staff, Supper Club is the perfect place to enjoy some good music on a night out!
Shopping
Ipswich enjoys a variety of high street and independently owned shops in its buzzing town centre. If you're a shopaholic, Buttermarket Centre has got you covered. With every day favourites such as Primark, FatFace, The Works, Flying Tiger and New Look, you cannot go wrong. For grocery shopping, the town has a choice of supermarkets and food shops such as M&S, Tesco, Waitrose and Sainsbury's.
Ipswich is also home to a vibrant community of independent businesses. Berridges; a family jeweller since 1994, offering bespoke jewellery services and a hand-picked collection of contemporary and vintage pieces. Dial Lane Books; an independent Scandi-style book shop with a variety of classic and modern fiction, alongside children's, travel and local literature books. Zeebra Chic; a women's boutique offering the latest Italian Fashion, including quirky gifts, homeware and accessories.
Activities
Superbowl
Superbowl is located in the town centre and is the perfect weekend activity for all the family. As well as bowling, you can also enjoy some friendly competition at the arcade or even a game of pool at one of the many pool tables.
Cineworld
This family-friendly cinema is close to the train station, waterfront, and city centre, making it accessible to all. The welcoming staff and latest movies make Cineworld a great destination for a day out. Find out what's on here.
Holywell's Park
Holywell's is more than just a park. A popular tourist attraction with locals Holywell's boats a maze and even an open-air theatre!
Ipswich Transport Museum
Ipswich Transport Museum is devoted to the history of transport and engineering objects made or used in the local area. Visiting the museum is a very educational experience; don't forget to stop by the gift shop before you leave!
Jimmy's Farm & Wildlife Park
Jimmy's Farm & Wildlife Park is located just a 15-minute drive from Ipswich town centre. Children enjoy a variety of activities including an adventure playground, animal experiences, woodland walks, sports challenges and so much more. The park is also home to a reptile house, traditional farmyard animals as well as some very exciting exotic animals! Families can also stop for a bite to eat, a browse in the gift shop, and even purchase some fresh farm produce to take home.
Suffolk Leisure Park
Suffolk Leisure Park is an outdoor winter sport park, great for skiers and snowboarders, but is also home to a high-rope course, climbing facilities and a driving range. With something for everyone, it makes for a great day out. This leisure park is easily accessible by car, just off the A14, a 10-minute drive from the town centre.
Bourne Park
With open green spaces, nature trails, a football ground and an outdoor swimming pool, Bourne Park is a must on a sunny day.
Education
County
Transport
Road
The A14 and A12 run just outside Ipswich city centre, easily connecting Ipswich to Southend-on-Sea and Stanstead.
Trains
The train station is only a 10–15-minute walk from the town centre, where the Greater Anglia runs regularly, taking passengers to the heart of London. Local buses and taxis are available outside the train station.
Air
For international travel, Stanstead Airport can easily be reached by car within an hour. From here, kick back, relax and enjoy the flight.
Edited: 6th November 2023