Living in Woodford Green, London IG8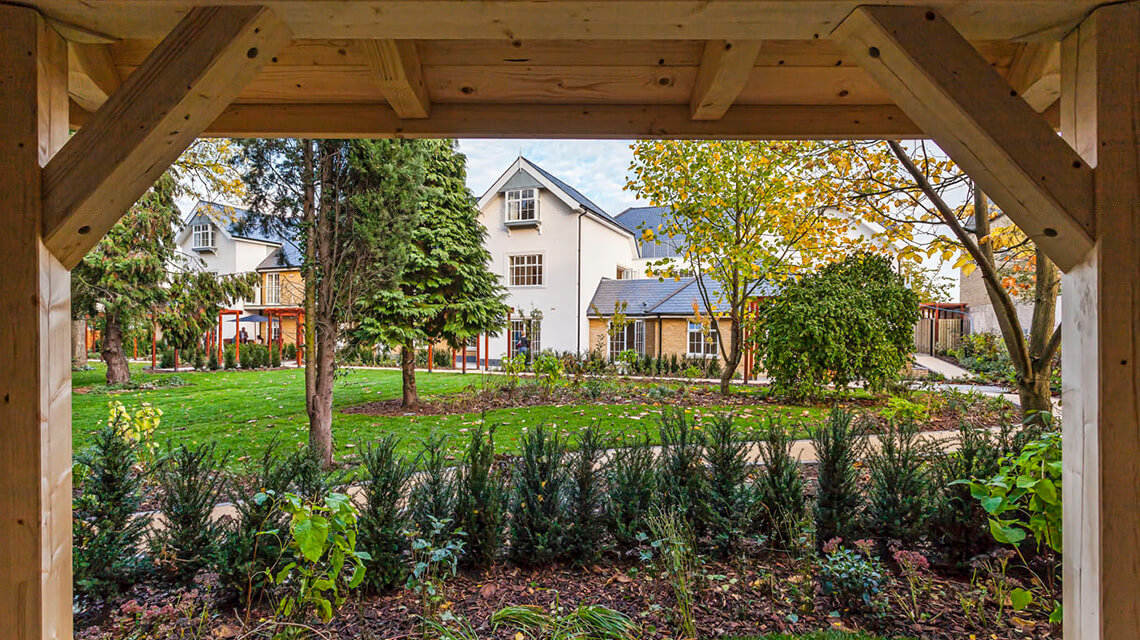 Neighbouring Epping Forest, Woodford Green offers an abundance of green space, excellent schools and a vibrant, village-style atmosphere less than 15 miles from the buzz of Central London.
Home to some of the stateliest homes in the Borough of Redbridge, Woodford Green is predominantly favoured by families looking for peaceful, suburban living, whilst still being within easy reach of the capital.
Property in Woodford Green
Highbeam House
Nestled within beautiful landscaped gardens in a gated development, Highbeam House (pictured) exudes an air of luxury usually reserved for the city. Residents of the luxurious two and three bedroom apartments and duplexes will no doubt be in for a treat, with an interior specification matching Galliard's highest standards, and each property boasting a private terrace or balcony.
This development is now fully sold out. Use our property search to find other available developments across London's Home Counties or browse new homes within our Commuter Belt Collection.
History of Woodford Green
Few records of Woodford Green have survived from before 1600; by the 17th century the parish had expanded to house wealthy city merchants building personal country retreat homes in what was considered then as a rural village. Epping Forest, surrounding Woodford Green, has been preserved as an open space under the Act of 1878, and although the map has structurally changed dramatically in the last 200 years, Woodford Green's defining feature has always been its green, open land.
The transformation from the village of Woodford Green into the suburb it is today is somewhat contested as to when exactly it began. For some, the creation of the railway station in 1856 (which now exists today as Woodford Tube station) is pinpointed as the pivotal moment of change, however at the turn of the 20th century the population boomed, welcoming an influx of housing developments and estates, and eventually Woodford Green was absorbed into part of Greater London in 1965.
Places of Interest
Historical
Winston Churchill Monument
Winston Churchill was MP for Woodford from 1945 to 1964 and a statue of Britain's famous wartime leader stands proudly on the corner of The Green. History buffs will also note that Clement Attlee, Churchill's predecessor, had a residence in Woodford Green and a blue plaque commemorates the Labour Prime Minister's former house on Monkhams Avenue.
Queen Elizabeth Hunting Lodge
Built in 1543 by King Henry VIII, the Queen Elizabeth Hunting Lodge is a timber-framed hunting grandstand on the cusp of Epping Forest. Visitors can enjoy realistic exhibitions of Tudor festivals and experience what hunting was really like back in the 16th century.
Shopping
Browse a variety of independent and high street chain stores on Woodford Green High Road, from your everyday convenience shops to boutiques and wine rooms.
For even more choice, The Mall Walthamstow is just a 20 minute drive away whilst Westfield Stratford City is also just 20 minutes away by Tube.
Food and Drink
Mezze
Indulge in a variety of Turkish, Greek and Mediterranean dishes at Mezze, which offers a first-class service and a buzzing atmosphere - perfect for celebrating those special occasions.
Pizzeria Bel-sit
This traditional Italian restaurant is a hit with locals and visitors alike. Although the queue can be long, it is worth the wait as the pizzas at Bel-sit are delicious and authentic, and portions are very generous.
The Traveller's Friend
Enjoy cask ales and wholesome British food at The Traveller's Friend, known locally as "The Spivs", which won London Area Pub of the Year in 2015.
Season's Bar
Head to Woodford Green's go-to spot for cocktails, TV sports nights and live music events - Season's Bar. The main bar is heaving on a Friday night, whilst their basement bar is available to hire for private parties.
Green Space
Woodford Golf Club
Woodford Golf Club, first established in 1890, is one of the oldest golf clubs in Essex, and a founding member of the Essex Golf Union. It boasts nearly 6,000 yards of green and is open all-year-round, hosting open golf events and societies for members.
Fairlop Waters
Fairlop Waters, the largest country park and leisure facility in Redbridge, is also close by. Facilities include a floodlit driving range, a windsurfing and sailing lake, golf courses and a newly constructed High Ropes Climbing course.
Fun Facts about Woodford Green
Other than Prime Ministers Winston Churchill and Clement Attlee, another notable figure that once lived here was the suffragette Sylvia Pankhurst. A plaque by Woodford Tube station commemorates her links to the suburb.
Education
Families flock to Woodford largely for its excellent range of state and private schools. Popular primary schools include Churchfields Junior School and Wells Primary School, which have both received 'outstanding' ratings by Ofsted, whilst leading secondary schools include Trinity Catholic High School and Woodford County High School.
Local Authority
Getting There
Roads
Woodford Green is located just west of the M11 and north east of the North Circular, whilst the A12 and M25 are also within close reach, providing easy access across London, Essex and beyond.
Underground
Woodford Green is served by Woodford and South Woodford Tube stations, which is served by the Central line.
Approximate journey times from Woodford Tube station:
Stratford 20 minutes
Liverpool Street 24 minutes
Tottenham Court Road 30 minutes
Bond Street 33 minutes
Edited: 20th March 2023