Introducing Evolve, Galliard's Work Space Scheme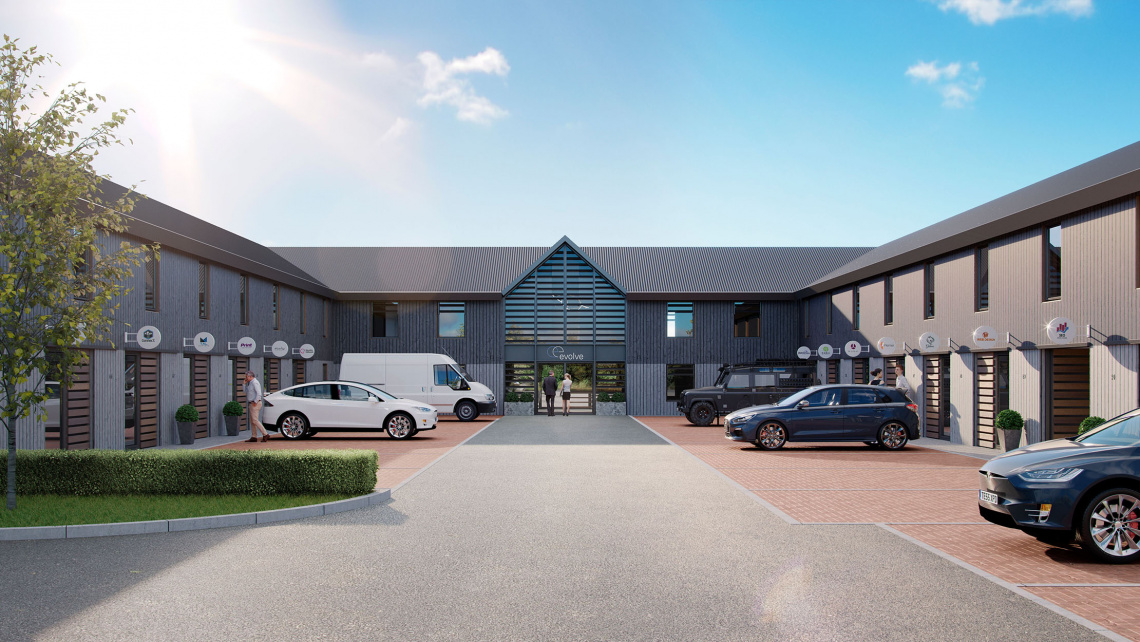 The Galliard Group is proud to present the latest addition to their ever-growing portfolio. Evolve is a brand new scheme launching at the beginning of March 2019 and set to complete in late 2020. The new £100 million commercial property business will build affordable, contemporary workspace schemes across London and the South East.
Each scheme will comprise additional lifestyle facilities and the perfect opportunity for investors and businesses alike, wishing to grow their business. Evolve will provide the perfect space for a harmonious working environment where small businesses can flourish and inter-relate as an enterprising company.
With different projects in the work, the first three Evolve projects have been designed by both Evolve and award winning architectural practice Bowman Riley - an established leader in office and community work space design.
The first Evolve scheme is Located in Colchester, a 5.7 acre site and 50,000 sq. ft., two storey development which will offer 90 work place units in phase 1 and five stand-alone traditional office buildings in phase 2. The two other Evolve projects, currently in planning, include a 2.19 acre site, 50,000 sq. ft. development with 90 small business units in Milton Keynes and a 1.5 acre site and 36,000 sq. ft. development with 45 business units in Watford.
The first phase of the new Evolve workspace will be designed around a central barn building which will provide a foyer and lounges for visitors and users with cosy seating and coffee tables for an opportunity to network, relax and a space for informal meetings. Along with meeting rooms, business suites and other lifestyle facilities clients will have access to a fully-equipped gymnasium, which will be complete with a shower and changing room. Occupiers will benefit from a private car parking area and landscaped areas for modern convenience.
The units will range from 395 sq. ft. up to 1,358 sq. ft. with some set to feature a loft-style and various ceiling heights. Each unit can be finished in either a commercial specification, ideal for workshop or storage use, or a premium specification, designed for a stylish office space. Clients will have the option to include added extras such as high-speed internet access, glazed doors, various flooring options, feature wall finishes, feature lighting and bespoke furniture packages.
Currently in planning, the Milton Keynes Evolve project will be located off Junction 29 of the A12 and comprise 90 small business units designed around a central hub which will feature a foyer, lounge and lifestyle facilities. Anticipated to launch in early 2020, the development will boast landscaped areas and parking facilities.
The current plans in place for London's first Evolve scheme in Watford, nearby Greenhill Crescent, will see the refurbishment of 21 existing commercial premises, the creation of 12 work new workspace units and another 12 office workspaces created from commercial container units. Expected to launch in late 2019, the current tenants will be able to operate as normal throughout the construction period.
This scheme will provide an excellent opportunity for investors, with the Colchester development projected to return rental yields of 8%, there is a superb opportunity for rental investments. Investors will also benefit from the fact that the commercial property is freehold meaning that there will be zero Stamp Duty and zero business rates (this is dependent on circumstance).
Start-up and established companies will also benefit from Evolve, for a chance to acquire small and medium workspace units to rent or buy. Occupiers will be able to benefit from flexible leases and brand new, 'ready to go' units.
Land and building owners and investors will also be able to take advantage of this excellent opportunity with a chance to partner with Galliard Group and develop an Evolve workspace scheme to transform an existing or redundant premise into a new business community.
In the last three years, there has been a substantial increase in small and medium sized businesses across London and the South East who are choosing to locate to community-style workspace schemes. Stephen Conway, Executive Chairman of Galliard Group notes how "Galliard has helped young professionals and individual investors in the housing market get onto the property ladder" for over 25 years. Now, with the launch of Evolve it is an opportunity to move "our buy-to-let investment work into the commercial property sector, providing investors with a value-for-money opportunity to acquire units for rental investment".
For further sales information, contact the Evolve team on 020 3409 2270.
Edited: 7th September 2023