Living in Clifton, Bristol BS8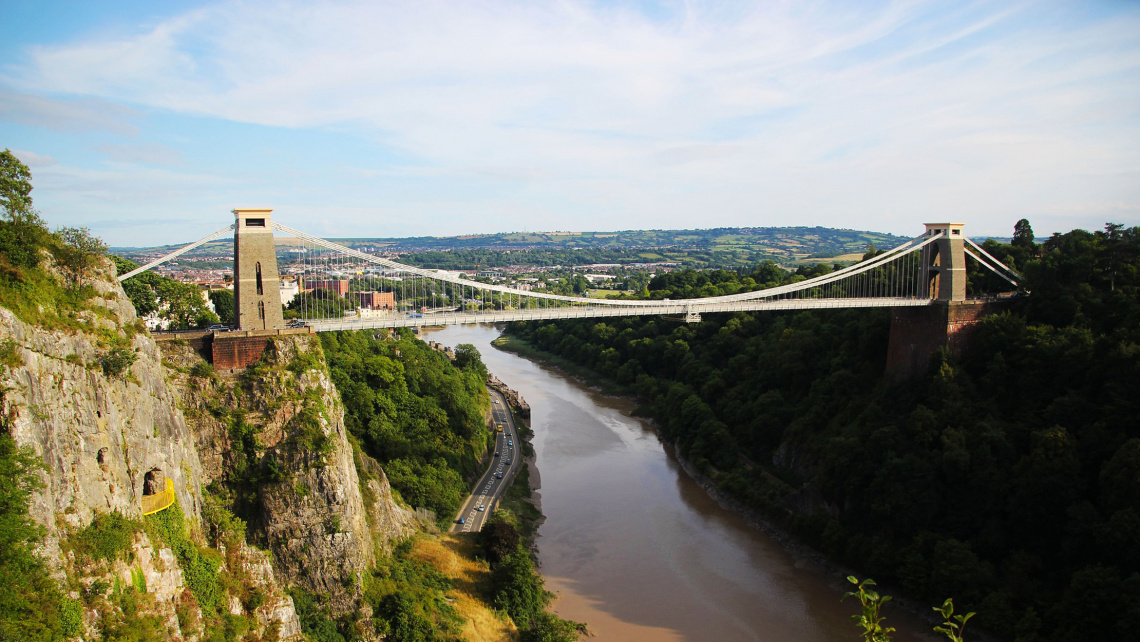 Commended as 'Britain's best city to live in' and named as one of the top 10 cities to live in the world - ranking alongside the likes of Amsterdam, Berlin and Vienna - Bristol is the cosmopolitan capital of South West England, famed for its maritime history, cycling culture, Banksy street art and quirky, urban atmosphere. Situated to the west of the city centre, Clifton is one of Bristol's oldest and most prestigious suburbs.
Imagine London but on a smaller scale, slower paced but still as culturally invigorating and with the River Avon flowing through its centre rather than the River Thames. Wedged halfway between Bath and Newport, Bristol is the most populous city in Southern England after London, packed with opportunities to enjoy its beautiful countryside, dazzling waterfront and sensational shopping streets.
Home to some of the city's most affluent homes and upmarket boutiques, and of course the magnificent Clifton Suspension Bridge, this exclusive suburb wholesomely combines city and village living for a residential experience worthy of being dubbed amongst the best in Britain.
Property in Clifton
Brandon Yard
Situated in the region's trendy Harbourside district, Brandon Yard is an impressive residence whose site dates back to the late 17th century. Comprising two Grade II listed buildings and an all-new residential building, this eye-catching development is positioned opposite the striking SS Great Britain and is just 20 minutes' walk from the city centre.
Brandon Yard is now sold out. For more information, please visit the development page or use our property search tool to find other available properties. Alternatively, call us on 020 3409 2270 to speak with our team.
Tempus
Galliard's boutique development, Tempus, is an exceptional offering of 14 one and two bedroom apartments, and two outstanding three bedroom penthouses - all just four minutes' walk from Clifton Down station and approximately 10 minutes' walk from the University of Bristol.
The development will incorporate a Georgian terrace on the South Parade, seamlessly blending into Clifton's backdrop of marvellous Georgian architecture. Residing within will be luxury homes fit for the modern city dweller, with the majority set to feature a private balcony or terrace.
Residents will be perfectly placed to enjoy the best that Bristol has to offer whilst also being within close reach of other treasured destinations such as Bath, and those travelling to London will be able to journey to Paddington station in one hour and 40 minutes from Bristol Temple Meads.
Tempus is now sold out. For more information, please visit the development page or use our property search tool to find other available properties. Alternatively, call us on 020 3409 2270 to speak with our team.
History in Clifton
Recorded in the Domesday Book as 'Clistone', meaning 'hillside settlement', Clifton has a vast and treasured history, and continues to be the destination of choice for aspiring and existing Bristolians. Much of the area has been built on its past success in the tobacco business when Bristol's port was a superpower on the English trade stage. As a whole, Bristol's reputation in trade goes as far back as the 12th century before it became one of the country's principal ports and later, one of the starting points for a number of voyages to the New World.
Clifton's golden years were no doubt during the Georgian and Victorian eras when it was formally incorporated as a part of Bristol, and developments sprouted up across the suburb, including the Clifton Suspension Bridge which opened in 1864.
Places of Interest
There's so much to see and do in Bristol, whether you're a permanent resident or just visiting. As the UK's first Cycling City, there's no doubt that one of the best ways to get around and explore all of the sites is by bike. Here are the must-see historical and cultural attractions, perfect for a family day out:
Historical
Bristol Cathedral
With a gothic exterior similar to that of Notre Dame, Bristol Cathedral is an anchor of the community and a cherished part of the area's history, dating back to 1148 when it was first consecrated. It didn't officially become a cathedral until 1542, but according to architectural historian Nikolaus Pevsner, the building is 'superior to anything else built in England, and indeed Europe, at the same time'.
Cabot Tower
Located within Brandon Hill - Bristol's oldest park - Cabot Tower is a 105ft tower built in 1897 to commemorate John Cabot's voyage from Bristol to North America under the commission of King Henry VII. Open daily and offering free entry, visitors can climb to the top of the tower for some truly spectacular views of the city.
Clifton Observatory, Camera Obscura and Cave
Originally a windmill used to grind corn and tobacco, the Clifton Observatory was transformed by the 19th century artist William West who used the mill as his studio; first by installing a telescope and then a camera obscura - a 13cm convex lens and sloping mirror to project panoramic views of the Clifton Suspension Bridge, the Avon Gorge and its surrounding area. As well as this, West also built a tunnel from the Observatory to St Vincent's Cave, which opens onto the cliff face on St Vincent's Rocks and is said to have once been the home to two giants, Goram and Ghyston, according to Bristolian folklore. Visit the Observatory for unforgettable views and to capture a picture-perfect moment.
Clifton Suspension Bridge
Dubbed one of the 'world's greatest bridges' and seen as the 'symbol of Bristol', the Clifton Suspension Bridge is a remarkable spectacle of architectural prowess as well as being a historical centrepiece of the city. The bridge, which runs over the River Avon, connecting Bristol with North Somerset, has its own visitor centre and runs free tours for those intrigued by its history and how it is maintained today.
Brunel's ss Great Britain
Credited as one of the world's most important historic ships, the ss Great Britain was the longest passenger ship between 1845 and 1854, designed by and named after the same mastermind behind the Clifton Suspension Bridge, Isambard Kingdom Brunel. Designed for vast oceanic expeditions, this ship was the first iron steamer to cross the Atlantic, accomplishing the feat in 1845 when it journeyed from Bristol to New York in 14 days. Now a museum ship, this is the perfect choice for a family day out.
Cultural
Bristol Museum and Art Gallery
With a variety of collections and exhibitions held all-year-round, the Bristol Museum and Art Gallery is the place to indulge your curiosity. From dinosaurs to Egyptian mummies, and extinct mammals to rare works of art, this is one of Bristol's most prized attractions.
M Shed
M Shed tells the story of Bristol throughout the ages with the help of interactive displays, films, photographs and objects. Explore everything from the city's medieval architecture to its maritime heritage and quirky street art with free entry to this unmissable attraction.
Royal West of England Academy
Bristol's first ever art gallery, the Royal West of England Academy, is the perfect hideout for any art fanatic. Contemplate innovative concepts unveiled from some of the world's most cutting-edge artists or marvel at timeless pieces pre-dating the Renaissance. There's always something new going on so you are sure to find yourself revisiting for a fresh and exciting experience.
Arnolfini
Situated in the heart of Harbourside - Bristol's vibrant waterfront scene - Arnolfini is one of the leading centres for the contemporary arts in Europe, constantly showcasing pioneering work in dance, film, live performance and music. This is the ideal entertainment venue for those who are looking for something a little out of the ordinary.
Colston Hall
Music lovers should no doubt pay a visit to Colston Hall, Bristol's largest concert hall - which has hosted the likes of Emile Sandé, Ella Fitzgerald, Elton John, Bob Dylan, David Bowie and The Beatles. The hall also hosts comedy shows where notable comedians such as Harry Hill, Jimmy Carr and Billy Connolly have also graced the stage.
Shopping
Clifton Village
Boasting a variety of luxury boutiques and high-end jewellery stores, Clifton Village is the place to be for an upmarket shopping experience. There is also a butchers shop, bakery, fruit and vegetable store, and a supermarket to cater to everyday needs.
Clifton Down Shopping Centre
For more mainstream shops, Clifton Down Shopping Centre is ideal, with a large Sainsbury's supermarket, Boots chemist and opticians, as well as a Starbucks and Thorntons chocolatiers.
The Clifton Arcade
The Clifton Arcade houses fourteen shops, a pub and a café all within a grand Victorian building; perfect for anyone who loves collecting antiques and browsing traditional sweet shops.
Bristol Shopping Quarter
Divided between The Galleries and Cabot Circus's shopping centres, as well as The Arcade and the shopping street Broadmead, the Shopping Quarter is home to hundreds of stores and is one of the best highlights of living in Bristol if you're mad about fashion. Browse department stores such as Debenhams, House of Fraser and Harvey Nichols, or head to Hugo Boss, Kurt Geiger and Michael Kors for a designer fix.
The Shopping Quarter also hosts a gym and two cinemas - an Odeon for enjoying blockbuster favourites - and the Showcase Cinema De Lux at Cabot Circus, offering a more luxurious cinematic experience, as well as showing live performances, with recliner seating, and an order-at-your-seat food and drink service.
Food and Drink
The Ivy Clifton Brasserie
Enjoy the best of British cuisine in one of Clifton's most glamorous restaurants, providing a variety of menus to choose from, including breakfast, brunch, afternoon tea and dinner - plus an extensive wine list to impress even the most pernickety of connoisseurs.
The Mint Room
This swanky Indian restaurant is fairly new to Clifton's restaurant scene but is already considered a favourite with locals and visitors. Headed by the chef who previously worked at London's prestigious Michelin-starred Indian restaurant, Tamarind, The Mint Room is definitely worth a visit, whether you're after an exotic, mild dish or a ferocious tongue sizzler.
The Cowshed
For a Sunday Roast you won't forget to visit The Cowshed, which sources its meat from West Country farmers so visitors are reassured that their food is both fresh and locally-sourced. Their speciality is called 'steak on the stone', which is unique to this restaurant and uses a lava rock heated to 420 degrees to cook the perfect steak.
The Coronation Tap
Visit Clifton's original cider house situated next to the famous Clifton Suspension Bridge, where locals attribute a night out here with the 'getting corried'! The Coronation Tap also hosts live music performances and has won numerous awards, including 'UK Music Pub of the Year' in 2009, 2010 and 2011, and the 'Best Live Music Pub' in the Great British Pub Awards 2011.
Hyde & Co
Bristol is jam-packed with speakeasy pubs and secret bars, and Hyde & Co is certainly among the best. With a Prohibition theme and a 'low-lit, gentleman's club vibe', this is a fantastic spot for socialising and enjoying a classic cocktail.
Illusions Magic Bar
For a little bit of magic with your tipple of choice, the Illusions Magic Bar offers the perfect mix of infectious vibes, great music, a delicious cocktail selection and sensational live performances.
Green Space
Queen Square
This beautiful Georgian park is perfect for a peaceful respite away from it all, and is a popular retreat for picnic lovers and dog walkers. Queen Square also hosts outdoor theatre performances and concerts for those looking for an alternative entertainment option.
Castle Park
Perfect for a tranquil, riverside walk, Castle Park is yet another local favourite, with the remains of St Peter's Church offering a medieval feel - a welcoming contrast to the hustle and bustle of Bristol outside its peripheries.
Clifton Down
Spanning more than 400 acres, the Downs - which consists of both Clifton Down and Durdham Down - is a valued part of Bristolian culture and a wonderful place to be to observe scenes of natural beauty, as well as the striking Clifton Suspension Bridge. The Downs also hosts a number of events including charity runs, funfairs, circuses and abseiling.
Take a look at all of Bristol's parks and estates.
Tourist Attractions
Bristol Zoo Gardens
Bristol Zoo Gardens is the world's oldest provincial zoo and still remains one of Bristol's most loved and visited tourist attractions. From gorillas to Asiatic lions, this is definitely a family day out to tick off the list. Once you're done here, why not head to the Bristol Aquarium for a deep-sea experience.
Bristol Old Vic Theatre
Dubbed the 'most beautiful theatre in England' by actor Daniel Day-Lewis, the Bristol Old Vic Theatre - the UK's longest continuously-running theatre - hosts a number of productions all-year-round for all the family to enjoy.
Fun Facts about Clifton
Bristol is the hometown of Ribena and the largest manufacturer of hot air balloons in the world, plus it even has its own currency - the Bristol Pound!
Many famous actors were trained at the Bristol Old Vic Theatre School including Daniel Day-Lewis and Jeremy Irons. Other notable celebrities from this city include the actor and comedian John Cleese, and TV presenter Noel Edmunds.
Education
Bristol is a vibrant student city, home to three universities: the University of Bristol, the University of the West of England and the University of Law. The City of Bristol College is one of the UK's largest further and higher education colleges, and Clifton College is one of Bristol's top independent boarding schools, educating pupils from ages two to 18.
Local Authority
Getting There
By Road
Clifton is approximately 30 minutes' drive from five motorways: the M4, M5, M32, M48 and M49. The following destinations can be reached in under an hour's drive:
Bath 40 minutes
Newport 42 minutes
Weston-Super-Mare 43 minutes
Swindon 48 minutes
Gloucester 50 minutes
By Rail
Clifton Down station serves the area, providing services to Avonmouth, Severn Beach and Bristol Temple Meads. From Temple Meads, which is accessible in as little as 16 minutes, commuters can travel to London Paddington station in 1 hour and 40 minutes.
By Air
Bristol Airport offers a variety of European and international destinations, perfect for those looking for a convenient getaway.
Edited: 2nd November 2023