Restaurants and Bars in Deptford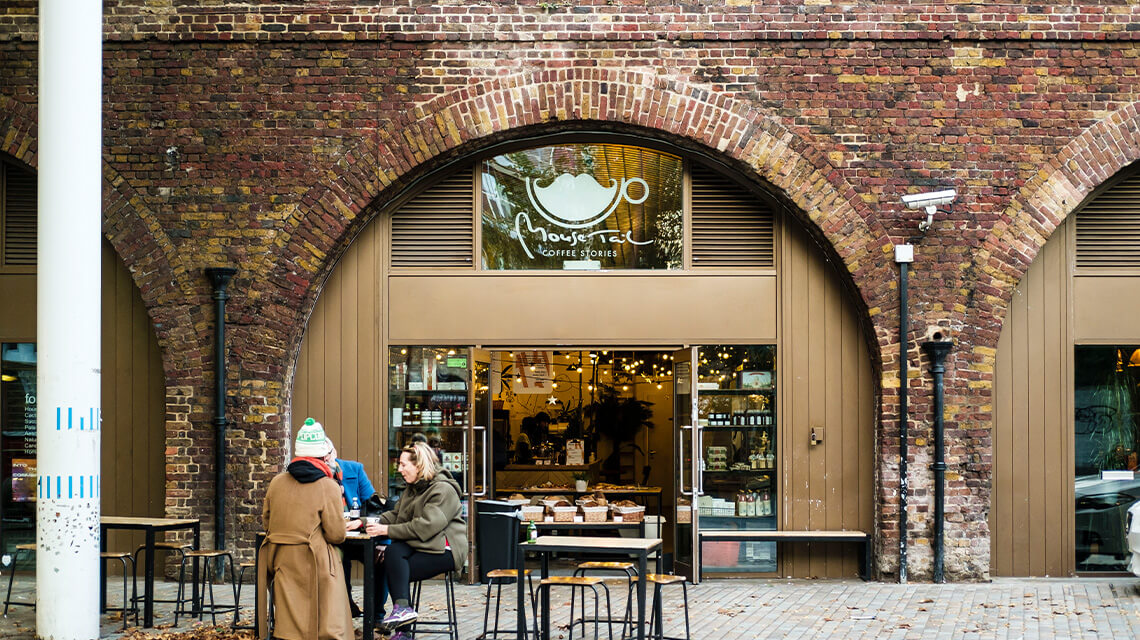 One of the fastest-developing areas in the London borough of Lewisham, Deptford features a variety of restaurants and bars. When in Deptford, you'll enjoy the choice of a wide range of options, from classic Jamaican street food to reinvented British cuisine. On the buzzing high street, there really is something for everyone.
Cafes
Bread and Butler
Located in Deptford Market Yard, Bread and Butler serves incredibly delicious oven-fresh pastries, which locals can enjoy Wednesday through Saturday alongside a cup of warm or iced coffee. The courtyard is the perfect place to sit and enjoy a light breakfast or a yummy focaccia sandwich for lunch whilst watching the world go by.
Mousetail Coffee
Mousetail Coffee sources coffee from all over the world, roasted locally and curated by some of the most skilled baristas with unparalleled attention to detail. Their high-quality coffee, sweets and savouries are made in-house, and there are also vegan and vegetarian options to choose from that are just as delicious.
Street Food
Good Vibez Jerk Centre
This classic Caribbean takeaway is located in the heart of Deptford High Street and serves a variety of Jamaican comfort foods. Good Vibes Jerk Centre prides itself on its accommodating service and serves a variety of Jamaican classics. Their exciting menu features detailed descriptions to help you choose and is guaranteed to fill you right up!
Chai Stix
If you're looking for authentic Indian chai, then you're in for a treat. A family-run business specialising in unique food and drink, Chai Stix offers one of the most warm and welcoming experiences you'll find in London. Their samosa chaat and home-made chai, coupled with the owner's incredible hospitality, will ensure that Chai Stix becomes a place that you return to again and again.
Eat Vietnam
For traditional Vietnamese cuisine, look no further than Eat Vietnam. One of several Vietnamese eateries in Deptford, Eat Vietnam offers a cosy dining experience with comforting food and extraordinary flavours. With recipes passed down from generation to generation making up their varied menu, Eat Vietnam strive to offer a true taste of Vietnam to their many happy customers.
Italian
Marcella
Located on Deptford High Street, this five-star restaurant is guaranteed to satisfy all your cravings. With a menu dictated by seasonality, Marcella will leave you speechless every time you visit. Their freshly curated pasta and exclusively Italian wine are the perfect pairings to enjoy in one of their stylish dining rooms.
Alla Salute
Featuring authentic Italian cuisine from the heart of Puglia, Alla Salute is one of the highest-rated Italian restaurants in the area. All dishes are made from scratch by Head Chef Enrica, served with a glass of Pugliese wine from the wide-ranging wine list showcasing a few of the best wineries in the region.
Sodo Pizza
Sodo Pizza offers a wide range of fresh pizzas made with sustainable produce and enjoys a selection of natural wines for you to choose from. Whether you're having a day out in Deptford with family or friends or feel like ordering in, local favourite Sodo Pizza will surely hit the spot!
Comfort Food
Buster Mantis
Set across two railway arches, Buster Mantis is a Jamaican restaurant, bar and music venue perfect for nights out or family lunches. Serving elevated takes on Jamaican classics that taste authentic, Buster Mantis is a firm favourite amongst locals.
Manze's
One of the only remaining pie and mash shops in the South East of London, Manze's has been serving classic pie and mash for over 100 years! Minced beef pies are made on-site and are best served with a splash of chilli-infused vinegar alongside a scoop of mashed potato. Manze's is yet another classic located on buzzing Deptford High Street.
Tribe African Restaurant
With a homely ambience, personable service and of course, excellent food, Tribe African Restaurant is a must-visit if you are hungry for an authentic taste of West Africa. From jollof rice to pepper soup, you'll enjoy all the classics at Tribe. Better still, the karaoke starts at 9pm!
Vegan/Vegetarian Restaurants
Hullabaloo
This Indian street food restaurant has an amazing variety of vegetarian and vegan options, and its menu features some of the greatest vegetarian Indian recipes. Hullabaloo's menu captures and reflects the culture of cuisines in Delhi. Every dish is full of flavour, and Hullabaloo has adapted its menu to fit everybody's needs with several gluten-free options. For flavourful plant-based Indian street food, head to Hullabaloo.
The Waiting Room
The Waiting Room has an exciting menu with many options for vegans and vegetarians. From delicious breakfast bagels and brunch rolls to a delicious burger menu, this hip coffee bar is a true gem of Deptford. Whether you're popping in for your morning coffee or stopping for lunch, The Waiting Room offers an atmosphere that will want to make you stay and keep returning time again!
Bars
Bluethroat
Bluethroat is a stylish speakeasy cocktail bar in the heart of Deptford, underneath Deptford Train Station. With signature cocktails and modern European foods, Bluethroat is a must on a night out!
The Dog and Bell
This outdoor pub is best known throughout the neighbourhood for its bar games and popular quiz nights. As well as being pet friendly, The Dog and Bell offers a variety of drinks perfect for a summer's day in Deptford.
Jars Bar
Jars Bar is the perfect spot to enjoy drinks with your friends. Jars Bar is a craft beer-lovers paradise situated within one of Deptford's iconic arches at Deptford Market Yard. Interestingly, Jars Bar is also a microdistillery with various vodka infusions to their name and their own small batch craft gin. With plenty of outdoor seating too, Jars Bar is a great setting for a few beers in the sun.
The Watergate
The Watergate is one of the three venues from Gordon McGowan, which opened in 2020. Located on Watergate Street, this opulent cocktail bar offers light dishes but mainly focuses on natural wines and exquisite cocktails. The Watergate is a perfect destination when going out for dinner and drinks with your friends.
Looking for a property in Deptford? Explore Park Avenue Place, our latest Deptford scheme, which is will be ideal for first-time buyers and Buy-to-Let investors alike.
Edited: 25th August 2023