Deptford: Affordable Homes and Atmosphere All of Its Own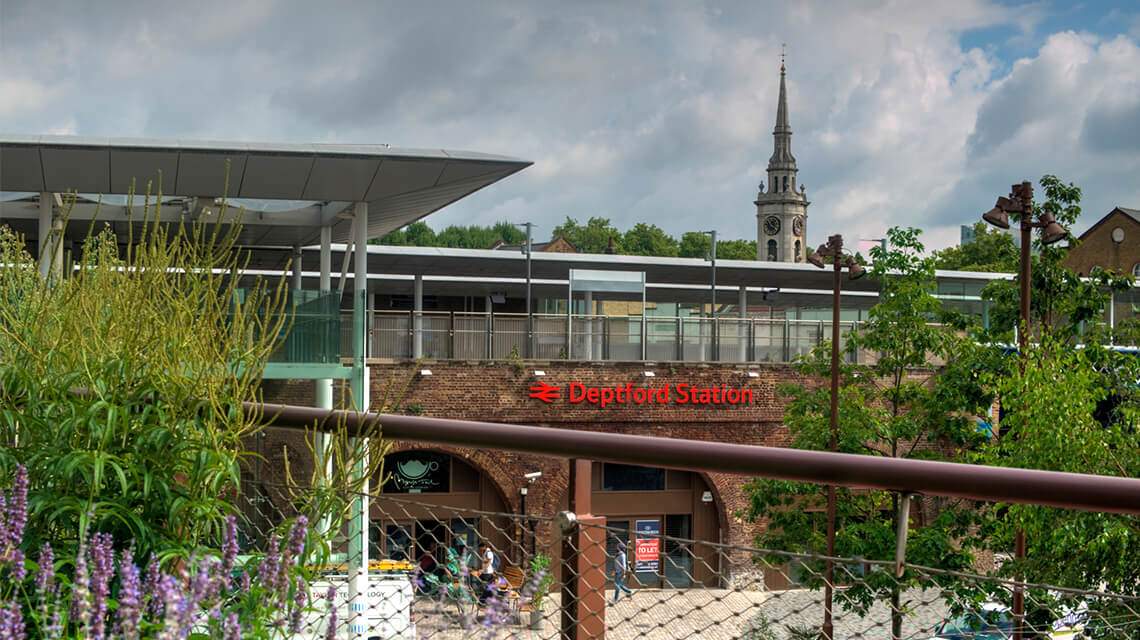 Deptford is a riverside, urban village of happy contradictions.
It is steeped in history with a long-established community and yet young Londoners flock from across the capital for the contemporary pop-up scene, bars, and restaurants.
Out of the rubble of the shipbuilding trade has emerged a modern culture of makers, and housed within a collection of once-abandoned railway arches is an exciting foodie scene of pop-ups and kiosks.
To brand Deptford as the new Hackney is a failure to recognise the unique and strong identity of this up-and-coming, south-of-the-river neighbourhood.
However, the investment stories of the two may follow a similar path with an influx of tenants and young buyers having identified it as the next vibrant, yet affordable, well-connected corner of London with exciting new developments taking shape.
Maritime Deptford Rises Again
Situated on the south side of one of the most pronounced bends in the River Thames, and across the water from the Isle of Dogs, Deptford has a long and rich naval history. The Royal Dockyard, the first of London's royal docks, was founded in 1513 by Henry VIII for shipbuilding and storing these vessels.
It was in Deptford that Sir Walter Raleigh is famously fabled for laying his cloak over a puddle for Queen Elizabeth I to walk across. She also knighted Raleigh in the area and ordered that his Golden Hind ship be housed in Deptford.
In the 17th century, Russian Tsar Peter the Great visited London and stayed in Sayes Court, a manor house and park, next to Deptford Dockyard. A statue of the Russian Tsar was erected in 2000 in his honour and Sayes Park is a much-loved green space within the neighbourhood – next to Pepys Park, named after the famous diarist – another Deptford visitor.
The Royal Dockyard closed operations in 1869 when it became (mostly) a cattle market. It's fascinating history defines its sense of civic pride and community spirit today.
An Energetic Hub of Creativity
For 350 years this pocket of southeast London rang with the clanging sounds of the shipbuilding trade. Now it's an energetic hub of artisans, local producers and creatives.
At the centre of this is Deptford Market Yard. Abandoned railway arches now house start-ups such as the craft ale brewer Taproom, Dirty Apron which serves up seasonable British food as part of a constantly changing menu, and Planet Wax – a record store and cutting room.
A more traditional marketplace selling everything from fresh fish to haberdashery takes over Deptford High Street on Wednesdays, Fridays and Saturdays. There is also the Douglas Way Market renowned for its bric-a-brac and second-hand goods.
The quirky and colourful high street is festooned with restaurants, from the Waiting Room (a coffee shop specialising in a vegan and vegetarian menu) and two pie and mash shops, along with tattoo parlours and boutiques.
The Complete Night Out
Following in the footsteps of Shoreditch or Brixton two decades ago, Deptford is now considered a complete night out and draws young Londoners from all over the capital: starting at the Italian Marcella and moving on to Buster Mantis for cocktails or the Winemakers' Club. Time Out magazine describes Deptford as going from "cut throat pirates to cutting edge cool...an area with a long history of edgy cool and an atmosphere all of its own."
Deptford is a springboard for local artisans. Cockpit Studios offers affordable studio space and business support and twice a year opens its doors to the public. This social enterprise is home to the Ejing Zhang Design Studio (jewellery), Studio KH (homeware) and Tessa Eastman (ceramics), and can be found to the west of Deptford Creek, a former industrial stretch which now boasts makers such as Greenwich Candle Company.
Deptford Does Art
Being a stone's throw from Goldsmith's University – where Damien Hirst and Sarah Lucas studied – Deptford has an undeniably arty vibe. There's the Albany in Douglas Way, the long-established arts centre offering circus, dance, theatre and family shows.
It's a neighbourhood full of highly regarded educational and training institutions for performing arts and therefore attracts students as well as first-time buyers.
The Laban Conservatoire – Trinity College's faculty of dance – has an open-air auditorium for shows in the summer and an eco-roof which is a nesting site for rare birds.
APT is a collection of studio and exhibition spaces for artists while the Goldsmiths' Centre of Contemporary Art – housed in a Grade II listed Victorian bath house – is on campus but also open to the public.
London's Latest Investment Hotspot
Between the green landmarks of Southwark Park and Greenwich is a corridor of regeneration and investment running alongside the Thames. Lewisham Council is upgrading Deptford town centre in line with the cool new developments rising up around it.
The council has named four strategic regeneration sites, cycleways and pedestrianised streets are being carved out is pumping investment into civic staples such as Deptford Lounge and Wavelengths Leisure Centre. Both are being improved and extended, respectively. Deptford Lounge is a public library with computer labs, a cafe, study areas and a rooftop ball court.
Deptford still offers both investment opportunity and value for money for young buyers putting down roots south of the river. Galliard's latest new neighbourhood is called Park Avenue Place and sits on the edge of Deptford Park – which has been a public park since 1897.
Built around a pretty landscaped courtyard and podium gardens, the residential scheme works sits well with the common. 176 one-, two- and three-bedroom apartments are housed within a cluster mellow brick buildings around seven storeys high.
This height means the residents enjoy views across London without the scheme being obtrusive to the locale. Each apartment has a balcony or terrace and there are 12 duplex apartments for families.
Being Well-Connected
This part of London is well-connected with a plethora of transport options across the capital and beyond. Deptford overground station is just five minutes from Park Avenue Place with a service that runs into London Bridge in just six minutes.
Other walkable overground and underground stations include New Cross, Deptford Bridge and Greenwich while Cycleway 4 runs practically by the front door of Park Avenue Place. The designated cycle path runs from New Charlton, through Deptford, crosses the Thames at London Bridge and then splits to the City of the West End.
Park Avenue Place is a great illustration of an active micro neighbourhood. The new development has been designed to run seamlessly into the existing walk and cycleways leading to Folkestone Gardens, Grinstead Road and Deptford Park.
These links will provide safe alternatives to the path under a bridge that leads to Surrey Canal Road and Grinstead Road, which is dangerous and narrow.
The new route will run through Park Avenue Place, past shops, workspaces and a cafe, with no vehicular access – this will be a bustling boulevard rather than a dark tunnel.
The public realm around the site will be improved too: the southern boundary of Park Avenue Place will be a living wall and planters and greenery will envelop the development, helping it to be carefully stitched into the wider district.
Value For Money in Zone 2
At the height of the cost-of-living crisis, with the Bank of England base rate cranked up to 5 per cent last month, up from 1 per cent in 2012, and pushing mortgage repayments higher, the tightrope of being able to buy a home and stay in London is more precarious than ever. Park Avenue Place in Deptford offers a solution. Galliard's new apartments present value for money in an area which is getting more expensive.
One-bedroom apartments at Park Avenue Place start from £400,000 (including a concierge service), considerably cheaper than the average asking price for Deptford of £512,004 (according to Rightmove), up three per cent since 2019.
And yet the quality has not been compromised. Soft bronze balconies and floor-to-ceiling windows overlook the central podium garden and courtyards with arbours draped in climbing vines and a play park.
The sleek, fashionable kitchen and open plan living-dining area are bright, filled with natural light from the dual aspect windows, with timber-engineered floorboards running underfoot. Data from the Office of National Statistics shows that the average house price across the borough of Greenwich has risen 103 since the 2008 with all indications that maritime Deptford will be next to ride the regeneration wave.
Park Avenue Place is due to complete in the final quarter of 2023.
Edited: 25th August 2023