Introducing The Stage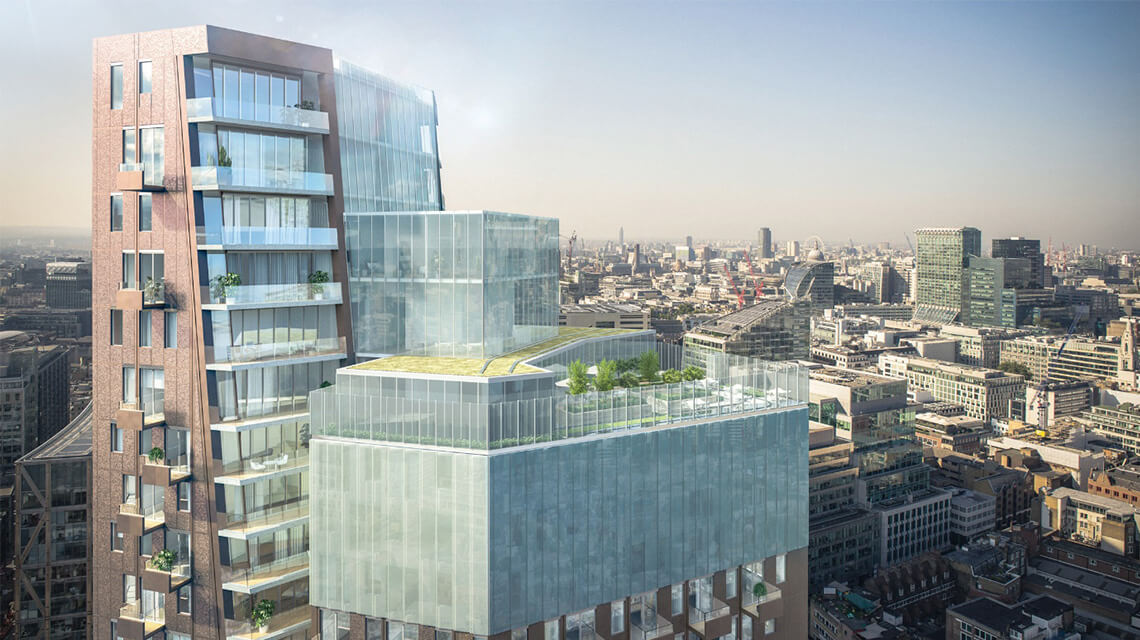 Harnessing the artistic, avant-garde surroundings of Shoreditch, The Stage will be an astonishing new London landmark and world-class destination, hosting the remains of Shakespeare's original playhouse, The Curtain Theatre, encircled by a striking 37-storey residential tower and 400,000 sq. ft. of mixed-use space. Welcome to luxury London living as you've never seen it before.
Galliard Homes - in a joint venture with Cain Hoy, McCourt, Vanke and The Estate Office Shoreditch - has embarked on a brand new project that's set to take the property world, both home and abroad, by storm.
With London now surpassing the likes of Paris, New York and Tokyo as a Super City on the global stage, eager investors and prospective homeowners looking to the capital for its next auspicious residential offering will be captivated by The Stage's unique, contemporary character and the array of exclusive lifestyle facilities on offer.
Adjacent to the brand new Amazon Headquarters and less than 10 minutes from the rapidly-growing technology hub surrounding Old Street Roundabout - now dubbed 'Tech City' - this exciting development will be perfectly placed for London's pioneering future.
In the words of Galliard's Sales Director, David Galman: "The regeneration of this Shakespearean site will elevate the status of Shoreditch to that of the über-cool Meatpacking district in downtown New York City."
To explore what London's favourite cultural playground, Shoreditch, has to offer, take a look at our area guide.
Style Beyond Measure
Designed by leading architects, Perkins+Will, The Stage's exterior structure will exude maverick architectural brilliance with its twin-angled canyons inviting cascading natural light into the adjoining apartments.
Sitting within the heart of the development will be one of London's largest new piazzas, extending over one acre, which will be home to The Curtain Theatre's dedicated heritage centre, a sunken amphitheatre and a performing arts pavilion - all of which will be open to the public for universal enjoyment.
In addition to expansive office space, the development will also host brand new, boutique retail stores, some of which will feature within the transformed Victorian rail viaducts - yet another eloquently preserved piece of history within the development, fusing past and present in a dynamic, eye-catching display.
All buildings will also include extensive rooftop space with landscaped gardens offering an Arcadian oasis of colour and serenity, set against the bustling, urban backdrop of London's City skyline. The gardens gracing the rooftop of the residential tower will be exclusive to residents only, but the remaining three buildings' will be open for public utilisation.
The residential tower will be accessed via a dual-entrance, leading to the magnificent, double-height entrance foyer, guests' lounge and concierge reception. Setting the scene for luxurious, modern living, both residents and visitors will marvel at the exceptionally sleek, yet outrageously edgy, craftsmanship on show; inspired by the forward-thinking interior specialist, Nicola Fontanella at Argent Design.
Premier Services
Occupants of The Stage will have the opportunity to indulge in a variety of on-site facilities, providing a five-star, hotel-style residency on a never-ending basis.
Exclusive amenities will include a 24-hour concierge, permitting private services including dry cleaning, laundry and house cleaning, access to a fully-equipped games and recreational lounge, plus a lavish 20-seat screening room offering the most fashionable of movie nights.
If that wasn't enough, a 32nd level sky lounge and terrace will offer the ideal spot for clinking glasses whilst soaking up the City's grandiose views.
Connectivity
The Stage will be a mere three minute walk from Shoreditch High Street Overground station and just five minutes from the City's elite transport hub, Liverpool Street, which is expected to benefit from Crossrail services from 2021.
Key journey times from Liverpool Street (with Crossrail):
Whitechapel 2 minutes
Canary Wharf 6 minutes
Stratford 8 minutes
Heathrow 35 minutes
What's more, 10 of London's esteemed universities, including University College London - ranked 14th in the world - will be within a 15 minute commute by Tube. Creativity, originality and culture could not have found a better home.
The Launch
This year marks 400 years since the death of Britain's most treasured export and the world's most revered playwright, William Shakespeare; perfect timing for The Stage to launch its 412 luxury apartments. The flats will go on sale from 5pm on Thursday 17th March at the development's marketing suite, The Viaduct at Fairchild Place, EC2A 3EN.
For more information about The Stage, please visit our dedicated microsite or see our list of available properties in Shoreditch.
Edited: 15th December 2022