As a first-time buyer, I couldn't recommend more. Thanks to all the team for your continued support, before, during and after.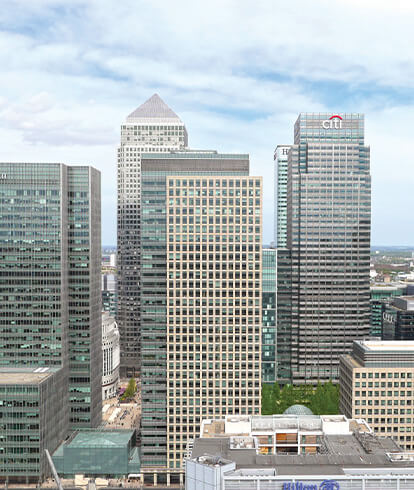 Why Buy with Galliard in Canary Wharf?
Our experience in building properties has allowed us to refine and perfect our hallmark specifications. From more affordable, Help to Buy apartments to luxurious high-rise landmarks, Galliard can promise that wherever you choose to buy, your home will have been carefully thought-out and finished to a high standard. We understand that the modern dweller requires modern conveniences; USB charging points, the latest integrated appliances and Sonos technology (or similar) feature in many of our apartments. Most homes are also Sky Q enabled with audio/visual entryphone security being a standard feature in all apartments that we build.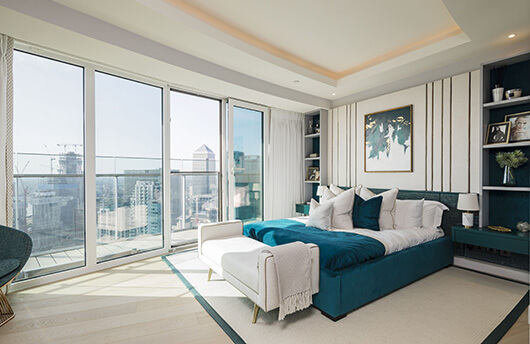 Living in Canary Wharf
Living in Canary Wharf is a lifestyle choice. Enjoy a trip to the iconic Billingsgate Market to pick up some fresh seafood for dinner, enjoy breakfast on your balcony whilst soaking up the Docklands skyline, take a long weekend walk along the river stopping in some of London Docklands well-known watering holes for a thirst quencher or visit the local Mudchute Farm for a more wholesome experience.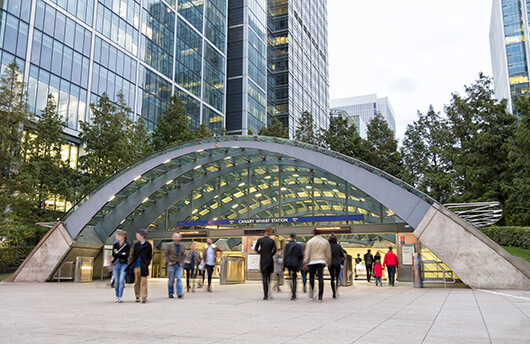 Transport in Canary Wharf
The Docklands is easily accessible through a variety of Zone 2 transport connections including Canary Wharf Underground station on the Jubilee Line and the six Docklands Light Railway stations. Crossrail calls at Canary Wharf too, making connectivity even faster with direct routes into Liverpool Street, Bond Street and Paddington stations to name but a few destinations.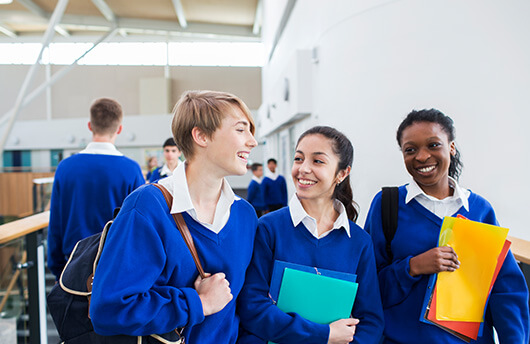 Schools in Canary Wharf
Despite its business focus, many families choose to reside in the Docklands area due to its location and choice of schools. The E14 postcode is home to a number of Ofsted 'Outstanding' and 'Good' schools and academies, whilst the wider local area also has a great selection to choose from depending on your catchment area.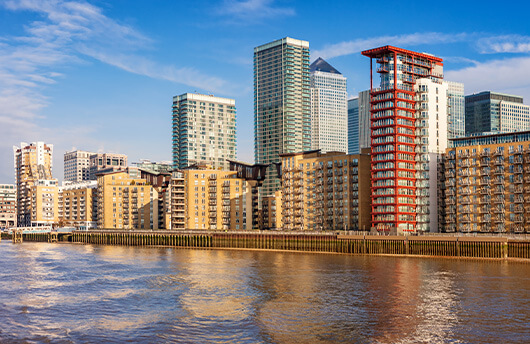 History of Canary Wharf
Once one of the busiest shipping ports in the world, Canary Wharf was the beating heart of London in the early 1800's. The origin of its name came from the Canary Islands, one of the Docklands' most prominent trading partners. Trading was the way of life back then, however a very different type of trading now takes place at this iconic destination.
By the 1980's, the docks were closed and the area was seeking regeneration. This once so important, but yet now so derelict location was ready for a drastic change. Large businesses began moving their businesses into the area and from then onwards, Canary Wharf became well-known for its business district which is particularly popular with banks and law firms.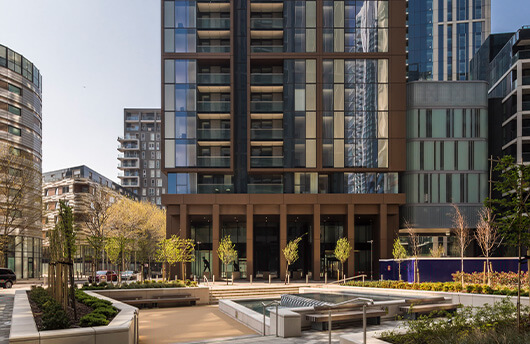 Property Price Trends in Canary Wharf
Although property prices in Canary Wharf and London Docklands largely vary, the property market here shows no sign of slowing down. The ever-growing construction of lavish skyscrapers and new homes prove that this pocket of London remains a sought-after destination in which to invest. According to Foxtons, the average sold price in Canary Wharf increased by 5.04% between 2019 and 2020 whilst overall prices in the area rose by a third since 2010.

The tail end of 2020 saw the rental market in Canary Wharf soar. Rental viewings were at 124% of that of the same period of 2019 and new tenancy agreements also rose, confirming that the demand for rental property at least is still there, a win for Buy-to-Let investors.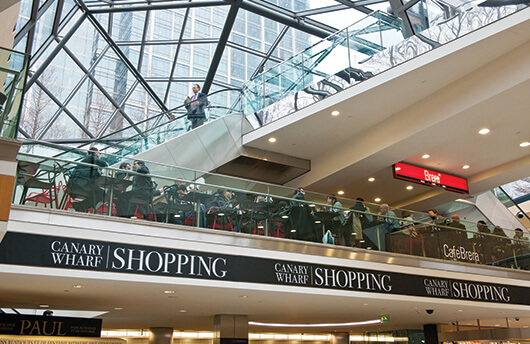 Shopping in Canary Wharf
Although Canary Wharf is known worldwide for other reasons, it also contains a number of individual shopping centres within walking distance of each other. Canary Wharf has some of the best-loved shops within its vicinity; from high-end boutiques to well-known high-street favourites, no matter if you're splashing the cash or buying a small gift for a friend, there is a wealth of choice at Canary Wharf.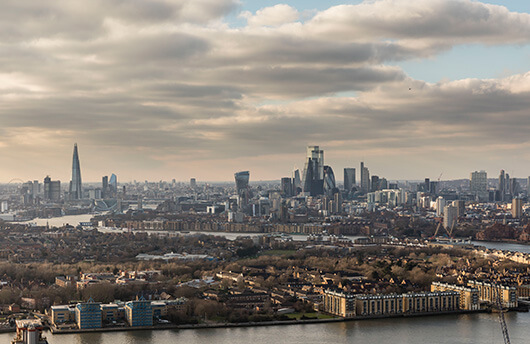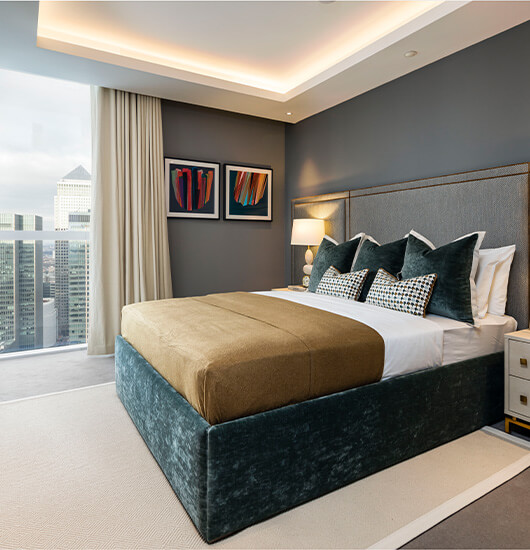 Buying with Galliard Homes in Canary Wharf
Since our establishment in 1992, Galliard Homes has been one of the main developers in the Canary Wharf area. Our first major projects started in the London Docklands in the 1990s and since then we have continued to develop and invest in this thriving location; we know the area better than any other developer. We have an expert team on-hand to assist you in finding the perfect home to live in or rent out. So whether you're a Buy-to-Let property investor, or a city professional seeking a brand-new luxury pad, we can accommodate you.
Top Features of Galliard Properties in Canary Wharf
Quality is extremely important to Galliard Homes and this is something we pride ourselves on when handing over the keys to each buyer, at every single property. We are confident that our choice of materials, interior specifications and on-site amenities are of the highest standard. Our new build developments in Canary Wharf stand out amongst the crowd; we offer some of the best views, spacious apartments and a property that can ultimately be made a home.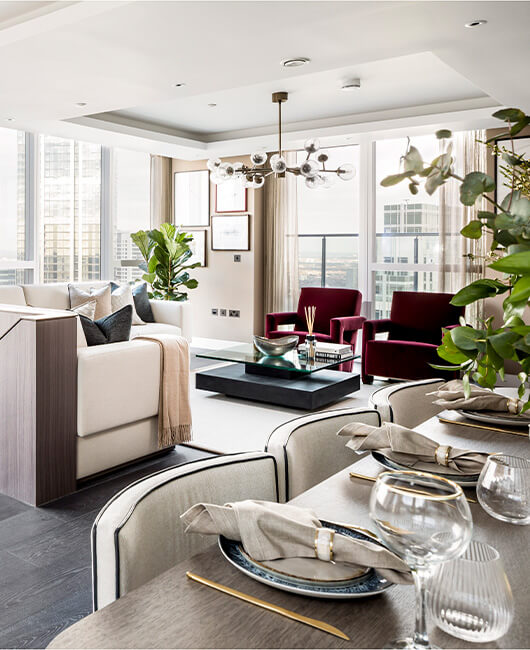 Ways to Buy in Canary Wharf
Help to Buy in Canary Wharf
The introduction of the Help to Buy: Equity Loan scheme has been a financial lifesaver for many. Available to first-time buyers eager to get onto the property ladder, the government scheme allows buyers to borrow a 40% loan against the purchase price of their Canary Wharf apartment, with buyers only needing a 5% deposit to purchase, subject to eligibility, terms and conditions apply. There are many new flats for sale in Canary Wharf thanks to its ongoing regeneration, so if you're searching for your new E14 home, you certainly won't be in short supply of new-build apartments to explore.

Find out more on Help to Buy or visit the government's website.
Buy-to-Let in Canary Wharf
If you are a Buy-to-Let investor seeking a property in Canary Wharf, look no further. Canary Wharf is an extremely popular location for investors, so you are in good company if you choose to do so. Due to the high-earners working in the area, the rental demand for property in Canary Wharf is consistently strong with many renters opting to split their time between a rental and their family home at the weekends. According to JLL, the average rental renewal rose by around 13.1% in 2022 compared to the previous year, meaning that tenants are keen to stick around, and pay a premium in order to do so.
Find out more about property investment in London.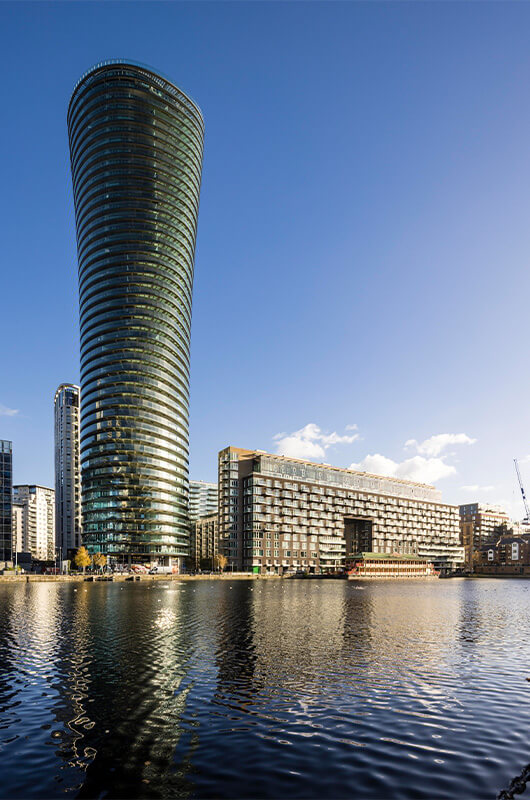 More About the Area
Canary Wharf is the workplace of around 120,000 people and the home of around half of that figure. The highly sought-after E14 postcode is a truly cosmopolitan destination. During the day, Canary Wharf is flooded with businessmen and women working in the financial hub, and by night its sophisticated dining and night-life establishments come to life, attracting those from across the capital.
Architecture in Canary Wharf
The ever-developing skyline of Canary Wharf and the Docklands is recognisable across the world. From the third-tallest building in the UK, One Canada Square, to residential developments such as Galliard's Baltimore Tower, the vista of the Isle of Dogs enjoys many spectacular high-rise residential and commercial towers.
Take Baltimore Tower as an example; this 149m high residential development spans 45-storeys and enjoys one of London's best exterior designs with architecture by Skidmore, Owings & Merrill. Also commonly known as Arena Tower and coined as 'The Slinky', the powerful architecture certainly makes a statement. Winning the accolade of 'Best Residential High Rise Architecture' by the International Property Awards 2017, this prestigious achievement recognises that Baltimore Tower is one of the capital's most dynamic new developments and is a one of a kind visual spectacle.
Entertainment in Canary Wharf
Whether you're interested in delving into history at the Museum of London Docklands or you'd rather kickback and enjoy a film at the Everyman Cinema, there are plenty of options in Canary Wharf when it comes to entertainment. Take a walk through the Crossrail Place Roof Garden to soak up the beautiful botanicals on display or enjoy a tour and a beer or two at the Meantime Brewery. There really is so much more to Canary Wharf than meets the eye.
Featured Property for Sale in Canary Wharf
Frequently asked questions
Is Canary Wharf a good place to live?
With its fantastic employment opportunities, high-security public areas and wealth of shops, restaurants and entertainment venues, Canary Wharf is regarded as a great place to live. The district is constantly redeveloping with many high-rise residential buildings being constructed at any one time. 
Should I buy property in Canary Wharf?
There are many reasons as to why you should buy property in Canary Wharf. Whether you're in search of a new-build Canary Wharf flat for sale as a Buy-to-Let investment or a pied-à-terre for when you're in town, property in Canary Wharf enjoys great potential.
Here are 10 reasons why you should buy property in Canary Wharf.
 
How safe is Canary Wharf?
Generally, Canary Wharf is a very safe area to live in. In comparison to other London locations, the E14 area has a very low crime rate. This coveted neighbourhood is the home of many city professionals and benefits from a consistently high presence of private security due to the high-profile nature of the location. Many large businesses contribute to the cost of extra security to minimise the risk that a potential incident could impact their business. Fortunately for local residents, this level of security also benefits them.
Start the Process with Galliard Homes
Buying a Canary Wharf apartment with Galliard Homes couldn't be easier. Get in touch with our fantastic team who will guide you through the process from initial enquiry to completion and beyond. Give them a call on 020 8418 3635 today.