Singapore Developer Oxley Holdings Acquires £50m Interest in Galliard
16th July 2015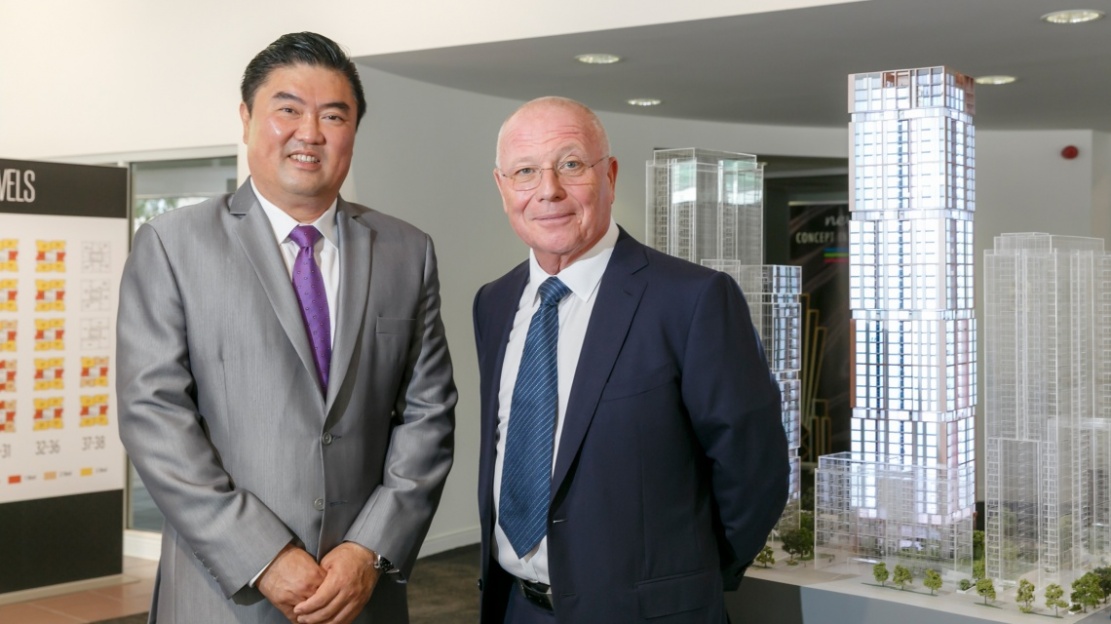 Leading Singaporean property developer Oxley Holdings has entered into a subscription and shareholders' agreement to acquire a 20% stake in the enlarged share capital of the Galliard Group - a leading UK developer which trades as Galliard Homes - for £50 million.
Oxley's Chairman & CEO, Mr Ching Chiat Kwong and Deputy CEO, Mr Low See Ching, will be appointed as investor directors to the board of the Galliard Group. Mr Stephen Conway, who is the founder of the Galliard Group, will continue as Chairman & CEO of the Galliard Group, which will also continue to trade under the Galliard Homes brand.
Oxley Holdings
Headquartered and listed since 2010 on the Stock Exchange in Singapore, Oxley is a lifestyle property developer specialising in the development of quality residential, commercial and industrial projects. Today the Group operates in Singapore, across South East Asia, the UK and Ireland. The company's overseas portfolio of developments includes Royal Wharf, a new waterfront village located in East London.
Strategic Partnership
The strategic acquisition of a stake in the Galliard Group is important for Oxley to further strengthen its presence in London. This partnership with Galliard Group will see Oxley capitalising and leveraging on Galliard Group's construction and property development expertise, operating network and contacts in the UK.
Supported by the Galliard Group's vertically integrated business model, Oxley will have greater capacity and flexibility to market its London properties, manage its property construction, and provide buyer with added after-sales service in marketing, managing and letting. The acquisition underlines efforts to ensure Oxley's brand is better entrenched in the real estate market at large and as a result, will drive higher performance and enhance the profitability of developments.
Galliard Homes
Trading as Galliard Homes, the company is currently London's largest privately-owned residential developer and the second largest house builder in the capital. Galliard Homes presently has over £1.6 billion worth of forward sales, with nearly 6,000 residential units under construction. The group has sites in planning with a completed value of £2 billion.
Mr Ching Chiat Kwong, Chairman & CEO of Oxley:
"This investment marks our strategic alliance in London with a leading, well-established and reputable property developer - Galliard Group. Galliard has a well proven track record and this acquisition signals our confidence in the UK property market and London in particular. We foresee significant collaboration with Galliard's vertically integrated business model with that of Oxley. We look forward to leveraging this partnership in a variety of ways and hopefully complement our future developments in London."
Mr Stephen Conway, Chief Executive of Galliard Homes:
"We are delighted to cement our association with Oxley Holdings, one of Asia's most dynamic and fastest growing property development companies. We believe this milestone transaction by Oxley will create business opportunities for both Galliard and Oxley. The synergies are obvious. Galliard is a London-centric developer that has a strong selling profile in Singapore. Oxley is a dynamic Singapore-based property developer with a rapidly growing London presence. This transaction complements our ongoing and highly successful exclusive 50:50 joint venture with Cain Hoy, the private investment company, under the name Galliard Developments Ltd. These are very exciting times for the Galliard Group and its partners."
Edited: 17th May 2022