Double Celebration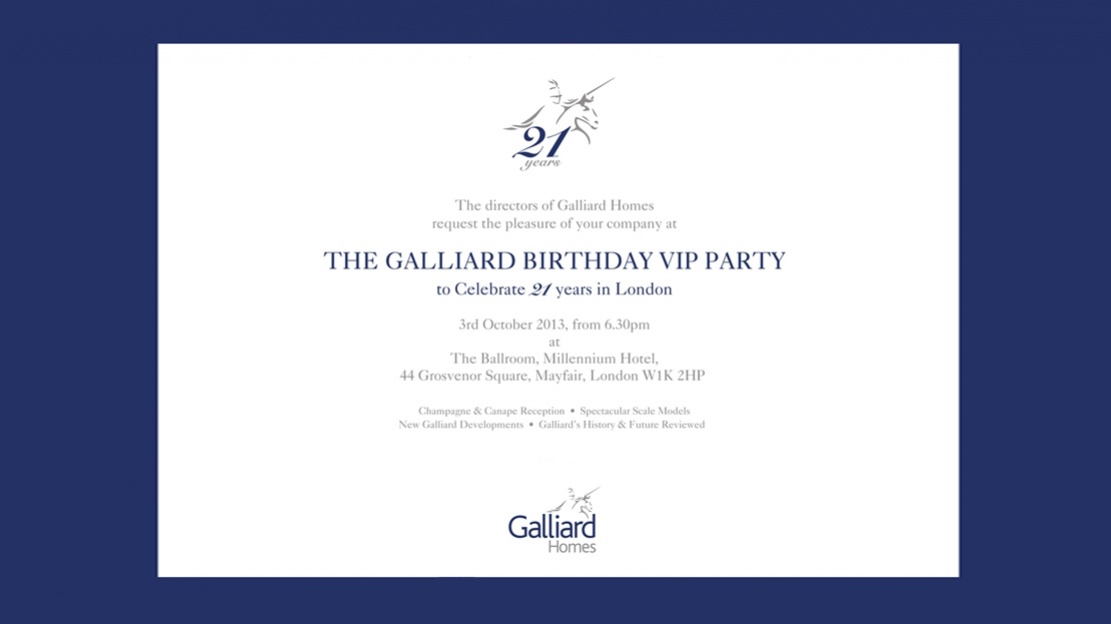 Recent Galliard VIP event celebrates 21 years of residential development in Prime London and £500m of sales in just six months!
No wonder Galliard was rolling out the red carpet recently, at the Millennium Hotel in Mayfair's Grosvenor Square, the company celebrated 21 years of undertaking residential and mixed use development across Prime Central London - more than that, though, the company generated £500 million of sales in just six months, consisting of over 600 luxury apartments and other properties. The Millennium Hotel's spectacular ballroom was dressed with three-dimensional scale-models of the company's London developments - and this was the first time that many of the models had been showcased in the UK, since they were used overseas to market developments to investors. The scale-models included Baltimore Tower (Canary Wharf's tallest residential skyscraper), New Capital Quay (the largest residential development after the Olympic Village) - and Wapping Riverside, a large warehouse conversion to loft apartments by the River Thames. The scale-models were complimented by dynamic graphics showing images of current and past Galliard developments, as well as large plasma screens showing videos of the company's activities.
Nearly 600 VIP Guests
The event was hosted by Stephen Conway, Chairman & Chief Executive Officer of Galliard Homes, and his co-directors; these included David Conway, Overseas Sales & Marketing Director, Donagh O' Sullivan, Construction Director, David Galman, Sales Director, Mike Watson, Architectural & Planning Director, Jonathan Morgan, Investment Director and Madeleine Flower, Marketing Director. The event was attended by over 570 VIP guests, comprised Galliard funding and development partners, investor clients - and senior directors from developers, estate agents, banks, funds and architectural practices. In addition, there were editors from key newspapers and magazines, as well as from other companies from the property and financial sectors. Guests were served drinks, canapés and special "21 year" birthday cakes.
Family, Friends and Funders
Speaking at the event, Stephen Conway thanked Galliard's staff, as well as development and funding partners and friends across the property industry, adding that Galliard would continue to focus on "producing good products in up-and-coming locations, as well as pricing competitively". He also highlighted confidence in the current Prime London market, and the company's intentions to continue to expand in the West End and Prime Thameside locations. He ended his speech by concluding that the company's success was due to the "three Fs": Family, Friends and Funders." At the time the event took place, the company's Baltimore Tower development in Canary Wharf was a remarkable 95% forward-sold, at an average sales price of £650,000. Likewise, Lincoln Plaza in Canary Wharf was 75% forward-sold, at values averaging £550,000, whilst New Capital Quay in Greenwich was 75% sold at values averaging £500,000.In addition, The Chilterns in Marylebone was 25% forward-sold at values averaging £4 million.
An Impressive £1.1bn Portfolio
Founded in 1992, and operating in the London market for 21 years, Galliard Homes now has over 700 staff and has grown into a property development, hospitality and management group overseeing mixed-use, residential, hotel and commercial projects across London and southern England. The group has a £1.1 billion portfolio of over 5,900 homes, hotels, retail premises and commercial properties in the capital. Past projects making a major contribution to the company's 21-year success story have included Papermill Wharf, Burrells Wharf, County Hall, The White House, Butlers Wharf Spice Quay, Tea Trade Wharf, Ashburton Grove Arsenal stadium project, and currently projects in Marylebone, Chelsea, Soho, Westminster, Belsize Park, Wapping, Deptford, Greenwich and Canary Wharf.
Edited: 22nd November 2022