Galliard Celebrate Wimbledon History and Sustainability with Wombles Bench at Wimbledon Grounds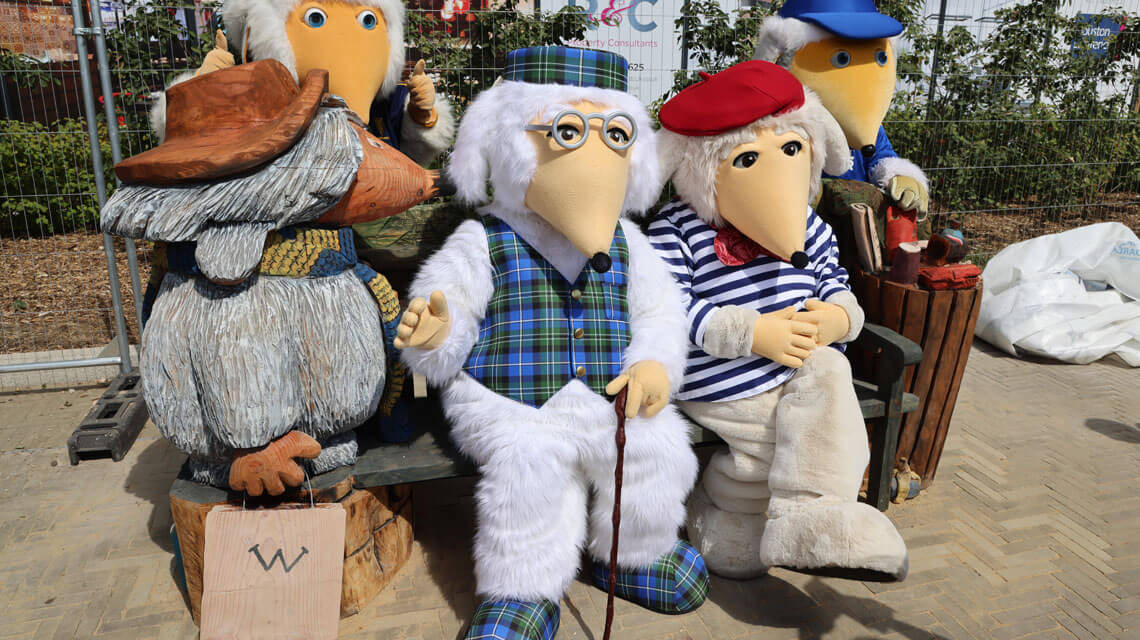 Galliard Homes has unveiled a sculptured oak bench outside the brand-new sales office at Wimbledon Grounds. Created by award-winning sculptor Lorraine Botteril, the work of art honours Wimbledon's most famous residents, The Wombles.
Funded and installed by Galliard, in conjunction with local heritage charity Wimbledon in Sporting History (WiSH), the Orinoco Womble Bench has been proudly designed to celebrate Wimbledon history and to promote green living amongst the community.
The sculptor, Lorraine Botteril, has competed in wood sculpture competitions in the UK, Europe, America and Canada and is a well-respected figure in the worldwide chainsaw sculpture community.
The Wombles of Wimbledon
The Wombles are fictional pointy-nosed, furry creatures created by Elizabeth Beresford for a series of children's novels from 1968, which were developed into an animated TV series made between 1973 and 1975 and shown throughout the 1970s and 80s.
The Wombles spent their days collecting and repurposing human rubbish and are often regarded as the original recyclers – years beyond their time.
AFC Wimbledon has a long-standing connection to the Beresford family, beginning in the 1970s, as Elizabeth would often take her son, Marcus Robertson, to games at the Plough Lane stadium. Marcus still holds a season ticket now and attended the statue unveiling alongside his sister – on which two of The Womble's are based.
Promoting Green Living
The sculptured bench has been created out of fallen and replanted oak, fitting entirely with The Wombles' sustainability objectives to reuse and recycle. The Wombles live in burrows, where they aim to help the environment by collecting and recycling rubbish in creative ways.
The artwork, titled the Orinoco Womble Bench, depicts Womble Orinoco on the left-hand side, complete with his 'tidy bag' and his signature hat and scarf, this time in AFC Wimbledon colours, and a rubbish bin on the right-hand side full of fast food waste and a face mask with a background of green leaves and shrubbery behind the back panels to the bench.
The artwork serves as a reminder of the importance of looking after our planet, cleaning up after ourselves, consuming sustainably and recycling our waste where possible, for all who walk by it and sit on it. Whilst honouring Wimbledon history and bringing essential elements of the local community together.
Celebrating Wimbledon's History
Stephen Conway, Executive Chairman of Galliard Homes, says: "We were delighted by the opportunity to play a part in celebrating Wimbledon's history at our new development Wimbledon Grounds. With such a close connection to the AFC Wimbledon grounds, adjacent to our development, and an important sustainability ethos that reflects our own beliefs, The Wombles were an obvious choice to immortalise for residents at Wimbledon Grounds and the local community to enjoy."
John Lynch, Chair of The Wimbledon in Sporting History (WiSH) charity, says: "The new, unique sculpture is an excellent addition to our local area. The rural installation within an urban community is a unique idea that honours heritage and reminds us of the pressing need for us all to support green objectives. We are thankful for Galliard Homes for funding and installing such a fun and important work of art."
Wimbledon Grounds
Wimbledon Grounds is a 54,000 sq. ft. mixed-use regeneration scheme adjoining the brand-new and fully built stadium of AFC Wimbledon at the club's original home on Plough Lane. The development brings a new community to the area, with two residential buildings offering a sensational collection of 114 apartments arranged across seven storeys.
Residents enjoy premier specifications within the apartments and access to private external space in the form of either a balcony or roof terrace, whilst lifestyle facilities include an extensive hospitality suite within the adjacent stadium, retail facilities, and a squash and fitness club. Two communal landscaped gardens feature at the development, while a new public realm with a dedicated cycle route is also part of this exciting scheme.
Residents at Wimbledon Grounds have access to the District and Northern lines, both within a 21-minute walk and Earlsfield station is only an 18-minute walk away, which arrives at Clapham Junction in only three minutes.
Properties for Sale at Wimbledon Grounds
Galliard Homes proudly presents Stadia One and Stadia Three - two superb new residential buildings at Wimbledon Grounds. All one-bedroom apartments at Wimbledon Grounds are available for immediate occupation and with Help to Buy.
A select number of two and three-bedroom apartments are also available, and purchasers can take advantage of incentives, including free furniture and Stamp Duty Holiday. Terms and conditions apply.
For more information, please get in touch with Galliard Homes at Wimbledon Grounds on 020 3874 0908 or view full availability here.
Edited: 30th November 2023