Canary Wharf Becomes London's Leading Technology Cluster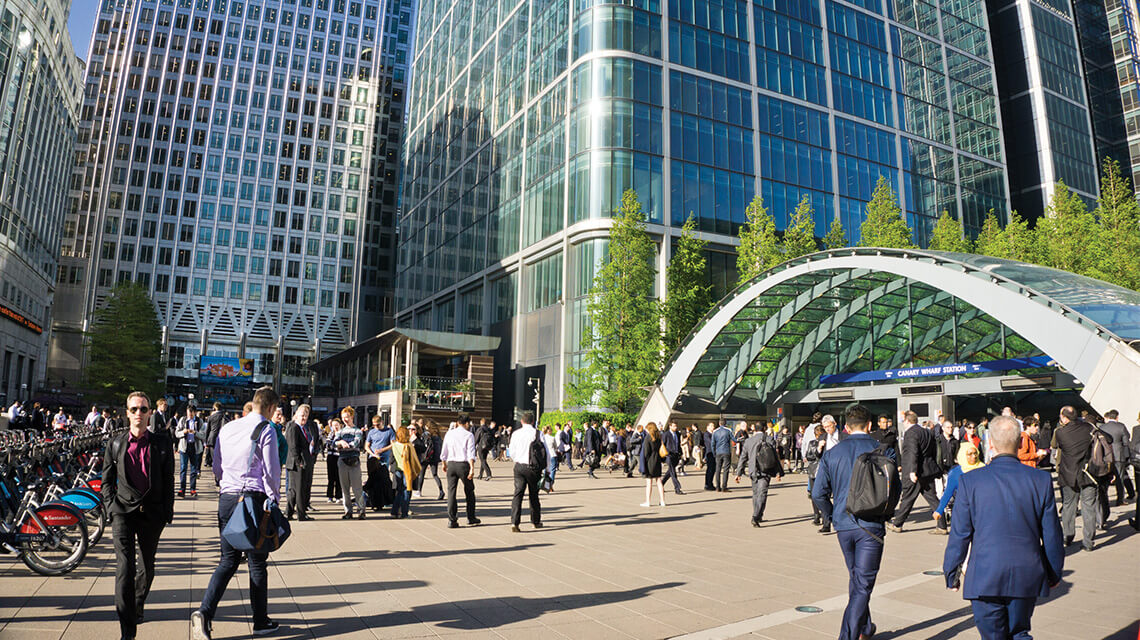 Traditionally Canary Wharf has been highly recognised for its connections with banking, law firms and media companies. Over the last few years, Canary Wharf has focused on branching out into different industries, including technology, companies.
In 2012 the Canary Wharf Group stimulated the shaping of future developments to encourage companies in growth sectors including technology to locate their companies in Canary Wharf. The Canary Wharf Group has been successful at acquiring technology companies and plan to continue on this path.
Level 39
Canary Wharf's Level 39 opened 18th March 2013 with its very own 29,000 sq. ft. area dedicated to 'companies of the future.' Since its opening, other high growth spaces have been introduced to increase the technology area to 80,000 sq. ft. The space includes 200 seats which are available to use for technology related events which are complete with stunning views of the city. Canary Wharf caters to companies which are expected to grow. Level 39 includes impressive 'sandboxes' which are areas where companies can refine, test and showcase their technology products.
Canary Wharf's famous Level 39 has now become Europe's largest technology accelerator space for finance, cyber-securities, retail and future cities technology companies. The success of Level 39 has lead Canary Wharf to become London's leading technology, media and telecommunication cluster, making Canary Wharf one of the world's greatest technology intensive districts.
Level 39 facts and figures:
- 1,004 applications received for membership to Level 39
- 62 companies upgraded membership
- 10 companies have graduated from Level 39 to higher growth spaces
- 4 companies upgraded from one high growth space to another
- Level 39 has held 596 events in the two years it has been open
Cognicity Challenge (Demand Logic & SEaB Energy)
Canary Wharf is extending their technology companies by piloting city technologies, including Demand Logic and SEaB Energy, after winning the second phase of the Cognicity Challenge. The Cognicity Challenge is a great way to get new technology companies involved in using Canary Wharf facilities, as the winners of the challenge are given the opportunity to use Canary wharf to pilot their technology. The Cognicity Challenge has been introduced to endorse the development of smart cities technology, which is completed in six different challenges. Canary Wharf intends to implement smart cities technology into its developments, including the East of Canary Wharf (Wood Wharf), which will become a prime location for technology companies.
Demand Logic provides strategies for businesses to help reduce their electricity usage by monitoring and controlling electrical outputs. This should result in businesses saving money and reducing their company's emissions. SEaB Energy has developed a mechanism which converts food waste into water and green power on the premises.
The Canary Wharf Group is now facilitating interactions between developers, large technology firms and startups. The new platform aims to use 'Big Data' and the 'Internet of Things' to show how different solutions can collaborate and have positive results.
Wood Wharf (London Docklands)
London Dockland's Wood Wharf gained planning permission mid-July 2014 to develop 30 new buildings under full control of Canary Wharf. The new development will create 17,000 jobs and is predicted to be completed in 2018, in time for the introduction of Crossrail. The development aims to entice companies from the creative media, technology and communications sector and reduce its dependence on the financial sector. 1.9m sq. ft. of Wood Wharf will be used for new commercial offices which will be specifically targeted at technology start-ups to comply with the requirements of London's expanding business sectors (technology and new media). The Canary Wharf Group has obtained a £200m loan to start the development; there is no doubt that the new development will conform to the prestigious expectations of Canary Wharf.
Investor Potential
At Galliard Homes we have a long history of developing in the Docklands and have always recognised its potential for capital growth. As Canary Wharf branches out and offers further job opportunities and potential for new industries to expand, the Buy-to-Let investment potential of Canary Wharf continues to rise.
Galliard's Latest E14 Developments
Harbour Central
Spectacular in design, premier in functionality and convenient in location, Harbour Central is Galliard's brand new residential village coming soon to the London Docklands. Just five minutes from the heart of Canary Wharf, residents will be perfectly placed for access to all that this famous district has to offer. Also, with Crossrail set to commence in the near future, investors looking for capital growth are sure not to be disappointed with the fantastic potential of the properties in the area. The development will comprise 642 apartments in total, divided across five residential blocks, with a leisure complex offering five-star, on-site facilities, exclusive to Harbour Central residents.
This riverside development will surpass the expectations of both owner-occupiers and investors looking to buy a luxury home within close proximity of Canary Wharf. With an impressive architectural design, imitating the image of a waterfall with a cascading design of stepped blocks - each with its own rooftop terrace - Orchard Wharf will be an excellent addition to the Docklands' skyline. Residents will enjoy access to landscaped communal gardens, recreational areas and an on-site café.
Edited: 6th December 2022