Living in Covent Garden, London WC2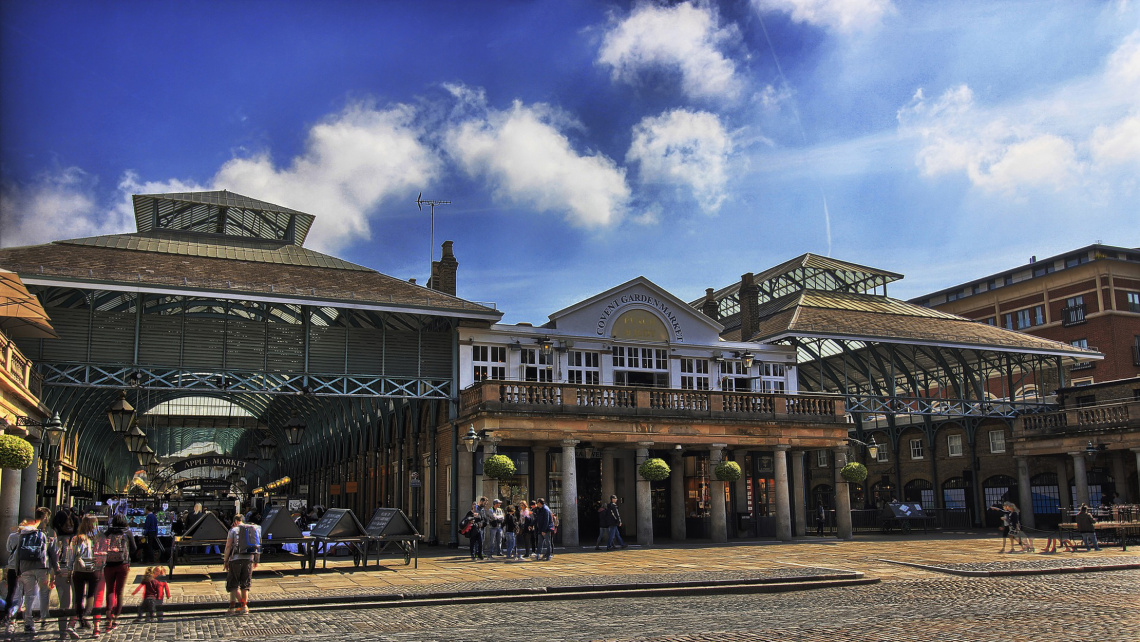 Covent Garden has been a popular district of Central London since the first fruit and vegetable market opened in 1654.
Located on the eastern fringes of the West End within the London boroughs of Westminster and Camden, Covent Garden is accessible via the Piccadilly line or a short walk from Leicester Square and Holborn. The current piazza is home to a variety of independent shops, theatres, galleries and museums as well as restaurants and bars.
History of Covent Garden
The area today known as Covent Garden has a rich history, embedded in the Romans, rise of Protestantism in the country and the royal family. Recent digging revealed a possible Roman grave suggesting the sanctity of the site, whilst an abbey garden was first mentioned in 1200. Charles I commissioned construction of the area in 1631 and the first building was the Church of St Pauls; although there have been several cries for regeneration of the area, many of the original buildings are protected and therefore still remain today. By the 18th century the area was a well-known red light district and an Act of Parliament was drawn up to control the area from descending into disarray. It was passed onto government control in 1962 and has been a well-established central square, the first of its kind in London, since 1980.
Places of Interest
Historical
London Transport Museum
Located in the Grade II listed Flower Market building inside the Piazza, the London Transport Museum is pinpointed as a specialist museum offered in the city. Providing an enticing insight into the development of transportation from the 20th century through an expansive collection of buses, trains and advertising material, the museum also exhibits over 450,000 items and hosts interactive displays, and with vehicles to climb up and into, children will be able to take advantage of all there is on offer.
Twinings Tea Shop and Museum
Twinings tea originated from what is now 216 the Strand, originally as Tom's Coffee House, just a 10 minute walk from the Royal Opera House. Thomas Twining was determined to maintain the fashion of drinking tea amongst the stylish coffee houses. He sold dry loose tea as well as wet tea, ensuring that his shop was unique and became increasingly popular. Today, Twinings tea shop maintains its authentic history, with a loose tea bar and sampling counter to test new flavours from around the world. Additionally there is a small museum displaying old fashioned teapots and strainers as well as the history of the Twining family.
Cultural
The Royal Opera House
The Royal Opera House that represents Covent Garden today is actually the third of three theatres to be built here, dating back to 1857 designed by E.M.Barry. The previous two theatres had fallen victim to destructive fires in 1808 and 1856, yet the importance of theatre didn't dissipate due to the natural disasters. Playing host to a vast number of operas, oratorios, musicals, ballets and plays, the Royal Opera House is also an exquisite piece of architecture well worth the visit. Showcasing a range of tastes including Shakespeare and Rossini, visitors to the Royal Opera House can also indulge in backstage tours, workshops and Meet the Young Artists.
Theatre Royal Drury Lane
The Theatre Royal opened in 1663 and has unfalteringly provided masses of entertainment for locals and visitors, counting amongst its notable guests every reigning monarch since the Restoration. With its roots deep in British history, the first rendition of the National Anthem and Rule Britannia were performed to the public here, the Theatre Royal is also on its fourth building, the previous three having burnt down. With a range of genres from Ben Hur to Shrek the Musical and scenes staged here including a train crash, Madame Tussaud's Chamber of Horrors, the Parisian flooding and underwater fights, it is safe to say that Drury Lane never offers a dull moment.
Shopping
Covent Garden is renowned for being one of London's hottest shopping spots. With designer brands including Chanel, Burberry and Dior, to high street fashion such as All Saints, beauty stops including Kiehl's, MAC and Charlotte Tilbury, and indulgence for the kids with a huge Disney Store, Eric Snook Toyshop and Benjamin Pollock's Toyshop.
Apple Store
Opening in 2010 as the largest Apple shop in the world, this store gives customers the opportunity to partake in a free workshop, get advice from specialists or visit the Genius Bar for technical support. You can also experiment with different Apple products all displayed on open tables in order to be completely sure before you purchase, or just to play with the new gadgets on offer.
The Markets
Still paying homage to the tradition of Covent Garden, there are three markets that take place in the Piazza. The Apple Market can be found in the North Hall, open every day of the week and selling British-made crafts including jewellery. The East Colonnade Market is also open daily and offers a variety of products from sweets and artwork to hand-knitted clothing and handmade soap. The South Piazza houses the Jubilee Market which changes daily: Mondays it sells antiques, Tuesday through Friday it becomes a general market of clothes and trading goods and on the weekends this market produces arts and crafts to be sold.
Food and Drink
Fire and Stone
Inspired from cities worldwide spanning several cities from Casablanca to Mumbai, Fire and Stone proudly presents a menu of gourmet pizzas with a matching cocktail menu to create a truly memorable experience. With six different bases and a full menu of pasta, noodles and salad for those who aren't in the pizza mood, this is an opportunity to taste global and unique flavours.
Champagne + Fromage
A shop, bistro, bar and tea location all in one, Champagne + Fromage brings the rustic elegance of the French over to London. With an authentic French menu, an abundance of champagne on offer and an afternoon tea comprising macaroons and French cheeses; you can also indulge in a champagne and cheese master class, learning about the regions, the producers and the different techniques used to pair champagne with cheese.
BYOC
BYOC offers a unique experience of drinking, with roots in the 1920s' prohibition. The idea is to model a speakeasy with the excitement and thrill of mixing drinks, without the illegality aspect. Therefore when visiting BYOC you are asked to bring a bottle of your choice of spirit with you and the bartenders will combine it with a range of homemade syrups, juices and bitters to create something classic, or something new to indulge in. The Covent Garden bar is the original in the franchise and is delightfully hidden at the back of a juice shop; other haunts can now be found in Soho, Brighton and Camden.
Green Space
Phoenix Garden
The Phoenix Garden is a community garden located just behind Charing Cross Road and Shaftesbury Avenue. Not only does it provide a green escape from the constant bustle of the city, it is also home to a wide range of wildlife, including the West End's only frogs. The garden also hosts the annual Agricultural show, the St Giles-in-the-Fields fayre, the St Giles & Seven Dials in Bloom competition for local gardeners planting workshops and outreach work.
Fun Facts about Covent Garden
The outdoor cinema pop up 'Luna cinema' runs through British Summertime, from May to October and has screens all over the UK with a heavy base around London. Victoria Embankment Gardens, located just behind Charing Cross Railway station, has played home to a Luna screen this summer and has proved increasingly popular as an attraction. The outdoor screen shows classic films set under the stars to create a beautiful setting; with food and drink available to buy, including champagne, and premium packages including blankets, backrests and complimentary drinks, this is an event the whole family can indulge in - as long as you all agree on the film…
Many notable people have trodden the streets of Covent Garden over the years, with royalty frequenting the theatres and the Opera House. George Bernard Shaw, who famously wrote Pygmalion not only staged his play in Covent Garden but was also married in the registry office in June of 1898.
Education
St Clement Danes Primary School
Local Authority
Getting There
Rail
Charing Cross Railway station, just a 10 minute walk from the Royal Opera House, provides connections to Dartford, Tunbridge Wells, Orpington, Lewisham and Canterbury West, with all trains calling at Waterloo East and most calling at London Bridge.
Underground
Covent Garden is one of the most connected areas in London; the Underground station is on the Piccadilly line however it is also walking distance from Leicester Square which connects to the Northern line; Holborn which connects to the Central line and Charing Cross which connects with Bakerloo and Northern lines.
Bus
The RV1 bus route runs through Covent Garden to Tower Gateway.
Edited: 1st November 2022