Living in Greenwich, London SE10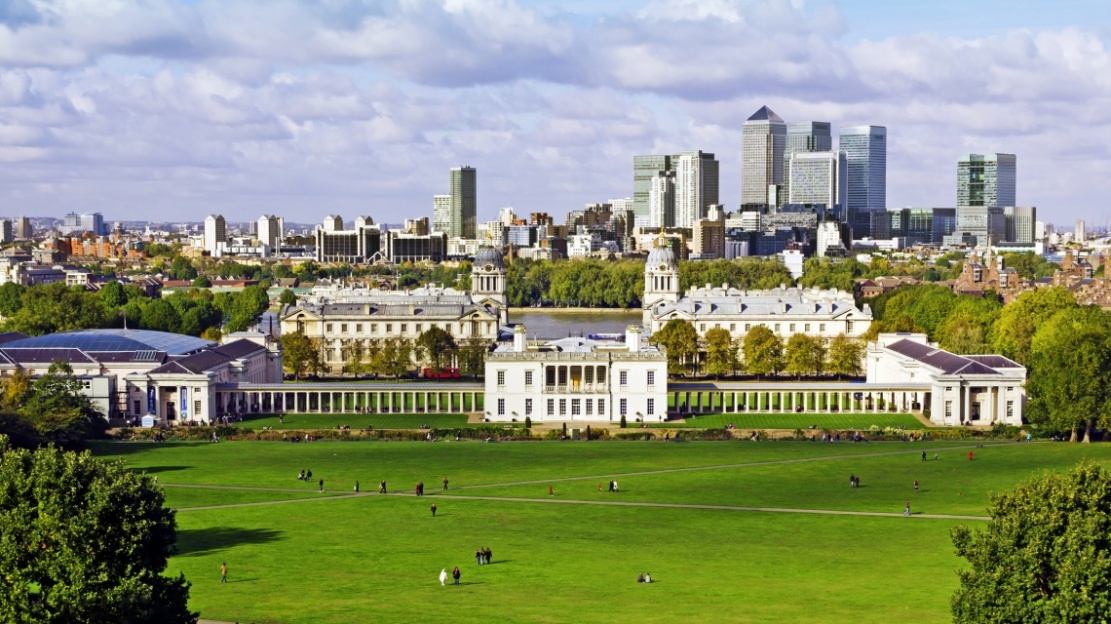 Greenwich's majestic history and abundance of green space has made it London's most treasured gem. Home to architectural spectacles from palaces to landscaped pastures, set against the exquisite backdrop of the River Thames, Greenwich exudes elegance and refinement for a truly indulgent experience, whether you're just visiting or planning on a permanent move.
Overlooking the renowned financial district, Canary Wharf, Greenwich is an untarnished haven with insurmountable appeal, boosted by its close proximity to esteemed business and shopping districts within the city.
Due to the location's regal heritage, Greenwich was granted Royal Borough status in 2012, solidifying its reputation as a grandiose London landmark.
Property in Greenwich
The below developments have now sold out, but do take a moment to read about Galliard's past successful projects within the coveted Borough of Greenwich:
Grove Place
Situated in picturesque Eltham is Galliard's prestigious development, Grove Place, which offers a sublime selection of one, two and three bedroom apartments, set against a backdrop of idyllic landscaped courtyards and walkways.
Each apartment is finished with high-end specifications and sleek interiors to optimise comfortable living and contemporary functionality.
Ideal for commuters, Grove Place is just over a five minute walk to Eltham mainline station, making this a refined residential choice with the benefit of cosmopolitan convenience just moments away.
Find out more about Grove Place on our website.
Merryweather Place
Situated on Greenwich High Road, the gated development, Merryweather Place, is a contemporary showpiece offering a choice of one and two bedroom apartments and a single two bedroom townhouse positioned within three residential blocks, beautifully arranged around a landscaped courtyard.
Within minutes of Greenwich's DLR station and the vibrant town centre, residents can enjoy city convenience whilst basking in the sublime surroundings Greenwich has to offer.
New Capital Quay
Residents at the striking New Capital Quay development can enjoy panoramic views of the Thames from their private balcony or terrace for luxurious riverside living in one of London's most sought-after locations.
Exquisitely crafted to Galliard's exemplary high standards, New Capital Quay exudes a truly cosmopolitan vibe with excellent transport links and an array of bars, restaurants and cafes just moments away.
Tool Works
Perfectly placed within the historic Ashburnham Triangle Conservation area of Greenwich, Tool Works combines authentic Victorian architectural features with immaculate modern interiors in a gated mews development.
Ranging from one to four bedroom apartments, residents can enjoy stately designs exemplified by high ceilings and exposed brickwork for a truly unique living experience.
History of Greenwich
From the Vikings to the Normans, to the Tudors and the Hanoverians, Greenwich has been a hotspot for monarchical residencies over the centuries, which has contributed to its vast array of magnificent architectural structures. Named by Danish settlers as 'the green place of cows on the bay' to pay tribute to its bucolic character, Greenwich was originally considered as part of Kent - the county branded as 'the garden of England' - until the 19th century when the County of London was created.
Up until the 15th century, Greenwich was predominantly recognised as a fishing town with its maritime connection to the Thames. This changed when Greenwich became the site of the Palace of Placentia (or Greenwich Palace), the stately birthplace of prominent historical figures including Henry VIII and Elizabeth I. It is thought that Henry favoured Greenwich over Eltham Palace whilst Elizabeth made it her principal summer residence, where she and her council planned one of the greatest military feats in history - the Spanish Armada. Placentia was eventually demolished nearly two centuries later by Charles II, before being converted into Greenwich Hospital. Today it stands as The Old Royal Naval College.
Greenwich is most famed for giving its name to the Greenwich Meridian and Greenwich Mean Time, whereby the official time across the globe can be set according to how many degrees it is east or west of Greenwich.
Places of Interest
Historical
Greenwich is bursting from the seams with antiquity and opportunities to revel in its fascinating past. Notably, the National Maritime Museum, the largest museum of its kind in the world, tells Britain's maritime story during its empirical years and the birth of international trade and exploration - a fantastic must-see for people of all ages. Naval enthusiasts should no doubt also venture to the Cutty Sark, one of the world's most treasured ships - now a Grade I listed monument and the last surviving tea clipper.
Commissioned by Charles II, The Royal Observatory is Greenwich's famed landmark where visitors can travel through time to see how astronomers first discovered the stars, observe the marvel and magnificence of the universe at the planetarium, and even touch a 4.5 billion year-old asteroid.
Queen's House is another of Greenwich's crown jewels, given its name as two English kings, James I and Charles I, presented it as a gift to their queens - Anne of Denmark and Henrietta Maria respectively. Now the site is a historian and art appreciator's dream with its array of historical paintings, many of which are original portraits of Tudor and Stuart royals that have passed through its doors. Merging the old with the new, this site is also used to exhibit the work of new and emerging artists and photographers.
If that wasn't enough, Eltham Palace is a 1930s showpiece of Art Deco design built on a site with over 700 years of regal history, now owned by the Crown Estate. Step outside and you'll find breathtaking gardens comprising 19 acres, complemented by snippets of medieval structures, including London's oldest working bridge over the moat.
Cultural
Visit Greenwich Picturehouse for a selection of niche independent films or head to Greenwich Theatre for timeless plays and entertainment shows, from Shakespearean romances to the Grimm Brothers' fairy tale classics. For an evening of laughs, stop in at London's longest standing comedy club, Up the Creek; voted best in the UK by the Guardian. Whatever your taste, you are bound to find something you love in Greenwich to feed your cultural fix.
Shopping
Distract yourself in the array of arts, crafts and the glorious perfume of continental foods at Greenwich Market, which has roots stemming from the 14th century. For a quirkier atmosphere and deals on fantastic vintage finds, head to Greenwich Clocktower Market.
Fashion devotees will enjoy the plethora of stores available at Greenwich Shopping Park, located just off Bugsby's Way in Charlton. Lewisham Shopping Centre, also nearby, makes for an appealing alternative for all of your high street favourites, whilst Canary Wharf boasts more than 120 outlets from quaint boutiques to flagship designer labels.
Food and Drink
For mouth-wateringly fresh British dishes, the refined Rivington Grill in Greenwich is the perfect setting for sophisticated dining, offering superb choices from lobster bisque to Angus sirloin steak.
The North Pole Piano Restaurant, offering modern European cuisine, is also worth a visit with its buzzing ambience enriched by a live pianist and an elegant high-ceilinged bar.
Greenwich is also home to the world-famous O2 Arena, which hosts a variety of internationally-renowned restaurants for a truly unrivalled dining experience. From Starbucks to sushi, you'll find a host of delicacies from every corner of the world here. Complete your evening at this prestigious venue with a chilled glass of golden Black Label champagne from Lanson Champagne bar.
Green Space
True to its name, Greenwich hosts an abundance of green expanses with no less than 55 parks across the Borough, 17 of which boast Green Flag status. The most notable of them all is Greenwich Park - one of the largest single green spaces in south-east London, comprising almost 13 acres.
Tourist Attractions
Enjoy breathtaking views of the Thames and the city skyline with an Emirates Air Line cable car trip or take a scenic river cruise from Greenwich Pier for a truly relaxing day out.
For more spectacular views and adventure, you can even climb the O2 where you can see landmarks up to 15 miles away. Delve inside and you'll find the distinguished entertainment arena, a live music venue, plus a bowling alley and a Cineworld cinema.
See our full Guide to The Royal Borough of Greenwich here.
Fun Facts about Greenwich
Whilst the Royal Observatory no longer functions as a working astronomical station, the time ball which was originally constructed to aid timekeeping for ships on the River Thames still drops every day to mark the moment it strikes one o'clock.
Greenwich was one of six boroughs selected to host sporting events for the London 2012 Olympics; shooting was held at the Royal Artillery Barracks, equestrianism took place in the king of all green spaces, Greenwich Park, and the O2 hosted the gymnastics and basketball events.
Movie buffs will appreciate Greenwich's popularity within the film industry, with the Old Royal Naval College (pictured) appearing in numerous Hollywood favourites, including The Dark Knight Rises, Thor: The Dark World, Les Miserables and Pirates of the Caribbean.
Aside from boasting an array of royal residents, Greenwich has been home to many notable celebrities, from Dr Samuel Johnson, compiler of the very first English dictionary, and Academy Award-winner, Sir Daniel Day-Lewis.
Education
The University of Greenwich, headquartered at the Old Royal Naval College, is an esteemed London university with notable alumni including singer, Natasha Bedingfield, and Blur drummer, Dave Rowntree. The building is also home to the respected Trinity College of Music.
Local Authority
Getting There
Rail
The borough is served by 13 mainline stations, including Greenwich station which offers a convenient 15 minute journey into London Bridge mainline station and a 30 minute commute to London Victoria.
DLR
Greenwich, Cutty Sark and Woolwich Arsenal provide Docklands Light Railway services, with links to London City Airport, Stratford and Central London locations such as Bank via Canary Wharf.
Journey times from Cutty Sark station:
Canary Wharf 9 minutes
Bank 22 minutes
Stratford 22 minutes
Canning Town 26 minutes
Underground
North Greenwich station on the Underground's Jubilee line offers conveniently short journeys into and around the centre of London:
London Bridge 11 minutes
London Waterloo 14 minutes
Bond Street 20 minutes
Baker Street 24 minutes
Edited: 20th March 2023