Living in Ealing, London W5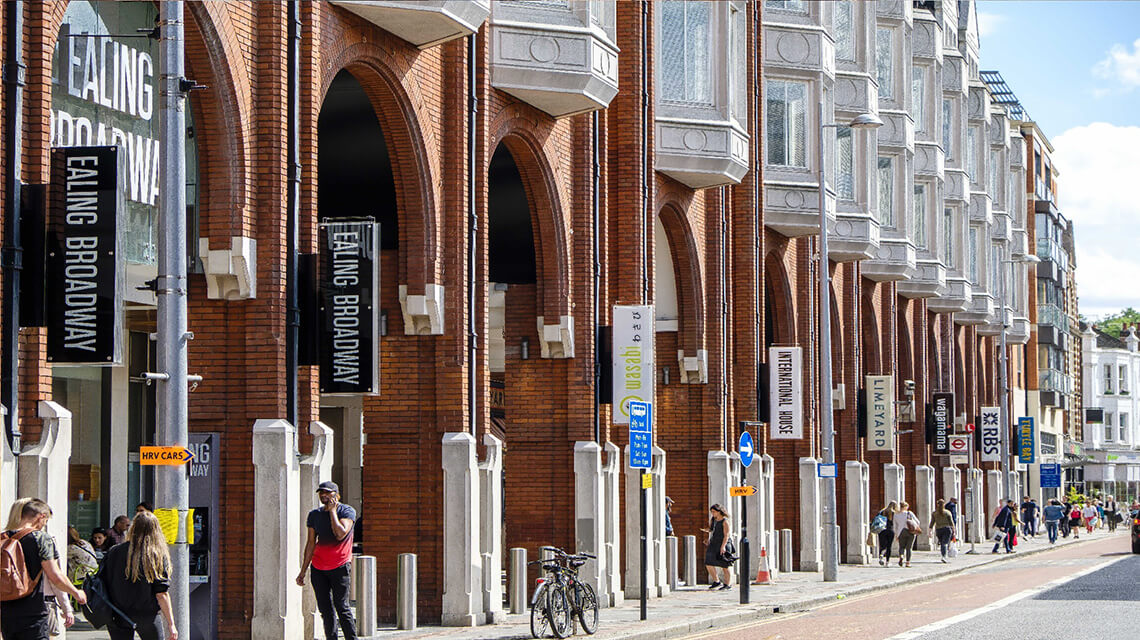 Dubbed the 'Queen of the Suburbs', Ealing is favoured by both first-time buyers and families seeking a semi-rural retreat on London's outskirts, without sacrificing convenience to Central London.
Property in Ealing
Westgate House
Launched in 2017, Galliard Homes is proud to present Westgate House in Ealing, just a five minute walk from Hanger Lane Tube station. Expected to complete in 2021, this development will offer a splendid choice of studios, one and two bedroom apartments, as well as luxury lifestyle facilities including a 24-hour concierge, fully-equipped gymnasium and spa, plus access to a communal terrace lounge with an adjoining screening room.
Westgate House is now sold out. For more information, please visit the development page or use our property search tool to find other available properties. Alternatively, call us on 020 3409 2270 to speak with our team
Apex
Soaring nearly 250 feet above the West London skyline, Apex was completed in 2014, offering 100 premier one, two and three bedroom apartments, all just 10 minutes' walk from Ealing Broadway Tube station, a future Crossrail destination.
Apex is now sold out. For more information, please visit the development page or use our property search tool to find other available properties. Alternatively, call us on 020 3409 2270 to speak with our team
History of Ealing
Once a rural Middlesex village, Ealing's expansion developed following the opening of the Great Western Railway in the 19th century, which led to an influx of commercial activity leading into the 20th century, and a significant number of Londoners escaping the city to enjoy the Borough's suburban qualities. Ealing was then acknowledged as a municipal borough in 1901, where surveyor Charles Jones soon after coined the term 'Queen of the Suburbs' in reference to Ealing, and in 1965 the West London Borough was finally incorporated within Greater London.
Today, Ealing's reputation precedes itself as one of the number one West London hotspots for settlers seeking village-style living with its vast green expanses, whilst simultaneously housing one of the largest and most popular shopping centres in this corner of the capital. Once Crossrail services commence in 2021 at Ealing Broadway, history is sure to repeat itself with the Borough once again entering into a new era of commercial possibility and residential appeal following the introduction of new transport infrastructure.
Places of Interest
Due to the current circumstances, some of the sites mentioned below may be temporarily closed or have restricted opening hours.
Ealing has a number of cultural gems and is just a short commute from the heart of London, so residents and tourists alike will never be far from treasured landmarks and attractions.
Cultural
The Questors Theatre
The Questors is the leading amateur theatre group in the UK and one of the largest in Europe, with approximately 1,500 members staging around 20 stage productions each year.
Pitzhanger Manor and Gallery
Head to West London's flagship heritage and arts centre, which sits within the majestic grounds of Walpole Park. Take a stroll around the historic site of Pitzhanger Manor, admire the impressive architecture of the Grade I listed manor, once owned and designed by Sir John Soane (who was once an architect and surveyor for the Bank of England), or browse its various art and design exhibitions presented by emerging and leading international artists.
OPEN Ealing
Another leading West London art space, OPEN Ealing is the go-to spot for admirers and revellers of the art world, and even offers classes and workshops on drawing, painting, art history and creative writing for those looking to take up a new hobby.
Entertainment
Wembley Stadium
The largest football stadium in England, Wembley hosts national and Premier League games, making it the holy grail of sporting destinations in London.
The SSE Arena
The SSE Arena is the country's leading venue for music and comedy performances, with stars from across the globe taking to the stage in front of an audience of up to 12,500.
Shopping
Ealing Broadway Shopping Centre
Browse the hundreds of high street brands and designer labels at Ealing Broadway Shopping Centre; widely regarded as West London's principal suburban shopping destination.
Westfield London
Just five stops on the Central line will take residents to Westfield London in Shepherd's Bush, where avid shoppers and fashionistas can browse luxury brands across 300 shops, and dine at a choice of more than 60 restaurants. Movie lovers can also catch the latest blockbuster at Westfield's Vue Cinema.
Food and Drink
The Red Lion
Not only award-winning for the remarkable collection of real ales on offer, The Red Lion has also been voted top by Time Out for their utterly divine pizzas. One of Ealing's most-loved pub venues, The Red Lion also hosts a variety of musical acts for performances of original music in a chilled-out atmosphere.
Kiraku London
For authentic Japanese dining in Ealing, Kiraku offers fresh, quality food in an informal setting. With a knowledgeable and friendly team serving up everything from sashimi and sushi to noodles and Sake beer, Kiraku is your go-to for a delicious lunch or dinner in the local area.
Paradise by Way of Kensal Green
The perfect private party venue, Paradise by Way of Kensal Green prides itself on providing sensational British food and a buzzing bar that turns into one of Ealing's go-to spots for a night out on the weekend. From live music to cult film nights, cabaret shows and supper clubs, there's always something to look forward to in Paradise.
The Drayton Court
The Drayton Court Hotel's pub garden is said to be one of the largest in London, making it a popular destination in the summertime for socialising with a glass in hand; whilst in winter it becomes a cosy hideout with a traditional indoor wood fire. Pub quizzes and comedy nights run all-year-round so this is sure to quickly become any future resident of Ealing's favourite public house.
Green Space
Ealing has more than 10 large parks and numerous playing fields, making it one of West London's greenest boroughs. In fact, Ealing's parks have been awarded more 'new Green Flags than any other borough in the UK this year'. Here are a few of the Borough's most notable parks:
Pitshanger Park
Bordered by the River Brent in the North, Pitshanger Park is frequented by families, dog walkers and nature lovers alike. The park has its own playground and allotments, whilst golfers can also head to Ealing Golf Court, which sits adjacent.
Ealing Central Sports Ground
Sports fans can take advantage of the Grade A pitches at Ealing Central Sports Ground where community games in football, rugby, hockey and cricket are held every week.
Walpole Park
Set against the backdrop of the magnificent Pitzhanger Manor, Walpole Park covers around 28 acres of green space and recreational facilities, including a playground and café, whilst Ealing's summer festivals are also held here every year.
Community
Ealing Summer Festivals
For those who love music, food, beer and comedy, Ealing's summer festivals are sure to keep residents entertained through the sunny season. Eight spectacular events see the whole community (and even visitors from further afield) come together to enjoy the best of a British summer: Eat Drink Ealing, Greenford Carnival, Ealing Beer Festival, Acton Carnival, Ealing Comedy Festival, Ealing Blues Festival, Ealing Jazz Festival and London Mela.
Fun Facts about Ealing
Ealing is home to the world's oldest, continuously working film studio, which is where some of the timeless classics of British cinema, dating back to the 1930s, were produced. More recently, the studio was used to shoot national dramas such as Downton Abbey.
Education
Ealing is the idyllic family setting with more than 91 state-run primary schools and nurseries, as well as a number of prestigious private high schools and academies in the area.
Elite London universities within an eight mile radius of Ealing include University College London and Imperial College London; both of which appear in the world's top 10 university list. The University of West London's Ealing campus was also once Ealing Art College and educated celebrated musicians including Queen's Freddie Mercury, The Who's Pete Townsend and The Rolling Stones' Ronnie Wood.
Local Authority
Getting There
Roads
Ealing is within close reach of various major roads, including the North Circular, which intersects the Borough to the east, whilst the A40 runs through the Borough in the north all the way through to Uxbridge where it becomes the M40, and leads all the way to Oxford, Royal Leamington Spa and Birmingham. To the south of the Borough, commuters can also access the M4 for destinations further west towards Reading and Bristol, whilst both the M40 and M4 provide access to the M25. Both Heathrow Airport and Central London are accessible within a 30 minute drive.
Rail
Ealing Broadway is the Borough's principal mainline station, running services to Maidenhead, London Paddington, Heathrow Airport and Oxford, whilst Crossrail services are expected to commence in the near future, providing faster journeys and catering to a greater number of passengers across the capital. For instance, the current journey time from Ealing Broadway to Bond Street is 22 minutes, which will decrease to just 11 minutes via the Elizabeth line, whilst the journey to Liverpool Street in the City of London will go from 34 minutes to a swift 18 minutes.
Tube
Ealing sits in Zone 3 and is served by the Central, District and Piccadilly lines, with four Tube stations serving the area: North Ealing station, Ealing Broadway station, South Ealing station and Ealing Common station. Ealing Broadway station sits at the end of the Central Line's western branch and is a 24 minute commute from Oxford Circus station.
Edited: 30th November 2023