Parks and Green Spaces in West London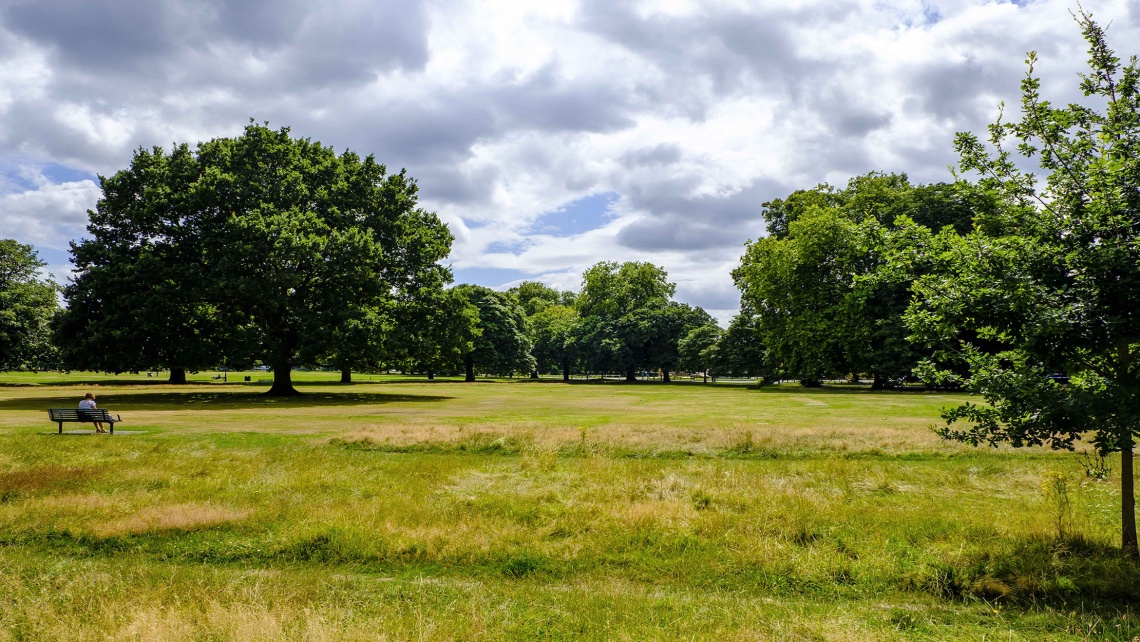 Consisting of four major nature conservation areas, West London boasts some extraordinary parks and green spaces. With plenty of places to soak up some serenity, it's time to dig out the picnic basket and bask in some enchanting scenery.
Famous for its vibrant setting, West London is often overlooked when it comes to relaxation and composure, but this area of the capital is surprisingly green with so many places to explore. Whether it's a run, a dog walk or a bike ride with the family, these are our top West London green spots for you to discover.
Ealing Common
A large and well-maintained public space, Ealing Common spans approximately 47 acres of lush greenery. Dating back hundreds of years, these historical grounds have seen it all; from rival cricket matches to striking workers stomping the land. Ealing Common also often sees various events take to its grounds including funfairs, circuses and cultural celebrations, making it an ideal attraction for families. Much-loved by locals, this delightful conservation area is just a stone's throw from its namesake underground station, making for easy access if you're travelling by train.
Hanger Hill Park
Challenge yourself to a run up Hanger Hill — one of Ealing's highest points — and enjoy the dramatic views reaching Wembley Stadium from its summit. Sat adjacent to the expansive, 2.25 hectare Fox Wood nature reserve, this leafy location is perfect for a dog walk or some outdoor exercise using the communal sports equipment. The tranquility of the brook running through its centre, along with facilities which include a Footgolf course and a children's playground, make Hanger Hill Park a superbly varied setting enjoyed by many.
Wolf Fields
Home to an organic, community-maintained allotment, two public tennis courts, a bowling green and pavilion, Wolf Fields recently made a comeback from the disrepair it had previously fallen into. The site features a sensory garden designed in the shape of a simple five-petal flower by a local primary school child and eventually implemented by a volunteer landscaper from the Eden Project.
A pollination project was also lovingly set up in 2016; an orchard containing around 60 fruit trees and 120 edible hedging plants can be found here, which encourages wildlife visits from various species. The transformation of this former brick works (where parts of the outer wall of Buckingham Palace are believed to have come from) has turned an unkempt wasteland into a delightful community oasis for locals to enjoy.
Walpole Park
Presenting idyllic surroundings in which to relax and unwind in the heart of nature, Walpole Park is a truly captivating setting. Sandwiched between Ealing Broadway and South Ealing, this beautifully landscaped grassland has something for everyone. Along with recreational facilities, which include a well-equipped children's playground where waterplay is a key theme, a café and two ponds, this family-friendly destination is also home to the extraordinary Pitzhanger Manor. Visitors can also choose from a variety of bird, bat and other wildlife walks, which frequently take place within the grounds.
Pitshanger Park
A quaint escape from the hustle and bustle, Pitshanger Park is bursting with sweet-smelling, wild flowers and glorious greenery. However, despite its tranquility, fitness enthusiasts will not be short of activities to enjoy here thanks to the mixture of sports activities on offer. A fitness trail with outdoor gym equipment, a choice of eight tennis courts, six netball courts as well as a 3G football pitch and regular 5K run clubs held at the site, will be more than enough to satisfy even the most active of individuals. The peaceful River Brent meandering through the park and the dog friendly café pavilion make Pitshanger Park one of the most diverse outdoor destinations in the area.
Southall Park
A short walk from Southall Broadway, you'll find the winding paths of Southall Park. A favourite with joggers, the tree-lined footpaths are a great escape for locals seeking peace and quiet from the busy streets of 'Little India'. Home to some native and exotic tree species, visitors can expect to see Eucalyptus, English Oak and the striking Dawn Redwood.
Nearby Developments
Westgate House
Westgate House is set to comprise a range of studio, one and two bedroom apartments with an additional choice of superbly-specified apartments on the upper floors, dubbed the Highlife Collection. Showcasing premier specifications throughout, residents of Westgate House will have access to residents' lifestyle facilities including a gym and spa, as well as a 24-hour concierge service and a terrace lounge with an adjoining screening room. Situated a five minute walk from Hanger Lane station, this brand new development is in a prime position for commuters — who will be able to reach Bond Street station within just 21 minutes by train.
Find out more about how you can take advantage of Stamp Duty Holiday at Westgate House.*
Citypark Gardens
Spanning three blocks, Citypark Gardens will transform the residential skyline of Southall. This sensational collection of apartments is split into two phases and will make an excellent choice for those seeking property in a future Crossrail destination. The Cityloft Collection is the schemes latest phase, comprising a mix of 22 studio, one, two and three bedroom apartments, all exceptionally finished to a premium standard. Residents can also look forward to benefitting from three beautiful private rooftop gardens, providing a quiet oasis amid its urban setting.
Find out more about how you can take advantage of Stamp Duty Holiday at Citypark Gardens.*
Edited: 17th January 2023