Living in East Grinstead, West Sussex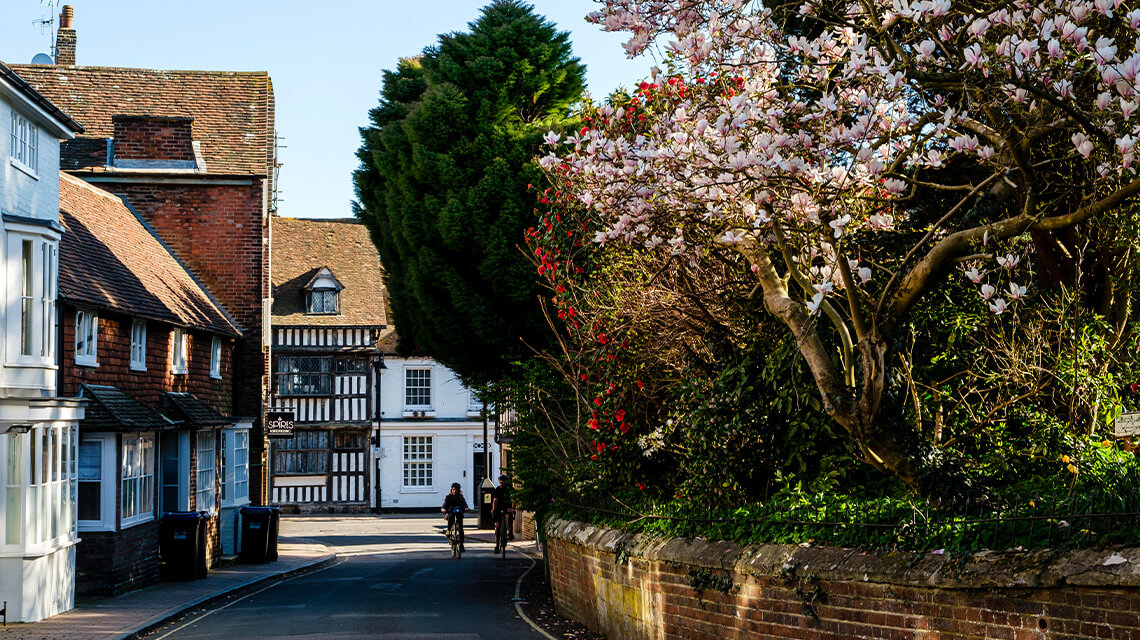 Famed for its Area of Outstanding Natural Beauty status, a medieval past, an upmarket high street, and its proximity to London, the West Sussex town of East Grinstead is a thriving community with plenty to offer.
To say East Grinstead is full of character is an understatement. From streets lined with timber-framed Tudor buildings and quaint old-fashioned barber shops, to grand colleges and notable statues, this picturesque West Sussex town is rich with charming sights to see. Sitting in the southern county of West Sussex, overlooking the valleys of the Medway and the Eden rivers, the town is ideal for anyone looking to relocate to a village-like location but still have easy access to London. Read on to discover what this fabulous town offers its inhabitants.
Property in East Grinstead
Newacre House
Galliard Homes is proud to present Newacre House: an exciting new residential development coming soon to the leafy neighbourhood of East Grinstead. With a brilliant location and a choice of 124 properties in total — ranging from studio suites to one bedroom apartments — Newacre House will undoubtedly present a unique opportunity for young buyers and those in search of a base with fast transport links to London.
Looking for a property in East Grinstead? Call us today on 020 3409 2270.
History of East Grinstead
East Grinstead dates back to the 13th century but long before it was officially granted town status, it was a Saxon village. The name 'Grinstead' is said to derive from the Old English word 'grenestede' meaning 'green place', which is appropriate given that the town sits on the edge of the High Weald Area of Outstanding Natural Beauty.
Places of Interest
Due to the current circumstances, some of the sites mentioned below may be temporarily closed or have restricted opening hours.
Food and Drink
It may seem like a sleepy market town, but behind the rickety facades of the medieval buildings and old-fashioned shop fronts lies plenty of eateries and bars abuzz with locals enjoying a tasty meal or a catchup with friends. As well as all the usual foodie favourites one could expect from any modern bustling town centre — the likes of Prezzo, Costa, Greggs — there is also a selection of local gems we highly recommend checking out:
Snacks and Beverages
The Tasting Rooms
Fancy yourself as a bit of a wine connoisseur? The Tasting Rooms are the place to head. Experience the tastes of wine and cocktails from around the world while you feast on a selection of delicious cheeses.
London Road Bar and Grill
Nestled right in the heart of the town centre, London Road Bar and Grill is the go-to spot for a top-notch meal and a drink or two. London Road Bar and Grill not only has its chefs cooking up a mouth-watering selection of dishes using premium, grass-fed British beef, but the bar staff also put on fun cocktail-making masterclasses for those who want to try their hand at mixology.
Cafés, Bakeries and Bistros
CJ's Cafe Bar
Breakfast, brunch, booze, boutique bedrooms… CJ's Cafe Bar does it all. The menu has plenty to tempt all types of foodies, while Gothic House — a hotel situated just above the café — offers unique guest accommodation.
Flint Owl Bakery
Flint Owl Bakery is your one-stop-shop for bread, cake, salad, coffee and other baked goods. The café is currently open for takeaway only but keep your eyes peeled on their Instagram page for a full reopening date (warning: scrolling through their feed may make you very hungry).
The Old Bank Café
A favourite among locals, this café boasts a cosy atmosphere and a menu packed with scrumptious homemade sandwiches, salads, quiches and ice cream.
Restaurants
The Wiremill
Located slightly further out (an 11 minute drive or a 20 minute bus journey) from the town centre, The Wiremill Lakeside Pub & Inn is one of the most serene places to enjoy a meal and a tipple or two. Dining from the incredibly varied menu on the restaurant's huge, heated terrace and watching the sun set over Wire Mill Lake will make you feel like you're on holiday.
Gravetye Manor
For a magical dining experience, visit Gravetye Manor: a picturesque country manor hotel just a 12 minute drive from the town centre with its own Michelin-star restaurant. Tuck into a romantic meal or a traditional afternoon tea in the beautiful stately grounds.
La Farola
La Farola is a reputable tapas restaurant, known among locals of East Grinstead for its exceptional service and delicious dishes.
Thai Siam
For some spice, head to Thai Siam. Awarded Trip Advisor's Certificate of Excellence from 2016-2019, Thai Siam promises an exceptional service and an exciting menu of dishes cooked with fresh ingredients.
Paglia e Fieno
Every great neighbourhood has at least one great Italian restaurant and Paglia e Fieno is East Grinstead's. With over 430 reviews, this cosy, family-run steakhouse has racked up a four-and-a-half star rating on Trip Advisor. Promising an authentic Italian dining experience, the interior of Paglia e Fieno is as inviting as the menu is mouthwatering, and we guarantee you that you will not leave hungry.
Pubs
Old Dunnings Mill
Open log fires, cosy corner tables, tasty Sussex pies, salt beef sandwiches, hand-crafted beers… need we say more? Visit Old Dunnings Mill.
Ship Inn
If you are after live music, a pint and some authentic pub grub, The Ship Inn is a great option. Located on the end of the high road, this local haunt has a large beer garden and offers a selection of British pub classics as well as seasonal specials and an extensive wine menu.
Dorset Arms
Whether it's work drinks, date night or a pub lunch, Greene King's East Grinstead branch, Dorset Arms, offers a fabulous indoor setting and a beer garden for all kinds of dining.
Shopping
If you're a shopaholic, East Grinstead has got you covered. You'll find all the usual high-street favourites in the town centre including Boots, FatFace, Waterstones, Holland & Barrett, WHSmith, and the family-run Martell's Department Store. For grocery shopping, the town has a choice of supermarkets and food shops, such as Waitrose, Aldi, Sainsbury's and Cook. For fresh food and lunchtime bites, you can pick up all sorts of locally-sourced produce at the Farmers' Market which is held every Thursday on East Grinstead High Street.
The charming high street is also peppered with quaint independent boutiques such as Emma Louise, a quirky gift shop; The Old and Curious, a rare crystal and mineral retailer; a quintessential bookshop and tearoom with outdoor chess tables; an old-fashioned shoe repair shop and a few florists.
County Mall Shopping Centre is a 20 minute drive from East Grinstead for more specific shops, while, if you fancy a day trip down to Brighton, an additional 30 minutes of driving will take you straight to The Lanes, where a variety of upmarket designer shops and trendy bohemian boutiques can be found.
Entertainment and Events
Chequer Mead Theatre
Experience theatre, live music, comedy and drama at East Grinstead's purpose-built 320 seat theatre. Discover what's on here.
The Atrium Cinema
Catch all the latest flicks, old classics and filmed live events at The Atrium Cinema, located just off London Road.
Green Space
Surrounded by acres upon acres of green space, locals of East Grinstead could not be better placed for enjoying the great outdoors. In fact, the town happens to be situated at the top of the High Weald Area of Outstanding Natural Beauty. Home to a variety of habitats and rare wildlife, this beautiful part of the UK offers tons to see.
Grab your wellingtons, take a trip down to Ashdown Forest and discover the home of Winnie the Pooh. There is plenty to explore in this beloved area of expansive open heathland and covered woodland, including a 300-year-old windmill and an enchanting bridge.
Lover of outdoor exercise? The Forest Way is a 10-mile-long is an old, disused railway line stretching from East Grinstead to Groombridge which presents an idyllic route for running, walking, cycling and horse riding.
Fun Facts About East Grinstead
During WW2, many RAF pilots who suffered severe burns were sent to Sir Archibald McIndoe, a renowned plastic surgeon who was based at Queen Victoria Hospital in East Grinstead. A members' club called the Guinea Pig Club was formed by the surgeon in 1941 for 649 patients of the hospital. Today, a statue of Sir Archibald McIndoe sits outside Sackville College to honour his extraordinary pioneering work and improvements to the treatment of burns.
The building where East Grinstead's town council is based is technically located in both the Eastern and Western hemispheres, with the Meridian Line running through its grounds.
Tom Cruise is thought to have spent his coronavirus lockdown in East Grinstead at Saint Hill Manor, the Church of Scientology's UK headquarters.
Education
County
Transport
Car
The A22 runs through East Grinstead, connecting those living in the neighbourhood to the London Orbital Motorway (M25). The A23 is also easy to reach from East Grinstead and leads all the way to Brighton.
Rail
The Southern Railway transports passengers from East Grinstead station directly into the heart of London within an hour; with such an effortless commute, it's no wonder why East Grinstead attracts a great deal of young professionals.
Bus
Hopping on a PlusBus is a quick and cost-effective way to get around town. Find out more about this local service, which connects the centre of East Grinstead to destinations as far as Felbridge, Ashurstwood and Sunnyside.
Air
For international travel, Gatwick Airport can be reached by car within 20 minutes. From here, the world is your oyster.
Edited: 1st December 2023