Living in Euston, London NW1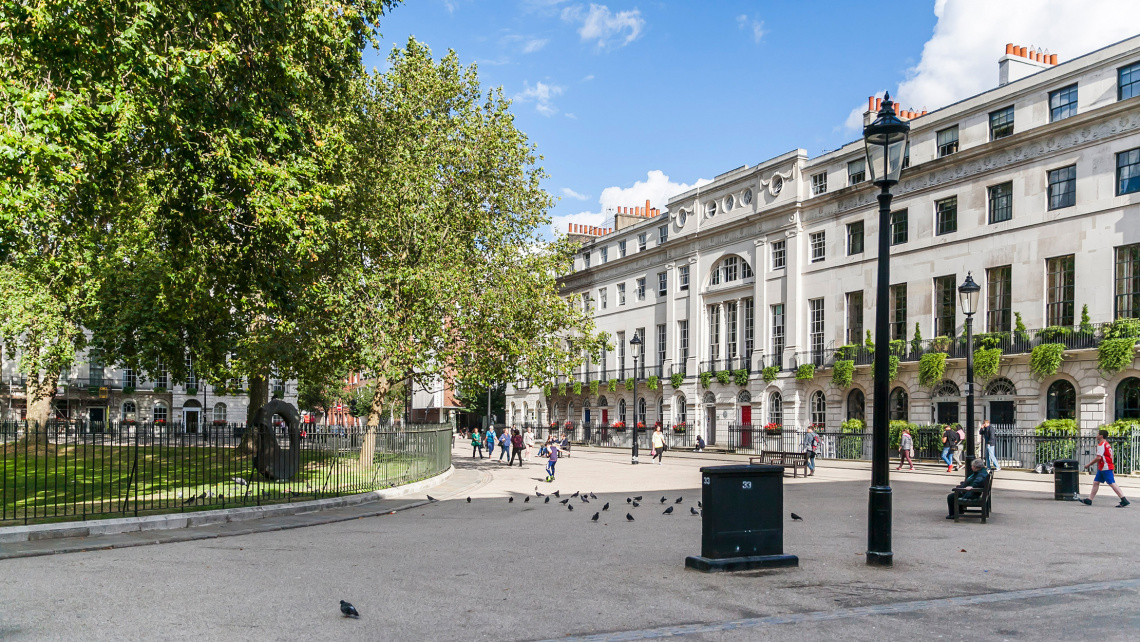 Set in the bustling eclectic epicentre of Camden, Euston is alive with opportunity and culture, filled with a variety of eccentric treats to satisfy your curiosity.
Property Available
Carlow House
Set to comprise 85 luxury one and two bedroom apartments around an impressive four-storey landscaped atrium, Carlow House - part of Galliard's Platinum Collection - will offer an exciting and highly refined experience for residents to enjoy in one of London's most desirable locations just minutes from Regent's Park.
Designed to Galliard's high specifications, every detail will be carefully crafted to ensure residents can embrace all of the benefits of 21st century living. Transformed from an Edwardian warehouse into the epitome of 1930s' Art Deco architecture, each apartment will boast chic interiors selected by award-winning designer, Rabih Hage, in addition to modern high-tech integrated appliances for effortless comfort and convenience.
Within walking distance of Mornington Crescent and Euston Underground stations, as well as King's Cross and St Pancras International, commuters will appreciate Carlow House's proximity to the rest of London and beyond.
History of Euston
Situated in the London Borough of Camden, Euston's reputation as a coveted North London landmark centres around its railway history; Euston station, established in 1837 at the height of the Industrial Revolution, was London's first intercity railway station, offering journeys all the way to Birmingham, making Euston a focal point for transporting goods between the north and south of England.
The name 'Euston' derived from Euston Hall in Suffolk - the ancestral home of the Dukes of Grafton who were prominent landowners in the areas surrounding North London. The land neighbouring the station had originally been used for agriculture, so many farmers objected to steam trains sweeping through the area, bringing noise and contamination; however eventually the objections faded as the station's potential outweighed its opponents' protests, and construction went ahead.
Today, Euston has more than 40 million people pass through its doors every year, making it the fifth largest railway station in the UK. The station's thoroughfare and Euston Road now stands as Camden's favourite hotspot for travel, leisure, education and tourism with the likes of University College London and Regent's Park just moments away.
Places of Interest
Historical
Take a step back in time at the British Library, situated on Euston Road, which holds more than 170 million items from across the globe, from the Magna Carta to the first collected edition of Shakespeare's works - a must-see for historians and literary lovers alike.
Head to the Grade I listed building, 48 Doughty Street in Bloomsbury just a 15 minute walk away, for a look at the London home of celebrated novelist, Charles Dickens, where he wrote one of the most renowned and best-loved Victorian novels, Oliver Twist.
The Wellcome Collection, described as the 'free destination for the incurably curious', is a fantastic destination to quench your inquisitive thirst, based on Euston Road just moments from the British Library. Take a look at medical artefacts, authentic artworks and impressive exhibitions, unveiling the fascinating connections between medicine and art, through the macabre eyes of 19th century speculators.
The Petrie Museum of Egyptian Archaeology hosts more than 80,000 objects, each telling their own story dating back as far as 5,000 BC. Part of University College London, you can browse shrines, drawings and early writings, as well as the world's oldest garment and intriguing mummy portraits.
Cultural
For a uniquely bohemian experience, Theatro Technis is a premier 120-seat fringe theatre, hosting traditional plays to Greek mythological tragedies, as well as celebrated musicals and innovative new works from emerging playwrights.
Just across the road from Mornington Crescent Tube station you'll find the frequented concert venue, KOKO, where music-lovers flock to hear live bands and DJs in the luxurious surroundings of the former Camden Palace Theatre. The Jazz Café, located in Parkway in the heart of Camden, is yet another much-loved music venue, perfect for an intimate, laid-back evening of jazz, soul and reggae.
Situated beside the British Library, the famed Shaw Theatre - named after the Pygmalion playwright, George Bernhard Shaw - is definitely worth a visit, especially for those who avert from the mainstream and enjoy watching exclusive independent productions and traditional dramas with an entertaining twist.
Hosting a theatre, library, museum and club room, The Magic Circle offers a truly mystifying experience with its collection of memorabilia paying tribute to the history of mystery and magic, including artefacts from celebrated illusionists such as Harry Houdini.
Whatever you're looking for, Euston is the perfect place to hypnotise your senses and indulge in a remarkably alternative cultural experience.
Shopping
Euston boasts an enviable proximity to London's famous Camden Town, which hosts a variety of markets to turn all heads and suit every taste; from vintage clothing to mouth-watering continental cuisine, you'll find eccentricity, colour and wonder around every corner.
For an unforgettable shopping experience, head south and you'll reach principal thoroughfares such as Tottenham Court Road and Oxford Street, home to world-famous brands and tempting independent boutiques. If that wasn't enough, you can always hop on the Eurostar from St Pancras International and satisfy your fashion cravings in luscious Paris just over two hours away.
Food and Drink
Euston offers an unrivalled dining experience, with the station's enclave of restaurants providing a range of universal favourites from Parisian-style mussels at the French bistro, Café Rouge, to authentic stone-baked Italian pizzas at Prezzo.
Visit The Blues Kitchen on Camden High Street to tuck into appetising Cajun cuisine with live blues charging the atmosphere, or head to York & Albany - Gordon Ramsay's best of British gastropub located on Parkway - for succulent dishes accompanied by a refined ambience for a fabulous alternative.
Bree Louise, situated on Cobourg Street, is extremely popular for its delectable homemade pies and ever-changing selection of real ales and ciders, whilst the Scottish craft brewer, BrewDog, serves a wide range of international beers.
Wine lovers will not be disappointed by The Remedy Wine Bar & Kitchen, which can be found on Cleveland Street near Regent's Park, and offers a plethora of lip-smacking concoctions from unique cocktails to crisp champagnes and velvety wines. Searcys, located in St Pancras International station, hosts Europe's longest champagne bar - ideal for luxurious evenings not far from home.
Green Space
Besides the famed Regent's Park, one of the Royal Parks of London, Euston is home to a number of landscaped gardens and idyllic green spaces, perfect for picnics and relaxing days out with the family.
Harrington Square Gardens, St Pancras Gardens, Brill Place and St James' Gardens all circle the area of Euston, whilst the vast expanse of Regent's Park lies to the left of the area bordering Marylebone and Lisson Grove. North of Regent's Park is the picturesque Primrose Hill - one of the highest points in the city offering breathtaking views of London landmarks such as The Gherkin, the London Eye and St Paul's Cathedral.
Education
Euston is home to the prestigious University College London (UCL), ranked ninth in the UK and 14th in the world by the Times Higher Education rankings, as well as Regent's University London - one of the UK's most respected independent private universities.
The Royal Academy of Dramatic Art is also just a short walk away from UCL and Euston Square Underground station.
Local Authority
Getting There
Roads
Euston Road, which forms part of the A501, is the main artery that runs through the area, linking with the A1, further north. The nearest motorway, the M1, is less than 30 minutes away by car.
Rail
King's Cross station and St Pancras International are within minutes of each other on Euston Road, offering frequent services to locations across the country and beyond; St Pancras International provides Eurostar services to Paris and Brussels for convenient weekend getaways.
Euston station is also nearby with three trains an hour to Manchester and Birmingham, as well as destinations further north such as Edinburgh and Glasgow.
For international travel, Gatwick Airport can be accessed directly via Thameslink services from St Pancras International in just over an hour.
Underground
King's Cross St Pancras, Euston, Euston Square and Mornington Crescent Underground stations serve the area, offering fast commutes across the capital.
Key journey times from Euston station include:
Oxford Circus 4 minutes
Westminster 6 minutes
Waterloo 13 minutes
Liverpool Street 14 minutes
Edited: 7th November 2022