How to Make the Most of Your Balcony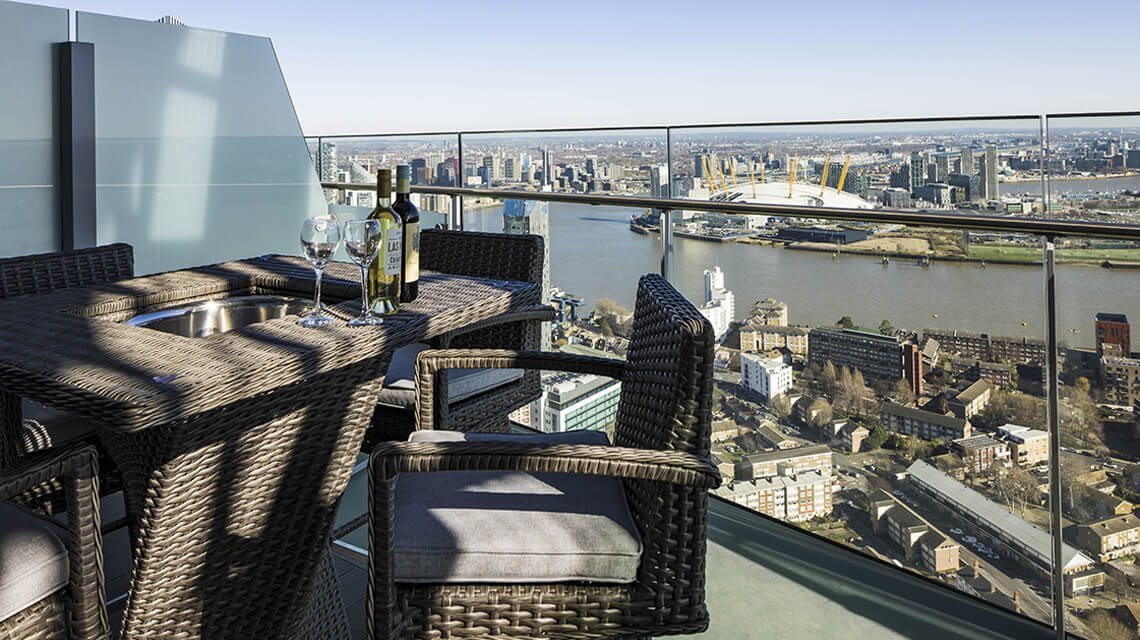 Since working from home has evolved into the new norm for many young professionals, outdoor space has become more than just a nice extra but an essential feature for homeowners spending more time in their property than previously. Balconies come with a variety of benefits. For starters, a property with a balcony will afford its residents even more space for living, relaxing, dining and entertaining. Having extra external space attached to a home can also significantly add value when it comes to reselling. For rental properties, there is also an increased demand for external space; tenants are generally attracted to apartments with some form of balcony or terrace, especially if the property is located in a city setting.
Balconies come in all shapes and sizes, and can face any direction. Generally speaking, the 'best' balconies face south as they get the most sun throughout the day. While east-facing balconies soak up the morning sun, west-facing balconies can provide awesome sunset views, but that's not to say that a north-facing balcony can't be enjoyed as much! It's all about how you style your balcony.
Here are some inspiring ways to turn your balcony into your favourite part of your home!
Furniture
Style your balcony like you would a living room, only with outside furniture — whether that involves a table and chairs set, a swing seat, a big comfy couch, a sun lounger or an egg chair! You can get outdoor rugs, floor pillows, and small outdoor coffee tables to accompany your large items of furniture at affordable prices from retailers like Ikea and Dunelm.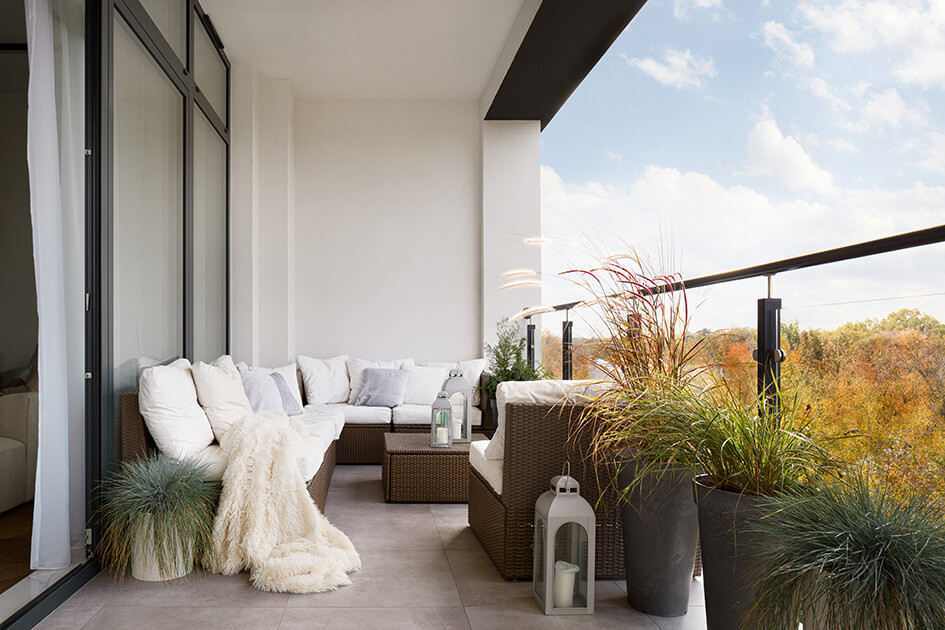 If you're working from home on a laptop, add a weatherproof desk and chair, and you've got yourself a new workstation
Depending on the size and type of your balcony, and of course the weather, you could even put a bed outside and fall asleep under the stars!
Keep things classic and cosy with some nice rattan furniture or a Parisian-style table and chairs set depending on the space available and your personal preference. Watch your balcony transform into an idyllic spot where you can sip your morning coffee, enjoy a meal or have a glass of wine before bed.
Cushions and blankets
If you have a private balcony in your property, you have access to it all year round, so don't let the colder months stop you from enjoying your precious outdoor area. Prepare for chillier weather by keeping some cushions and blankets close to the balcony or even house them in an outdoor storage unit.
Plants, plants, plants!
Give your balcony some life and turn it into a luscious, botanic garden by adding some greenery. To save space, adorn the walls or railings with hanging plants. If you have the floor space, place two or three different sized terracotta pots out on your balcony to make it feel rustic. Add a pop of colour with flowers, or, if you have a green thumb, grow your own vegetables and herbs. Don't forget a watering can!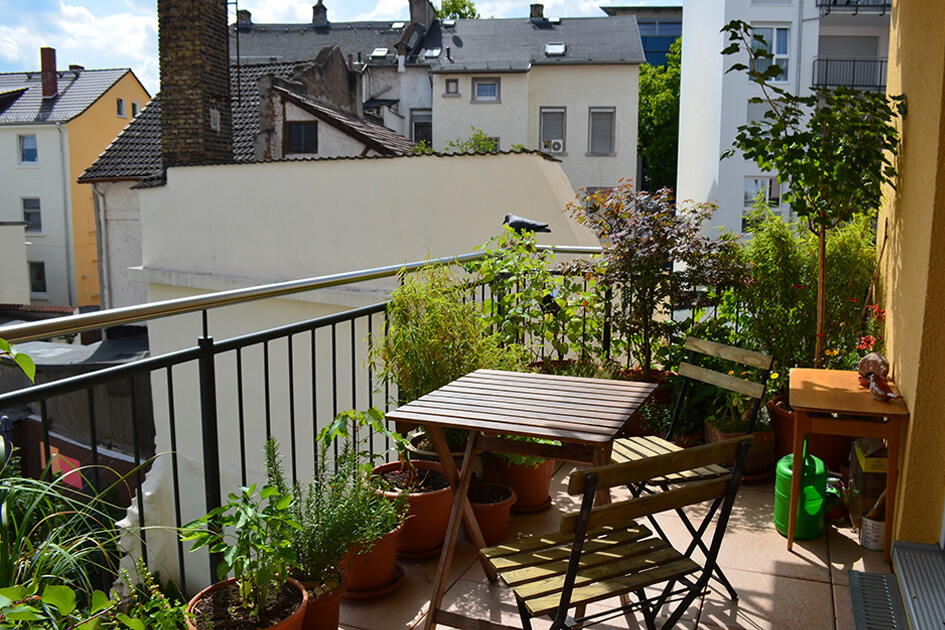 Drink station
If you're known among your friends for hosting wonderful evenings at your place, impress your guests with a fully-stocked outdoor bar! This doesn't necessarily need to be something you have to spend a lot of money on; you can buy – or build your own – drop down bar. Add some nice glassware so you're fully prepared for your next soirée.
Moody lighting
When it comes to setting the mood on your balcony, the lighting you choose is important. Scented outdoor candles can really add a romantic touch to your outside area while they may also help to keep insects away. Fairy lights are an absolute must if you want it to feel a bit more magical.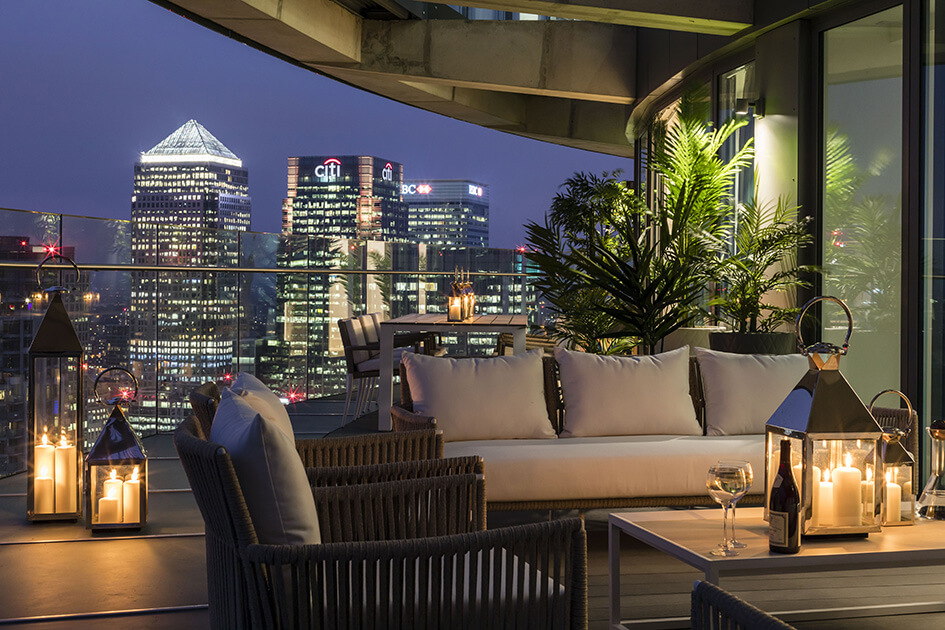 Workout gear
If you are really into your health and wellbeing, you will probably agree that there is one thing better than an indoor yoga session: an outdoor yoga session. So, why not turn your outdoor space into a yoga studio and meditate while at one with nature? Alternatively, if you have enough space, pop a mat, some weights and equipment on your balcony to make your very own outdoor gym!
Art supplies and easel
Are you a big fan of arts and crafts? Why not take some inspiration from the likes of plein air painters Claude Monet, Pierre-Auguste Renoir and John Constable, and assemble your own outdoor art studio where you can create masterpieces to hang inside your home? All you will require is an easel, some art supplies and a comfy chair. A great view helps too.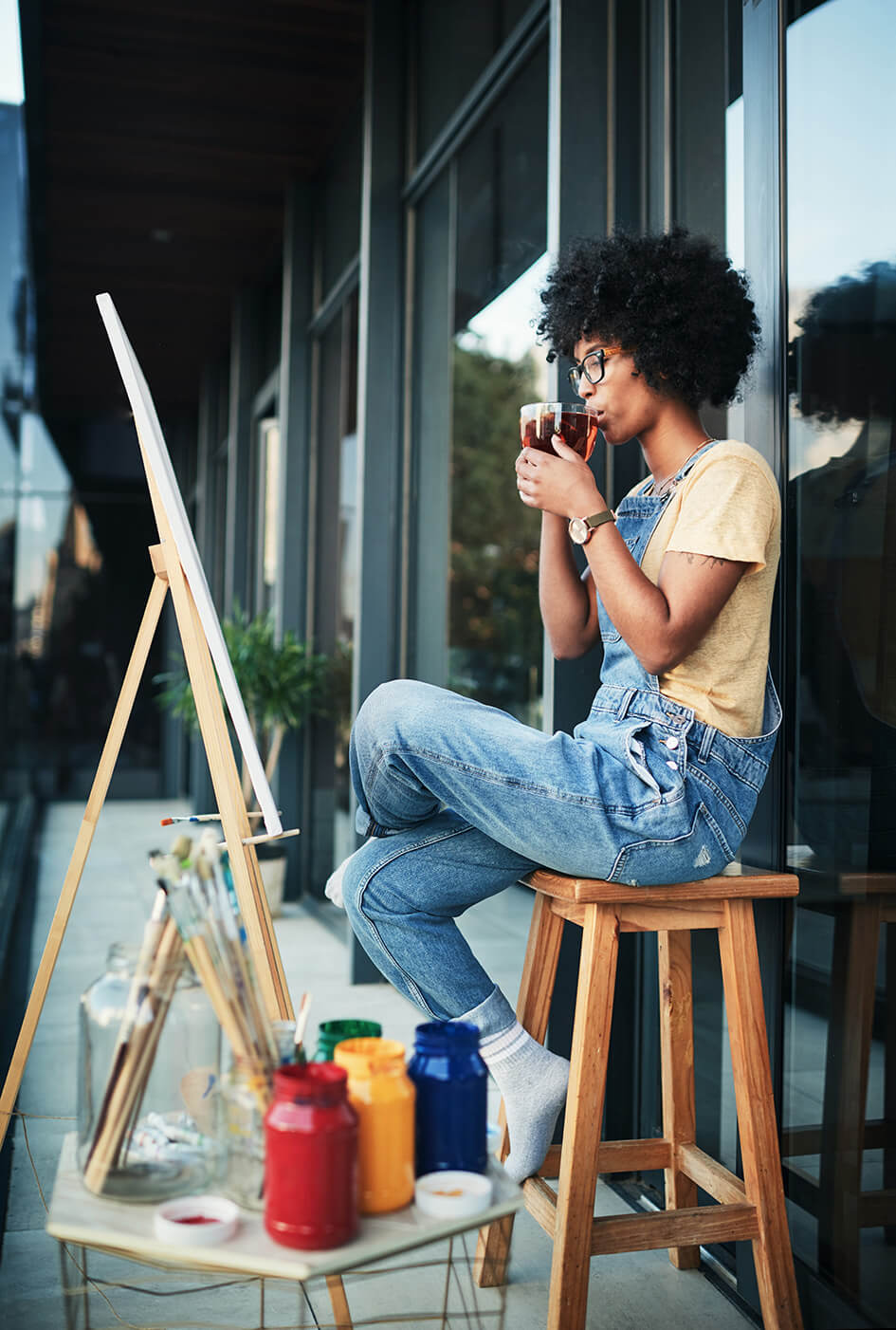 Storage
While renovating your balcony, you may end up accumulating lots of non-weather proof items. To protect them, invest in a good storage cupboard intended for outside use. Multi-purpose storage units are great as they can also be used as extra seating.
Love reading? Invest in — or make your own — book shelter that can be kept out on your balcony so whenever you sit out there, you'll always have something to read!
Edited: 13th May 2022