Get Your Home Ready for Summer 2021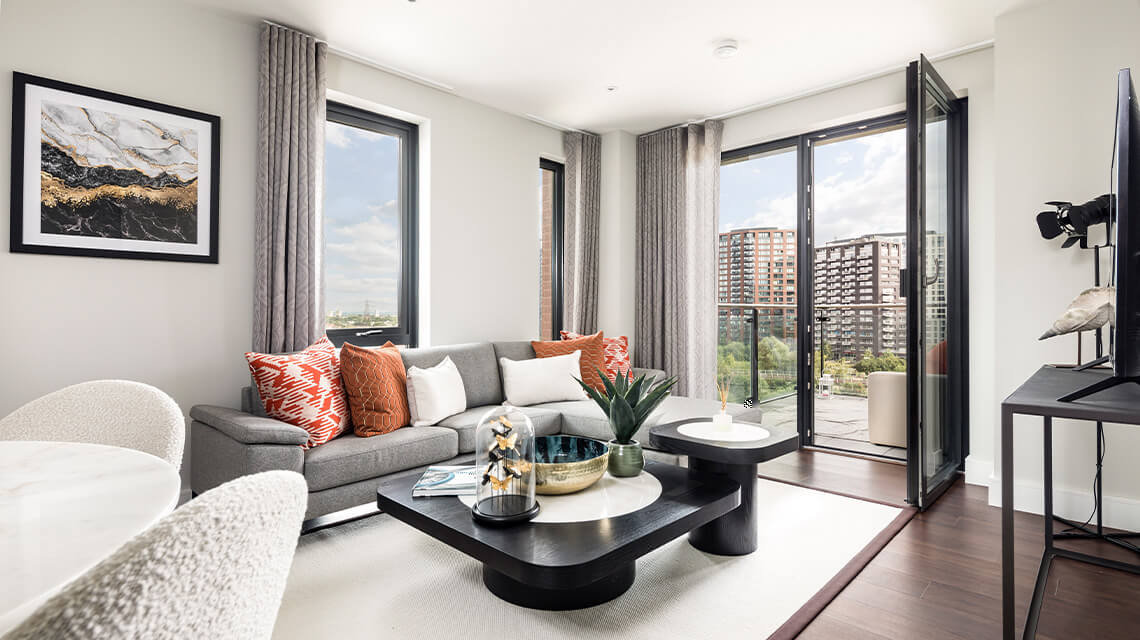 The change of the season is a great time to refresh our interiors and home décor. Interior design this summer is about incorporating key elements into our homes that echo a sense of space, comfort, and nature.
From soft furnishings and furniture to lighting and wall colours, there is a way of merging your choice of interior aesthetics seamlessly with the upcoming summer trends. Rather than giving your home a total makeover, we have come up with some tips to help you get your home summer-ready.
Create Space
Allow as much natural light in as possible to maximize your space and make it feel welcoming. Start off by decluttering items and always remember less is more. If you don't want to get rid of certain pieces of furniture, you can move things around in your home to create a better flow, whether it is placing an armchair on the other side of the room or placing your floor lamp in a different corner.
If you are thinking about replacing furniture, then consider furniture with storage, such as a coffee table with drawers or an ottoman that holds accessories as this will maximize space seamlessly. To enhance your space further, you can also play around with the lighting; sculptural lighting can add drama whilst illuminating the room.
Be Smart with Colour
This summer is about introducing bright, light and stylish paint tones. Replace any deep reds, browns and blacks with brighter and fresher colors; if you are considering doing this, make sure you go over your existing paint first with a lighter colour for a fresher feel. Pantone has announced their colour of the year shades for 2021, a combination of two independent colours; 'Ultimate Gray' and 'Illuminating'. According to Pantone, together, these two colours portray a message of happiness, strength and positivity. For the past 20 years 'Pantone Colour of the Year' has had a huge influence on the design, fashion and graphic design industry and continues to inspire and impact people when choosing colours, materials and textures for their home. Be sure to incorporate these popular colours into your interior scheme.
Make sure to pick a colour reflecting your existing interior palette or if you are wanting to start from scratch, use the handy Dulux Visualizer App. This smartphone tool has been designed to help you choose a paint colour by allowing you to select from a wide colour range and letting you visualise what your space will look like so you're guaranteed to find the right shade. Alternatively have a look at what designers have to say about summer paint tones in this guide.
Statement Gallery Wall
Enhance your space this season with art, drawings or photos that can instantly evoke special memories, moments in time and can become a conversation starter for guests. Start off by picking an empty wall that would make a great feature for a gallery wall. Making this a focal point in your home by adding a contemporary feel whilst also giving a gentle touch to your interior giving that unmistakable feeling of home. The great thing about having a gallery wall is you can swap photos around and update your images as the seasons change creating a design narrative for your home. Let your creativity flow as you play around with the positioning, layout and shapes of the frames and images. Desenio and The Poster Club have an amazing range of summer prints ready to go up in your home. A gallery wall can be a vision to behold and can reflect your own distinctive style, however not all gallery walls need to be on the wall; simply add a layer of frames onto a shelf, bookcase or your sideboards to create a unique ambience in your home.
Welcome in Bright Accent Pillows and Cushions
Be prepared to be brave and audacious this season by replacing your old fabrics, accessories and ornaments with newer, brighter prints and colours to reflect the summer season. Introduce numerous textures, colours and unique intricate patterns to complement your interiors such as tropical, animal and floral prints. These bold designs have been popular amongst interior experts wanting to create a statement look for the season. It is the finishing touches that add the extra mark of quality and extravagance. Whether it is a bold print on wallpaper, leopard print on cushions, or flamingo motifs on a lampshade, be sure to place a beautiful eye-catcher and instant conversation starter in your home.
Be inspired this season by having a browse through the contemporary range of cushions at Rockett St George.
Refresh Your Bedding
Although bedrooms typically seem cosier in winter, there are small things you can do to make this part of your home feel just as inviting in summer such as simply opting for lighter, more breathable fabrics in neutral tones. The right bedding can assist you with a far better night's sleep. It is good to invest in high quality sheets as this will help increase comfort — use linen and cotton which are very light on the skin.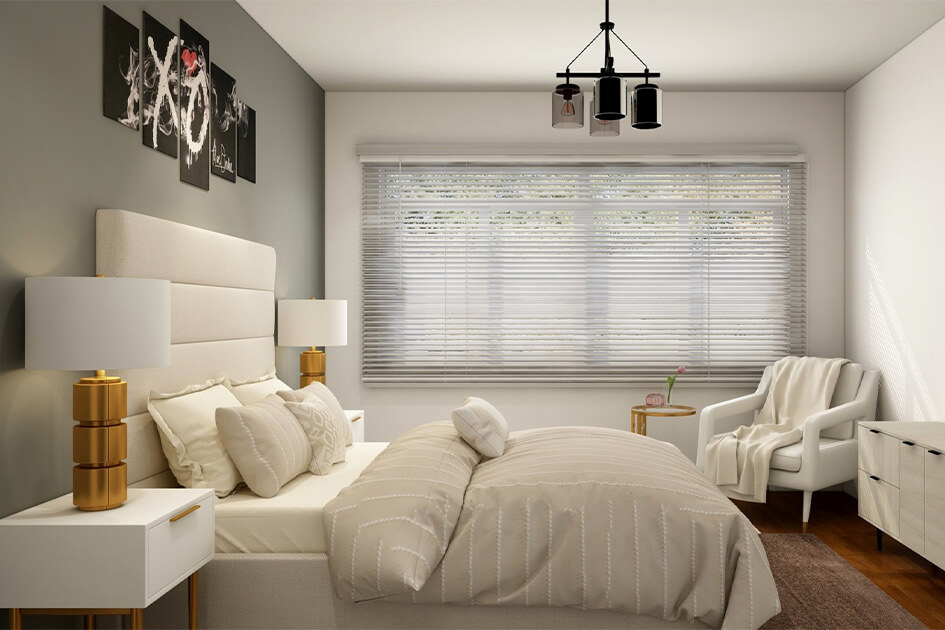 Check out Marks & Spencer's wide range of cotton bedding sets where style meets comfort. Additionally, check out this comfortably cool duvet range that offers clever climate control technology that will keep you cool all summer.
Incorporate Nature
This summer, effortlessly create a unique interior by infusing natural elements in your home. Flush out the dark colours and bring the outdoors inside by adding a touch of nature with indoor plants.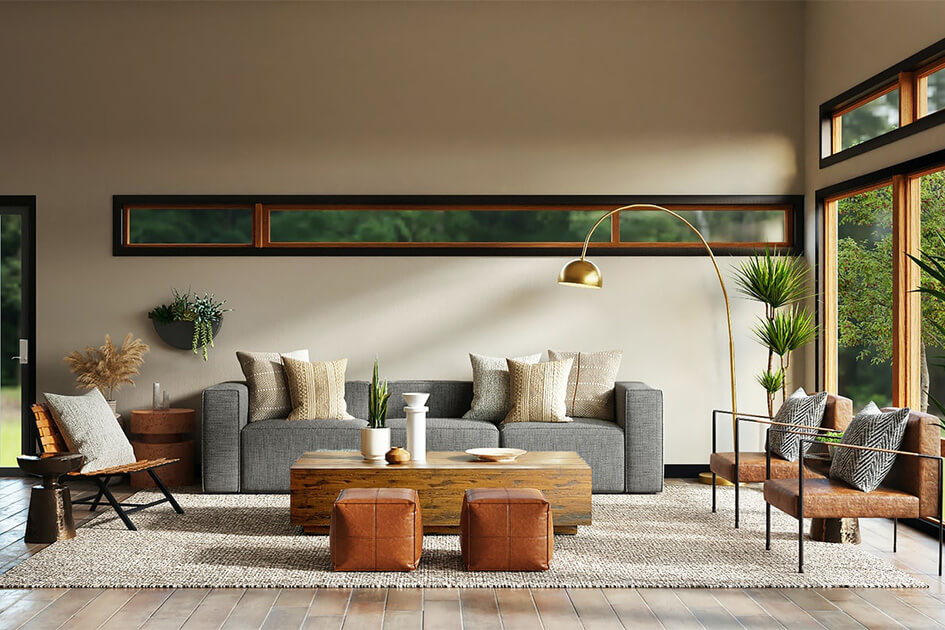 Instead of tiles, use stone to create a holiday-like feel. One natural element you can incorporate to help create a feeling of being immersed in the outdoors is wood — whether it's an oak coffee table, a bookshelf, or an ornament. Additionally, you can create an interactive, exciting and playful seating area by hanging chairs or hammocks in your balcony or garden.
Rugs don't have to be used exclusively to warm your feet in winter; they can also make you feel more connected to nature in summer, especially if they're lightweight and made from sustainable materials. Crucial Trading have a wide range of eco-friendly rugs made from materials like wool, sisal and sea grass that are designed to enhance your living space this summer.
Celebrate With a Summer Tablescape
Summer is the perfect time of year to entertain guests, host dinner parties, and even have stay-at-home al fresco date nights on your balcony or in your garden when the weather is balmy. Help set the mood for any dining occasion by creating a bright, fun, and elegant tablescape using upscale furniture and introducing bold crockery sets. Pick from bold floral printed plates or picnicware that has animal prints, for example.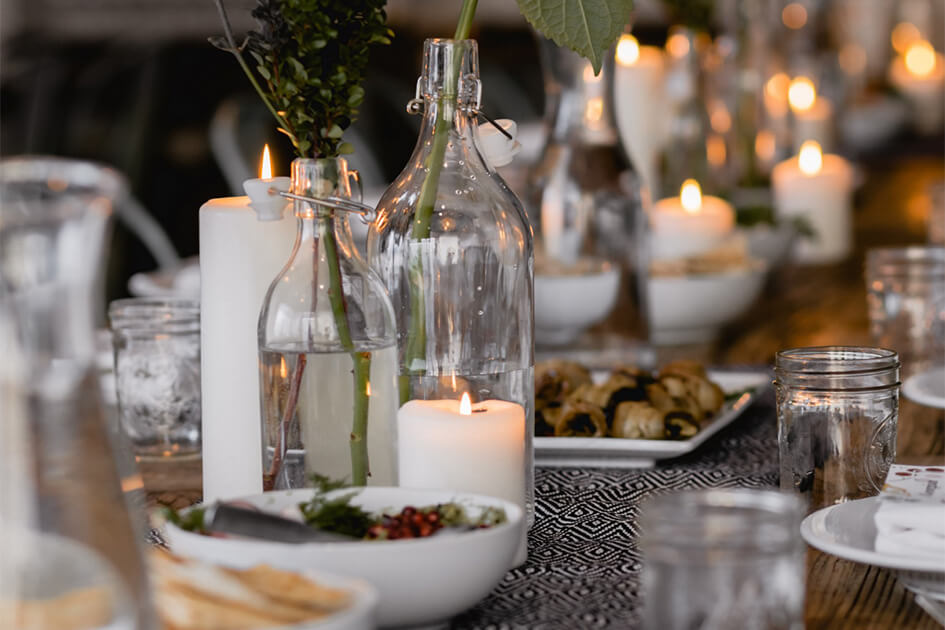 Start off by laying a textured table runner and place your dishware along with a lavish cutlery set. You can also enhance the look by adding vases, intricate textiles and lanterns. Layering is a great way to add depth and dimension to the table setting. If you're looking for inspiration, have a look at Marks & Spencer's picnicware to inject some fun into your table setting, whether it's for a barbeque, family dinner, or date night.
To take things a step further and make your table even more eye-catching, you can create a beautiful centerpiece by picking out a fresh floral arrangement. Not only are flowers guaranteed to brighten up your day but they can be an inviting feature and add a sense of class and elegance to the table. We recommend picking from fresh summer flowers like classic peonies, lavender, and roses to add a soft pop of colour and send heavenly floral scents throughout your home. Adding flowers is a timeless décor technique used by interior designers seeking to merge the outside with indoors and create a welcoming ambience for the summer.
Have you recently moved into a Galliard Homes property or revamped your home using these tips? Share your space with us using the hashtag #MyGalliardHome and tag @GalliardHomes.
Edited: 26th August 2022