Out and About in North West London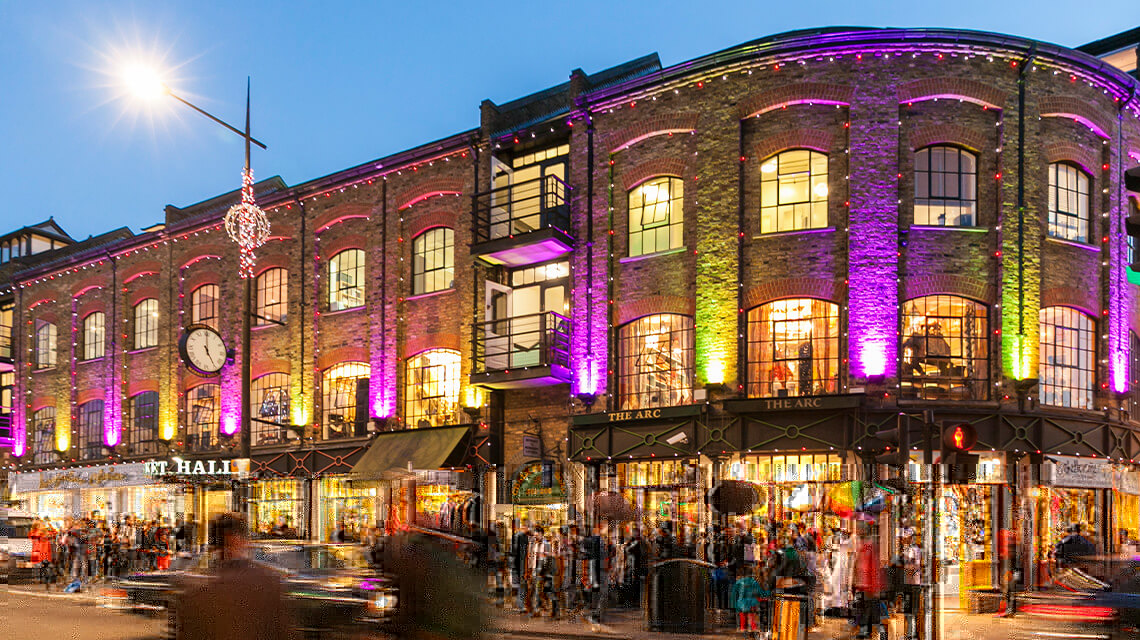 From diversified culture to authentic cuisine, North West London offers a catalogue of things to do on a leisurely evening or weekend.
Whether you are partial to taking a stroll through the rolling landscapes of Hampstead Heath, or inclined to perusing the hand-made bric-a-brac found in the tucked-away nooks and crannies of Camden's Stables Market, you will be truly spoilt for choice by the abundance of activities and attractions that North West London has to offer.
Hampstead Heath
Characterised by acres of open green forest and parkland, Hampstead Heath is seemingly the heart of North London. Embrace the scenic vistas of the iconic London skyline from countless spots, and from the northern-most part of the Heath (fondly known as 'Kite-Hill' to its frequenters), test the strong gusts of wind with a spot of kite-flying.
For the brave and adventurous, bathing ponds will provide a fun alternative to the Heaths open-air swimming pool, and for those with a friend of the four-legged-variety, there is a designated lake for doggy paddling.
For al fresco dining, visit the quaint and inherently British tea rooms within the undisputed centrepiece of Hampstead Heath: Kenwood House. Accommodating a collection of art treasures, this stately manor is a prime destination for the avid art-enthusiast; showcasing the prized works of Vermeer, Rembrandt, and Gainsborough.
Visit the Heath throughout the year to enjoy a range of events, from outdoor concerts to fairground attractions. Those with a passion for sport may appreciate continuous access to a 400m athletics track, cricket pitch, and tennis courts.
Camden Lock Market
A people-watchers paradise, Camden Lock Market is one of the most vivid, colourful, and kitsch locations in London. Experience an overwhelming of the senses in the famed Camden Lock market, with its explosion of dazzling colours and exotic tastes.
Firmly established as a cultural melting-pot, Camden Lock Market truly is the place-to-be for food-lovers, who can enjoy the best authentic and traditional cuisines from an array of countries around the world. From Jamaican delicacies to Pan-Asian dishes, there is a menu for everybody to enjoy. On a summer's day, try a spot of al fresco dining alongside the famed Regent's Canal, with its picturesque narrow boats and twee bowed bridge.
Recently revitalised, Camden's Stables Markets comprises an abundance of meandering lanes, lined with a selection of stable-like grottos. If you're in search of a one-off vintage item, or some bohemian accessories then this is the place for you.
Camden is also the epicentre of diverse live music and entertainment, with renowned venues such as the Roundhouse, KoKo, The Jazz Café and Underworld. Notable headline acts include the likes of Pink Floyd, Blur, and Amy Winehouse.
Regent's Park
With 410 acres of parkland, and the beautifully tended grounds of Queen Mary Gardens, Regent's Park is the perfect picnic location. For those who visit unprepared, the 'Honest Sausage' café serves up a selection of hearty, organic, and British delights throughout the year. Other amenities in the principal parkland include an adventure playground, a boating area, and sports pitches.
Whilst wandering through the idyllic Regent's Park, it is also worth paying a visit to the famous London Zoo, which has been integrated into Regent's grounds since 1827. Home to a multiplicity of tropical wildlife (650 species to be precise), the zoo stretches across 36 acres and is a fun day out for all ages.
With over 120,000 visits a year within a short 15 week summer season, it is evident that the Regent's Park Open Air Theatre is a popular cultural attraction. Most well-known for its Shakespeare adaptations, the theatre showcases quality plays, alongside comedy acts, live music performances, and children's shows.
The Kiln Theatre - Kilburn
Bringing sensitive and emotionally engaging subjects into the fore, The Kiln Theatre delivers world-class, British and international culture to the North West London community.
Its plays are diverse and culturally charged - both in content and casting - and persistently challenge societal norms; offering alternative and often surprising perspectives.
Head to The Tricycle Theatre's 300 seat cinema to enjoy an eclectic mix of mainstream blockbuster hits, off-beat indie films, art-house pictures, and insightful observational documentaries - and for post-screening refreshments, grab a drink from the theatre's lively bar or sample an exotic Caribbean dish from the vibrant café.
Primrose Hill
Visit the stylish and trendy Primrose Hill boutiques and independent shops for fashionable vintage clothing and valuable antique pieces. A prime celebrity hot-spot, Primrose Hill is home to an array of big names, including Gwyneth Paltrow, Daniel Craig and Kate Moss.
If you're hoping for a day of spying the rich and famous, head to the top of the hill to enjoy a fantastic viewing point, and simultaneously appreciate an unrestricted panorama over the grand city skyline in this superior North West location.
Living in North West London
We at Galliard Homes rate these attractions as superlative, and champion the North West London locale for both leisure and living. For those looking to relocate to this desirable area, Galliard presents the Silver Works in Colindale, which is within just 40 minutes travel of all aforementioned locations by public transport, and offers a choice selection of 1-3 bedroom apartments, and 4 bedroom townhouses. Also located in the desirable North West London milieu of Camden Town, is Galliard's premier development Carlow House; an Art Deco inspired structure comprising of 85 stunning suites and 1 & 2 bedroom apartments.
Edited: 17th November 2022