Best Brunch Spots in Islington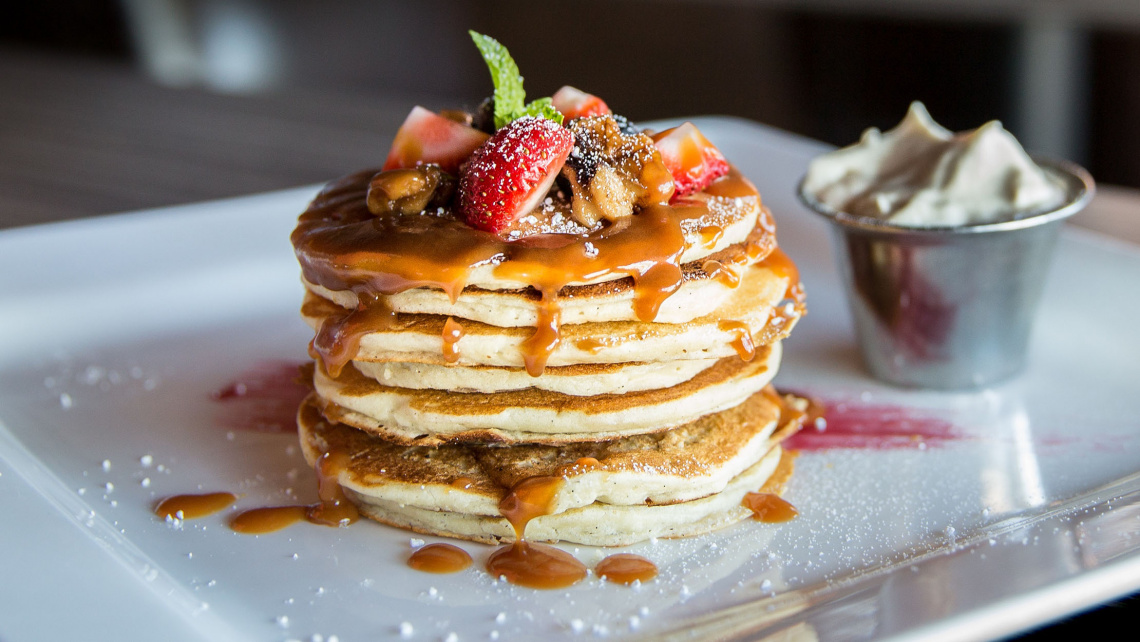 Looking for the perfect brunch spot in Islington? This guide to Islington's top brunch spots will help make your weekend decision a little easier. Whether you're craving something sweet, savoury or a combination of the two, Islington has it all. With a lengthy selection of brunch restaurants available in this North London hub, it can be hard to narrow them down to the right place for you. These idyllic hotspots will make your weekend that bit better.
Vivo
This Italian bakery, café and bar is the perfect place to relax and unwind with a casual, homely atmosphere. While having classic dishes like the full English, they also serve speciality dishes of Nutella and banana pancakes and French toast with pecan butter. Not only is the food delicious, but the roof-terrace provides for a stylish setting for brunch with a view, offering an escape from the busy Upper Street below. After all, who wouldn't want to eat Nutella pancakes on the roof?
Caravan
This noteworthy restaurant in Exmouth Market provides for a trip around the world. With different cultures incorporated into the menu, this relaxed and friendly brunch spot has earned itself a Michelin Plate. With the options ranging from golden spiced yogurt with poached quince and maple sesame oat granola to a vanilla waffle with an espresso salt caramel sauce and mascarpone cream, Caravan is able to satisfy many different cravings. This vibrant eatery also features the idyllic brunch setting with their outside terrace overlooking the market, the perfect way to watch the world go by while drinking your freshly roasted coffee.
Ottolenghi
Owner Yotam Ottolenghi has used inspiration from his Israeli roots to satisfy each customer with a menu curated with strong Mediterranean vibes. Being one in the chain of six branches, this restaurant has an ever-changing menu, including a Middle Eastern mezze breakfast that incorporates flavours such as tahini and lemon, as well as Dutch baby pancakes with fruit and nuts. Ottolenghi has created quite a profile for his restaurants, starring in podcasts with celebrity chefs including Nigella Lawson; it is obvious he has been inspired by the best, which is reflected in his food. With a diverse range of options there's something for everyone on offer.
Boulangerie Bon Matin
Boulangerie Bon Matin, sometimes known as BBM, focuses on French-style cuisine. With pastries, breads, croissants and muffins lined up at the counter, the plethora of these sweet smells is sure to draw you in. As well as nursing your sweet-tooth, BBM can also satisfy a savoury craving with their Eggs Royale or Eggs Florentine, just two of the many savoury options on their flavoursome menu. Complemented with a cappuccino, any of their dishes would be perfect on a Sunday morning.
The Modern Pantry
The Modern Pantry lives up to its name, its contemporary and casual dining space has an extensive menu which includes a vast range of breakfast options, paired with a selection of drinks to go with. The breakfast menu is filled with ideal options, including pastries such as almond croissants, as well as cooked breakfast options like toasted English muffins with poached eggs; not to mention the breakfast specials which include the sugar-cured New Caledonian prawn omelette. Reading the menu itself is enough to make one ravenous, so why not head down to The Modern Pantry and discover your new favourite breakfast spot?
Upper House
Located on, Islington's renowned Upper Street, Upper House brings a more creative and fun touch to your Sunday morning brunch. Catering for all types of tastes, this popular eatery's menu includes dishes like bacon with poached eggs and avocado on sourdough toast, or if you're opting for something different, you could choose the buttermilk fried chicken with waffles, smoked bacon and syrup. As well as providing their customers with a lengthy option of meals, this unique restaurant can also quench your thirst with a varied drinks menu. Showcasing the very best brunch cocktails like their vodka expresso as well as several different coffee options, you can't go wrong with this quirky brunch option.
The Breakfast Club
Conveniently situated on Islington's celebrated Camden Passage, The Breakfast Club provides a cosy setting to create the perfect backdrop to start your weekend. From sandwiches to pancakes and everything in between, this brunch spot offers an extensive selection of tasty dishes that cater to all. The all American pancake encompasses the sweet-yet-savoury combination that we all crave while the huevos al benny is the ultimate twist on a breakfast classic pairing poached eggs and hollandaise sauce with fried chicken and peppers.
Looking for a property near Islington? Get in touch with our sales team on 020 3409 2270.
Edited: 7th September 2023