Must-Visit Markets in Islington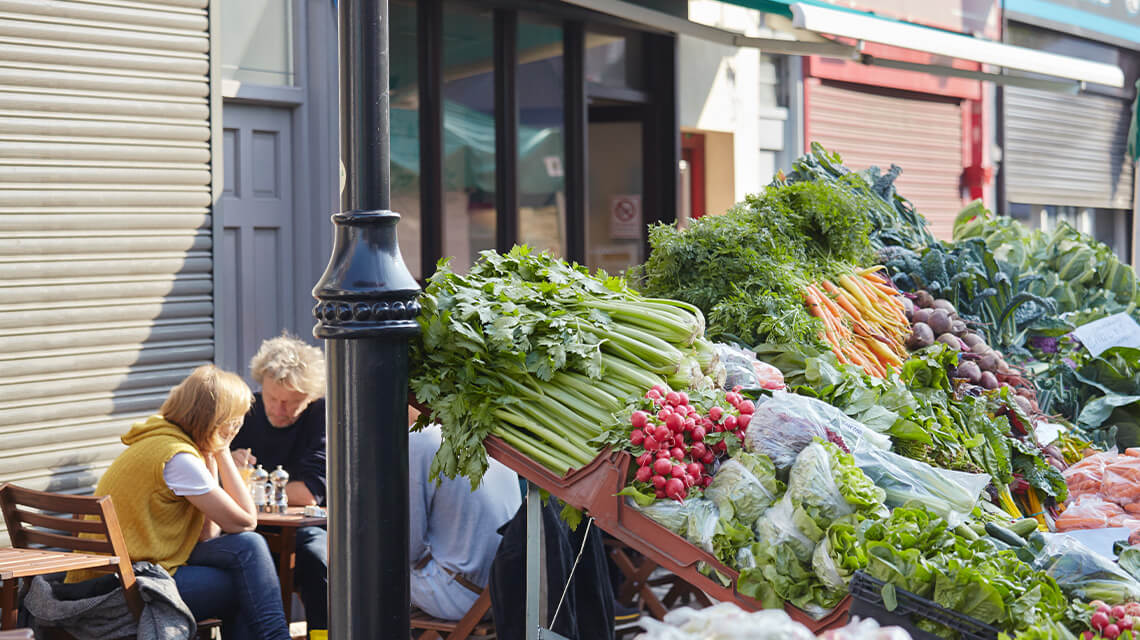 With its prime location, Victorian architecture, leafy streets and culinary scene, it's easy to see why Islington is one of London's most desirable neighbourhoods. Yet, it's the area's invigorating sense of community and innovative outlook that lies at the heart of its popularity, a spirit that is captured in its many weekday and weekend markets.
With some of the oldest markets in London, the very first Farmers' Market and one of the city's most flourishing antiques villages, Islington has always led the way when it comes to all things artisanal, vintage and downright delicious…
Archway market
Set beneath charming green and white striped tents within Navigator Square, next to Archway tube, Archway Market is a relaxed and friendly affair. With 16 distinct stall holders, it's large enough to fulfill a leisurely Saturday morning stroll but small enough to feel intimate and to give you time to delight in the specialities of each pitch. You'll find bread made from organic grains at the Celtic Bakery, vegetables pulled fresh from the Lincolnshire soils at Ted's Tasty Veg and the finest French fromage at Chez Francis & Sylvie. Food stalls offer such temptations as Greek souvlaki and bagels stacked high with fresh fillings. With your hunger sated you can peruse handmade jewellery, vintage knick-knacks, vinyl, handcrafted wooden boards and tables, Italian clothing, African textiles, candles, crystals and incense. Do make sure to stop at 'Word on the Street', hailed by Time Out as the best book stall in North London, where the 'Pavement Professor' can answer all your literary questions!
Open Saturdays, 10am-5pm, Navigator Square
Chapel Market
Chapel Market is an Islington institution. Thought to date back to the 1860s it remains a good old traditional street market run for the most part by locals for locals, offering affordable alternatives to supermarkets and the high street. Just a few minutes from Angel tube, you can carry out your weekly grocery shop, buy fresh flowers, and get your hands on bargain household goods and reasonably priced clothing, jewellery and watches. These days there are also a few street food stalls to keep the hunger at bay. Even if you're not looking for anything specific, it's a great place to absorb the bustling, age-old atmosphere of Angel's Town Centre.
Open Tuesday-Saturday, 9am-6pm, Chapel Street
Islington Farmers' Market
Islington Farmers' Market is the home of London's first ever farmers' market and remains the most established. It takes over Chapel Market on Sundays, ushering in all the organic, artisanal and local produce you could wish for. There's organic fruit and vegetables from Eden Farms and Wild Country Organics, Nigel's Lettuce and Lovage range of salads and Chegworth Valley's apple juices and fruit. Pick up seasonal cut flowers from Grange Nurseries, free range meat, sustainable seafood, milk, cream and cheese, freshly made breads and cakes, and plucked-from-the-farm eggs. With its colours, scents and offerings changing with the seasons, it is always a delight for the senses - particularly the taste buds with plenty of opportunity for taste tests and food stalls serving up innovative dishes.
Open Sundays, 10am-2pm, Chapel Street
Camden Passage Market
Camden Passage Market is no mere market but an entire antiques enclave encompassing the quaint pedestrian Camden Passage lane, whimsical arcades, shops, boutiques and market stalls glinting with antique jewellery and lined with brightly coloured vintage clothing. Beginning in the 1960s, it is now one of London's most well-known antiques attractions with over 200 dealers and collectors of varying specialities. Open Wednesdays and Saturdays (the shops are open all week), it's a haven for rummaging, bargain-hunting and one-off finds - sift through its stalls and unearth anything from Staffordshire pottery, to mid-century homeware, to Art Deco jewellery, to rare Parisian accessories and retro luggage. You can find a specialist book market on Thursdays and Fridays in the The Pierrepont Arcade Market too. There are plenty of cafés and bars tucked among the shops to keep you refreshed for a whole morning, afternoon or full day of hunting, depending on your stamina.
Open Wednesdays and Saturdays, 9am-6pm, Camden Passage
Camden Passage Sunday Market
Every Sunday, Camden Passage plays host to a pop-up market featuring crafts, gifts and food including handmade cushions, Indian quilts, soft furnishings, festival wear, cakes, olive oil, fresh pasta and scotch eggs.
Open Sunday, 10am-4pm, Camden Passage
Exmouth Market
Exmouth Market is a small village in itself, set around a semi pedestrianised street in Clerkenwell, lined with independent shops, lifestyle boutiques, beauty salons, unique gift and book shops and an abundance of cafés, bars and restaurants. The majority of food outlets come with cover and outdoor seating giving the whole street a carefree European sidewalk vibe, perfect for lazing away the hours on a sunny London day. You can start the day with a wake up margarita served from 10.30am at Cielo Blanco, followed by a plate of their Huevos Rancheros, or try authentic Spanish tapas plates at Morito, or bagels in Brill's outdoor garden, or head to The Grind which serves up satisfying dishes from morning through to evening. It's hard not to be enticed by the shopping too, with prettily potted cacti and succulents at the Botanique Workshop, stationery gifts at Space EC1 and unique jewellery from EC One. With beauty salons, hairdressers, a hardware store, pharmacy and bike workshop to boot, you really don't have to go anywhere else in London. During the week the street is also home to twenty stalls, mostly food vendors drawing in nearby office workers, locals and visitors with their satiating range of cuisines.
Open Monday-Saturday, 9am-6pm, Clerkenwell
Stroud Green Market
Stroud Green Market is a community food and farmers' market held in the outdoor areas of Stroud Green Primary School, five minutes' walk from Finsbury Park station. The market is a real community affair, mixing food and produce with free entertainment, live music, storytelling and a resident bike mechanic. There's a range of high welfare, sustainable producers including Perry Court Farm's fruit and veg, honey from the Tottenham marshes, Marsh farm free-range meat, creamy milk from Hurdlebrook Dairy, naturally-grown flowers from Haringey and plump loaves of fresh bread from Andy Strang which goes very nicely with Grumpy's Famous Peanut Butter. Grab some street food while you're there, with the likes of Holy Pizza's sourdough pizzas and Big Doggs' NYC-style Hotdogs on-site. There's also a covered café area and outdoor seating meaning you don't have to pop in and out, but can relax with friends and check out what's going on, whether it's live music or entertainment.
Open Sundays, 10am-2.30pm, Stroud Green School
Whitecross Street Market
One of the oldest markets in London, Whitecross Street Market still retains its down-to-earth, old school charm - the kind of market London was made for with pie, mash, hog roasts and nearby pubs for washing it all down. Located between Old Street and Fortune Street, Whitecross Street itself is a snapshot of vintage London with Victorian flourishes and grand facades. The weekday food market is a favourite haunt with city workers who descend upon it for lunch. You can get your hands on all kinds of treats including hog roasts, Scottish venison burgers, Korean Bibimbap, Buddha bowls, falafel wraps, crêpes, cakes and sweets.
Open Monday-Friday, 10am-5pm, Whitecross Street
Image credit: Cheryl Cohen
Edited: 11th November 2022