Living in King's Cross, London N1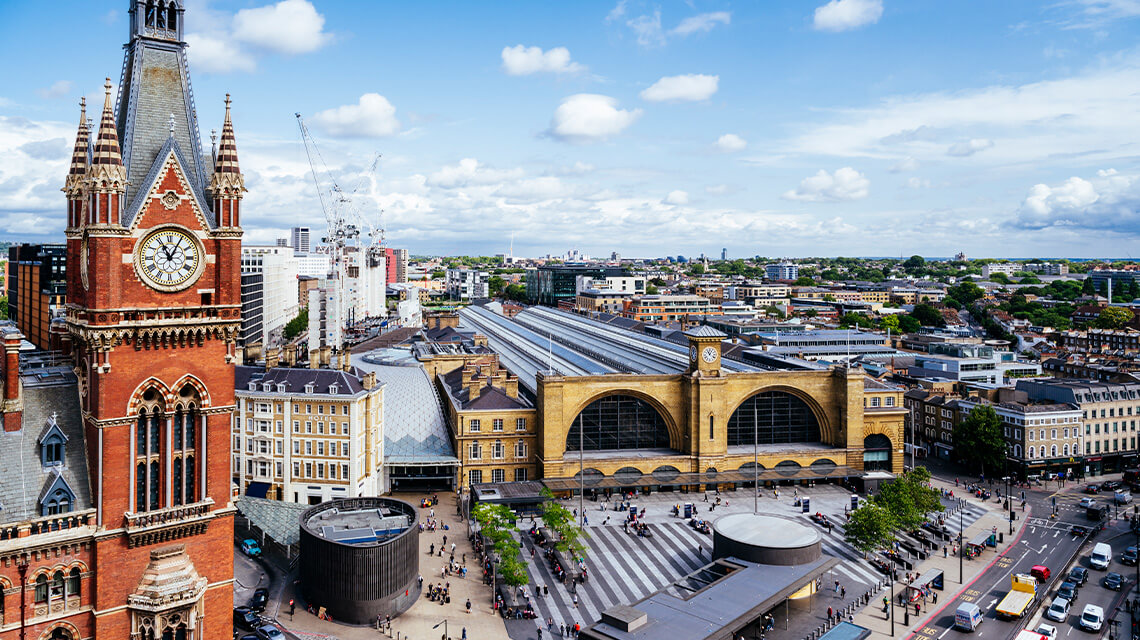 King's Cross is a bustling Zone 1 location in North London that prides itself as one of the city's major transport hubs.
King's Cross has evolved over recent years and is now a popular creative district that is full of culture and nightlife hotspots, plus it boasts excellent educational establishments, making it a desirable place for investors and students alike.
Nearby Property Available
Galliard Homes is proud to present a collection of quality developments throughout London, one of which is not far away from King's Cross, in the neighbouring district of Euston:
Carlow House
Part of Galliard's exclusive Platinum Collection, Carlow House is a striking development that will include 85 deluxe one and two bedroom apartments. This development will boast a unique design as apartments will surround an exceptional four-storey atrium.
The architecture of Carlow House will set itself apart from the rest as it will have been transformed from an old Edwardian warehouse. Each apartment will be complete to Galliard Homes' finest standard and will allow residents to enjoy a luxury loft-style living space. Residents will benefit from features including a daytime concierge and outstanding transport links, as Mornington Crescent - served by the Northern line - will be close by. All of the fantastic aspects that Carlow House will display will make it an unbeatable investment opportunity.
History
King's Cross is one of London's most historical regions and dates back to the Roman times, it is even said that King's Cross was the place where the renowned battle between Queen Boudicca and the Roman invaders happened.
King's Cross has also been one of the city's principal places of trade since Roman times and Regent's Canal had a key role in the trade for over one hundred years, until approximately 1960. The canal allowed North London to be connected to other key industrial cities and allowed for various good such as coal and building materials to be brought to London.
Since the early 21st century, King's Cross has undergone major work to its transport links and is now one of London's chief transport hubs. In 2001, construction began on the extension and renovation of St. Pancras station and a few years later in 2007, the new terminal at St. Pancras International was introduced. Since the beginning of the century, King's Cross has undergone over £2.5 billion worth of impressive transport infrastructure.
Food and Drink
If you are looking to discover some new flavours and broaden your acquaintance with London restaurants, then there is no better place to visit than the North London location of King's Cross as it is becoming quite the foodie hotspot and has a sensational array of flavours on offer for Londoners to indulge in. Plum and Spilt Milk is a prized restaurant that is frequented for its flawlessly prepared classic British dishes that exceed expectations upon every visit.
Vietnamese barbeque and cocktails is undoubtedly a wonderful thought, Côba restaurant is just the place to go to get your 'Big Bowl' fix with a tasty slice of that 'down under' flavour.
Those who enjoy the tang of Eastern Mediterranean cuisine must add The Greek Larder to their list of restaurants in London to visit. A trip to this culinary Greek heaven will promise delicious and authentic food and views of Regent's Canal.
After arriving at King's Cross station after a long journey, a table at Searcy's will be just what the doctor ordered. This restaurant serves up old classics with a fresh twist, from scrumptious cider mussels to lip-smacking confit pork belly with vanilla purée. Even better still, diners can enjoy some jazz every Sunday in the bar, now that really does sound like the best accomplice to a Sunday lunch.
Nightlife
Over recent years, King's Cross has become quite the hotspot amongst party-goers in the city as it is home to a vibrant collection of bars and clubs. If you are looking for an unforgettable night out complete with exceptional DJs and an outstanding sound system, then look no further than Egg; this nightclub has been stated by some as the Ministry of Sound of North London, especially as the night draws to a close on a Saturday at 7am, so you really can party the night away.
For a seriously trendy and relaxed vibe, The Star of Kings is the place to go; prized for its range of music, from reggae to funk, there is something for everyone to enjoy. In addition, the fantastic offers on food and drink are the perfect bait to reel in students in the North London area, giving this basement venue an exceptionally energetic atmosphere.
Do cocktails, burgers, sharing platters and cool music sound like your idea of a good time? The Big Chill House, set across three floors, is a superb venue full of character and charisma; one of its prized features is the roof terrace which is open in the summer and covered over in the winter with heaters so you can enjoy a tipple outdoors all year round.
Shopping
While you wait to set off on your travels at King's Cross station, there is a great array of shops, cafés and restaurants that will guarantee to keep you occupied. In St Pancras International, Kiehl's and Boots are just perfect for the beauty lovers, while Whistles, Oliver Bonas and Dune will cater for clothing and accessory needs.
Nearby on Caledonian Road there is a charming selection of shops and boutiques that is the ideal place to visit if you want to take a relaxed wander somewhere a little bit different and discover something new. You will find everything from Achilles Heels, an incomparable shoe repair shop, to Aflorum, a prized florist within the King's Cross area.
For a foodie fix, there are plenty of pleasant markets in the area that have a high reputation amongst Londoners for a good reason. Changing the meaning of 'grab and go' convenience food for commuters is Sourced Market at St Pancras International. Step aside Krispy Kreme because Crosstown Doughnuts is a company changing the face of the doughnut world as we know it; this gourmet brand at Sourced Market supply everyone's favourite coffee time treat with a twist, using sourdough in the recipe which makes for an even more satisfying and sumptuous delight. There is so much more to be found in this market and it is definitely one to pass by when you are on your travels through the station.
Other markets in the area include The Cally Market and Chalton Street Market, both of which display an eclectic mix of food, arts and quirky clothing.
Entertainment and Culture
Unleash your inner-wizard and visit the famous Platform 9¾ at King's Cross station where you can imagine you are on your way to Hogwarts! To make sure that you really get into character, there is even a gift shop where you can buy all of the weird and wonderful witchcraft and wizardry souvenirs.
King's Cross is home to a thriving cultural scene that includes musical venues and impressive galleries. If there are any Roald Dahl fans out there then the House of Illustration is the place for you as is the impressive creation of Quentin Blake. You can also enjoy an array of impressive artistic collections, workshops and interactive films, which will make for a truly enchanting day out in North London.
One of London's greatest musical and creative hubs is without a doubt King's Place, a venue that showcases everything from classical orchestral music, spoken word performances and comedy performances. King's Place also offer a range of masterclasses, so get your creative juices flowing and take a trip to this creative North London landmark.
Reveal the bookworm in you with a trip to The British Library and browse through the endless journals, books, online galleries and everything else you can think of. Did you know that this national library is known as the world's biggest library by the amount of catalogued items? If that is not impressive enough then it should also be mentioned that there are over 170 million different items held here in a range of various languages, let the research begin!
Parks and Open Space
King's Cross has seen a huge transformation over the last century and has now turned from a once unloved part of the city to a colourful area comprising over 25 acres of new parks and public squares. A family favourite in the area has to be Handyside Gardens, King's Cross' first public garden; charming landscaping, play areas for children and an attractive water rill give this park an inviting and friendly atmosphere that leaves a lasting impression with the public.
In the centre of King's Cross you will find the popular Regent's Canal, which comprises nine miles of impressive stream. This tranquil waterway is a perfect place for locals to stroll and admire the boats on the rippling water.
The majestic Regent's Park is only a stone's throw away and it is an incredibly well-loved asset to the area, boating beautifully landscaped ground, striking wildlife and plant life and even an open-air theatre, just to mention a few. This is the place to go for a leisurely lunchtime walk or why not even make a day of it with the family at the weekend.
Education
Westminster Kingsway College is an esteemed establishment in King's Cross that offers higher education courses for 16-18 year olds, as well as an array of foundation courses and employability training. The college will prepare young adults for the big wide world of employment and guarantee the road to success.
For those wanting to pursue a future in the artistic world, a place at University of the Arts London (UAL) is an ideal option. This university's world-class status is a result of the exceptional facilities, workspace and superb staff profile.
Other excellent institutes in the surrounding area also include King's College and University College London (UCL); these superlative establishments are prized for their ground-breaking curriculum and continuum of success. The standard of colleges in King's Cross make it an outstanding option for students looking to live in London.
For further information about London's top universities, check out our guide.
Local Authority
Getting There
By Tube
King's Cross St. Pancras is linked to six lines on the London Underground: the Northern, Circle, Piccadilly, Victoria, Metropolitan and Hammersmith and City lines. This outstanding connectivity means that key locations such as Bank are reachable in just 10 minutes, London Bridge in 12 minutes and Canary Wharf in an impressive 22 minutes.
By Rail
The National Rail services at King's Cross allow passengers to reach other major UK cities quickly and efficiently, including Birmingham in under an hour and a half and Manchester in just over two hours.
King's Cross St. Pancras also run services to other Southern England commuting districts such as Kent, which is reachable in under an hour.
By International Rail
St Pancras International station is proud to be the home of Eurostar, so passengers can make international journey comfortable and conveniently. Major European cities such as Paris can be reached in 2 hours 15 minutes and Brussels is less than a two hour journey away.
Edited: 3rd July 2023