Living in Luton, Bedfordshire LU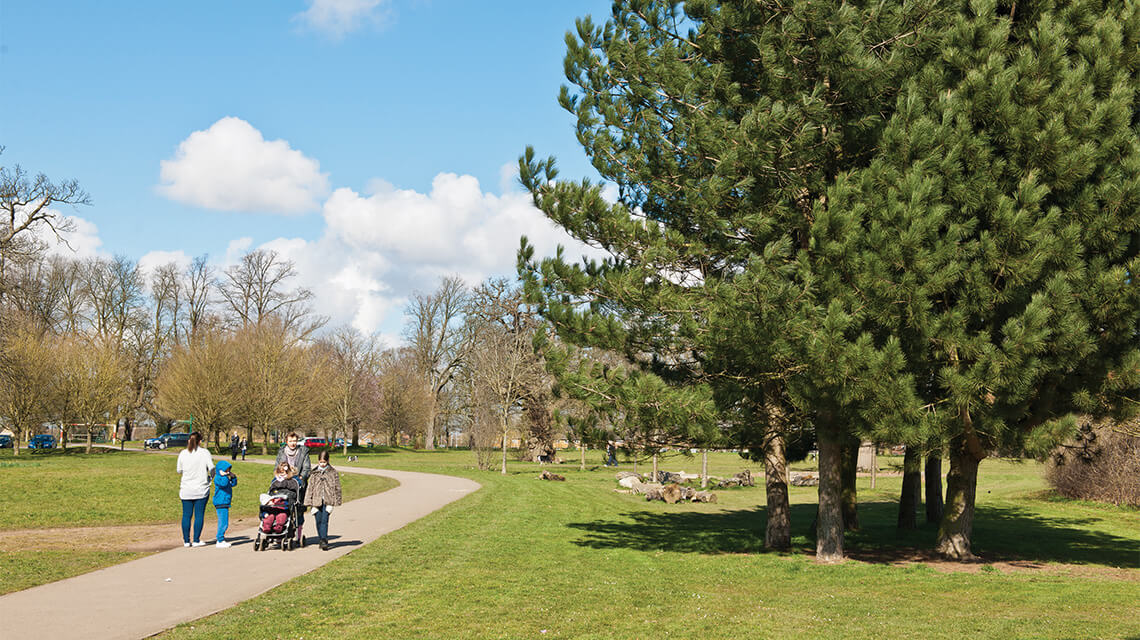 Located in the region of Bedfordshire, Luton is becoming a new hotspot amongst commuters because of the area's close proximity to London and future regeneration plans that are due to vastly enhance the town centre, with improvements to shopping and travel facilities.
Also home to Luton Airport, London's fourth largest airport, residents of this district have the benefit of convenient international travel. Luton is also seeing an increase in property prices due to the high commuter demand and the plenitude of job opportunities that are on offer, as the town is home to many ICT and engineering headquarters. Whether you're a first-time buyer, or a Buy-to-Let landlord looking to invest in a property with a strong rental catchment, then Luton is the place to look out for.
Property in Luton
Carlton House
Carlton House, a transformed office building, will offer an enviable selection of contemporary studios and one bedroom apartments for sale in Bedfordshire, just 15 minutes' walk from the heart of Luton's town centre.
Each property will boast lavish oak one-strip flooring, sophisticated and contemporary neutral-palette interiors, a stylish fitted kitchen complemented by integrated appliances, and video entryphone security.
All apartments will also come fully-furnished (at no extra cost), giving both landlords and homeowners a stress-free experience. They will also have the opportunity to choose from two additional offers - either a one year service charge break or one year off paying letting and management fees.
For further information about Carlton House by Galliard Homes, please click here to view the development on our website or check out our flats for sale in Luton.
History of Luton
The history of Luton dates back to as early as the 6th century when the Saxons occupied the county of Bedfordshire. After being settled for some time by the river Lea, they named their community 'Tun' and eventually this small settlement grew into a larger town knows as 'Lea Tun' which is where the name 'Luton' originated from.
Something that this area is most famous for is straw hat making, which was first established in Luton in the 17th century and continued to flourish and rule the industry. Nowadays, one of Luton's most treasured exhibitions is a diverse display of hats in the Wardown Park Museum.
Places of Interest
Food and Drink
Cappellos
Greatly loved amongst the population in Luton, this bistro-style Italian restaurant can be found in the Icon Hotel and will guarantee diners an authentic experience complete with everyone's Italian favourites. If you want something a little snazzier to spice up your family Sunday lunch then Cappellos is the place to go because you can enjoy your food to the sound of live piano music.
Nakorn Thai Restaurant
A trip to this Thai restaurant will promise diners an excellent service, scrumptious food and a dining experience complete with fresh and traditional Thai flavours, there is a reason that locals always come back for more!
Frog and Rhubarb
This venue is the definition of a cosy country pub and never fails to produce the ultimate country pub grub, along with a selection of beers and wine that will undoubtedly warm your cockles on a cold winter's evening. When season's change and the weather gets warmer, there is even the option to enjoy your food and drink in the charming courtyard garden.
Papa J's
Proud of its reputation as one of the first Indian Tapas restaurants in the UK, Papa J's has seen a successful 10 years and is a clear favourite amongst Lutonians. To further enhance the value that this restaurant has in Luton's town centre, it has also had the honour of winning National Chef of the Year at the 2014 English Curry Awards. What more temptation do you need to go and book yourself a table?
Wernher Restaurant
If a fine dining experience is more up your street, then look no further than Wernher Restaurant in Luton Hoo. Part of the luxurious Luton Hoo Hotel, this restaurant is Luton's version of The Ritz, especially because of its notable renovation last century by the same architects who modelled the Ritz Hotel, so it is unquestionably designed to please and impress. This restaurant has a rich history as well as fantastic food and impeccable service, as it was in fact named after Sir Julius Wernher who famously bought Luton Hoo in 1903 after having made his prosperity in diamonds.
Nightlife
The Bear Club
This is one of Luton's most popular locations for a night out with friends that guarantees a good time. Take your time browsing the drinks menu that presents an impressive selection of beer, wine and cocktails, while you listen to the live music. The Bear Club boasts a whole host of special guests, as well as a variety of music genres from 'Jazz, Blues and everything in between'.
Park Street
Atmosphere is something that Luton does not lack, especially because of its student population, so if an unforgettable night out in Luton is what you are after then head on over to Park Street because that is where the majority of nightlife hotspots can be found. Edge Nightclub knows how to lure in the party-goers with the unbeatable deals on drinks and crowd-pleasing music playlist or for something a little more low-key, The Bat and Barrel is a great option.
Grosvenor Casino Luton
Take a walk on the wild side with a trip to Grosvenor Casino, this is the perfect location for nothing but entertainment because you can make a full night out with a table at the grill restaurant to begin with, then finish with a tipple at the late night bar as the early morning hours start to creep in.
Shopping
The Mall Luton
You cannot go wrong with a shopping trip to this prime retail hotspot in Luton as it is complete with a plethora of different shops and eateries that will not disappoint. As well as providing something to suit the shopping needs of everybody, The Mall also offers 'Love Sundays' which offers avid shoppers the chance to win a free gift when they spend £50 or above (members only). So what better excuse to go shopping than the opportunity to win prizes for doing so?
Bury Park
To add a little spice into your weekend of shopping, just a mile away from Luton you will find Bury Park. This exceedingly popular destination is most known and loved for its market collection where you can buy seasonal fresh fruit and vegetables as well as Asian-inspired food and clothing.
Maltings Shopping Centre
In the neighbouring town of St Albans, which is just a 20 minute drive away or a short 10 minute train journey, this shopping centre provides a multitude of shops full of everyone's favourite brands, including Hotel Chocolat, Benefit and Oliver Bonas. If all of that shopping makes you work up an appetite, then do not fear as you are spoilt for choice with the fantastic array of restaurants and markets that surround the vicinity.
Entertainment and Culture
The Hat Factory
This is the ultimate entertaining location for those who love to explore their creative side as there are an array of classes available, including street dance classes for children and Motown evenings. The diversity of performances, from theatre to comedy, brings everyone together through their love of creativity and contributes towards Luton's appealing community atmosphere.
Stockwood Discovery Centre
Previously known as Stockwood Craft Museum, this cultural venue is one of two museums in Luton that is admission free. Boasting an assortment of historical exhibitions and a pleasant sculpture garden, one of the museum's favoured displays is without doubt the horse-drawn carriage collection. The beautiful gardens and playground will most definitely be a hit with the children and the Garden Café will satisfy that sweet tooth and coffee craving.
Luton International Carnival
Taking place annually, usually in May, this event is in fact the largest one-day carnival in Europe. Over 200,000 people gather in Luton for the occasion to enjoy the vibrant parades, lip-smacking food stools and live music; from Samba to Folk, there is something for everyone and is something to be added into everyone's diary each year.
Green Space
Wardown Park
Showcasing the tranquillity of the River Lea and one of Luton's cultural gems, the Luton Museum and Art Gallery, this park offers everyone a breath of fresh air and a reason to get off of the sofa and get moving. This park is within walking distance of the town centre so gives you the perfect opportunity to walk off your evening meal with friends and enjoy the plush views of the greenery and boating lake.
Dunstable Downs
Part of the National Trust, this extraordinary area of park life is an asset to Luton because of its rare and wonderful wildlife and panoramic views. This location is known for its charming Bee Orchid and array of butterfly species, not to mention that it is the base for the London Gliding Club.
Education
Local Authority
Getting There
By Rail
Luton railway station is served by the Thameslink and reaches King's Cross St Pancras in as little as 25 minutes, making Luton an ideal location for London commuters.
By Air
Luton Airport is a base for major airlines including Monarch and EasyJet and is London's fourth-largest airport. This travel hub makes Luton a great option for investors who are frequent international travellers and it significantly adds to Luton's investment appeal.
Edited: 1st December 2023