Travel Connections in Luton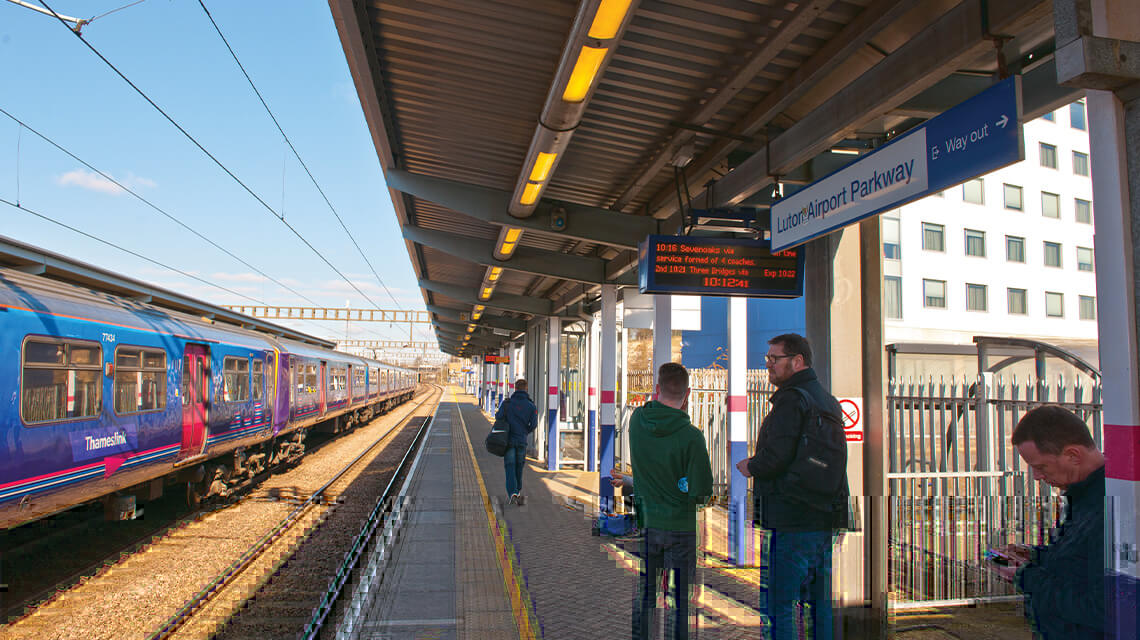 Luton's capacity for fast and easy outward-bound travel to London, across the country and beyond, is what makes this town so appealing to its residents, stapling its reputation as one of the top five most affordable commuter towns in England.
For many hoping to move into the capital, or upscale in an attempt to further climb the property ladder, London's soaring prices mean that they have to look elsewhere for their new home. However, with towns such as Luton, offering journey times of approximately 25 minutes into Central London, commuters can enjoy the best of both worlds.
A study by Lloyds Bank found that London workers willing to commute for an hour each way will save a whopping £585,000 on their property purchase; of course they will have to pay an annual season ticket worth £2,000-£5,000, but in comparison this seems a relatively small price to pay. It is estimated that to even out the prices, a commuter would need to travel for an astounding 91 years!
Travelling by Car
With the M1 running alongside its periphery, Luton is perfectly placed for those journeying towards London or the north of England. Exit the M1 at Junction 10 for Luton, and the airport will be a mere two miles away. Junction 21 of the M25 will be just less than a 20 minute ride away for journeys further east and south.
Approximate journey times from Luton:
Dunstable 20 minutes
St Albans 25 minutes
Welwyn Garden City 28 minutes
Bishop's Stortford 1 hour 9 minutes
Central London 1 hour 16 minutes
Travelling by Bus
There are a number of bus services, including National Express, Plus Bus and Arriva, running every day from Luton Airport to Central London, taking approximately 1hr 15mins to drop-off points including: Finchley Road, St John's Wood, Marylebone, Portman Square, Golders Green and Victoria Coach station.
Those wishing to travel to Luton Airport can do so from Luton Airport Parkway station, where a shuttle bus operates a service connecting the two in just 10 minutes.
Travelling by Rail
Luton is home to three mainline stations: Leagrave station, Luton station and Luton Airport Parkway station.
Luton and Luton Parkway both offer direct services into Central London's St Pancras International, with a journey time difference of just two minutes and provides up to six trains an hour. Luton mainline station offers a journey time of around 25 minutes, making this the perfect choice for city commuters. St Pancras is the ideal interchange, offering no less than six Underground services: Circle; Hammersmith & City; Metropolitan; Northern; Piccadilly and Victoria.
Commuters travelling from Luton mainline station can also reach Euston and London Blackfriars stations direct in approximately 47 minutes. Luton is also convenient for reaching destinations further afield including Nottingham in the north and Brighton in the south.
Travelling by Air
Luton Airport has now grown to become the UK's fourth largest airport, increasing the area's investment appeal, in addition to the fact that it is only just over 30 miles north of Central London.
The airport is a base for established airlines including easyJet, Monarch, Thomson Airways and Ryanair. In the last two years alone, the number of airlines flying from Luton increased from just nine to 17.
The airport mainly serves destinations across Europe, but also travels to cities in Northern Africa, America and Asia.
Future Plans
Luton Airport recently promised even faster journeys to and from Central London with plans for a £200m Tube-style link between the airport and Luton Airport Parkway station. Presently, passengers have to wait for a shuttle bus, which takes approximately 10-15 minutes, but the new transfer is expected to take less than five minutes; guaranteeing a journey time of less than 30 minutes into St Pancras International.
The new Tube-style link will comprise of driverless trains, which will run 24-hours on a separate track from the road network, connecting it to the airport's car park. Passengers can expect to start using it from 2020.
The change is part of the area's ongoing £110m redevelopment of the terminal, and plans to introduce Oyster cards to Luton Airport Parkway station by 2018; all of which is contributing to Luton's reputation as an established commuter hotspot.
Property in Luton
The following developments have now successfully sold out however, for more information on Galliard's properties in Luton please do read on.
Galliard Homes is delighted to present Carlton House - a new Luton development comprising 124 studios and one bedroom apartments within a former office building, all boasting contemporary interiors and digital appliances to enhance a modern lifestyle in a desirable commuter town.
The properties will all come fully-furnished (at no additional cost) and buyers will also have the option to choose from two additional offers - one year's service charge break or one year's letting and management fees paid by Galliard.
Residents will be 11 minutes' drive from Luton's mainline station and six minutes from the M1 motorway, whilst Luton Airport will be just 17 minutes away.
Carlton House is now sold out. For further information about Carlton House by Galliard Homes, please click here to view the development on our website.
The Landmark
The Landmark is perfectly placed for city commuters, situated only a 10 minute walk from Luton station. Transformed from a former office building into a lavish selection of studio, one and two bedroom apartments, first-time buyers and Buy-to-Let investors will be impressed with the contemporary facilities and stylish interiors on offer - all within Luton's thriving new growth zone.
The Landmark is now sold out. For further information about The Landmark by Galliard Homes, please click here to view the development on our website.
Edited: 21st November 2022