Living in Muswell Hill, London N10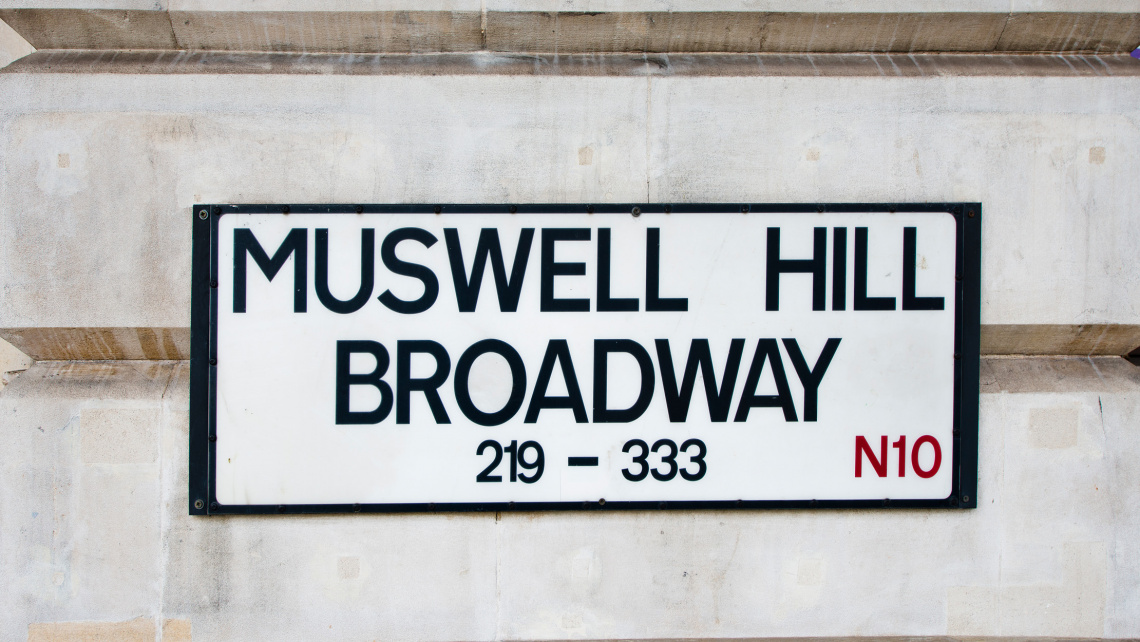 Crowned one of the five most desirable places to live in London, Muswell Hill is a suburban enclave surrounded by natural beauty, superb schools, quaint shopping streets and grand Edwardian architecture. It's the London postcode offering the perfect laid-back vibe.
Around the corner from the magnificent Alexandra Park and neighbouring the illustrious Hampstead Heath just a little further south, Muswell Hill is the ideal location for families looking for the peace and serenity of country living whilst still being within easy reach of the capital's booming business hubs.
History of Muswell Hill
Muswell Hill is said to have derived from the words "Mossy Well" as a nod to the natural spring once found in the area during the Medieval period, which was sought out by those hoping to take advantage of its healing properties, including the likes of King Malcolm IV of Scotland.
Towards the end of the 19th century, especially following the opening of Alexandra Palace in 1873, Muswell Hill became a hotspot for aristocrats seeking a home outside of Central London, and with them came streets lined with stately Edwardian homes, which continue to define this area's character today.
Places of Interest
Cultural
Alexandra Palace
Sitting to the east of Muswell Hill, Alexandra Palace - also known as "The People's Palace" or "Ally Pally" to locals - is a historical entertainment venue and community hub, hosting exhibitions and concerts all-year-round. Ideal for a family fun day out, there's so much to explore; from the ice rink, skate park and Segway rally, to the beautiful grounds of Alexandra Park and its adjoining boating lake.
Entertainment
Everyman Cinema
Down at the Everyman Cinema on Fortis Green Road, comfy sofas and a food-to-seat service offer a luxurious, lazy backdrop to enjoy the latest blockbuster. Alternatively the Phoenix Cinema - formerly The East Finchley Picturedrome - is a community favourite and one of the UK's oldest cinemas, hosting a single screen within a grand auditorium beneath an archaic vaulted ceiling.
Shopping
Fortis Green Road and Muswell Hill Broadway are the area's chief shopping destinations, whilst Brent Cross Shopping Centre is approximately 20 minutes' drive away for a more elaborate shopping spree.
Local fashion favourites include Oliver Bonas, Whistles, Mint Velvet and Charli London, whilst the fuchsia pink store, Crocodile Antiques, is the perfect place to find rare gifts. Vintage fans should no doubt head to Can't Buy Me Love on Avenue Mews, specialising in 50s, 60s and 70s clothing, homeware and bric-a-brac. Book worms should also head to the independent Muswell Hill Bookshop, which often hosts readings by various authors.
Muswell Hill is also home to a number of artisan food stores, including Cheeses on Fortis Green Road - named Time Out's 'Best Shop in London 2016' - and Planet Organic on Muswell Hill Road for the health-conscious. Wine connoisseurs will also enjoy the vast choice of international flavours available at Prohibition Wines on Fortis Green Road.
Food and Drink
Restaurants
La Lluna
Indulge in traditional tapas with a cocktail in hand at Muswell Hill's only Spanish restaurant, La Lluna - dubbed 'the place to be in Muswell Hill'.
Chooks
For perhaps the poshest fried chicken you'll ever have, head to Chooks on Muswell Hill Broadway; although the diet may have to wait!
The Real Greek
Relax, unwind and socialise with a hearty serving of delicious meze from The Real Greek; yet another of Muswell Hill's popular neighbourhood restaurants.
Other popular chain restaurants include Côte Brasserie, Carluccio's and Pizza Express all located on Muswell Hill Broadway.
Pubs
The John Baird
With an impressive selection of real ales and ciders, big screens for hosting live sports events and a beer garden, this traditional pub is the ideal spot for enjoying a drink amongst friends. A unique aspect of this pub is the adjoining restaurant, The Black Orchid, which is said to serve the best Thai food in the area.
Clissold Arms
Voted 'Family Pub of the Year' in 2015 and 2016, the Clissold Arms gastropub has a cocktail lounge dedicated to the English rock band, The Kinks, whose members grew up in the area.
Mossy Well
Located right by Alexandra Palace, this Wetherspoon's pub is the go-to spot for enjoying a relaxing drink and some good old comfort food.
Green Space
Arguably one of the greenest spots in North London, Muswell is surrounded by woodland and recreation grounds; perfect for dog-walking, taking long strolls or indulging in a scenic picnic.
The first choice for many of Muswell Hill's residents is, of course, Alexandra Park, with its 196 acres of vast green space, whilst Muswell Hill Playing fields is often frequented by families watching local football and cricket games.
Other pockets of parkland in the area include Highgate Wood, Queen's Wood, Cherry Tree Recreation Ground, Albert Road Recreation Ground and the Glebelands Local Nature Reserve. Muswell Hill also has its own golf club, dubbed 'North London's premier golf venue'.
Health and Fitness
The Laboratory Spa and Health Club
A hotspot for gym buffs, The Laboratory has a 25m indoor swimming pool, a Scandinavian sauna and a day spa offering holistic treatments, in addition to their spacious and well-equipped gym. For a tasty energy boost, The Laboratory also has its own juice bar.
The Manor Health and Leisure
Enjoy The Manor's state-of-the-art gym, with access to the heated swimming pool, sauna, steam room and spa at The Manor - the best place in town to reinvigorate, relax and stay fit.
JCW Fitness
JCW runs a variety of classes to suit all ages and abilities; whether it's Pilates or Zumba, you're bound to find something you love here that will keep you coming back week after week.
Community
Midsummer Muswell
Held every June, Midsummer Muswell is an elaborate market event on St James Square. With food and crafts stalls, competitions, funfair activities, and live music and dancing, this is one of the biggest events on Muswell Hill's community calendar.
Education
Aside from Muswell Hill's beautiful green expanses, the schools are yet another enticing factor, drawing in families looking for top-notch educational facilities for their children.
Primary Schools
All of Muswell Hill's primary schools are ranked either 'Good' or 'Outstanding' by Ofsted, and there is certainly no shortage of them. There are nine to choose from within just a couple miles' radius including Muswell Hill Primary School, St James Church of England Primary School and Our Lady of Muswell Catholic Primary School.
Secondary Schools
The Fortismere School is the area's most prestigious comprehensive school, ranked 12th in the country by The Sunday Times in 2016, and recognised as the best school in Haringey based on GCSE results. Another popular secondary school in the area is Alexandra Park School, also rated 'Outstanding' by Ofsted.
Local Authority
Getting There
Roads
Muswell Hill is less than 10 minutes' drive from the North Circular; from here commuters can easily reach the M1 for journeys north towards Watford, St Albans and beyond, whilst the A10 is also nearby for a direct route to the M25.
Rail
The closest mainline station to Muswell Hill is Alexandra Palace station, providing services to Moorgate in the City in 22 minutes, whilst Home County destinations such as Welwyn Garden City in Hertfordshire can be reached in approximately 30 minutes.
Underground
Journey times from Muswell Hill's nearest Underground station, East Finchley (Zone 3):
Camden Town 10 minutes
King's Cross St Pancras 17 minutes
Tottenham Court Road 18 minutes
Waterloo 23 minutes
Bank 24 minutes
Edited: 20th March 2023