Living in Hampstead, London NW3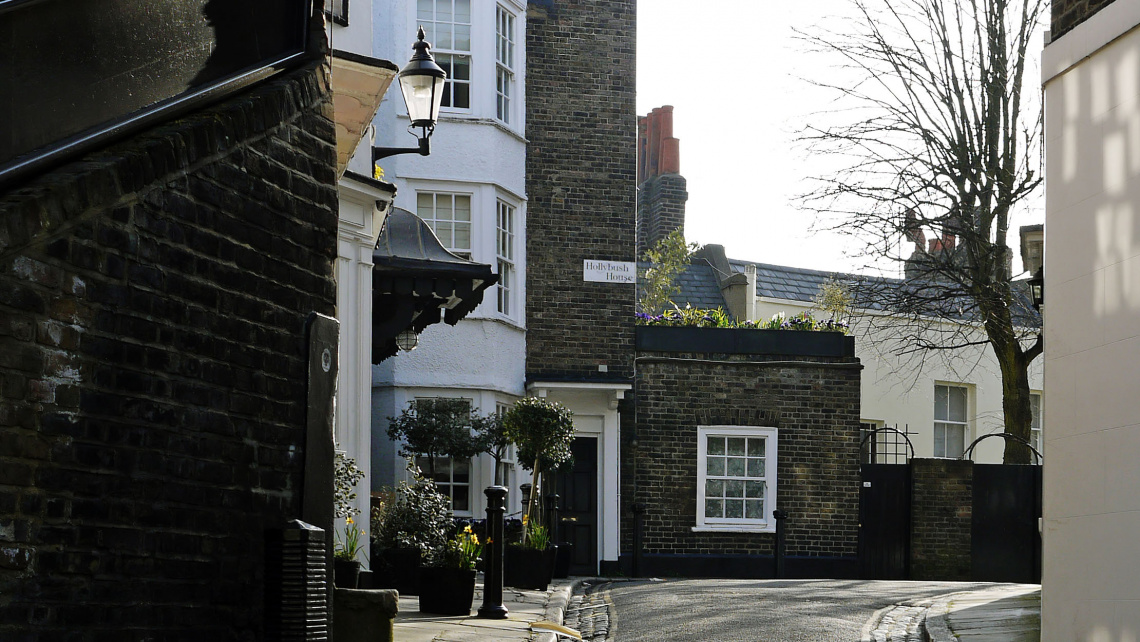 Classed as the 'world's finest urban village', Hampstead is celebrated for its intellectual, artistic and musical associations, as well as the renowned Hampstead Heath, boasting one of the finest views of London from Parliament Hill.
The Hampstead Village postcode has been home to more millionaires than any other location in London, with its perfect mix of country expanses and luxurious city amenities ranging from artisan cafés, international restaurants and bohemian Camden markets.
History of Hampstead
Hampstead Village dates back to Anglo-Saxon England when it was originally known as 'Hamstede', meaning 'homestead' or 'where one's home is'.
Hampstead's reputation as an opulent residential landmark has spanned hundreds of years. Whilst the years 1665 and 1666 were devastating years for London as the Great Plague and the Great Fire struck, they were extremely important in the development of Hampstead Village as the wealthy sought to flee their Central London home in search of greener pastures - and where better than Hampstead.
As more people settled in the village, the area's reputation flourished. In the 18th century, Hampstead became a spa town after its chief practitioner, Dr William Gibbons, stated that water from the spring contained healing properties.
The opening of the North London Railway in the late 19th century further accelerated Hampstead's status, in addition to the Charing Cross, Euston and Hampstead Railway - also regarded as 'the Hampstead Tube' - which opened in 1907. Hampstead Tube station, which is still in full operation today, contains the deepest station platforms on the Underground network at 192ft below ground level.
Places of Interest
Historical
Hampstead is the proud home of the Freud Museum, situated at 20 Maresfield Gardens, where Sigmund Freud lived with his family during the last year of his life. Whilst psychology was his vocation, collecting was his favourite pastime, exemplified by the numerous cabinets filled with almost 2,000 items from Egyptian and Greek to Roman and Oriental. A variety of exhibitions inspired by his ground-breaking psychological work are held throughout the year.
Literary lovers should no doubt visit Keats House, which was once home to the Romantic poet, John Keats, during the early 19th century. Explore the museum and the magnificent gardens where Keats is said to have found inspiration for his famous 'Ode to a Nightingale' poem.
Cultural
Burgh House, home to the Hampstead Museum, holds the world's largest collection of Helen Allingham's work - the Victorian era's most celebrated watercolour painter. Beautifully restored by The Heritage Lottery Fund, this steeped-in-history residence is now open to the public with exhibits on Hampstead's art and culture dating back to the Stuart era.
Other stately homes worth paying a visit include Kenwood House (pictured) and Fenton House. Observe Kenwood House's grand interiors and world-class art collection, set within 74 acres of landscaped gardens and woodland. Fenton House offers visitors a glimpse into a 17th century merchant's house with its splendid array of roses, an authentic kitchen garden, plus a 300-year-old orchard where more than 30 varieties of apples are grown. Every autumn visitors look forward to Apple Day where they can indulge in tastings, beekeeping and cookery demonstrations, as well as a variety of cakes and juices made with fresh autumnal fruit.
Home to no less than three theatres, Hampstead has always been a proud advocate of the arts. Hampstead Theatre on Eton Avenue holds up to 10 plays annually and celebrates the work of new aspiring writers. Considered to be one of London's most respected fringe theatres, the Pentameters Theatre on Heath Street has had a plethora of famous faces appear on its stage. Holding just 60 seats above Hampstead's renowned Horseshoe pub, this intimate setting will make for the perfect alternative evening of entertainment. Perhaps Hampstead's most treasured cultural gem, the Everyman offers a cinematic experience like no other. First opened in 1933, it is as much a historical visit as it is a trip to see the latest blockbuster. Enjoy a restaurant-style service whilst sitting back on a pillow-piled leather armchair as you lose yourself in Hollywood's latest export.
Shopping
For designer labels, shoppers will find fashion favourites such as Hobbs, Kurt Geiger and Oliver Bonas on Hampstead High Street.
Hampstead Bazaar is an award-winning boutique specialising in bohemian-style clothing for women looking for a unique shopping experience and a wardrobe like no other. Del Maestro is the perfect place to find accessories to complete your favourite look, from eye-catching handbags to limited edition artisan jewellery.
Antique enthusiasts will relish the fabulous finds at Hampstead Antique & Craft Emporium, housing anything from toy collectibles and paintings to garments and ceramics, plus a variety of vintage clothing and jewellery.
Food and Drink
Savour delicious pastries and cakes at a local favourite, Louis Patisserie, a cosy Hungarian café with traditional wood-panel décor. Yet another popular café, the Coffee Cup on Hampstead High Street claims to be London's oldest coffee lounge and has served famous visitors including Elizabeth Taylor, Paul McCartney and Sting.
Hampstead is home to a plethora of restaurants offering a taste of dishes from around the world; tuck in to succulent steaks at Argentinian restaurant, Gaucho, or head to L'Antica Pizzeria for an authentic vibe and Neapolitan wood-fired pizza.
For a sumptuous dessert, La Creperie de Hampstead is incredibly popular with the locals offering sweet crepes dubbed the 'best in London'.
Enjoy a glass of your favourite tipple at The Spaniard's Inn where highwayman Dick Turpin took refuge nearly 300 years ago. This famous pub was also mentioned in the Dickens novel, The Pickwick Papers.
Green Space
Hampstead Heath is London's largest ancient parkland, containing more than 800 acres of semi-wild countryside and one of the capital's most treasured viewpoints from Parliament Hill. A unique feature of the Heath is its public access to three open-air swimming ponds, which were traditionally reservoirs for drinking water and sources of the River Fleet.
Head west from the Heath and you'll find Golders Hill Park, boasting beautiful landscaped grounds, Mediterranean-style water gardens, plus a range of leisure facilities including a croquet lawn, tennis courts and a children's play area.
Quirky
The magnificent stately Kenwood House has been a favourite of film-makers, having been the desired location for a number of British and Hollywood movies. The House featured in Notting Hill (1999) and The Wedding Date (2005), whilst Parliament Hill on Hampstead Heath featured in Notes on a Scandal (2006).
People of Interest
Whilst it has often being regarded as 'Millionaire's Village', Hampstead also has the highest concentration of blue plaques of anywhere in London. Famous past residents include authors Enid Blyton, Agatha Christie and George Orwell, as well as Sir Henry Cole - the father of the commercialised Christmas card. More recently, famous actors including Elizabeth Taylor, Jeremy Irons, Benedict Cumberbatch and Ricky Gervais have all called Hampstead home. Notable musicians such as Ozzy Osbourne from Black Sabbath and Sting from The Police have also lived in the area.
Education
Hampstead is renowned for its selection of schools, with the majority being private, independent establishments, including Hampstead Hill Pre-Preparatory and Nursery School, and North Bridge House School for primary, secondary and sixth form education for boys and girls.
Hampstead is also the location of the British College of Osteopathic Medicine and is within a 15 minute drive of London Business School, University College London (UCL) and Regent's University London.
The Royal Free Hospital, part of the UCL Medical School - the first institution to train female doctors in the UK - is also in Hampstead, situated less than a five minute walk from Hampstead Heath mainline station.
Local Authority
Getting There
Roads
Hampstead is just over a 30 minute drive to the centre of London and only 15 minutes away from the M1 for journeys north towards Watford, St Albans, Luton and beyond.
Bus
South End Green, just a two minute walk from Hampstead Heath mainline station, is the area's major bus terminus, which has linked Hampstead with areas such as Tottenham Court Road, Trafalgar Square and Pimlico for over 100 years.
Rail
Hampstead Heath railway station (Zone 2) offers London Overground services towards Stratford in the east (30 minutes), Richmond in the south-west (34 minutes) and Clapham Junction in the south (39 minutes).
Underground
Key destinations from Hampstead Tube station (Northern line):
Tottenham Court Road 11 minutes
Bank 18 minutes
Liverpool Street 20 minutes
London Bridge 22 minutes
Nearby Property
Situated just a two minute walk from Mornington Crescent Tube station, Carlow House - part of Galliard's Platinum Collection - is set to comprise 85 exquisite one and two bedroom apartments, all designed to optimise comfortable modern living with its high-tech appliances and loft-style interiors.
This development has been spectacularly transformed from an Edwardian warehouse to proudly exhibit contemporary features with vintage features including 1930s' Art Deco architecture and brick industrial-themed feature walls.
Residents will be just moments away from the bustling Camden High Street and the esteemed Regent's Park, making it a fantastic choice for those looking for a home right in the centre of London's dynamic cultural scene.
To find out more about Carlow House, please visit our development page.
Four stops away from Hampstead Tube station, situated in the suburban North-West London location of Colindale, Silver Works is a fantastic new development set to comprise a stylish selection of one, two and three bedroom apartments, 13 disability-friendly apartments and six exemplary four bedroom townhouses. All apartments will feature private balconies or terraces, whilst the townhouses will feature private gardens.
With contemporary design, energy-efficiency and exceptional functionality being at the forefront of Galliard's outstanding specifications, these properties will provide utmost comfort and convenience with complementary facilities including an LED smart TV, Soundbar and bespoke entertainment unit. Residents will also benefit from access to communal landscaped grounds, cycle storage and the option to purchase secure parking.
Colindale station is just a 10 minute walk from the development, offering journey times into Central London within 30 minutes, making this an ideal choice for commuters.
To find out more about Silver Works, visit our development page.
Edited: 21st April 2023