Bringing East London and the Far East Together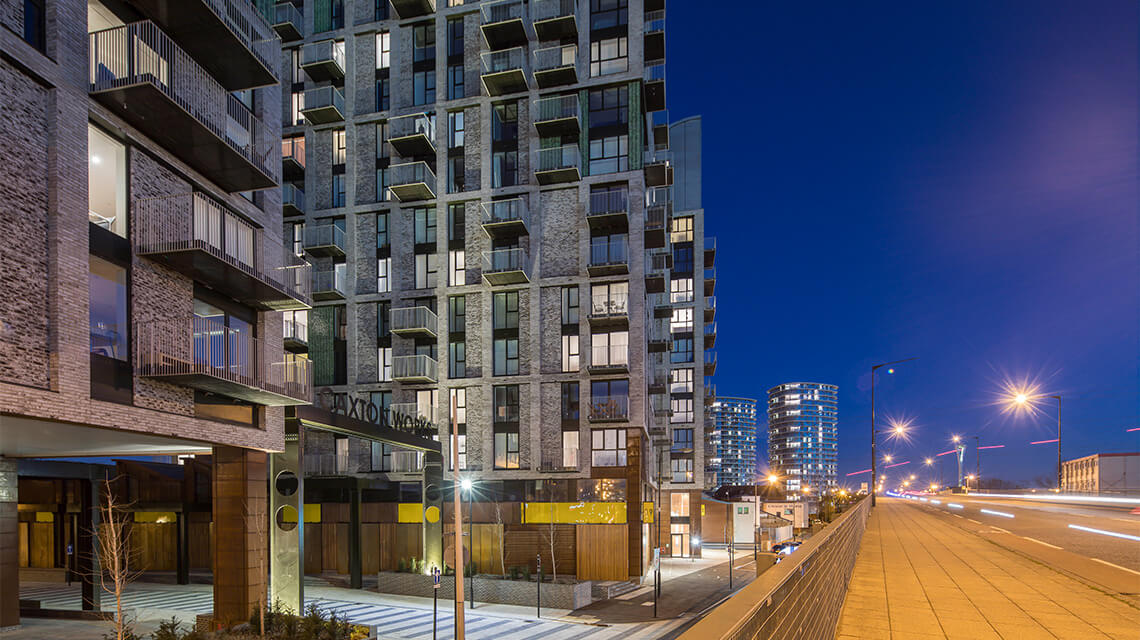 Galliard Homes has recently presented Royal Gateway, an exclusive new development in Canning Town, London, to overseas investors at an exclusive exhibition at the St Regis Hotel, Singapore and at the Mandarin Oriental Hotel, Hong Kong. Visitors to the exhibitions had the opportunity to purchase a new home at the development, and the aim was to appeal to those looking to make an investment in London property as a base in the capital, for rental purposes or for students who are studying in the UK. Working with Cathedral Group, Galliard Homes will deliver the innovative new 2.2 acre (0.89 hectare) mixed-use project (known as Royal Gateway and Caxton Works) which will redevelop and regenerate the former Goswell Bakeries buildings and Moss Electrical warehouse located off Caxton Street North in Canning Town, E16.
An Exciting Regeneration Project
Galliard Group Chief Executive, Stephen Conway, said: "Royal Gateway is an exciting regeneration project and will create a vibrant new Borough Market-style destination providing homes, commercial premises and retail space. It will be a fantastic place for people to live, work and enjoy leisure time, since its superb location at the gateway to London's Royal Docks provides easy access to Canary Wharf, The City and West End." Stephen Conway continued: "Royal Gateway is ideal for those looking to invest in London property, whether it is to rent, use as a London base or for those with children who can live in it while they are studying. Early birds will benefit from strong future capital growth and the opportunity to own a home in an up-and -coming area of London." Designed by award-winning architects Studio Egret West, the new development will range in height from one to 16 storeys and will provide 336 new homes for private sale, commercial premises and retail space, complete with rooftop community gardens, pedestrianised streets, squares and walkways. Located at the gateway to London's Royal Docks, the project will provide easy access to Canary Wharf, The City and West End, due to its close proximity to Canning Town Station (Jubilee Line & DLR). The development will also feature 138 parking spaces, concierge, podium-level landscaped courtyards, and fabulous panoramic views from the upper floors.
Five New Apartment Buildings
Known as the Royal Gateway, the residential element of the project will be located in five newly built apartment buildings designed to provide stunning contemporary architecture, with features including dramatic roofscapes, floor-to-ceiling windows, balconies, plus bright and airy open living spaces. The homes will consist of studio apartments, averaging 418sqft in size, one-bedroom (547sqft), two-bedroom (775sqft) and three-bedroom (1,023sqft) apartments and two-bedroom duplexes (975sqft), all with one or more private balcony. The apartments will be finished to a premier specification with fully fitted white high-gloss designer kitchens plus stone worktops and integrated appliances. The bedrooms will have deep carpets and fully fitted wardrobes, and the bathroom suites will have contemporary white suites, stone vanity tops, fitted mirrors and bespoke wood joinery/shelving. Other features will include Video entryphone security, Sky TV-enabled sockets and Oakstrip engineered timber flooring to reception, kitchen and hall areas.
13 Commercial Units
Cathedral will deliver Caxton Works (the commercial part of the development) where there will be 13 commercial units at ground, mezzanine and first floor levels offering 2,025 sq. m (26,964sqft) of creative, local retail and artisan space which give the new residential community structure, focus and vitality. The commercial space at Caxton Works will be designed for the kind of manufacturing or education enterprises that want to be in an up-and-coming area of East London, with affordable rents, and which do not rely on passing trade to operate - but, given the opportunity and space to do so, might open up their businesses to host activities that connect directly with their customers. Cathedral will control the design and management of the public realm improvements, including the pedestrianisation of Hoy Street which will enable the companies based here to adapt their space to different ways of trading. The vision is for Hoy Street to become a vibrant market-style pedestrian space with a mix of studio workshops, authentic local retail outlets, cafés and al fresco eateries that will create a vibrant atmosphere for the new community.
A Fascinating History
The land has a fascinating history; Canning Town Station opened in 1847, and from 1850 onwards the area was built to provide commercial premises serving the Royal Docks plus housing for local artisans and dockers. The locality was named after the industrialist Sir Samuel Canning, who was the owner of a major local manufacturing firm, S.W. Silver & Co. Taking over from a previous bakery on the land, the Goswell Bakeries was established in 1950, with licenses for speciality breads including West Indian bread, bagels, rye bread, and food brands such as Dove's Farm and Caribbean Cuisine. In 2009, the bakery was acquired by Finsbury Foods and the facilities were relocated. The Moss Electrical business dates back to 1962, with the warehouse facilities expanded in 2005. In 2008 the facilities relocated from Canning Town to Dartford. From now on, the Galliard-Cathedral partnership will create an exciting new chapter in the history of Canning Town, bringing together two experienced property developers with complementary skills, who will transform the site into a vibrant new, sustainable community and bring it to market.
Opportunities for Local Businesses
Cathedral Group CEO Richard Upton said "Our agreement with Galliard Homes means that the process of breathing new life and vitality into this part of Canning Town can now get fully under way. At Caxton Works, we have a plan to create positive action at street level, creating innovative opportunities for new local business, especially those that may not rely on passing trade, to connect with residents in other ways to ensure that both the residential and commercial aspects are completely connected. The success of one depends on the success of the other. We now look forward to working with Galliard Homes and London Borough of Newham to bring this development to fruition." Construction work on Royal Gateway and Caxton Works started in February 2014, with first residential occupations from Q3 2016, and the development scheduled for overall completion in spring 2017.
Royal Gateway is now sold out. Find other properties for sale in London or call our sales office on 020 7620 1500.
Edited: 15th December 2022