20 Facts About Shoreditch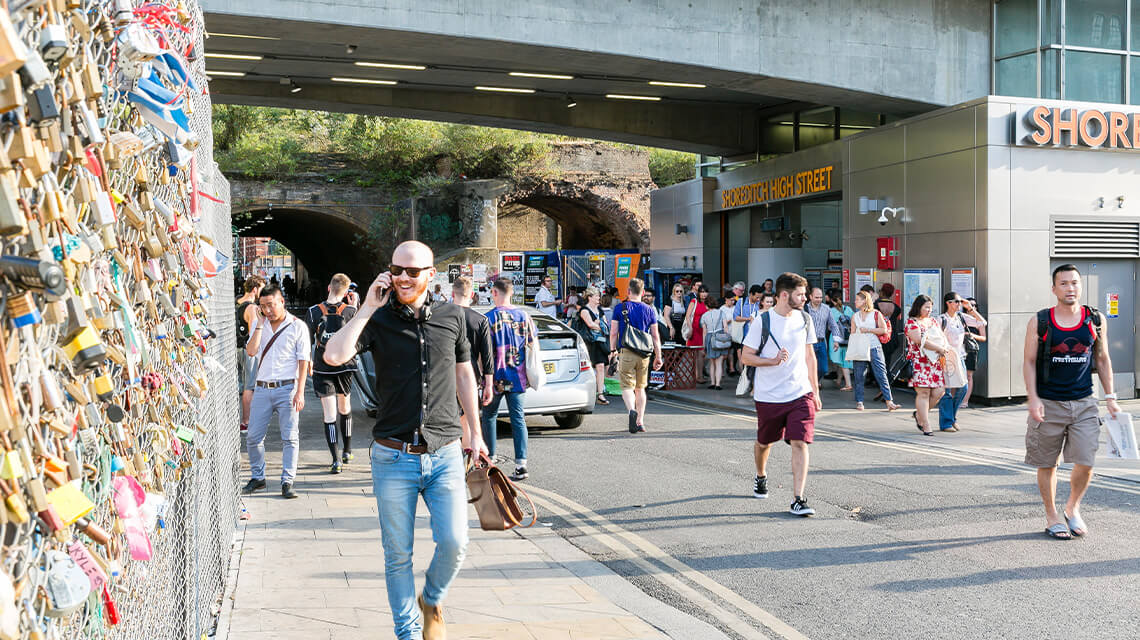 Bordering The City—nestled between Clerkenwell and Bethnal Green—is one of London's most treasured hotspots for culture, art, fashion and food: Shoreditch.
By day and night, Shoreditch is bursting with opportunities to indulge in its variety of dining and entertainment options. Hipsters adore this eclectic pocket of East London flats, and many see it as the birthplace of English theatre and the cultivator of London fashion and street art.
East London as a whole has seen huge growth and success since the London 2012 Olympics, with property prices jumping as much as £1,000 a month and prestigious brands such as Google, Bloomberg, Intel, Amazon and Cisco have decided to set up shop in the area. With the likes of Old Street—or as it is now known, the Silicon Roundabout—emerging as 'the third-largest technology start-up cluster after San Francisco and New York City', Shoreditch is becoming the place in the East to both live and do business.
Discover more about Shoreditch with these 20 facts and learn something you didn't know about East London's favourite destination for urban lovers and contemporary enthusiasts.
1. Shoreditch property prices have soared 25% in the last five years.
2. Huge international brands are now investing in Shoreditch, including hotel chains Gansevoort Hotel Group and Nobu, as well as French restaurant company Big Mamma Group and ecommerce giant Amazon.
3. BOXPARK is the world's first pop-up mall, housing 60 shipping containers converted for use as shops and restaurants, and offers one of the most unique shopping experiences in London.
4. The name 'Shoreditch' is thought to derive from the Old English term 'Soersditch' meaning 'Sewer's Ditch', however many believe the name was attributed to Jane Shore, a mistress of King Edward IV, who died and was buried in a ditch in the area.
5. Shoreditch was once described as 'desolate and rough' by the late fashion designer Alexander McQueen, but now the area is evolving into what's been described as the 'new Prime Shoreditch' with one bedroom homes averaging around £679,389 (2019), according to Rightmove.
6. The first two London theatres were built in Shoreditch—The Theatre and The Curtain Theatre. Shoreditch became the ample home of theatre and tomfoolery as the Lord Mayor prohibited such plays to be performed within the City walls.
7. William Shakespeare came to Shoreditch as an actor and it is thought he lived down Holywell Street in Bishopsgate. His plays 'Henry V' and 'Romeo and Juliet' are believed to have premiered at The Curtain Theatre in the late 1590s.
8. Richard Burbage, a member of Shakespeare's company of actors, the Lord Chamberlain's Men, is considered to be the first great actor of English theatre. He is buried at St Leonard's Church on Shoreditch High Street.
9. Charles Dickens visited Shoreditch to gain inspiration for his works. Mr Micawber from 'David Copperfield' lived at Windsor Terrace on City Road, whilst Oliver Twist lived in South Shoreditch.
10. The traditional English nursery rhyme 'Oranges and Lemons' makes references to St Leonard's Church in Shoreditch: 'When I grow rich, say the bells of Shoreditch.'
11. The culture capital of London is also home to 'the only college in Britain to specialise in fashion education, research and consultancy'—the London College of Fashion—and is famed for producing fashion icons such as Jimmy Choo and William Tempest.
12. Crossrail, or the Elizabeth line, will be introduced at nearby Liverpool Street, cutting journey times to Canary Wharf from 22 minutes to six, the West End from eight minutes to four, and Heathrow from 40 minutes to 35.
13. Street artists flock from around the world to add their unique signature to the area, from the sea of stickers on Brushfield Street to the rainbow of colours down Brick Lane, and not forgetting the priceless Banksy etchings on Rivington Street.
14. Dame Barbara Windsor, known for her role in the 'Carry On' films and as London's most treasured pub landlady, Peggy Mitchell in 'Eastenders', was born in Shoreditch.
15. English film director Sir Alfred Hitchcock, who was responsible for a number of timeless thrillers including 'Psycho', started his career at Gainsborough Studios in Shoreditch.
16. Shoreditch is the home of the Urban Food Fest—a pop-up street food market that is held every Saturday, delivering gourmet street food from around the world, as well as craft beers and exclusive cocktails in a bustling atmosphere of live music.
17. The Curtain Theatre—Shakespeare's original playhouse—was found by the Museum of London Archaeology (MOLA) back in 2012 and it is currently being excavated prior to the construction of The Stage, which will house the remains and remnants recovered from the theatre once the development reaches completion in 2021.
18. Old Spitalfields Market is one of the capital's oldest markets, dating back to 1638 when King Charles gave a licence for 'flesh, fowl and roots' to be sold on Spittle Fields - a rural area on the outskirts of London. Today, it stands as one of the capital's most eclectic markets, offering anything from fresh fruit and furniture to pretty pastries and antique collectibles.
19. Shoreditch is an East London favourite when it comes to filming locations, with some recent examples including the medical thriller 'Contagion' (2011) with Matt Damon, Jude Law and Kate Winslet, as well as the romantic comedy 'I Give It A Year' (2013) with Rose Byrne, Rafe Spall and Stephen Merchant.
20. Shoreditch is now considered a hotbed for creativity, originality and innovation, with more than 15,000 new businesses choosing to settle here and in the surrounding area of Old Street in 2014 alone—nearly five times the amount in Canary Wharf!
Edited: 6th December 2022