Culture in Shoreditch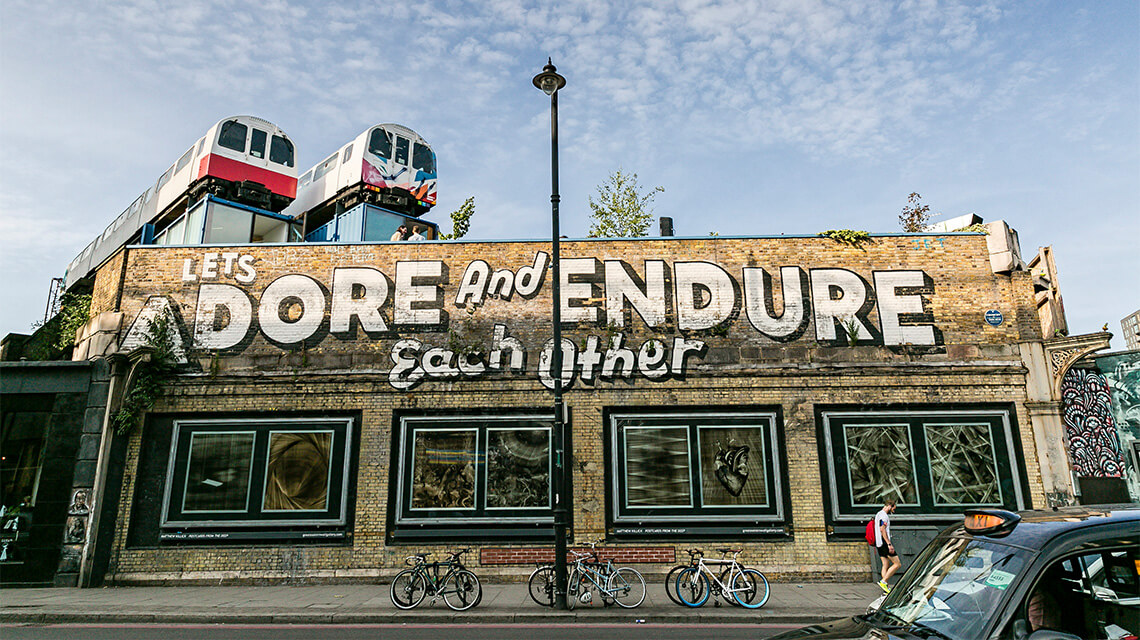 A guide to the culture in Shoreditch where you can lose yourself in the artistic creations in the area and tantalise those tastebuds by just reading about the variety of food that is on offer.
Art, Fashion and Culture
Whitechapel Gallery
This is the place to go for art lovers or even those who simply want to learn more; a number of art courses and exhibitions take place here and the gallery has displayed masterpieces from the likes of Picasso and Jackson Pollock. The perfect place for locals and tourists alike to soak up some artistic culture, there is even a bookshop and dining room at Whitechapel Gallery to make your visit all the more pleasurable.
Street Art Tours
Admire the various works of art that grace the streets of Shoreditch and be prepared to be visually amazed by what you will see. Enjoy enchanting artwork including freehand painting, stencil art and even political and environmental art, just to name a few. These expert tours are a great opportunity to broaden your horizons when it comes to art and to become familiar with some of Shoreditch's most treasured street artists, from Banksy to sticker artists. Explore the rich artistic culture of Shoreditch and uncover stories and artists that you have never even heard of.
BOXPARK
BOXPARK is a truly treasured spot in Shoreditch that has everything from food to fashion. An ideal setting for various occasions, BOXPARK is host to events such as stylist and fashion blogger parties where those fashion forward people in the creative industry come together to socialise and share ideas. BOXPARK is also home to a variety of different boutique shops where you can unleash your creative side and peruse the rails of a variety of independent designers.
Market Culture
Columbia Road Market
Columbia Road in Hackney completely transforms every Sunday into a vision that is flourishing with flowers. This market is a dynamic place that is full of locals and tourists alike and is a true symbol of East London ever since it first began in 1869.
Brick Lane Market
This is a place for avid bargain hunters to visit as it has everything that you could ever imagine in one place: CDs, toys, clothes and furniture, the list could go on and on. In fact, this authentic flea market has now been esteemed as one the places to go to browse for homeware and the house accessories and kitchen appliances are plentiful and come in at a reasonable price. Covering a large area across a few streets, this market will definitely keep shoppers busy and entertained for the whole day.
Spitalfields Market
Open seven days a week, Spitalfields market encompasses the creative culture that Shoreditch is known for. This market is particularly concentrated on fashion, arts and crafts so is the perfect place to get those creative juices flowing. This particular site has had a market there for approximately 350 years so is an incredible asset to the area of Shoreditch and is somewhere that everybody must visit.
Food Culture
Urban Food Festival
Food glorious food is the phrase that comes to mind when it comes to the Urban Food Festival; every Saturday from midday to midnight, 15 food trucks stand in the Euro Car Parks in Shoreditch to offer an array of gourmet street food alongside the offering of cocktails, beer, wine and much more. To add even more flavour to this event, there are also live musicians and seating so you can enjoy the delicious food while tapping those toes to the music.
The Athenian - Greek Street Food
The Greek diet is said to be one of the healthiest diets around, something that this business wanted to introduce and showcase to Londoners. Incorporating the traditional taste of Greek food with the market and street food culture in Shoreditch, The Athenian boast a selecting of irresistible options such as a variety of wraps, haloumi and a selection of homemade dips, amongst a large selection of other delicious treats.
The food culture in Shoreditch does not stop at the festivals and street food as you are also incredibly spoilt for choice when it comes to restaurants too. Every cuisine you could think of all in one place; The Blues Kitchen is a popular American-style restaurant and bar that is undoubtedly mouth-watering and Viet Hoa Café is where you will want to go to experience the authentic taste of Vietnam. Fancy some BBQ food? Caboose is the place to go and of course the amount of curry houses is remarkable. The selection of restaurants in Shoreditch caters to everyone's tastebuds.
Theatre and Cinema Culture
The Curtain Theatre
Shoreditch has been considered as 'theatreland' throughout history and even still today. The Curtain Theatre was first built in 1577 and was the second playhouse in the area. The famous 'Henry V' by Shakespeare was said to have been performed in this theatre in 1598. A plaque has been placed on the site as a token of its presence in Shoreditch and is a reminder of the area's theatrical roots.
The Courtyard Theatre
The Courtyard Theatre is a landmark in East London as it was the host of the first London Horror Festival in 2011. This intimate theatre seats 150 in the main stage and only 80 in the studio theatre and also has a lovely wine bar; a very quaint and charming addition to the theatre culture in Shoreditch.
Rooftop Cinema
Do film-themed cocktails, a big screen and being outside in the presence of sparkling stars while watching your favourite film sound appealing? At the Rooftop Film Club you can experience exactly this and will be in the comfort of cosy seats with quality wireless earphones.
Browse our Culture Map of Shoreditch to see everything on offer in this dynamic pocket of East London. See our property for sale in Shoreditch.
Edited: 6th December 2022