Shoreditch Nightlife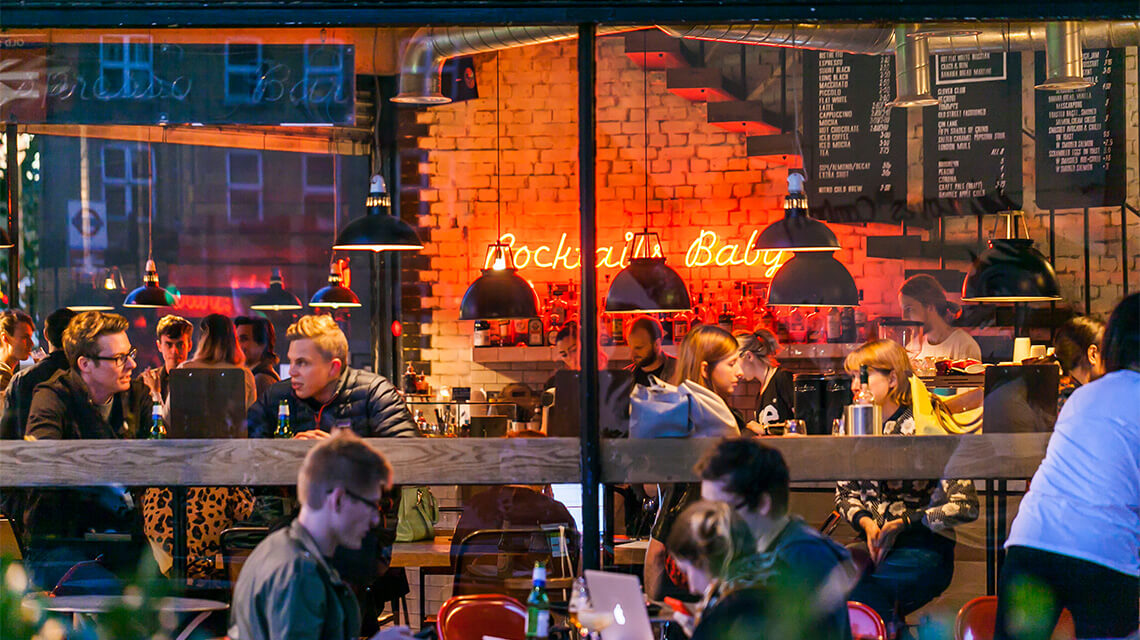 Shoreditch is well known for its quirky, unique and highly recommended nightlife which thrives from early evening all the way through till the sun rises and you stumble home in the morning light.
Whilst you can expect to find buzzing clubs and bars, Shoreditch also presents the opportunity to discover a number of hidden secret bars, speakeasies, pop-ups and alternative night-time entertainment options. With so much on offer it can seem overwhelming but there are certain elements that cannot be missed on a trip to London's most urban cultural hotspot.
Dancefloors and Watering Holes
Most Londoners would associate Shoreditch with its expansive array of nightclubs including XOYO, 5CC Electricity Showroom and Cargo, renowned for loud music to suit everyone's tastes and flowing drinks through the night directing you to the always packed dancefloors. Cocktail bars in the vicinity include Callooh Callay and Barrio East, offering the perfect opportunity to catch up with friends over some choice drinks rooted in different countries and with interesting backgrounds. Pure restaurants in the area are few and far between, with most transforming into a cocktail bar or lounge later in the evening, however, The Nightjar serves Spanish tapas style food alongside the creative cocktail menu and Dishoom has a fusion Indian menu which rivals any other choice cuisine.
Hidden Locations
Ensuring that an evening of drinks will never be standard, Shoreditch is bursting with hidden, secret and underground locations in which to indulge in experimental drinks. As most of them are located in back streets or behind unassuming doors, it is near impossible to find them unless you are looking for them, which only adds to the excitement. The initial concept was introduced by the owners of The Breakfast Club, who created The Mayor of Scaredy Cat Town; upon announcing that you are 'here to see the Mayor' a waiter will discreetly lead you to the huge fridge at the back of the restaurant which, upon entering, is revealed as the doorway to a low-lit bar with exposed brickwork and an authentic aura of mystery. Following this success, The Whistling Shop, The Looking Glass and Lounge Bohemia are just some of the names now synonymous with hidden gems of London beckoning you to explore.
Pop-Ups
Localised pop-up stores are characterised by their fractious life-span, often lasting for a few months at a time, though proving to be hugely popular; Shoreditch has a plethora of pop-ups, the overturn of old to new is smooth and consistent. Spanning the 2015 summer season, the Smokin' Graciela Rooftop Bar has taken over the roof of the Queen of Hoxton, offering an immersion into Cuban luxury and faded glamour. A Brick Lane clothes shop provides the entrance to Back in 5 Minutes, stemming from the collection Disappearing Dining Club. Small and unassuming, this hidden dining room offers a selection of elegant dishes from a daily altering menu rooted in the chef's British, French, Italian and Swedish kitchen experiences. For a visitor with an eclectic and adventurous taste, this is not to be missed. BOXPARK is a revolutionary pop-up mall in Shoreditch, constructed of stripped shipping containers creating a unique, low cost and stylish infrastructure. Containing a mix of fashion brands, galleries and restaurants, BOXPARK offers a shopping and dining experience unmatched by other standardised shopping centres. Open for the next four years, it is well worth a visit to experience the expanding community of creativity and innovation in the heart of East London.
Alternative Choices
For those looking a little deeper at what else is on offer, Shoreditch is very much worth considering. The highlight of such a culturally diverse area is the amount of undiscovered and up-and-coming talent it produces; the Old Blue Last is a venue which has housed secret gigs over the years with the likes of Arctic Monkeys, Mumford and Sons and Kylie Minogue performing on stage whilst VICE magazine hosts regular, exclusive house parties. The City Comedy Club located just down the road, is renowned for stand up comedians who have appeared on hit TV programmes such as Mock the Week and Live at the Apollo. Pair this with a refreshing beer this is an evening eager to entertain.
If you are looking for a more relaxed vibe, the Electric Cinema is an exclusive cinematic experience with up to 50 plush, comfortable seats and a deli bar and kitchen downstairs. The Electric Cinema elevates a cinema date to something a touch more indulgent and with special events such as silent or black and white movies, there is nothing amiss at this cinema. Nearby, visitors can also head to the Barbican Centre; theatre performances, workshops, festivals, architectural tours and art exhibitions are just a few of the experiences offered here.
Property in Shoreditch
The Fusion
Galliard's Shoreditch based development, The Fusion, enhances a lifestyle of luxury and style surrounded by the urban cultural melting pot that is Shoreditch. This residential block offers 26 iconic units complete with a private terrace and dramatic city views, providing an exclusive investment opportunity.
The Stage
Promising to establish itself as a landmark destination, Galliard's development, The Stage, will be a mixed-use development comprising 400,000 sq. ft. of residential, office, retail and leisure space centred around the remains of Shakespeare's Curtain Theatre. Incorporating the aura of restored heritage into a communal exhibition centre and offering the opportunity to invest in a 37-storey residential tower with a luxury specification, this development will appeal to visitors, occupiers and investors alike.
View all our flats for sale in Shoreditch.
Edited: 12th September 2023