David Bailey and The Chilterns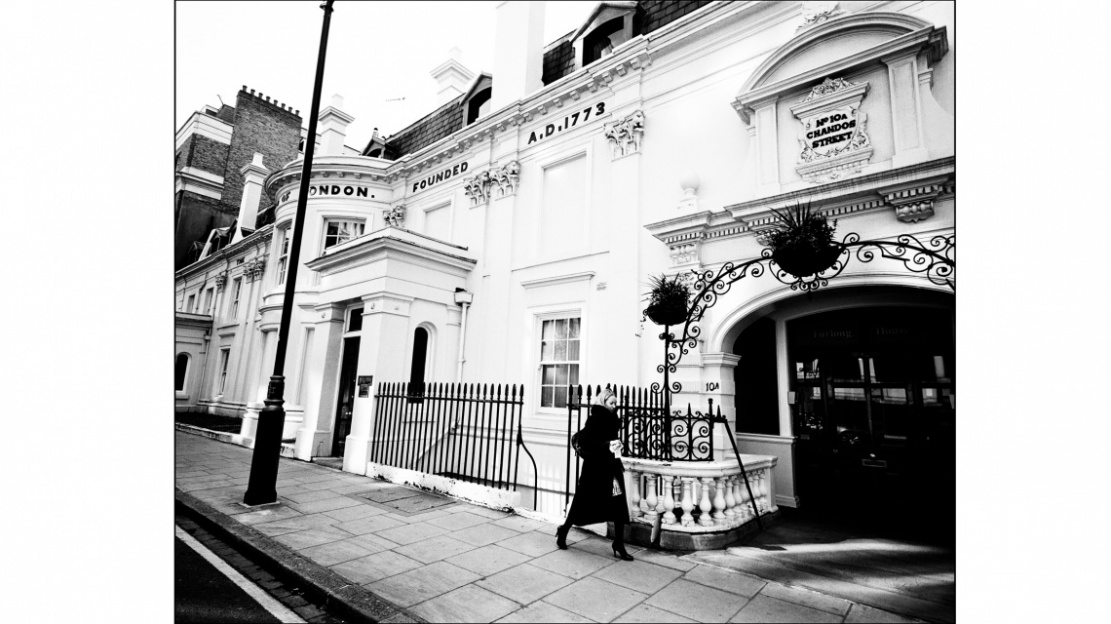 David Bailey rose to fame in the 1960s whilst working as a fashion photographer for British Vogue. His impact on the cultural psyche of the 1960s is widely recognised and his unusual photographic style has ensured that Bailey is one of the most prolific fashion and celebrity photographers of his time.
Bailey has also skilfully portrayed London's numerous personalities through his work and it is for this reason that Galliard Homes picked Bailey to capture the spirit of Marylebone for their latest and most luxurious development The Chilterns.
The Chilterns is truly exceptional and its reception foyer will be a spectacular entrance to what is a very special development. The reception area will unfold into an open-plan gallery displaying photographic prints by the iconic David Bailey. This will be Bailey's first and only private lobby gallery of his career and unique to a development of this calibre in London. In addition, 44 specially commissioned, limited edition prints by Bailey of the Marylebone area and its local people have been made into a fascinating book. Each apartment owner will be gifted a copy along with a framed original print from this series; giving each owner a rare piece of photography by a celebrated British icon.
Early Life
David Bailey was born in 1938 in Leytonstone, East London to Herbert Bailey, a tailor's cutter and his wife, Sharon, a machinist. From the age of three he lived in East Ham where the early years of his childhood were overshadowed by the effects of the Second World War. The family home was bombed and as times were hard the family would often take bread and jam sandwiches to the cinema every night as that was cheaper than heating their house with the gas fire.
Bailey attended private school, Clark's College in Ilford, where he experienced difficulties due to undiagnosed dyslexia and dyspraxia. Bailey left school at 15 and became a copy boy at the Fleet Street offices of the Yorkshire Post. He raced through a series of dead end jobs, before his call up for National Service in 1956, serving with the Royal Air Force in Singapore in 1957. The appropriation of his trumpet forced him to consider other creative outlets, and that's when he bought a Rolleiflex camera.
Demobilised in August 1958, Bailey was determined to pursue a career in photography and quickly purchased a Canon Rangefinder camera. Unable to obtain a place at the London College of Printing because of his school record, he became a second assistant to David Ollins, in Charlotte Mews. He earned £3 and 10s (£3.50) a week, and acted as studio dogsbody. He was delighted when invited to interview with photographer John French.
Professional Career
In 1959, Bailey became a photographic assistant at the John French studio, and in May 1960, he was a photographer for John Cole's Studio Five, before being contracted as a fashion photographer for British Vogue magazine later that year.
The Black Trinity
Along with Terence Donovan and Brian Duffy, Bailey broke down the existing photographic conventions whilst capturing and helping to create the 'Swinging London' of the 1960s; a definitive decade of revolutionary fashion, music and celebrity chic. The three photographers socialised with actors, musicians and royalty, and soon found themselves elevated to celebrity status. Together, they were the first real celebrity photographers, named by the legendary Norman Parkinson as "The Black Trinity".
Box of Pin-Ups
The 'Swinging London' scene was aptly reflected in his Box of Pin-Ups in 1964, a box of poster-prints of 1960s celebrities including Terence Stamp, The Beatles, Mick Jagger, Jean Shrimpton, PJ Proby, Cecil Beaton, Rudolf Nureyev, Andy Warhol and notorious East End gangsters, the Kray twins. The Box was an unusual and unique commercial release, portraying the changing status and power of the photographer. The record sale for a copy of Box of Pin-Ups is reported as over £20,000.
Vogue
Once at Vogue, Bailey's success was spectacular; within months he was shooting covers and, at the height of his productivity, he shot 800 pages of Vogue editorial in one year. Penelope Tree, a former girlfriend, described him at the time as, 'the king lion on the Savannah: incredibly attractive, with a dangerous vibe. He was the electricity, the brightest, most powerful, most talented, most energetic force at the magazine.'
American Vogue's creative director and model Grace Coddington, said, 'It was the Sixties, it was a raving time, and Bailey was unbelievably good-looking. He was everything that you wanted him to be - like the Beatles but accessible - and when he went on the market everyone went in.'
Post-1960s
Bailey went on to direct several television commercials and documentaries. From 1968 to 1971 he directed and produced TV documentaries Beaton, Warhol and Visconti. As well as fashion photography, Bailey photographed album sleeve art for a range of musicians including The Rolling Stones and Marianne Faithfull.
In 1972, rock musician Alice Cooper was photographed by Bailey for Vogue magazine, almost naked apart from a snake. Impressed with the outcome of the shoot, Cooper used Bailey the following year to photograph the group's chart-topping 'Billion Dollar Babies' album. The shoot included a baby wearing shocking eye makeup and, allegedly, bn in cash that warranted the presence of an armed guard.
In 1976, Bailey went on to publish the Ritz Newspaper with David Litchfield and in 1985 was photographing stars at the Live Aid concert at Wembley Stadium.
In 1992, Bailey directed the BBC drama, 'Who Dealt?', in 1995 he directed and wrote the South Bank Film, 'The Lady is a Tramp' featuring his wife Catherine Bailey and in 1998 he directed a documentary with Ginger Television Production, Models Close Up, commissioned by Channel 4 Television.
Recent Accolades
In October 2013 Bailey took part in Art Wars at the Saatchi Gallery, curated by Ben Moore. He was issued with a stormtrooper helmet, which he transformed into a work of art; proceeds went to the 'Missing Tom Fund' set up by Ben Moore to find his brother Tom. The work was also shown on the Regents Park platform as part of 'Art Below Regents Park'.
On 16 June 2001, as part of the Queen's Birthday Honours, Bailey was appointed a Commander of the Order of the British Empire for his services to Art and in 2005, he was awarded The Royal Photographic Society's Centenary Medal and Honorary Fellowship (HonFRPS) in recognition of a sustained, significant contribution to the art of photography.
Looking for luxury property in Marylebone? For further information, please click here to take a look at The Chilterns in Marylebone on the dedicated microsite.
Edited: 24th March 2022