Rabih Hage at The Chilterns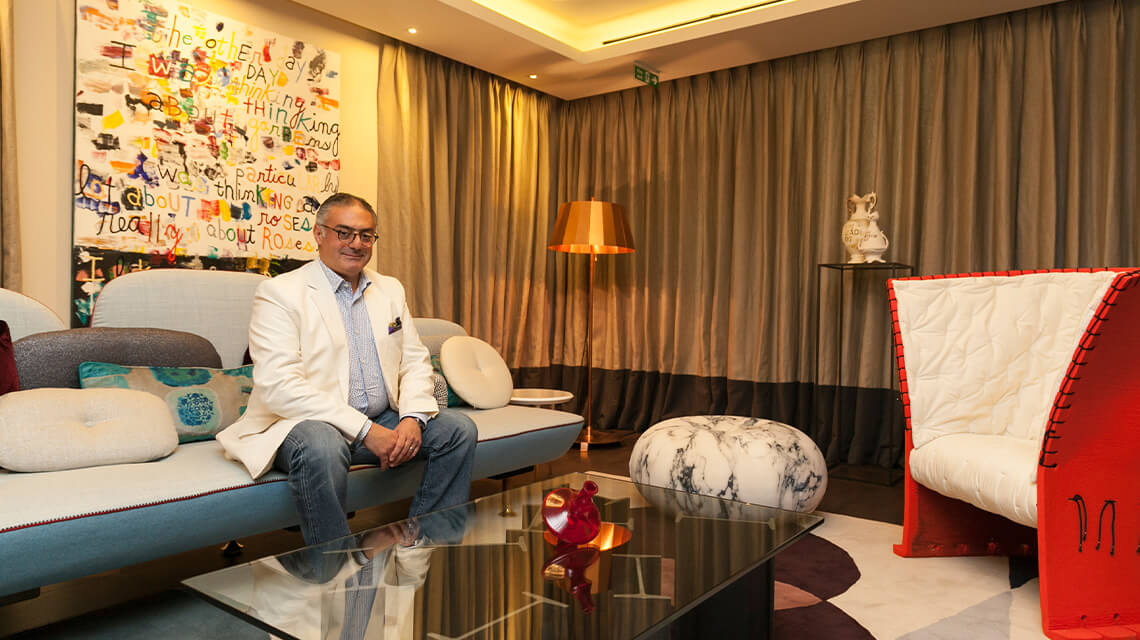 Rabih Hage is a London-based designer and curator whose designs strike a refined balance between the artistic and the functional.
His work is "a mix of beautiful interiors and visionary architecture with a cutting-edge and ever-evolving creative approach," that has been recognised with numerous design awards, such as the Andrew Martin International Interior Designer of the Year Award 2011, Homes & Gardens Award for Interior Design 2012 and consistent nomination by House and Garden and Architectural Digest (France) as one of the Top 100 leading designers since 2002.
Early Career
Between 1989 and 1991, Hage worked on commercial projects including the landmark works of the TGV Train stations of Paris Montparnasse and Nantes, graduating from the École des Beaux Arts (Paris La-Seine) in 1991.
In 1992, Hage established an architectural studio, working in partnership with colleagues to add a variety of business and creative skills and dealing with projects from concept to execution. Hage collaborated on urban planning projects in Portugal, as well as historical buildings and chateaux in France. Focusing on heritage buildings in this period, he enjoyed, "turning a ruin into something interesting."
With a shift in focus to interiors, renovation and new-build architectural projects, Hage went on to found his London studio in 2001. Pioneering furniture as art, he incorporated works by young and established artists and designers, melding function with aesthetics.
Rough Luxe
In September 2008, Hage opened his Rough Luxe Hotel in London's Kings Cross. Originally a Georgian terraced house, the hotel has nine rooms and incorporates partially sanded walls, chipped paint and bare floorboards alongside opulent furnishings chosen by Hage.
"The rough texture of the walls now celebrates the papering, painting, priming and patching over the years," says Hage. "At Rough Luxe you must set aside all thoughts of hotels with conventional air-conditioned constancy, marbled flooring, polished finishes and bland colours. Rough Luxe is the complete antithesis to all of that."
"Beauty is subjective," Hage explains, who created the Rough Luxe name, concept and interior design; "Perfection doesn't mean beauty. It's not important. What makes a place great to stay is the location, the welcome you get and how well you are looked after. The material side is irrelevant."
The concept triggered a worldwide movement in design, and since that time, Hage has established himself as a reference in new hotel concepts and developments, working with international hoteliers and developers, to complete projects such as the restaurants, bars and front of house of the Radisson Edwardian Guildford Hotel in 2012.
Notable Projects
Carlow House
Set in a former Edwardian warehouse, Carlow House is a selection of 85 apartments arranged around a magnificent four-storey atrium. Each residence will be finished to the highest specifications, with features inspired by award-winning international designer practice Rabih Hage.
Created by Hage, the grand centerpiece of this building will be a vast, communal courtyard and glass atrium, bursting with a wonderful variety of charming plants, trees and walkways, and is set to become London's largest winter garden.
The Chilterns
The Chilterns is a collection 44 exquisite apartments in the heart of London's prestigious Marylebone. All properties will be expertly designed to combine the highest technical specifications with the finest interiors from world-renowned designer Rabih Hage.
The variety in the daily life of all Londoners is at the core of Rabih Hage's inspiration for the interior designs of The Chilterns. The neighbourhood of Marylebone itself is also an inspiration; it is lively, central, accessible and easy to live in.
As well as London's residents, the countless visitors coming to London every day are able to participate in this vibrant, diverse atmosphere. Whether it will be a primary home, or pied-à-terre, the interiors of each apartment reflect this unique environment and diversity of one of the world's greatest cities.
For full availability at The Chilterns in Marylebone call our on-site office on 020 3409 2270.
Edited: 28th September 2023