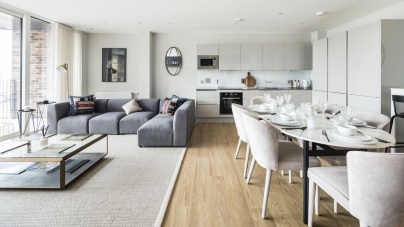 From an extended Stamp Duty Holiday to a free furniture pack, read on to find out how you could make big savings on your new London home.
Presenting Stadia One and Stadia Three: two new-build blocks that are set to become part of an exciting wider residential development built around AFC Wimbledon's brand new purpose-built stadium. We're offering a selection of incentives at this South-West London development that are not to be missed out on:
Galliard Homes is extending the Stamp Duty Holiday for buyers at Wimbledon Grounds. From now until October 2021, anyone buying a property up to the value of £500,000 at this development will have no Stamp Duty to pay.*
Please click here for a full guide to the Stamp Duty Holiday.
Alongside the extension of Stamp Duty Holiday, Galliard Homes is offering to pay the service charge and ground rent for one year from the date of completion.
Help to Buy is also available at Wimbledon Grounds. Those purchasing a property at Stadia One or Stadia Three using the Help to Buy scheme will only require a 5% deposit.
Each property is offered fully furnished free of charge.** On all three bedroom apartments, buyers will be offered a special complimentary interior design service by renowned London based interior design firm, Richard Lankester.
As a thank you, Galliard Homes will provide a 40" plasma TV and £250 worth of vouchers for Deliveroo (or equivalent) to key workers buying a home at Wimbledon Grounds.
Further Information
* Incentive applies only to properties reaching legal completion between 1st April 2021 and 1st October 2021. In the event that Stamp Duty Land Tax rates are varied or amended by the UK Government, this incentive only applies to SDLT rates as at 7 July 2020, i.e. one day prior to the current SDLT 'holiday'. Multiple property owners will still have to pay a 3% HRAD charge.
** Incentive is limited to one furniture pack per apartment.
020 7620 1500