Galliard Apsley Partnership Pushes Ahead with Soho Wharf Development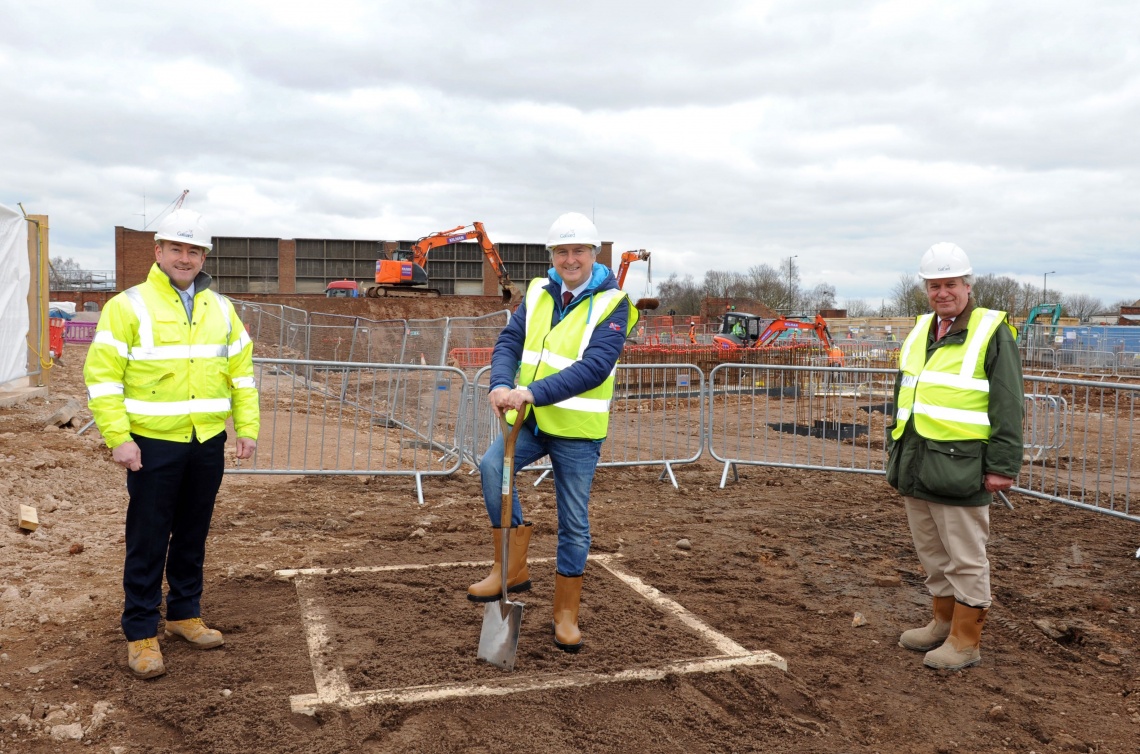 Groundworks at the 11.6-acre Soho Loop site have commenced, paving the way for the development of more than 750 new canal-side homes by The Galliard Apsley Partnership.
Cllr Ian Ward, leader of Birmingham City Council, joined the development team for a ground-breaking ceremony to mark the official start on site.
More than 100,000 sq ft of brick and corrugated iron industrial buildings and warehousing - largely unoccupied and derelict for years - have been removed from the brownfield site to make way for the new development.
The Soho Loop site is bounded by the Main Line and Old Main Line canals and opposite Birmingham City Hospital. A popular recreational area, this area of the canal is undergoing investment, with new towpath resurfacing, lighting and tree planting in the pipeline.
The Galliard Apsley Partnership is creating a £165million urban regeneration scheme at the site, called Soho Wharf, comprising 102 two and three-bedroom townhouses and 650 one and two-bedroom apartments, 300 parking spaces and more than 10,000 sq ft of commercial space, creating a canal-side hub.
Almost 40 per cent of the site will be green space, including public realm, private communal areas for residents and private gardens to the townhouses. Access to the Main Line Canal will be via a bridge from the public south-facing terraced area. Intimate green pockets and flower gardens and a generous play area and facilities for young children will also be created. New pedestrian, cycle and vehicle routes will enable public access through the site.
The scheme is part of the Greater Icknield Masterplan, the largest brownfield housing-led redevelopment framework in Birmingham. Soho Wharf been designed by award-winning Claridge Architects - who also designed the Partnership's Timber Yard scheme in Southside - and will consist of brick-built buildings of 2-14 storeys.
Cllr Ward said: "Birmingham's canal network is a wonderful asset and the City Council is determined to make more of it. This project delivers on that ambition as well as helping to meet our new homes target."
Don O'Sullivan, chief executive at Galliard Homes, said: "Soho Wharf will transform a redundant brownfield site into a green and welcoming environment for families and wildlife. The design maximises the site's two canal frontages and the addition of a new pedestrian bridge over the Old Main Line Canal will improve accessibility to the city centre, just a ten-minute walk away.
"The site is the largest in our Birmingham portfolio and provides Galliard Homes with the opportunity to do what we are best known for in London - regeneration and placemaking, on a grand scale."
The first homes - 318 apartments - will be available from the end of 2022, with the remainder complete by 2024.
Robin Norstrom, director at Apsley House Capital said: "Soho Wharf, together with nearby Port Loop - where 1,000 homes are also being delivered as part of the Greater Icknield Masterplan - will create a new green and pedestrian friendly canal quarter connecting Brindleyplace with Birmingham City Hospital."
Alongside the ground-breaking for the Soho Loop regeneration scheme, in Birmingham city centre the Partnership is now 70% build complete on its Timber Yard development of 379 apartments on Pershore Street, with final completion scheduled for late 2021, and the development now 85% successfully forward sold. The Partnership has established a reputation in the Birmingham new homes market for focusing on the delivery of current schemes alongside launching new projects.
Edited: 21st November 2022