The Galliard Apsley Partnership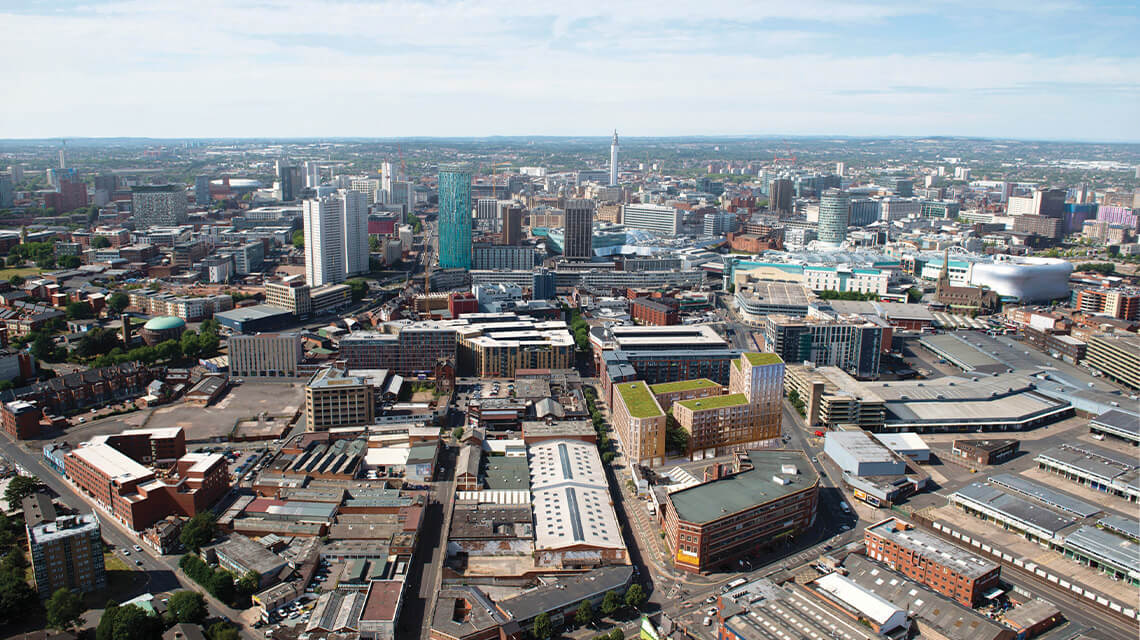 Galliard Homes have partnered up with Apsley House Capital in a joint venture with plans to develop £500m worth of regeneration projects and create around 2,250 new homes in the UK's second capital city — Birmingham.
This exciting joint venture will oversee the creation of a number of new residential developments, regeneration schemes and leisure destinations nestled within some of Birmingham's most coveted areas. Here's everything you need to know about the highly-anticipated projects and schemes that are all set to form The Galliard Apsley Partnership.
Timber Yard, Pershore Street B5
Recently launched in 2018, Timber Yard, situated on the edge of Birmingham's dynamic Chinatown, will introduce a new living quarter to Birmingham's prominent Pershore Street. This development, designed by Claridge Architects, will comprise 379 contemporary apartments arranged across two statement buildings, East Block and West Block. East Block is set to feature an array of one, two and three bedroom apartments, while West Block will present a collection of studio, one and two bedroom apartments.
Residents of this development will enjoy many exclusive amenities, including hotel-style foyers, a private gymnasium, central landscaped gardens and undercroft parking. In addition to residential space, this 1.58 acre mixed-use site will be made up of 8,000 sq ft of ground level commercial space.
Boasting an excellent location, Timber Yard is only eight minutes' walk from Birmingham's New Street station, while Curzon Street station - the station at the heart of HS2 - will be just 15 minutes' walk away.
Call 0121 227 7071 to find out more about this exciting new development.
St Paul's Quarter, B3
We are delighted to announce that planning permission has been granted for a new scheme in Birmingham. St Paul's Quarter will see a four acre section of Birmingham's vibrant Jewellery Quarter transform into a landmark for luxury living. Set to combine contemporary and historic architecture, this development will comprise 305 one, two and three bedroom apartments and townhouses situated within a collection of retained listed buildings. Due to launch in 2020, St Paul's Quarter will provide the local area with 98,297 sq ft of retail, leisure and commercial space to create a destination akin to London's renowned Covent Garden.
Soho Wharf, B18
Planning permission has been granted for Soho Wharf, a £165m urban regeneration scheme which is anticipated to transform a derelict industrial estate on Birmingham's historic Soho Loop into a brand new canalside community with public piazzas and quayside canal boat moorings. This 11.7-acre site will feature 752 homes designed to accommodate luxury living, delivering a mixture of one and two bedroom apartments, and two and three bedroom townhouses. In addition to establishing homes for over 2,000 people, this development - designed by Claridge Architects - will also present a whole new public realm comprising a range of local amenities, landscaped gardens, new pedestrian and cycle routes, and 11,000 sq ft of retail space.
Camden Yard, B1
Camden Yard is situated in Birmingham's sought-after Jewellery Quarter. If planning goes ahead once submitted, this four acre site will feature around 509 apartments and townhouses arranged around a brand new public square. Camden Yard will also include extensive retail, convenience outlets and coffee shops. Residents will be located within close proximity to the city centre and will benefit from excellent metro and mainline connections nearby.
Belgrave Village, B12
Belgrave Village will give life to a new community in the heart of Birmingham. If granted planning permission, this landmark scheme will transform over 12 acres of Birmingham land into a new residential village and approximately 1,100 sq ft of retail space. This mixed-use scheme will produce around 305 new homes; a mixture of townhouses and one, two and three bedroom apartments.
Please note that all developments are subject to planning permission. The aforementioned details provided are liable to change, please contact our sales team on 020 3409 2270 for more information.
Edited: 7th November 2023