Successful Completion of Soho Wharf Project in Birmingham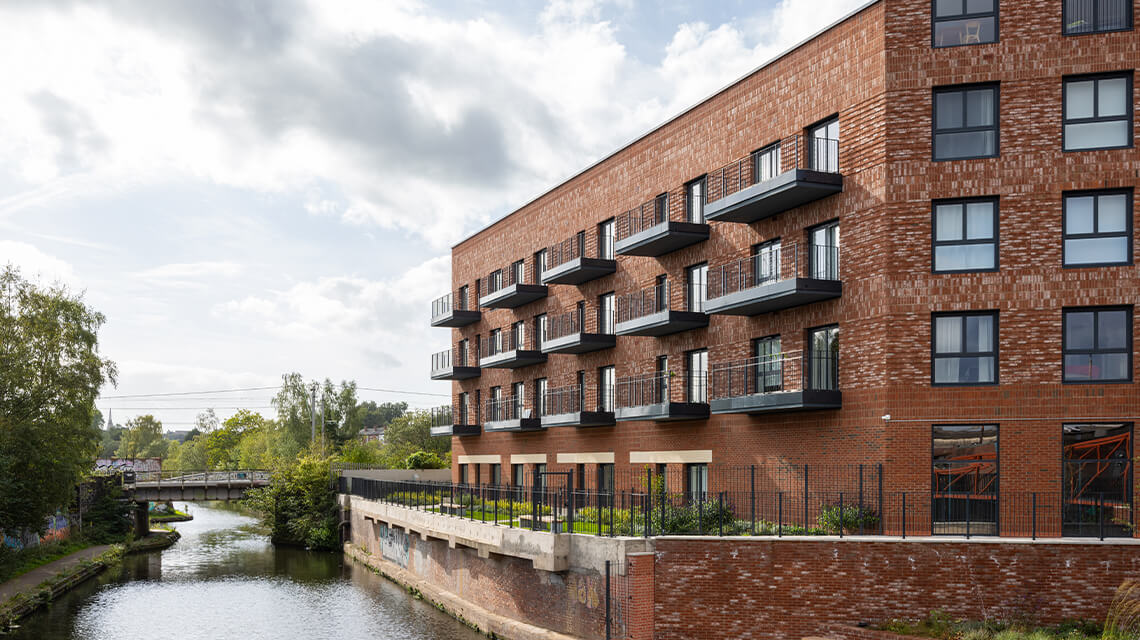 Heimstaden Bostad, the proud owner of Soho Wharf, is delighted to announce the successful completion of the landmark project, realised in partnership with development partners, The Galliard Apsley Partnership.
Soho Wharf, a leading-edge development in Birmingham, consists of 752 exceptional build-to-rent homes. This includes 650 thoughtfully designed apartments and 102 charming townhouses, all offered at affordable rental rates including 64 homes, offered at a 20% discount to market rent, emphasising affordability alongside quality.
The project encompasses 10,000 sq ft of prime commercial space and provides ample parking with 300 parking spaces. The architectural ingenuity extends to the ample green spaces, constituting nearly 40% of the site area. These green areas include vibrant public realms, private communal spaces for residents, and exclusive gardens for townhouse residents.
This achievement is marked by an outstanding milestone, with close to 90% of the available units leased within a six-month span, from March to September 2023. The swift uptake stands as a testament to the project's undeniable appeal, showcasing Soho Wharf as a pioneering residential development that is redefining both the architectural and community landscape of Birmingham.
The completion of Soho Wharf marks the realisation of a shared vision, transforming former industrial zones into thriving, vibrant neighbourhoods. These neighbourhoods are enriched with generous public landscaping, high-calibre architecture, and, most significantly, 752 homes of varying sizes, seamlessly integrated into Birmingham's urban fabric. Beyond providing top-notch residences, Soho Wharf is set to elevate Birmingham's connectivity by introducing new pedestrian and cycle routes, as well as a canal bridge, facilitating more convenient and picturesque commutes.
Amit Kumar, Head of Operations - UK at Heimstaden, expressed, "We are tremendously proud to mark the completion of Soho Wharf, a true testament to thoughtful design and community integration. In just six months, seeing 90% of the units become homes for residents speaks volumes about its allure. Our ambition was always to create a lively, cohesive neighbourhood in Birmingham where sustainability meets convenience. The rapid uptake reaffirms our commitment to offering Friendly Homes that not only fit seamlessly into the city's fabric but also address the modern resident's desire for connectedness, comfort, and a sustainable way of living."
Gerard Nock, Chairman at The Galliard Apsley Partnership said: "The completion of Soho Wharf stands as proof of our unwavering commitment to reimagining urban spaces. Through innovative design and collaborative partnerships, we have created not just homes but thriving communities, and we're excited to see Soho Wharf transform Birmingham's urban landscape for the better."
Tom Caesar, Associate at Rider Levett Bucknall, commented: "We are really proud to have played an important role in the successful completion of Soho Wharf, providing employer's agent and cost management services throughout the project. The RLB team has been delighted to support Galliard Apsley in the delivery, ahead of schedule, of this fantastic community scheme for Heimstaden which has place making at its very core. "
Edited: 7th November 2023