Housing Minister Visits Galliard's New Capital Quay, Greenwich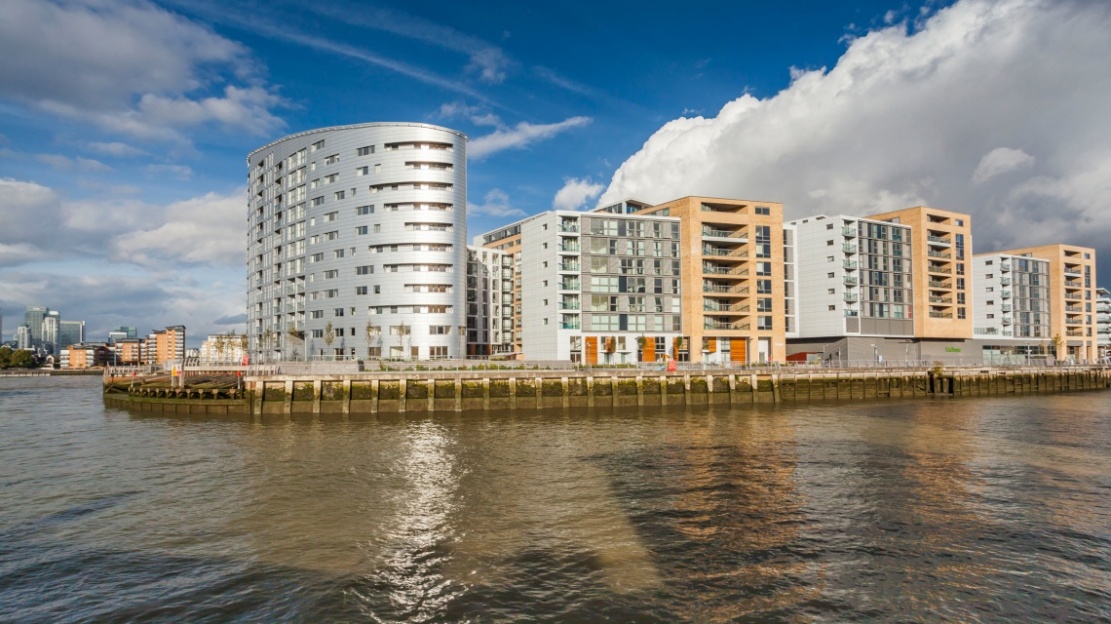 On Tuesday 29th April, Kris Hopkins, Minister for Housing, visited Galliard Homes' flagship £300 million new homes development at New Capital Quay in Greenwich, SE10.
His visit was part of a review of how the Government's Help to Buy initiative is assisting Londoners in buying their own homes in the capital. Organised under the auspices of the Home Builders Federation (HBF) to coincide with the HBF Annual Industry Luncheon, Kris Hopkins was provided with a tour of the new development by David Galman, Group Sales Director at Galliard Homes, which is a member of the HBF. The Minister also met with new resident Simon Rose, who used the Help to Buy scheme to purchase a home at New Capital Quay.
Close to the Centre of Historic Greenwich
Located off Norway Street, within five minutes' walk of Greenwich's historic maritime centre and DLR, New Capital Quay is built on a peninsula that once formed part of King Henry VIII's famous dockyard, and is surrounded by the River Thames on three sides. The development provides a total of 980 mixed-tenure homes (including affordable housing), with 658 private sale apartments located in a series of contemporary waterside buildings. Prices at the scheme initially started from £295,000 - and once complete, the development will provide a new flagship Waitrose superstore, riverside bars, restaurants, cafés, commercial and art gallery spaces, a new Greenwich heritage museum, central concierge, 24 hour on-site security and secure underground parking.
Healthy Off-Plan Sales
Initially homes at New Capital Quay sold off-plan, though in April 2013, with construction well under way and built housing available for immediate occupation, Galliard Homes undertook the UK launch of the development; since then, they have focused on marketing the homes to London owner-occupiers. Since the launch of the Help to Buy initiative in April 2013, 75 homes at New Capital Quay have been sold to purchasers using the scheme, with an average rate of seven sales per month - and the Help to Buy sales rate has increased significantly since Phase 2 of the scheme was launched in October 2013. Kris Hopkins, Minister for Housing, says: "The Help to Buy scheme is offering a valuable alternative to the 'Bank of Mum and Dad' to thousands of aspiring home-owners across the country, enabling them to buy newly-built homes with a fraction of the deposit they would normally require. I was pleased to meet Simon and hear how the scheme has helped him buy his new home, and to hear from Galliard Homes how the New Capital Quay development will become a thriving neighbourhood so close to Greenwich's historic maritime centre."
Increasing the Demand for New Homes
Stewart Baseley, Executive Chairman of the Home Builders Federation comments: "Help to Buy: Equity Loan is increasing demand for new homes, and the industry is increasing its output as a result. People's inability to buy in recent years has been the biggest constraint on the industry's efforts to build more homes. If people can buy, builders will build. Help to Buy is allowing people who can afford to buy a home to do so, so builders can get on with building the homes the country needs." David Galman, Group Sales Director at Galliard Homes says: "Since 2013, the Help to Buy Equity Loans and Mortgage Guarantees have made an increasingly important contribution to the sales rate at New Capital Quay. We have now employed a Help to Buy Sales advisor to deal specifically with the administration of the Help to Buy process, which is proving very successful. Without it, purchasers such as Simon Rose would not have been able to acquire a home."
Nearly 17,000 Help to Buy Properties
Figures from the Government Department for Communities and Local Government show that in the first 11 months (to end February 2014) there were 16,465 properties bought (legal completion) under the government's Help to Buy scheme across England. Of these, 1,131 properties have been within Greater London and 3,475 properties in other key metropolitan centres around the country, including Manchester, Birmingham, Stockport, Liverpool and Newcastle. There are two parts to the Help to Buy scheme - the equity loan and the mortgage guarantee. With the equity loan, which was launched in England in April last year, in Scotland in September, and in Wales in January 2014, buyers can put down a deposit of just 5%. This has to be on a new build, and it enables them to take out a mortgage of up to 75% of the property's value. The difference is made up with an equity loan of up to 20% from the government. The mortgage guarantee, which began across the UK last October and will run until the end of 2016, offers a government guarantee against losses for lenders who are prepared to offer mortgages to people with only a small deposit. Almost 15,000 of the 16,465 homes bought through Help to Buy have been done using the equity loan scheme. Use of the equity loan has been at its highest in south-east England, while the highest number of people buying a home through the mortgage guarantee was in Scotland and north-west England.
Find your Help to Buy agent here or use our property search to find your Galliard Homes Help to Buy property in London. Galliard Homes offers a vast range of Help to Buy apartments across a great selection of new build developments that can be purchased with a 5% deposit with a Help to Buy: Equity Loan, subject to eligibility, terms and conditions. For more information on Help to Buy visit our dedicated page.
Edited: 9th January 2023