New Sculpture Unveiling in Heart of the West End at TCRW SOHO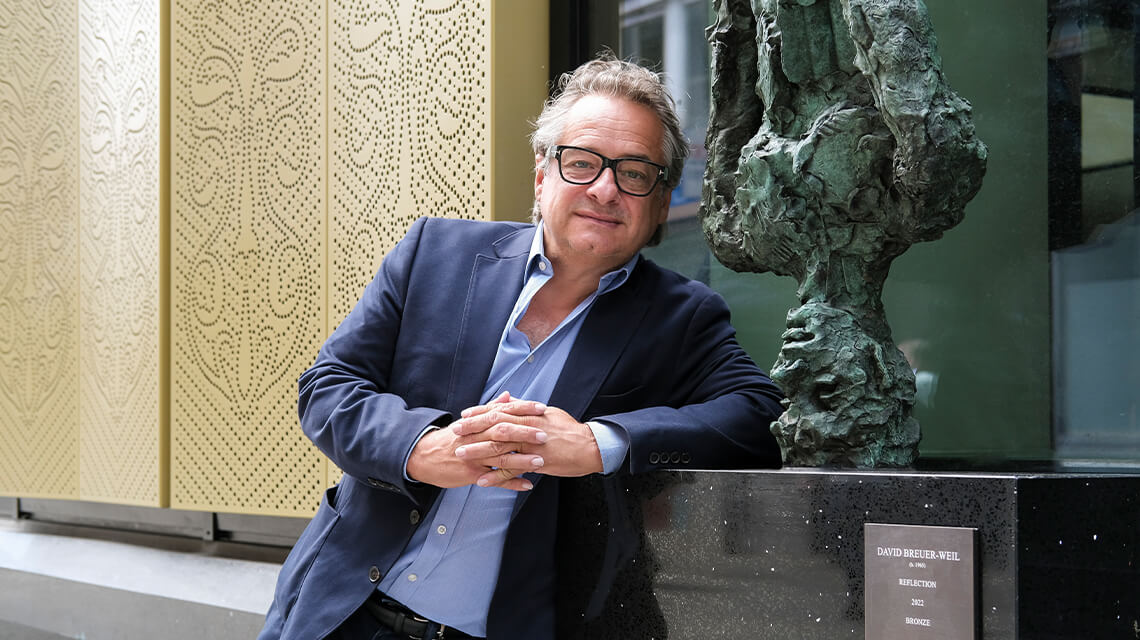 Galliard Homes has unveiled a new piece of public artwork at TCRW SOHO by world renowned British sculptor David Breuer-Weil. "Reflection" is a new permanent monument for Dean Street in Soho, London.
The sculpture was commissioned by Galliard Homes and approved by Westminster Council in 2022. This iconic landmark celebrates the legendary cultural location of Soho and makes specific references to some of the key features that populate this area. The work makes reference to the gritty figurative art of Francis Bacon and Lucian Freud, and has their names, alongside many other Soho habitues ranging from Mozart, Elton John, Diana Rigg and Anya Taylor-Joy, inscribed onto the surface of the bronze as part of its craggy, highly textured surface.
The 3.2-meter bronze structure stands at the intersection of Dean Street and Oxford Street, by the Elizabeth Line Tottenham Court Road Station. "Reflection" stands as a permanent public sculpture for the public to enjoy and was cast by Morris Singer Foundry, who also cast bronzes by Barbara Hepworth and Henry Moore that grace other public spaces in London.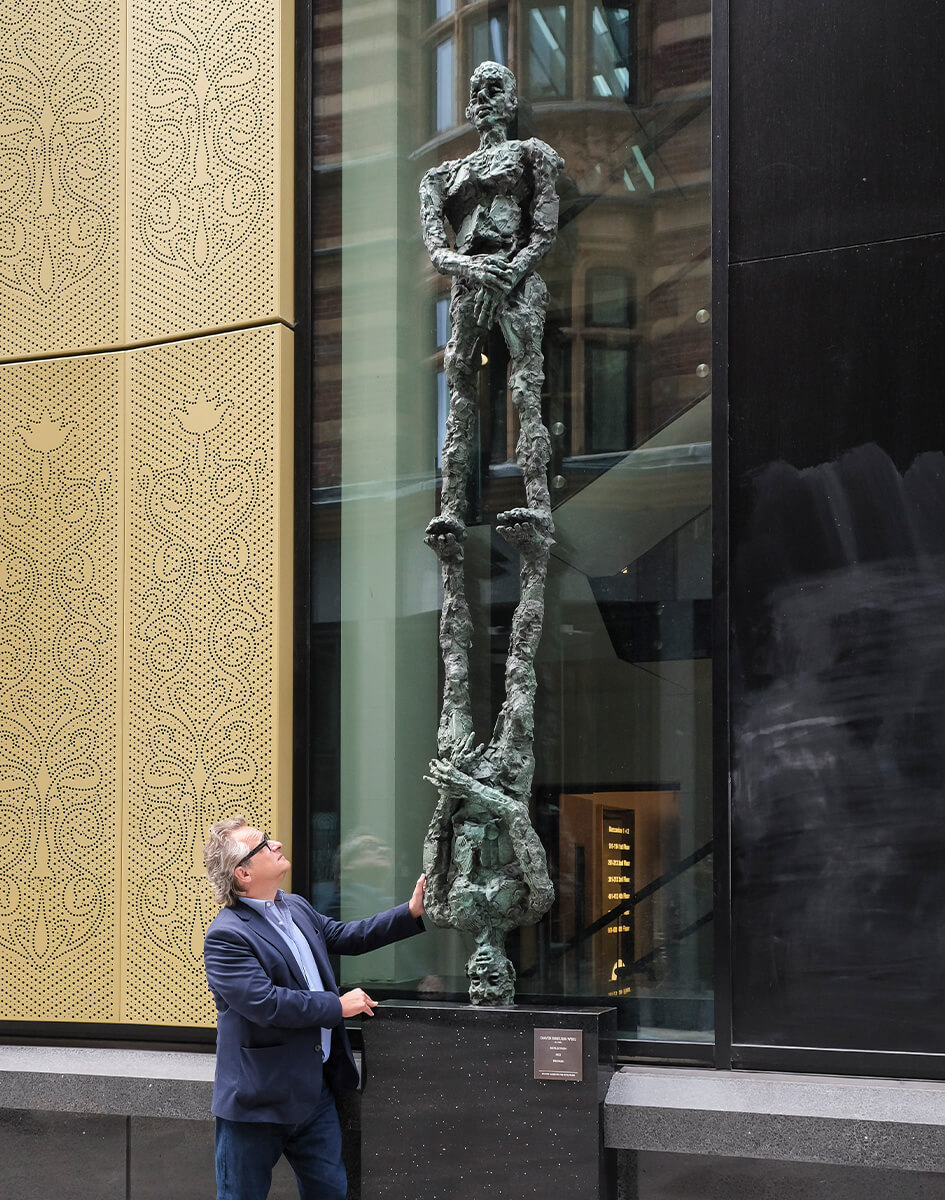 David Breuer-Weil, is a prominent British artist, who has gained recognition for his iconic works such as 'Brothers' and 'Alien', which have been highly acclaimed by both the public and critics. These powerful pieces have been prominently displayed in significant public spaces worldwide, including London's Hampstead Heath, Hanover Square, Grosvenor Gardens, and Marble Arch. Breuer-Weil's sculptures and two-dimensional artworks have also been showcased in exhibitions with esteemed institutions like the National Trust and the Jewish Museum in London. His monumental sculptures have been featured in solo shows at various locations across the capital, including Cavendish Square, St Pancras, Portman Square, and the Economist Plaza. Notably, his recent installations include 'Flight' at Marble Arch in 2018 and 'Sister' at Hanover Square in 2023.
TCRW SOHO is a landmark residential-led regeneration project which fronts onto Oxford Street, at the top of the historic thoroughfare Dean Street, offering exceptionally luxurious homes right in the heart of the West End with the new Crossrail Interchange directly below.
Designed by architectural practice Hawkins\Brown, the two completed apartment buildings, together, present an exquisite choice of 81 studio, one-, two- and three-bedroom apartments ranging from 409 sq ft to 1411 sq ft and 11 one-, two- and three-bedroom penthouses, each with distinct layouts and designs.
The buildings are distinguished by their architectural design. Fronting Oxford Street, one block is an Art Deco-inspired building notable for its bold, contemporary design, constructed in dark reconstituted stone with gold panelling reflecting the vibrant, contemporary atmosphere of Oxford Street and Soho. The other building is inspired by the more traditional nature of Soho's local brick Georgian architecture. The Art Deco-inspired building provides 69 apartments across six floors and a 7,989 sq ft Oxford Street retail unit on the ground floor, and the Georgian inspired building provides 23 apartments across five floors and 1,950 sq ft of new retail accommodation on the ground floor. Each building has its own entrance and hotel-style reception foyer where residents are greeted by an exceptional concierge service.
David Breuer-Weil says "Reflection is an image of one person reflected in another. It is a literal reflection, inviting visitors to pause and contemplate the artwork, while symbolically encouraging self-reflection. This piece is a timeless symbol of Soho, honouring its rich cultural heritage, and paying homage to the influential personalities who once inhabited this vibrant district. Notably, it draws inspiration from the School of London artists who frequented the famed Colony Room on Dean Street."
David Conway, Sales Director at Galliard Homes says "We are thrilled to have collaborated once again with David Breuer-Weil. The building and its location in Soho demanded a landmark piece of public art. David's work creates this and much more. We would like to thank him for this wonderful addition to our development".
TCRW SOHO is now down to its final availability. Prices start from £1,200,000. For further information, call Galliard Homes on 020 3409 2270 or visit TCRW SOHO on our website.
Edited: 24th August 2023