Living in Blackheath, London SE3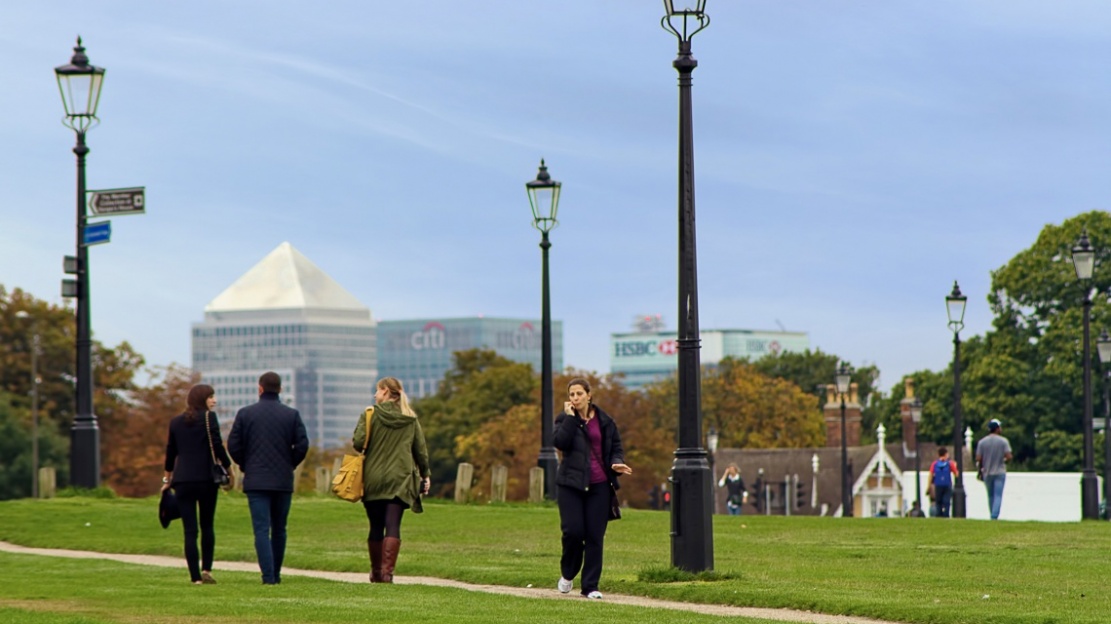 Boasting more than 200 acres of leafy countryside, Blackheath holds one of the largest areas of common land in Greater London, located just south of the Thames and world-renowned financial district, Canary Wharf.
Approximately 93,000 people commute to Canary Wharf for work on a daily basis, and since residents of Blackheath can journey directly into the business hub within 20 minutes, this tranquil, village-esque location is the perfect place to come home to and relax after a long busy day in the city.
Property in Blackheath
Falconwood Court
Falconwood Court is a private, gated development comprising a superb selection of studio and two bedroom apartments for sale in Blackheath set amongst gorgeous landscaped gardens, and features private access to the village centre and station.
Grove Place
Located in nearby Eltham, Grove Place, offers a stylish selection of one to three bedroom apartments. Each apartment boasts high-end designs and sophisticated finishes, with many featuring access to a private balcony or terrace to add to the luxurious residential experience.
Falconwood Court and Grove Place have now successfully sold out. For more information on nearby property please take a look at our South London developments, Trilogy & Newham's Yard.
History of Blackheath
Blackheath's heritage largely involves its vast green expanses, most notably the Heath, which has been the rallying point for numerous rebellions and revolts over the ages. The area's name derives from the colour of the land on the Heath, which appeared darker in colour compared to its greener counterparts nearer the Thames; although it was mythicised that it was, in fact, associated with the Plague in the 17th century and used as a mass burial ground.
The Heath has also been a popular place for monarchs and gentry to meet for peaceful gatherings; Lord Mayors of London welcomed numerous monarchs, from Richard II to Elizabeth I, and Henry IV even welcomed the Emperor of Constantinople here in 1400. Less noble visitors also frequented the Heath during the 17th century, namely highwaymen, who would haunt the Heath as stagecoaches passed through en route to Kent and the Channel ports.
Later on during the Second World War, the Heath was also used to fill in rubble from areas destructed by the Blitz, and today you can still see the darker patches of green signalling which parts of the land were used.
Places of Interest
Historical
Ranger's House, adjacent to the distinguished Greenwich Park, is Blackheath's eminent showpiece boasting striking Georgian architecture in classic Palladian style, housing nearly 700 works of art, jewels and authentic trinkets from medieval and Renaissance England as part of The Wernher Collection.
Nearby Greenwich boasts an array of museums and magnificent palaces paying tribute to its elite history and royal status, including The Royal Observatory, Queen's House and the Old Royal Naval College.
Cultural
Blackheath is home to London's oldest surviving purpose-built cultural venue, Blackheath Halls, which holds a 600-seat concert hall, showcasing new musical talent, jazz shows, orchestral performances and even opera for a truly unique musical experience.
The On Blackheath festival is the annual celebration of music, food, arts and entertainment; uniting thousands of people from within the local community and beyond for a truly memorable weekend.
Music lovers will also love the close proximity to London's O2 Arena in nearby Greenwich, which has the second-highest seating capacity in the UK, and also holds a music club, a Cineworld cinema, plus a variety of bars and restaurants, adorned in a fabulous piazza-style arrangement.
Shopping
Blackheath's main shopping streets include Montpelier Vale, Old Dover Street and Tranquil Vale - all offering a choice selection of independent stores, boutiques and quaint eateries to really magnify its village-style charm.
The Bookshop on the Heath, based on the corner of Tranquil Vale, is one of outer London's oldest second-hand bookshops and is an absolute favourite with the locals. Housing signed first editions, must-have collections and an assortment of rare finds, this is the perfect place for bookworms to find their next page-turner.
Blackheath's farmers' market takes place every Sunday and is as much a social gathering as it is an indulgent exploration of the senses. Enjoy the best of British food and drink with farm milk from Sussex, fresh fish from the east coast and a huge variety of tasty artisan foods.
The Blackheath Leegate Shopping Centre is set for a regeneration project worth £80 million, adding new retail space, a large supermarket, plus a state-of-the-art gym and an education and community centre.
Food and Drink
Enjoy French cuisine as it should be at Cote Brasserie, based on Blackheath's Royal Parade; offering a fresh take on mouth-watering favourites with ingredients delivered direct from Paris for true authenticity.
Visit Chapters for an unforgettable dining experience; with two AA rosettes, this luxury restaurant offers an à la carte menu with a fantastic variety of European dishes.
Hand Made Food is Blackheath's thriving community Traiteur, made popular by the loyal locals who enjoy the unique combination of flavours created by the restaurant's experienced chefs. From beetroot infused couscous to curry mutton, you'll definitely find yourself returning for more daring delicacies.
Offering fresh beer from the copper tanks, Blackheath's microbrewery, Zerodegrees, is fantastic for real ale lovers and those who are looking for something a little different.
Green Space
Blackheath is one of Greenwich's Green Flag Award-winning sites and includes a bowling green, tennis courts, football pitches and scenic ponds, whilst also boasting breathtaking city views of Canary Wharf.
The Blackheath to Greenwich city walk is perfect for soaking up the countryside and spectacular views of the capital simultaneously; allowing you to explore the quaint, romantic charm of Blackheath Village all the way through to the illustrious Greenwich Park and the splendid nautical destination, Cutty Sark, overlooking the River Thames.
Sports
This area has an important place in London's history of sport, as it was where golf was first introduced to England at the Royal Blackheath Golf Club, based in Eltham, which is still a thriving leisure facility.
Yet another first for Blackheath, the area is perhaps most famous for founding the Blackheath Rugby Club in the mid-19th century - the oldest documented rugby club in England. The club organised the world's first rugby international, held in Edinburgh between England and Scotland.
In more recent times, Blackheath has been well-known as the starting point of the annual London Marathon.
Community
The Blackheath Society is one of the country's oldest amenity societies, which exists to enhance the area in collaboration with the Boundary Commission and English Heritage. Members of the community are invited to take part in a number of events, including horticultural and 'Blackheath Village' days with musical performances and exhibitions.
Blackheath Library is yet another community hub, offering a range of services from kids' reading classes to coffee mornings, adult learning sessions and even the opportunity to learn another language.
Fun Facts about Blackheath
The 1960's fashion design icon, Mary Quant, was born and bred in Blackheath and attended Blackheath High School before going on to study at Goldsmiths University in nearby New Cross.
Education
There are a number of primary schools, high schools and colleges in Blackheath, adding to its desirability as a fantastic residential location for young and growing families. John Ball Primary School and All Saints' C of E Primary School have both been recognised as 'outstanding' by Ofsted, and Blackheath High School based in Blackheath Village is also commended for its fantastic results.
The Conservatoire is the area's local independent arts centre and educational charity, which provides a number of courses from music to art, drama and cultural classes for people of all ages to participate in. The centre's alumni include Hollywood actor, Gary Oldman, and musician, Kate Bush.
Blackheath's nearest universities are the University of Greenwich, Goldsmiths University and the University of Sunderland's London Campus - all within a 20 minute drive from Blackheath.
Local Authority
Blackheath is divided between the Royal Borough of Greenwich and the London Borough of Lewisham.
Getting There
Roads
To the north of Blackheath, the A2 leads to Deptford in the west and further on, Southwark, or towards the east it will take you towards Bexleyheath and eventually the M25 for routes further north and south of the capital.
To the south of Blackheath, the A20 is the major artery running through Lewisham and also leads on to the M25 and M20 in the east.
Rail
Southeastern rail services from Blackheath station provide direct commutes to major central locations including London Bridge in just 15 minutes, Charing Cross in 20 minutes and London Victoria in 24 minutes.
DLR
Cutty Sark, Greenwich, Deptford Bridge, Elverson Road and Lewisham DLR stations are all within a two mile radius of Blackheath. Lewisham, the closest DLR station, offers a direct service to Canary Wharf in just 20 minutes and Bank in the City in less than 30 minutes.
Underground
The closest Underground station is North Greenwich offering Jubilee line services and is accessible by car in just 10 minutes. From here you can travel to Stratford in just 16 minutes, Bond Street in 21 minutes and Westminster in less than 30 minutes.
Air
For weekend escapes to a variety of European destinations, as well as New York City, London City Airport is just over 20 minutes away by car.
Edited: 17th May 2023