Q&A with Donna Smith, Sales Director of Wavensmere Homes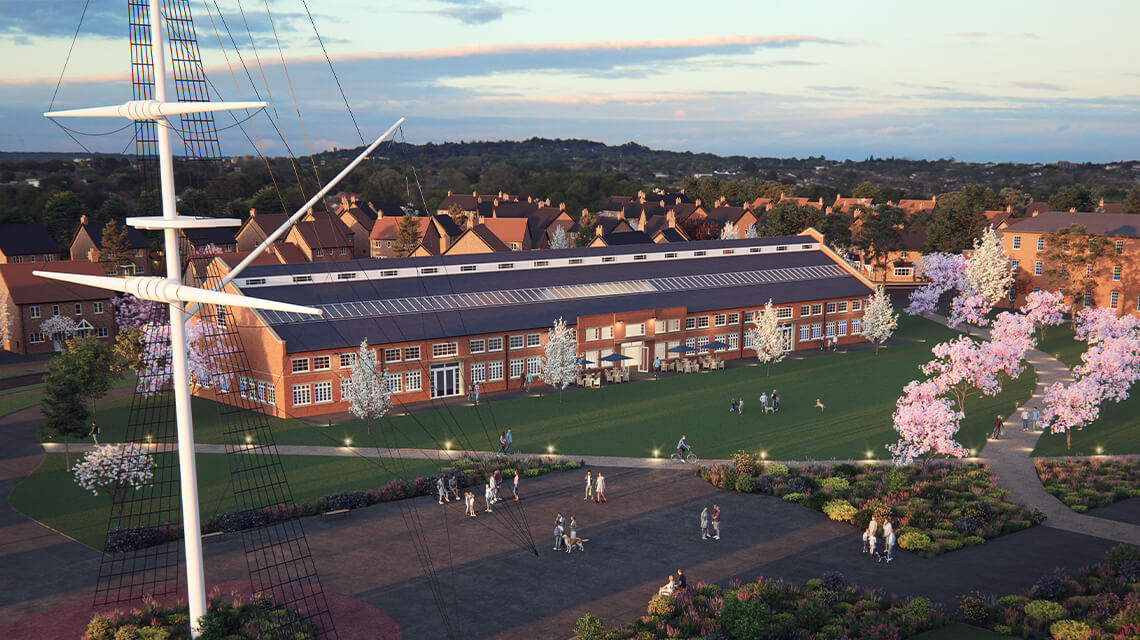 Working in joint venture with Galliard Homes on two upcoming projects, Barrelmans Point in Suffolk and Belgrave Village in Birmingham, Wavensmere Homes are specialists in unique renovation projects.
Founded in 2004 by James Dickens, Wavensmere Homes are experts in the industry with a strong team at the helm. Here, we speak with Sales Director, Donna Smith, who covers all aspects of sales and land acquisition within her role. With 30 years of experience, Donna has a wealth of knowledge and experience on all things property.
There seems to have been a slight shift in buyer priorities in recent years; what are you noticing is important to buyers now?
We have found that buyer priorities in the housing market have now shifted towards living in a community. This is for various reasons, reflecting changing societal values and lifestyle preferences. This shift indicates a broader trend in real estate that places greater importance on the neighbourhood and community where a home is located rather than just the physical characteristics of the house itself. There are some key factors contributing to this shift:
1. Sense of belonging and social connection
Many buyers today place a higher value on social connections and a sense of belonging. They are looking for communities where they can build relationships with neighbours and participate in local events, clubs, or gatherings. A strong sense of community fosters a feeling of belonging and support, which is increasingly important in an age of digital isolation.
2. Wellness and health
Wellness and health have become a central focus for many people. Buyers are looking for neighbourhoods that promote an active lifestyle, with amenities such as parks, walking trails, and fitness centres being highly attractive. Proximity to healthcare facilities and access to fresh, local food markets also contribute to community-centric housing choices.
3. Work/life integration
With the rise of remote working and flexible schedules, people are spending more time in their local communities. As a result, there is a growing desire to live in areas where work, leisure, and daily necessities are easily accessible. Proximity to co-working spaces, cafes, and other work-friendly amenities can significantly influence housing decisions.
4. Tech-enabled amenities
The integration of technology into communities is on the rise. Buyers are interested in smart homes and neighbourhoods with features like high-speed internet access, smart street lighting, and mobile apps for community engagement and security.
5. Resilience and safety
Recent events, such as the COVID-19 pandemic, have highlighted the importance of community resilience and safety. Buyers are interested in neighbourhoods with emergency preparedness plans, healthcare infrastructure, and strong community support systems.
6. Long term investment
Communities with strong, positive reputations tend to hold their value well, making them attractive options for those looking to build wealth over time.
Sustainable living is another key priority for many. How do Barrelmans Point and Belgrave Village consider sustainability within the build?
Many buyers are now concerned about the environmental impact of their lifestyles. Sustainable and eco-friendly communities are increasingly attractive, offering features such as energy-efficient homes, green spaces, and public transportation options. Sustainability-focused buyers want to reduce their carbon footprint and live in areas that align with their values. We are integrating high EPC ratings, EV charging and air source heat pumps into our developments as well as acres of green open spaces to encourage wildlife.
Belgrave Village had a hugely successful start with the first phase selling out on launch day. What do you think it is about Belgrave Village that is so attractive to buyers?
Belgrave Village is a unique development as it incorporates 438 houses and apartments on the outer ring road of Birmingham City Centre. Our houses and apartments are within walking distance of major amenities such as shops, restaurants, entertainment venues, and public transportation hubs; this level of convenience is highly attractive to people who want to live in a vibrant urban environment. Also, being able to live near to such a vibrant workplace like Birmingham is particularly appealing as it reduces commute times and costs.
Generally, properties in city centres like Birmingham also tend to have good investment potential. Demand for housing in city centres is high, which can lead to property appreciation over time. Investors may see city centre properties as a valuable addition to their portfolio. Also, many people are drawn to the urban lifestyle, with its diverse community and the ability to live in the midst of the action. City centre living at Belgrave Village offers a unique and vibrant atmosphere that appeals to those who enjoy city life.
Barrelmans Point is also proving to be a hit with buyers with a number of properties already reserved off-plan. What do you think it is about Barrelmans Point that is so attractive to buyers?
Aside from being situated on the beautiful Shotley Peninsula, with stunning beaches, scenic walks and historic assets that will be reimagined into community spaces, the new homes at Barrelmans Point come with modern amenities and infrastructure, including energy-efficient designs, updated technology, and contemporary fixtures. Each home comes with an EV charging point, high specifications and within a development that will offer outstanding residents on-site amenities. In an unrivalled location, whilst being close to the bustling town of Ipswich, our 2, 3, 4 & 5 bedroom homes offer high specification accommodation set amongst 60 acres.
It's no secret that mortgage rates are causing havoc within the market at the moment. Where do you see the market in 6 months from now?
Whilst mortgage rates are a significant factor, they are not the only determinant of the housing market's health. Other factors such as employment rates, wage growth, housing supply and demand, government policies, and economic conditions also play crucial roles in shaping the housing market. Additionally, the relationship between mortgage rates and the housing market can vary by region and over time. Therefore, it's essential to consider the broader economic context when assessing the impact of mortgage rates on the housing market. Other than interest rates being higher than they have been in recent years, unemployment is still low, and demand is still there. In addition, crucially, the rental market has never been better, as those unable to get mortgages are choosing to rent. Personally, I see the 'higher' rates just becoming the new normal – I recall interest rates at 15% back in 1992!
What do you see as the main challenges for the sector over the next few months and what steps are you taking to mitigate the risks and support buyers?
Many housing markets, especially in urban areas, are experiencing rising home prices and rents that outpace wage growth. This affordability gap can make it difficult for first-time homebuyers and low- to moderate-income families to access housing. We are beginning to offer affordable alternatives to first time buyers which include shared ownership, a great alternative for first time buyers who are having difficulty with rising house prices and affordability.
Insufficient housing supply, particularly in high-demand areas, can contribute to rising home prices. Zoning regulations, land use policies, and construction labour shortages plus build cost inflation can also hinder the construction of new housing units. As a developer, Wavensmere Homes tries to build in urban areas, in volume on brownfield sites where the capital values remain under £350,000 at more affordable levels for first time buyers.
Get in touch with us today for more information on Barrelmans Point and Belgrave Village: 020 3409 2270.
Edited: 11th October 2023