How Will Rising Interest Rates Affect Your Mortgage?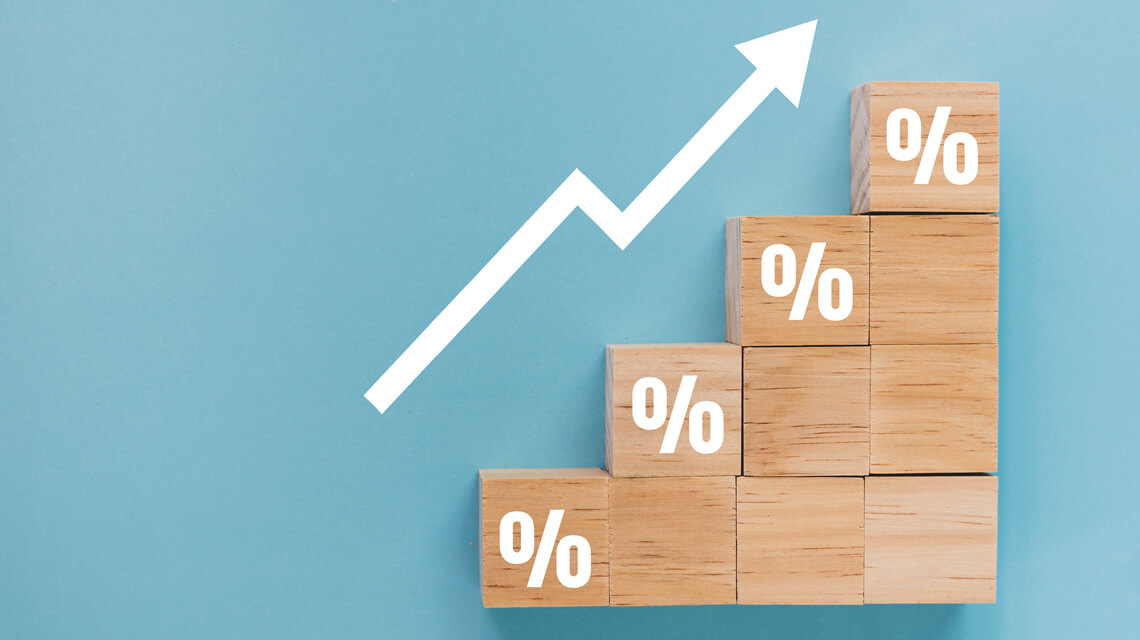 On 22 September 2022, the Monetary Policy Committee (MPC) voted to increase the base rate from 1.75% to 2.25% - the highest it has been in 14 years.
Follow our guide to find out what interest rate increases could mean for you and your mortgage.
Interest rates continue to rise
The Bank of England has been steadily raising interest rates over the past nine months in response to soaring inflation. At the time of writing this guide, the base rate is at the highest level since 2008, with further rises expected.
When the base rate rises, this affects the rates of interest that lenders will charge their borrowers, including mortgage lenders.
What this increase means for mortgage rates
The way in which your mortgage will be affected by interest rate increases depends on the type of mortgage product you currently have.
If you have a fixed-rate mortgage, your mortgage payments will remain fixed for the period of your agreement. A fixed-rate mortgage product is a good option for homeowners wanting security. Throughout the agreed period, your mortgage payment will stay the same even if interest rates fluctuate. This gives the mortgage holder opportunity to budget monthly.
If you have a tracker rate mortgage, your mortgage payments will change in line with the Bank of England base rate. Your monthly mortgage payments will likely increase if the base rate continues to rise. If The Bank of England chooses to decrease the rate of interest, this could be reflected in your mortgage payments.
A standard variable rate mortgage (SVR) is the mortgage type you are likely to be moved onto after your fixed-rate mortgage ends. An SVR mortgage is like a tracker mortgage product; however, the lender has no obligation to change their interest rates based on the base rate. For example, if the Bank of England decreased the rate of interest, your chosen lender does not have to do the same.
What to do if your mortgage is increasing
If your mortgage rate is increasing, you can arrange to remortgage your property. Most mortgage holders will remortgage once their fixed-rate period is nearing the end instead of going onto their lender's standard variable rate.
You can remortgage with your current lender, also known as a product transfer, or switch to a different lender with more suitable rates.
Speaking to a whole of market mortgage adviser will give you greater insight into what mortgage rates are available to you. At Visionary Finance, we work closely with our clients to ensure they are on the best available mortgage product suited to their requirements and needs.
What to consider when looking for a mortgage
When the time comes to arrange a mortgage, you should consider your budget, how much you want to spend per month, how long you would like the mortgage term to be, and what type of mortgage products suits your financial goals.
Contact Visionary Finance for expert mortgage advice. We have access to a wide range of lenders from high-street banks to more specialist mortgage lenders. Not only does consulting a mortgage adviser save you time, but it also allows you to find out about special offers that may only be available through intermediaries.
Visionary Finance is Authorised and Regulated by the Financial Conduct Authority (FCA). The FCA does not regulate some forms of buy-to-let, international, bridging and commercial mortgages. Your home or property may be repossessed if you do not keep up repayments of your mortgage or any other debt secured against it.
Edited: 21st October 2022