10 Reasons to Invest in Hayes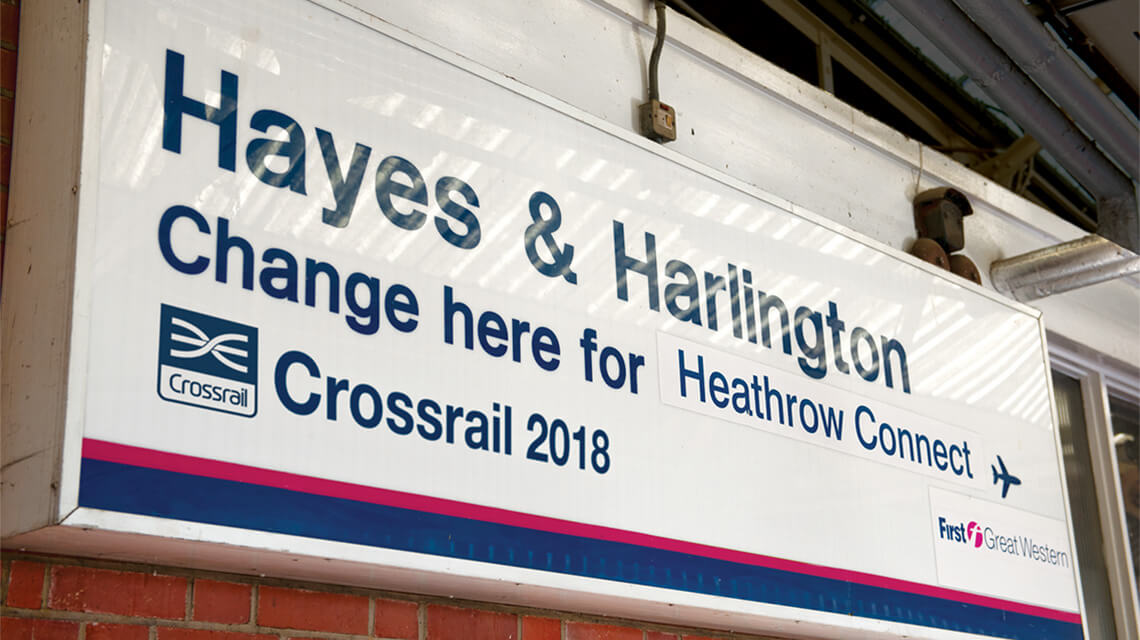 January 2015 sees the release of Trident House and Waterside, UB3 - two new focal points for the regeneration of Hayes. In this guide we aim to show why you should join us and invest in this hugely regenerating area. It's not just because of Crossrail!
1. Existing Transport Links
Hayes & Harlington mainline station is situated adjacent to Trident House and within a three minute walk of Waterside, offering direct line services into London Paddington, London Heathrow and Reading.
Heathrow Connect services to Heathrow terminals 1, 2 & 3 = 12 minutes
First Great Western services to Paddington = 20 minutes
First Great Western services to Reading = 40 minutes
Road links are also excellent with access to the M4, M25, M40 & M3 motorways. Heathrow Airport can be reached by road in 15 minutes and central London within an hour.
With such fantastic transport connections, Hayes has become a prime west London commuter belt.
2. Forthcoming Transport Links
Crossrail is Europe's largest infrastructure project and the UK's most ambitious piece of transport infrastructure in decades - set to cut journey times by up to 40 minutes and increase capacity on the capital's transport network by 10%. Improvements to connectivity and capacity are set to open up new parts of London, revolutionise buyers' perception of investing in out of town developments and trigger wider investment and opportunity in the areas it touches.
Stretching from Reading and Heathrow in the west, across to Shenfield and Abbey Wood in the east, Crossrail will deliver a direct connection between all of London's main employment centres; linking Heathrow with Paddington, the West End, the City and Canary Wharf.
Up to ten services an hour in each direction will serve Hayes & Harlington station, allowing direct access to numerous central London destinations. Typical journey times from Hayes & Harlington on Crossrail when fully operational will include:
Heathrow terminals 1, 2 & 3 = 5 minutes
Paddington = 16 minutes
Bond Street = 20 minutes
Liverpool Street = 27 minutes
Canary Wharf = 34 minutes
Crossrail will not only provide an appealing prospect for new residential residents to the area but also for major companies looking to relocate to a site close to the capital. A growing demand for properties is the area will increase property values.
CBRE predict that house prices will increase by an average of 2.5% per year around Crossrail stations.
3. International Airport
Not many towns can boast an international airport practically on the doorstep.
Heathrow Airport is the world's busiest international airport, providing a huge amount of employment opportunities which continue to rise with the opening of Terminal 5 and the redevelopment of Terminal 2.
4. Major Regeneration Area
Hillingdon Council has been awarded with a £4.5 million investment funded by the Transport for London with financial support from the council budget. Through a three year improvement plan, the council aim to transform Hayes into an even more welcoming, vibrant and well-connected place where people want to live work and visit.
Crossrail has been working with Hillingdon Council on proposals for improvements to the station and the area around the station to create a more welcoming environment for commuters. As well as dramatically improving journey times, Crossrail and the associated proposals thereafter aim to:
Provide step free access to every platform
Improve customer information and security
Improve pedestrian and cycle connectivity to the station
Add cycle lanes, crossings and junctions
Improve aesthetics by planting trees and landscaping
Galliard Homes has long considered and built our reputation on regeneration as the key to capital growth potential.
5. Vibrant and Strong Local Economy
Historically Hayes has attracted major companies due to its connections to central London. Though the variety has changed over the years, large employers in the immediate area include:
Heathrow
Heinz
West London film studios
Due to the regeneration in the area, coupled with Crossrail delivery, we can reasonably expect many more employers to look to relocate to Hayes.
GVA property consultants predict that Crossrail alone will support and accelerate the delivery of 3.25m sqm of office space within 1km of Crossrail stations.
6. First Rate Schools
Hayes is an attractive location for young professionals and families alike, and the town certainly caters to these families. There are 55 state primary schools in the area.
The top rated OFSTED secondary schools are:
The Heathland School TW4 5JD
Cardinal Wiseman Catholic School UB6 9AW
Drayton Manor High TW7 1EU
Uxbridge College UB8 1NQ
7. Sports and Sporting Facilities
Botwell Green Sports and Leisure Centre, a £20 million sports and leisure complex in East Avenue, was a major boost for the town when it opened in 2010. Other facilities include:
Hayes & Yeading UTD FC
Hayes Cricket Club
Hayes Amateur Boxing Club
Olympian Fitness
Harlington Sports Centre
8. Culture and Recreation Facilities
Hayes is relatively self-contained in that it enjoys a mixture of amenities, cultural attractions and recreational facilities within the town. Examples include:
Odeon cinema (Uxbridge)
Hayes Beck Community Theatre
Open Air Theatre in Barra Hall Park
Minet Country Park
Norman Leddy Memorial Gardens
Lake Farm Country Park
9. Great Value Prices
Regenerating areas offer lower prices and huge potential for capital growth.
With prices from £255,000 now is the time to buy!
10. Buy-to-Let Opportunity
Buy-to-Let is an income producing residential investment, with potential for making a capital gain when the property is sold.
To make the most out your Buy-to-Let investment, you should invest in a 'promising' area that has:
a) Potential for capital growth - Galliard has identified the best location as 'regenerating' areas
b) Strong rental catchment - commuter zones, good transport, schools for young families, amenities.
Edited: 20th March 2023